Abstract
The prominent and evolutionarily ancient role of the plant hormone auxin is the regulation of cell expansion1. Cell expansion requires ordered arrangement of the cytoskeleton2 but molecular mechanisms underlying its regulation by signalling molecules including auxin are unknown. Here we show in the model plant Arabidopsis thaliana that in elongating cells exogenous application of auxin or redistribution of endogenous auxin induces very rapid microtubule re-orientation from transverse to longitudinal, coherent with the inhibition of cell expansion. This fast auxin effect requires auxin binding protein 1 (ABP1) and involves a contribution of downstream signalling components such as ROP6 GTPase, ROP-interactive protein RIC1 and the microtubule-severing protein katanin. These components are required for rapid auxin- and ABP1-mediated re-orientation of microtubules to regulate cell elongation in roots and dark-grown hypocotyls as well as asymmetric growth during gravitropic responses.
Relevant articles
Open Access articles citing this article.
Zoltán Attila Köbölkuti

,

Attila Benke

…

Endre György Tóth

Biologia Open Access 20 October 2022

Scientific Reports Open Access 25 January 2021

Henry R. Allen

&

Mariya Ptashnyk

Bulletin of Mathematical Biology Open Access 22 January 2020
Access options
Subscribe to Journal
Get full journal access for 1 year
$199.00
only $3.90 per issue
All prices are NET prices.
VAT will be added later in the checkout.
Tax calculation will be finalised during checkout.
Buy article
Get time limited or full article access on ReadCube.
$32.00
All prices are NET prices.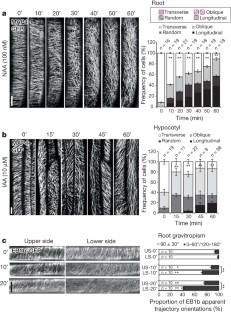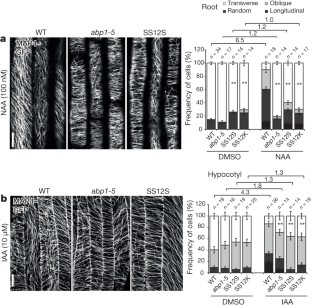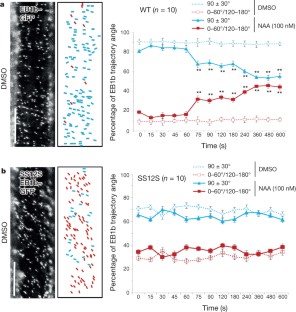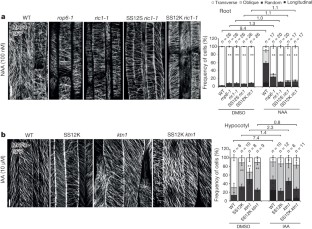 References
Perrot-Rechenmann, C. Cellular responses to auxin: division versus expansion. Cold Spring Harb. Perspect. Biol. 2, a001446 (2010)

Sedbrook, J. C. & Kaloriti, D. Microtubules, MAPs and plant directional cell expansion. Trends Plant Sci. 13, 303–310 (2008)

Chapman, E. J. & Estelle, M. Mechanism of auxin-regulated gene expression in plants. Annu. Rev. Genet. 43, 265–285 (2009)

Lucas, J. & Shaw, S. L. Cortical microtubule arrays in the Arabidopsis seedling. Curr. Opin. Plant Biol. 11, 94–98 (2008)

Blancaflor, E. B. The cytoskeleton and gravitropism in higher plants. J. Plant Growth Regul. 21, 120–136 (2002)

Lindeboom, J. J. et al. A mechanism for reorientation of cortical microtubule arrays driven by microtubule severing. Science 342, 1245533 (2013)

Ubeda-Tomas, S., Beemster, G. T. & Bennett, M. J. Hormonal regulation of root growth: integrating local activities into global behaviour. Trends Plant Sci. 17, 326–331 (2012)

Marc, J. et al. A GFP-MAP4 reporter gene for visualizing cortical microtubule rearrangements in living epidermal cells. Plant Cell 10, 1927–1940 (1998)

Chan, J., Calder, G., Fox, S. & Lloyd, C. Cortical microtubule arrays undergo rotary movements in Arabidopsis hypocotyl epidermal cells. Nature Cell Biol. 9, 171–175 (2007)

Collett, C. E., Harberd, N. P. & Leyser, O. Hormonal interactions in the control of Arabidopsis hypocotyl elongation. Plant Physiol. 124, 553–562 (2000)

Simon, S. et al. Defining the selectivity of processes along the auxin response chain: a study using auxin analogues. New Phytol. 200, 1034–1048 (2013)

Morita, M. T. Directional gravity sensing in gravitropism. Annu. Rev. Plant Biol. 61, 705–720 (2010)

Chan, J., Calder, G. M., Doonan, J. H. & Lloyd, C. W. EB1 reveals mobile microtubule nucleation sites in Arabidopsis. Nature Cell Biol. 5, 967–971 (2003)

Brunoud, G. et al. A novel sensor to map auxin response and distribution at high spatio-temporal resolution. Nature 482, 103–106 (2012)

Tromas, A. et al. Auxin-binding protein 1 is a negative regulator of the SCFTIR1/AFB pathway. Nature Commun. 4, 2496 (2013)

Xu, T. et al. Cell surface- and rho GTPase-based auxin signaling controls cellular interdigitation in Arabidopsis. Cell 143, 99–110 (2010)

Robert, S. et al. ABP1 mediates auxin inhibition of clathrin-dependent endocytosis in Arabidopsis. Cell 143, 111–121 (2010)

Dharmasiri, N. et al. Plant development is regulated by a family of auxin receptor F box proteins. Dev. Cell 9, 109–119 (2005)

Braun, N. et al. Conditional repression of AUXIN BINDING PROTEIN1 reveals that it coordinates cell division and cell expansion during postembryonic shoot development in Arabidopsis and tobacco. Plant Cell 20, 2746–2762 (2008)

Tromas, A. et al. The AUXIN BINDING PROTEIN 1 is required for differential auxin responses mediating root growth. PLoS ONE 4, e6648 (2009)

Hayashi, K. et al. Small-molecule agonists and antagonists of F-box protein-substrate interactions in auxin perception and signaling. Proc. Natl Acad. Sci. USA 105, 5632–5637 (2008)

Shishova, M. & Lindberg, S. A new perspective on auxin perception. J. Plant Physiol. 167, 417–422 (2010)

Uyttewaal, M. et al. Mechanical stress acts via katanin to amplify differences in growth rate between adjacent cells in Arabidopsis. Cell 149, 439–451 (2012)

Lin, D. et al. Rho GTPase signaling activates microtubule severing to promote microtubule ordering in Arabidopsis. Curr. Biol. 23, 290–297 (2013)

Chen, X. et al. ABP1 and ROP6 GTPase signaling regulate clathrin-mediated endocytosis in Arabidopsis roots. Curr. Biol. 22, 1326–1332 (2012)

Paciorek, T. et al. Auxin inhibits endocytosis and promotes its own efflux from cells. Nature 435, 1251–1256 (2005)

Montagnac, G. et al. αTAT1 catalyses microtubule acetylation at clathrin-coated pits. Nature 502, 567–570 (2013)

Boudaoud, A. et al. FibrilTool, an ImageJ plug-in to quantify fibrillar structures in raw microscopy images. Nature Protocols 9, 457–463 (2014)

Salaycik, K. J., Fagerstrom, C. J., Murthy, K., Tulu, U. S. & Wadsworth, P. Quantification of microtubule nucleation, growth and dynamics in wound-edge cells. J. Cell Sci. 118, 4113–4122 (2005)

Leblanc, N. et al. A novel immunological approach establishes that the auxin-binding protein, Nt-abp1, is an element involved in auxin signaling at the plasma membrane. J. Biol. Chem. 274, 28314–28320 (1999)
Acknowledgements
We thank R. Dixit for performing complementary experiments, D. W. Ehrhardt and T. Hashimoto for providing the seeds of TUB6–RFP and EB1b–GFP respectively, E. Zazimalova, J. Petrasek and M. Fendrych for discussing the manuscript and J. Leung for text optimization. This work was supported by the European Research Council (project ERC-2011-StG-20101109-PSDP, to J.F.), ANR blanc AuxiWall project (ANR-11-BSV5-0007, to C.P.-R. and L.G.) and the Agency for Innovation by Science and Technology (IWT) (to H.R.). This work benefited from the facilities and expertise of the Imagif Cell Biology platform (http://www.imagif.cnrs.fr), which is supported by the Conseil Général de l'Essonne.
Ethics declarations
Competing interests
The authors declare no competing financial interests.
Extended data figures and tables
Supplementary information
About this article
Cite this article
Chen, X., Grandont, L., Li, H. et al. Inhibition of cell expansion by rapid ABP1-mediated auxin effect on microtubules. Nature 516, 90–93 (2014). https://doi.org/10.1038/nature13889
Received:

Accepted:

Published:

Issue Date:

DOI: https://doi.org/10.1038/nature13889
Comments
By submitting a comment you agree to abide by our Terms and Community Guidelines. If you find something abusive or that does not comply with our terms or guidelines please flag it as inappropriate.