Abstract
The conserved family of Hedgehog (Hh) proteins acts as short- and long-range secreted morphogens, controlling tissue patterning and differentiation during embryonic development1. Mature Hh carries hydrophobic palmitic acid and cholesterol modifications essential for its extracellular spreading2. Various extracellular transportation mechanisms for Hh have been suggested, but the pathways actually used for Hh secretion and transport in vivo remain unclear. Here we show that Hh secretion in Drosophila wing imaginal discs is dependent on the endosomal sorting complex required for transport (ESCRT)3. In vivo the reduction of ESCRT activity in cells producing Hh leads to a retention of Hh at the external cell surface. Furthermore, we show that ESCRT activity in Hh-producing cells is required for long-range signalling. We also provide evidence that pools of Hh and ESCRT proteins are secreted together into the extracellular space in vivo and can subsequently be detected together at the surface of receiving cells. These findings uncover a new function for ESCRT proteins in controlling morphogen activity and reveal a new mechanism for the transport of secreted Hh across the tissue by extracellular vesicles, which is necessary for long-range target induction.
Relevant articles
Open Access articles citing this article.
Christina A. Daly

,

Eric T. Hall

&

Stacey K. Ogden

Cellular and Molecular Life Sciences Open Access 04 February 2022

Bin Liu

,

Yan Ding

…

Meixiao Zhan

Cell Death Discovery Open Access 24 September 2021

Abhimanyu Thakur

,

Xiaoshan Ke

…

Huanhuan Joyce Chen

Protein & Cell Open Access 10 August 2021
Access options
Subscribe to Journal
Get full journal access for 1 year
$199.00
only $3.90 per issue
All prices are NET prices.
VAT will be added later in the checkout.
Tax calculation will be finalised during checkout.
Buy article
Get time limited or full article access on ReadCube.
$32.00
All prices are NET prices.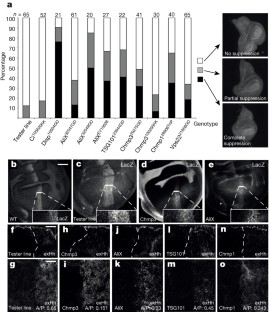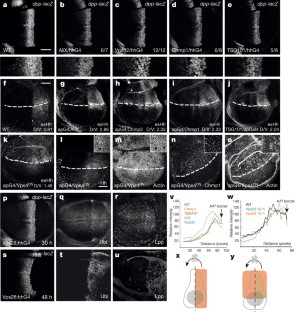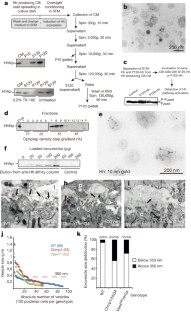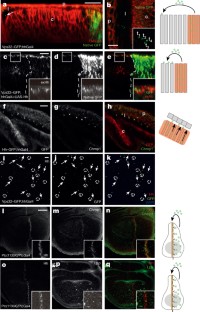 References
Briscoe, J. & Thérond, P. P. The mechanisms of Hedgehog signalling and its roles in development and disease. Nature Rev. Mol. Cell Biol. 14, 416–429 (2013)

Mann, R. K. & Beachy, P. A. Novel lipid modifications of secreted protein signals. Annu. Rev. Biochem. 73, 891–923 (2004)

Rusten, T. E., Vaccari, T. & Stenmark, H. Shaping development with ESCRTs. Nature Cell Biol. 14, 38–45 (2012)

Zeng, X. et al. A freely diffusible form of Sonic hedgehog mediates long-range signalling. Nature 411, 716–720 (2001)

Panáková, D., Sprong, H., Marois, E., Thiele, C. & Eaton, S. Lipoprotein particles are required for Hedgehog and Wingless signalling. Nature 435, 58–65 (2005)

Sanders, T. A., Llagostera, E. & Barna, M. Specialized filopodia direct long-range transport of SHH during vertebrate tissue patterning. Nature 497, 628–632 (2013)

Bischoff, M. et al. Cytonemes are required for the establishment of a normal Hedgehog morphogen gradient in Drosophila epithelia. Nature Cell Biol. 15, 1269–1281 (2013)

Nabhan, J. F., Hu, R., Oh, R. S., Cohen, S. N. & Lu, Q. Formation and release of arrestin domain-containing protein 1-mediated microvesicles (ARMMs) at plasma membrane by recruitment of TSG101 protein. Proc. Natl Acad. Sci. USA 109, 4146–4151 (2012)

Wehman, A. M., Poggioli, C., Schweinsberg, P., Grant, B. D. & Nance, J. The P4-ATPase TAT-5 inhibits the budding of extracellular vesicles in C. elegans embryos. Curr. Biol. 21, 1951–1959 (2011)

Raposo, G. & Stoorvogel, W. Extracellular vesicles: exosomes, microvesicles, and friends. J. Cell Biol. 200, 373–383 (2013)

Torroja, C., Gorfinkiel, N. & Guerrero, I. Mechanisms of Hedgehog gradient formation and interpretation. J. Neurobiol. 64, 334–356 (2005)

Gómez-Skarmeta, J. L. & Modolell, J. araucan and caupolican provide a link between compartment subdivisions and patterning of sensory organs and veins in the Drosophila wing. Genes Dev. 10, 2935–2945 (1996)

Vaccari, T. & Bilder, D. The Drosophila tumor suppressor vps25 prevents nonautonomous overproliferation by regulating notch trafficking. Dev. Cell 9, 687–698 (2005)

Herz, H.-M. et al. vps25 mosaics display non-autonomous cell survival and overgrowth, and autonomous apoptosis. Development 133, 1871–1880 (2006)

Thompson, B. J. et al. Tumor suppressor properties of the ESCRT-II complex component Vps25 in Drosophila. Dev. Cell 9, 711–720 (2005)

Vaccari, T. et al. Comparative analysis of ESCRT-I, ESCRT-II and ESCRT-III function in Drosophila by efficient isolation of ESCRT mutants. J. Cell Sci. 122, 2413–2423 (2009)

Burke, R. et al. Dispatched, a novel sterol-sensing domain protein dedicated to the release of cholesterol-modified hedgehog from signaling cells. Cell 99, 803–815 (1999)

Babst, M., Sato, T. K., Banta, L. M. & Emr, S. D. Endosomal transport function in yeast requires a novel AAA-type ATPase, Vps4p. EMBO J. 16, 1820–1831 (1997)

Fujita, H. et al. A dominant negative form of the AAA ATPase SKD1/VPS4 impairs membrane trafficking out of endosomal/lysosomal compartments: class E vps phenotype in mammalian cells. J. Cell Sci. 116, 401–414 (2003)

Rusten, T. E. et al. ESCRTs and Fab1 regulate distinct steps of autophagy. Curr. Biol. 17, 1817–1825 (2007)

Raiborg, C. & Stenmark, H. The ESCRT machinery in endosomal sorting of ubiquitylated membrane proteins. Nature 458, 445–452 (2009)

Gallet, A., Ruel, L., Staccini-Lavenant, L. & Thérond, P. P. Cholesterol modification is necessary for controlled planar long-range activity of Hedgehog in Drosophila epithelia. Development 133, 407–418 (2006)

Palm, W. et al. Secretion and signaling activities of lipoprotein-associated Hedgehog and non-sterol-modified Hedgehog in flies and mammals. PLoS Biol. 11, e1001505 (2013)

Tanaka, Y., Okada, Y. & Hirokawa, N. FGF-induced vesicular release of Sonic hedgehog and retinoic acid in leftward nodal flow is critical for left–right determination. Nature 435, 172–177 (2005)

Ma, C., Zhou, Y., Beachy, P. A. & Moses, K. The segment polarity gene hedgehog is required for progression of the morphogenetic furrow in the developing Drosophila eye. Cell 75, 927–938 (1993)

Letizia, A., Barrio, R. & Campuzano, S. Antagonistic and cooperative actions of the EGFR and Dpp pathways on the iroquois genes regulate Drosophila mesothorax specification and patterning. Development 134, 1337–1346 (2007)

Johnson, R. L., Milenkovic, L. & Scott, M. P. In vivo functions of the patched protein: requirement of the C terminus for target gene inactivation but not Hedgehog sequestration. Mol. Cell 6, 467–478 (2000)

Adler, P. N., Charlton, J. & Vinson, C. Allelic variation at the frizzled locus of Drosophila. Dev. Genet. 8, 99–119 (1987)

Gallet, A., Ruel, L., Staccini-Lavenant, L. & Thérond, P. P. Cholesterol modification is necessary for controlled planar long-range activity of Hedgehog in Drosophila epithelia. Development 133, 407–418 (2006)

Gallet, A., Rodriguez, R., Ruel, L. & Therond, P. P. Cholesterol modification of Hedgehog is required for trafficking and movement, revealing an asymmetric cellular response to Hedgehog. Dev. Cell 4, 191–204 (2003)

Bolte, S. & Cordelières, F. P. A guided tour into subcellular colocalization analysis in light microscopy. J. Microsc. 224, 213–232 (2006)

Ruel, L., Rodriguez, R., Gallet, A., Lavenant-Staccini, L. & Thérond, P. P. Stability and association of Smoothened, Costal2 and Fused with Cubitus interruptus are regulated by Hedgehog. Nature Cell Biol. 5, 907–913 (2003)

Théry, C., Amigorena, S., Raposo, G. & Clayton, A. Isolation and characterization of exosomes from cell culture supernatants and biological fluids. Curr. Protoc. Cell Biol. Chapter 3, Unit 3.22. (2006)

Thérond, P. P., Knight, J. D., Kornberg, T. B. & Bishop, J. M. Phosphorylation of the fused protein kinase in response to signaling from hedgehog. Proc. Natl Acad. Sci. USA 93, 4224–4228 (1996)
Acknowledgements
This work was supported by the French Government (National Research Agency, ANR) through the "Investments for the Future" LABEX SIGNALIFE (program reference number ANR-11-LABX-0028-01) and by the Fondation pour la Recherche Médicale (reference number DEQ20110421324). T.M. and F.W. were supported by the Fondation Association pour la Recherche Contre le Cancer (ARC) and Ligue Nationale Contre le Cancer, respectively. M.F. was supported by ATIP/Avenir, ARC and the Human Frontier Science Program. The authors acknowledge S. Pagnotta for technical support. We thank K. Haglund for sharing the anti-AliX antibody before publication. We thank L. Staccini-Lavenant and M.-A. Derieppe for technical help.
Ethics declarations
Competing interests
The authors declare no competing financial interests.
Extended data figures and tables
Supplementary information
This file contains a Supplementary Discussion, Supplementary Tables 1 and 3 and Supplementary References. (PDF 297 kb)
This file contains Supplementary Table 2. (XLSX 15 kb)
About this article
Cite this article
Matusek, T., Wendler, F., Polès, S. et al. The ESCRT machinery regulates the secretion and long-range activity of Hedgehog. Nature 516, 99–103 (2014). https://doi.org/10.1038/nature13847
Received:

Accepted:

Published:

Issue Date:

DOI: https://doi.org/10.1038/nature13847
Comments
By submitting a comment you agree to abide by our Terms and Community Guidelines. If you find something abusive or that does not comply with our terms or guidelines please flag it as inappropriate.