Abstract
Sensory regions of the brain integrate environmental cues with copies of motor-related signals important for imminent and ongoing movements. In mammals, signals propagating from the motor cortex to the auditory cortex are thought to have a critical role in normal hearing and behaviour, yet the synaptic and circuit mechanisms by which these motor-related signals influence auditory cortical activity remain poorly understood. Using in vivo intracellular recordings in behaving mice, we find that excitatory neurons in the auditory cortex are suppressed before and during movement, owing in part to increased activity of local parvalbumin-positive interneurons. Electrophysiology and optogenetic gain- and loss-of-function experiments reveal that motor-related changes in auditory cortical dynamics are driven by a subset of neurons in the secondary motor cortex that innervate the auditory cortex and are active during movement. These findings provide a synaptic and circuit basis for the motor-related corollary discharge hypothesized to facilitate hearing and auditory-guided behaviours.
This is a preview of subscription content
Access options
Subscribe to Journal
Get full journal access for 1 year
$199.00
only $3.90 per issue
All prices are NET prices.
VAT will be added later in the checkout.
Tax calculation will be finalised during checkout.
Buy article
Get time limited or full article access on ReadCube.
$32.00
All prices are NET prices.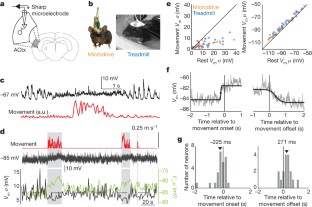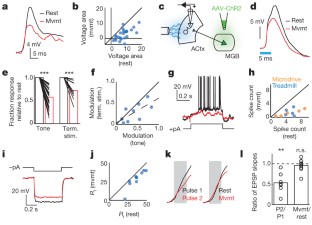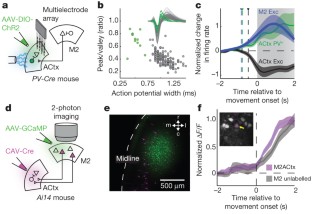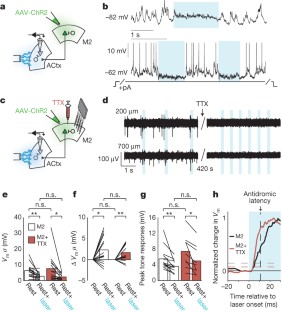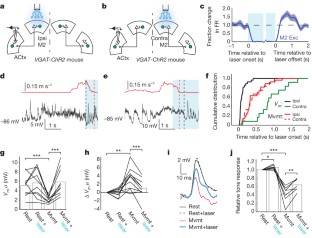 References
Eliades, S. J. & Wang, X. Sensory-motor interaction in the primate auditory cortex during self-initiated vocalizations. J. Neurophysiol. 89, 2194–2207 (2003)

Lee, S., Kruglikov, I., Huang, Z. J., Fishell, G. & Rudy, B. A disinhibitory circuit mediates motor integration in the somatosensory cortex. Nature Neurosci. 16, 1662–1670 (2013)

Maimon, G., Straw, A. D. & Dickinson, M. H. Active flight increases the gain of visual motion processing in Drosophila. Nature Neurosci. 13, 393–399 (2010)

Petreanu, L. et al. Activity in motor-sensory projections reveals distributed coding in somatosensation. Nature 489, 299–303 (2012)

Polack, P. O., Friedman, J. & Golshani, P. Cellular mechanisms of brain state-dependent gain modulation in visual cortex. Nature Neurosci. 16, 1331–1339 (2013)

Poulet, J. F. & Hedwig, B. The cellular basis of a corollary discharge. Science 311, 518–522 (2006)

Sommer, M. A. & Wurtz, R. H. A pathway in primate brain for internal monitoring of movements. Science 296, 1480–1482 (2002)

Flinker, A. et al. Single-trial speech suppression of auditory cortex activity in humans. J. Neurosci. 30, 16643–16650 (2010)

Reznik, D., Henkin, Y., Schadel, N. & Mukamel, R. Lateralized enhancement of auditory cortex activity and increased sensitivity to self-generated sounds. Nature Commun. 5, 4059 (2014)

Zatorre, R. J., Chen, J. L. & Penhune, V. B. When the brain plays music: auditory-motor interactions in music perception and production. Nature Rev. Neurosci. 8, 547–558 (2007)

Eliades, S. J. & Wang, X. Neural substrates of vocalization feedback monitoring in primate auditory cortex. Nature 453, 1102–1106 (2008)

Ford, J. M. & Mathalon, D. H. Corollary discharge dysfunction in schizophrenia: can it explain auditory hallucinations? Int. J. Psychophysiol. 58, 179–189 (2005)

Hickok, G., Houde, J. & Rong, F. Sensorimotor integration in speech processing: computational basis and neural organization. Neuron 69, 407–422 (2011)

Houde, J. F. & Jordan, M. I. Sensorimotor adaptation in speech production. Science 279, 1213–1216 (1998)

Paus, T., Perry, D. W., Zatorre, R. J., Worsley, K. J. & Evans, A. C. Modulation of cerebral blood flow in the human auditory cortex during speech: role of motor-to-sensory discharges. Eur. J. Neurosci. 8, 2236–2246 (1996)

Mukerji, S., Windsor, A. M. & Lee, D. J. Auditory brainstem circuits that mediate the middle ear muscle reflex. Trends Amplif. 14, 170–191 (2010)

Schuller, G. Vocalization influences auditory processing in collicular neurons of the CF-FM-bat, Rhinolophus ferrumequinum. J. Comp. Physiol. 132, 39–46 (1979)

Curio, G., Neuloh, G., Numminen, J., Jousmaki, V. & Hari, R. Speaking modifies voice-evoked activity in the human auditory cortex. Hum. Brain Mapp. 9, 183–191 (2000)

Budinger, E. & Scheich, H. Anatomical connections suitable for the direct processing of neuronal information of different modalities via the rodent primary auditory cortex. Hear. Res. 258, 16–27 (2009)

Nelson, A. et al. A circuit for motor cortical modulation of auditory cortical activity. J. Neurosci. 33, 14342–14353 (2013)

Reep, R. L., Corwin, J. V., Hashimoto, A. & Watson, R. T. Efferent connections of the rostral portion of medial agranular cortex in rats. Brain Res. Bull. 19, 203–221 (1987)

Ford, J. M. & Mathalon, D. H. Electrophysiological evidence of corollary discharge dysfunction in schizophrenia during talking and thinking. J. Psychiatr. Res. 38, 37–46 (2004)

Zhou, M. et al. Scaling down of balanced excitation and inhibition by active behavioral states in auditory cortex. Nature Neurosci. 17, 841–850 (2014)

Bennett, C., Arroyo, S. & Hestrin, S. Subthreshold mechanisms underlying state-dependent modulation of visual responses. Neuron 80, 350–357 (2013)

Niell, C. M. & Stryker, M. P. Modulation of visual responses by behavioral state in mouse visual cortex. Neuron 65, 472–479 (2010)

Otazu, G. H., Tai, L. H., Yang, Y. & Zador, A. M. Engaging in an auditory task suppresses responses in auditory cortex. Nature Neurosci. 12, 646–654 (2009)

Carmel, P. W. & Starr, A. Acoustic and nonacoustic factors modifying middle-ear muscle activity in waking cats. J. Neurophysiol. 26, 598–616 (1963)

Tan, A. Y. & Wehr, M. Balanced tone-evoked synaptic excitation and inhibition in mouse auditory cortex. Neuroscience 163, 1302–1315 (2009)

Jaramillo, S., Borges, K. & Zador, A. M. Auditory thalamus and auditory cortex are equally modulated by context during flexible categorization of sounds. J. Neurosci. 34, 5291–5301 (2014)

Poulet, J. F., Fernandez, L. M., Crochet, S. & Petersen, C. C. Thalamic control of cortical states. Nature Neurosci. 15, 370–372 (2012)

Korn, H., Faber, D. S., Burnod, Y. & Triller, A. Regulation of efficacy at central synapses. J. Neurosci. 4, 125–130 (1984)

Thomson, A. M., Deuchars, J. & West, D. C. Large, deep layer pyramid-pyramid single axon EPSPs in slices of rat motor cortex display paired pulse and frequency-dependent depression, mediated presynaptically and self-facilitation, mediated postsynaptically. J. Neurophysiol. 70, 2354–2369 (1993)

Guo, Z. V. et al. Flow of cortical activity underlying a tactile decision in mice. Neuron 81, 179–194 (2014)

Chen, T. W. et al. Ultrasensitive fluorescent proteins for imaging neuronal activity. Nature 499, 295–300 (2013)

Alexander, G. E., Newman, J. D. & Symmes, D. Convergence of prefrontal and acoustic inputs upon neurons in the superior temporal gyrus of the awake squirrel monkey. Brain Res. 116, 334–338 (1976)

Hackett, T. A., Stepniewska, I. & Kaas, J. H. Prefrontal connections of the parabelt auditory cortex in macaque monkeys. Brain Res. 817, 45–58 (1999)

Phillips-Silver, J. & Trainor, L. J. Feeling the beat: movement influences infant rhythm perception. Science 308, 1430 (2005)

Fu, Y. et al. A cortical circuit for gain control by behavioral state. Cell 156, 1139–1152 (2014)

Horváth, J. & Burgyan, A. No evidence for peripheral mechanism attenuating auditory ERPs to self-induced tones. Psychophysiology 50, 563–569 (2013)

Froemke, R. C., Merzenich, M. M. & Schreiner, C. E. A synaptic memory trace for cortical receptive field plasticity. Nature 450, 425–429 (2007)

Crapse, T. B. & Sommer, M. A. Corollary discharge across the animal kingdom. Nature Rev. Neurosci. 9, 587–600 (2008)

Buran, B. N., von Trapp, G. & Sanes, D. H. Behaviorally gated reduction of spontaneous discharge can improve detection thresholds in auditory cortex. J. Neurosci. 34, 4076–4081 (2014)

Langguth, B. et al. Altered motor cortex excitability in tinnitus patients: a hint at crossmodal plasticity. Neurosci. Lett. 380, 326–329 (2005)

Heinks-Maldonado, T. H. et al. Relationship of imprecise corollary discharge in schizophrenia to auditory hallucinations. Arch. Gen. Psychiatry 64, 286–296 (2007)

Hamaguchi, K., Tschida, K. A., Yoon, I., Donald, B. R. & Mooney, R. Auditory synapses to song premotor neurons are gated off during vocalization in zebra finches. eLife 3, e01833 (2014)

Long, M. A., Jin, D. Z. & Fee, M. S. Support for a synaptic chain model of neuronal sequence generation. Nature 468, 394–399 (2010)

Wienisch, M., Blauvelt, D. G., Sato, T. F. & Murthy, V. N. Two-photon imaging of neural activity in awake, head-restrained mice. Neuromethods 67, 45–60 (2012)

Quiroga, R. Q., Nadasdy, Z. & Ben-Shaul, Y. Unsupervised spike detection and sorting with wavelets and superparamagnetic clustering. Neural Comput. 16, 1661–1687 (2004)

Sanders, J. I. & Kepecs, A. Choice ball: a response interface for two-choice psychometric discrimination in head-fixed mice. J. Neurophysiol. 108, 3416–3423 (2012)
Acknowledgements
We thank the members of the Mooney laboratory for discussions regarding experimental design and data analysis; S. Lisberger, F. Wang and S. Shea for their valuable comments on the manuscript; and M. Booze for technical support and animal husbandry. D.M.S. is a fellow of the Helen Hay Whitney Foundation; A.N. was supported by the Holland-Trice Graduate Fellowship in Brain Sciences; R.M. was supported by NIH grant NS079929.
Ethics declarations
Competing interests
The authors declare no competing financial interests.
Extended data figures and tables
About this article
Cite this article
Schneider, D., Nelson, A. & Mooney, R. A synaptic and circuit basis for corollary discharge in the auditory cortex. Nature 513, 189–194 (2014). https://doi.org/10.1038/nature13724
Received:

Accepted:

Published:

Issue Date:

DOI: https://doi.org/10.1038/nature13724
Comments
By submitting a comment you agree to abide by our Terms and Community Guidelines. If you find something abusive or that does not comply with our terms or guidelines please flag it as inappropriate.