Abstract
In bilaterians, three orthogonal body axes define the animal form, with distinct anterior–posterior, dorsal–ventral and left–right asymmetries. The key signalling factors are Wnt family proteins for the anterior–posterior axis, Bmp family proteins for the dorsal–ventral axis and Nodal for the left–right axis1. Cnidarians, the sister group to bilaterians, are characterized by one oral–aboral body axis, which exhibits a distinct biradiality of unknown molecular nature. Here we analysed the biradial growth pattern in the radially symmetrical cnidarian polyp Hydra, and we report evidence of Nodal in a pre-bilaterian clade. We identified a Nodal-related gene (Ndr) in Hydra magnipapillata, and this gene is essential for setting up an axial asymmetry along the main body axis. This asymmetry defines a lateral signalling centre, inducing a new body axis of a budding polyp orthogonal to the mother polyp's axis. Ndr is expressed exclusively in the lateral bud anlage and induces Pitx, which encodes an evolutionarily conserved transcription factor that functions downstream of Nodal. Reminiscent of its function in vertebrates2,3, Nodal acts downstream of β-Catenin signalling. Our data support an evolutionary scenario in which a 'core-signalling cassette' consisting of β-Catenin, Nodal and Pitx pre-dated the cnidarian–bilaterian split. We presume that this cassette was co-opted for various modes of axial patterning: for example, for lateral branching in cnidarians and left–right patterning in bilaterians.
Relevant articles
Open Access articles citing this article.
Berenice Ziegler

,

Irene Yiallouros

…

Suat Özbek

BMC Biology Open Access 09 June 2021

Puli Chandramouli Reddy

,

Akhila Gungi

…

Sanjeev Galande

Epigenetics & Chromatin Open Access 12 October 2020

Aissam Ikmi

,

Petrus J. Steenbergen

…

Matthew C. Gibson

Nature Communications Open Access 02 September 2020
Access options
Subscribe to Journal
Get full journal access for 1 year
$199.00
only $3.90 per issue
All prices are NET prices.
VAT will be added later in the checkout.
Tax calculation will be finalised during checkout.
Buy article
Get time limited or full article access on ReadCube.
$32.00
All prices are NET prices.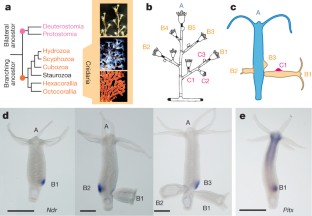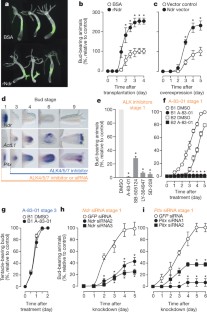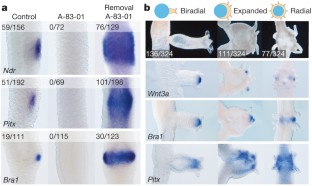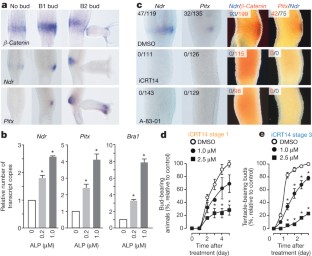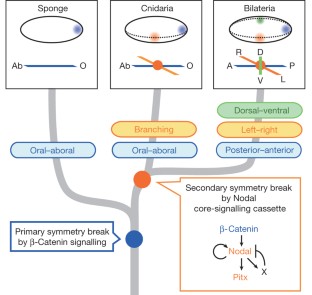 References
Niehrs, C. On growth and form: a Cartesian coordinate system of Wnt and BMP signaling specifies bilaterian body axes. Development 137, 845–857 (2010)

Shen, M. M. Nodal signaling: developmental roles and regulation. Development 134, 1023–1034 (2007)

Schier, A. F. Nodal morphogens. Cold Spring Harb. Perspect. Biol. 1, a003459 (2009)

Meinhardt, H. Primary body axes of vertebrates: generation of a near-Cartesian coordinate system and the role of Spemann-type organizer. Dev. Dyn. 235, 2907–2919 (2006)

Brusca, R. C. & Brusca, G. J. Invertebrates 2nd edn (Sinauer, 2002)

Nielsen, C. Animal Evolution: Interrelationships of the Living Phyla 3rd edn (Oxford Univ. Press, 2012)

Baird, R. V. & Burnett, A. L. Observations on the discovery of a dorso-ventral axis in Hydra. J. Embryol. Exp. Morphol. 17, 35–81 (1967)

Reinhardt, B., Broun, M., Blitz, I. L. & Bode, H. R. HyBMP5–8b, a BMP5–8 orthologue, acts during axial patterning and tentacle formation in hydra. Dev. Biol. 267, 43–59 (2004)

Chea, H. K., Wright, C. V. & Swalla, B. J. Nodal signaling and the evolution of deuterostome gastrulation. Dev. Dyn. 234, 269–278 (2005)

Grande, C. & Patel, N. H. Nodal signalling is involved in left–right asymmetry in snails. Nature 457, 1007–1011 (2009)

Srivastava, M. et al. Early evolution of the LIM homeobox gene family. BMC Biol. 8, 4 (2010)

Vogt, J., Traynor, R. & Sapkota, G. P. The specificities of small molecule inhibitors of the TGFβ and BMP pathways. Cell. Signal. 23, 1831–1842 (2011)

Meinhardt, H. Organizer and axes formation as a self-organizing process. Int. J. Dev. Biol. 45, 177–188 (2001)

Hamada, H., Meno, C., Watanabe, D. & Saijoh, Y. Establishment of vertebrate left–right asymmetry. Nature Rev. Genet. 3, 103–113 (2002)

Hobmayer, B. et al. WNT signalling molecules act in axis formation in the diploblastic metazoan Hydra. Nature 407, 186–189 (2000)

Broun, M., Gee, L., Reinhardt, B. & Bode, H. R. Formation of the head organizer in hydra involves the canonical Wnt pathway. Development 132, 2907–2916 (2005)

Duboc, V., Röttinger, E., Lapraz, F., Besnardeau, L. & Lepage, T. Left–right asymmetry in the sea urchin embryo is regulated by Nodal signaling on the right side. Dev. Cell 9, 147–158 (2005)

Yu, J. K., Holland, L. Z. & Holland, N. D. An amphioxus nodal gene (AmphiNodal) with early symmetrical expression in the organizer and mesoderm and later asymmetrical expression associated with left–right axis formation. Evol. Dev. 4, 418–425 (2002)

Shiratori, H. & Hamada, H. The left–right axis in the mouse: from origin to morphology. Development 133, 2095–2104 (2006)

Yamamoto, M. et al. Nodal antagonists regulate formation of the anteroposterior axis of the mouse embryo. Nature 428, 387–392 (2004)

Holstein, T. W. The evolution of the Wnt pathway. Cold Spring Harb. Perspect. Biol. 4, a007922 (2012)

Warner, J. F., Lyons, D. C. & McClay, D. R. Left–right asymmetry in the sea urchin embryo: BMP and the asymmetrical origins of the adult. PLoS Biol. 10, e1001404 (2012)

Inui, M. et al. Self-regulation of the head-inducing properties of the Spemann organizer. Proc. Natl Acad. Sci. USA 109, 15354–15359 (2012)

Feldman, B. et al. Zebrafish organizer development and germ-layer formation require nodal-related signals. Nature 395, 181–185 (1998)

Kühn. A. Entwicklungsgeschichte und Verwandtschaftsbeziehungen der Hydrozoen: Die Hydroiden. Ergebnisse und Fortschritte der Zoologie 4, 1–284 (1914)

Minh, B. Q., Vinh, L. S., von Haeseler, A. & Schmidt, H. A. pIQPNNI: parallel reconstruction of large maximum likelihood phylogenies. Bioinformatics 21, 3794–3796 (2005)

Whelan, S. & Goldman, N. A general empirical model of protein evolution derived from multiple protein families using a maximum-likelihood approach. Mol. Biol. Evol. 18, 691–699 (2001)

Guindon, S. et al. New algorithms and methods to estimate maximum-likelihood phylogenies: assessing the performance of PhyML 3.0. Syst. Biol. 59, 307–321 (2010)

Le, S. Q. & Gascuel, O. An improved general amino acid replacement matrix. Mol. Biol. Evol. 25, 1307–1320 (2008)

Schmidt, H. A., Strimmer, K., Vingron, M. & von Haeseler, A. TREE-PUZZLE: maximum likelihood phylogenetic analysis using quartets and parallel computing. Bioinformatics 18, 502–504 (2002)

Lengfeld, T. et al. Multiple Wnts are involved in Hydra organizer formation and regeneration. Dev. Biol. 330, 186–199 (2009)

Bode, H., Lengfeld, T., Hobmayer, B. & Holstein, T. W. Detection of expression patterns in Hydra pattern formation. Methods Mol. Biol. 469, 69–84 (2008)

Nakamura, Y., Tsiairis, C. D., Özbek, S. & Holstein, T. W. Autoregulatory and repressive inputs localize Hydra Wnt3 to the head organizer. Proc. Natl Acad. Sci. USA 108, 9137–9142 (2011)

Khalturin, K. et al. A novel gene family controls species-specific morphological traits in Hydra. PLoS Biol. 6, e278 (2008)

Glauber, K. M. et al. A small molecule screen identifies a novel compound that induces a homeotic transformation in Hydra. Development 140, 4788–4796 (2013)
Acknowledgements
We thank R. Steele for providing the transgenic Hydra strains before publication, for setting up the Cladonema pacificum genome Blast server and for permission to provide the URL; R. Yamada, T. Katsuki and R. Greenspan for providing unpublished C. pacificum sequence data; B. Hobmayer for providing a Hydra scheme from an unpublished manuscript; and H. Yuzawa-Watanabe for technical assistance. We thank O. Simakov, H. Meinhardt, I. Somorjai and B. Hobmayer for discussions and comments on the manuscript. This study was supported by the TOYOBO Biotechnology Foundation and the Alexander von Humboldt Foundation (initial fellowships to H.W.), the Heidelberg Excellence Cluster Cellular Networks, and grants from the German science foundation (DFG) to T.W.H. (FOR 1036/TP1 and SFB 873/A1) and S.Ö. (FOR 1036/TP2).
Ethics declarations
Competing interests
The authors declare no competing financial interests.
Additional information
Multiple sequence alignments and phylogenetic trees for the maximum likelihood phylogenies of the metazoan Tgf-β, Cerberus, Dan and Gremlin, Lhx and Lim, Smad, and Prd and Pitx gene families have been deposited with TreeBASE (http://treebase.org) under the Study ID S16190.
Extended data figures and tables
Supplementary information
This table shows the genomic details and overview of sequences used in the phylogenomic studies. (XLS 299 kb)
This table shows the tentacle number after A83-01 removal. (XLSX 40 kb)
About this article
Cite this article
Watanabe, H., Schmidt, H., Kuhn, A. et al. Nodal signalling determines biradial asymmetry in Hydra. Nature 515, 112–115 (2014). https://doi.org/10.1038/nature13666
Received:

Accepted:

Published:

Issue Date:

DOI: https://doi.org/10.1038/nature13666
Comments
By submitting a comment you agree to abide by our Terms and Community Guidelines. If you find something abusive or that does not comply with our terms or guidelines please flag it as inappropriate.