Abstract
Learning, whether motor, sensory or cognitive, requires networks of neurons to generate new activity patterns. As some behaviours are easier to learn than others1,2, we asked if some neural activity patterns are easier to generate than others. Here we investigate whether an existing network constrains the patterns that a subset of its neurons is capable of exhibiting, and if so, what principles define this constraint. We employed a closed-loop intracortical brain–computer interface learning paradigm in which Rhesus macaques (Macaca mulatta) controlled a computer cursor by modulating neural activity patterns in the primary motor cortex. Using the brain–computer interface paradigm, we could specify and alter how neural activity mapped to cursor velocity. At the start of each session, we observed the characteristic activity patterns of the recorded neural population. The activity of a neural population can be represented in a high-dimensional space (termed the neural space), wherein each dimension corresponds to the activity of one neuron. These characteristic activity patterns comprise a low-dimensional subspace (termed the intrinsic manifold) within the neural space. The intrinsic manifold presumably reflects constraints imposed by the underlying neural circuitry. Here we show that the animals could readily learn to proficiently control the cursor using neural activity patterns that were within the intrinsic manifold. However, animals were less able to learn to proficiently control the cursor using activity patterns that were outside of the intrinsic manifold. These results suggest that the existing structure of a network can shape learning. On a timescale of hours, it seems to be difficult to learn to generate neural activity patterns that are not consistent with the existing network structure. These findings offer a network-level explanation for the observation that we are more readily able to learn new skills when they are related to the skills that we already possess3,4.
Access options
Subscribe to Journal
Get full journal access for 1 year
$199.00
only $3.90 per issue
All prices are NET prices.
VAT will be added later in the checkout.
Rent or Buy article
Get time limited or full article access on ReadCube.
from$8.99
All prices are NET prices.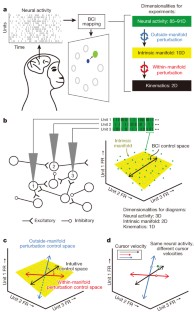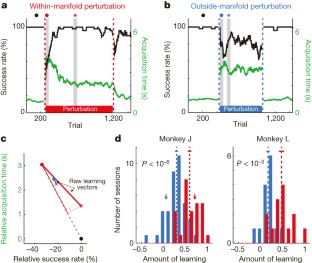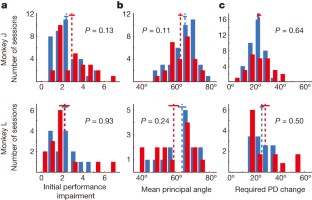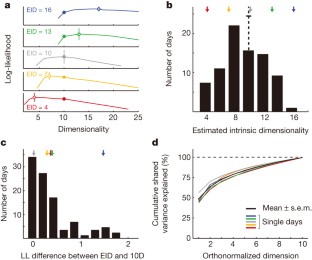 References
1

Krakauer, J. W. & Mazzoni, P. Human sensorimotor learning: adaptation, skill, and beyond. Curr. Opin. Neurobiol. 21, 636–644 (2011)

2

Ranganathan, R., Wieser, J., Mosier, K. M., Mussa-Ivaldi, F. A. & Scheidt, R. A. Learning redundant motor tasks with and without overlapping dimensions: facilitation and interference effects. J. Neurosci. 34, 8289–8299 (2014)

3

Thoroughman, K. & Taylor, J. Rapid reshaping of human motor generalization. J. Neurosci. 25, 8948–8953 (2005)

4

Braun, D., Mehring, C. & Wolpert, D. Structure learning in action. Behav. Brain Res. 206, 157–165 (2010)

5

Ganguly, K. & Carmena, J. M. Emergence of a stable cortical map for neuroprosthetic control. PLoS Biol. 7, e1000153 (2009)

6

Fetz, E. E. Operant conditioning of cortical unit activity. Science 163, 955–958 (1969)

7

Jarosiewicz, B. et al. Functional network reorganization during learning in a brain-computer interface paradigm. Proc. Natl Acad. Sci. USA 105, 19486–19491 (2008)

8

Hwang, E. J., Bailey, P. M. & Andersen, R. A. Volitional control of neural activity relies on the natural motor repertoire. Curr. Biol. 23, 353–361 (2013)

9

Rouse, A. G., Williams, J. J., Wheeler, J. J. & Moran, D. W. Cortical adaptation to a chronic micro-electrocorticographic brain computer interface. J. Neurosci. 33, 1326–1330 (2013)

10

Engelhard, B., Ozeri, N., Israel, Z., Bergman, H. & Vaadia, E. Inducing γ oscillations and precise spike synchrony by operant conditioning via brain-machine interface. Neuron 77, 361–375 (2013)

11

Cunningham, J. P. & Yu, B. M. Dimensionality reduction for large-scale neural recordings. Nature Neurosci http://dx.doi.org/10.1038/nn.3776

12

Mazor, O. & Laurent, G. Transient dynamics versus fixed points in odor representations by locust antennal lobe projection neurons. Neuron 48, 661–673 (2005)

13

Mante, V., Sussillo, D., Shenoy, K. V. & Newsome, W. T. Context-dependent computation by recurrent dynamics in prefrontal cortex. Nature 503, 78–84 (2013)

14

Rigotti, M. et al. The importance of mixed selectivity in complex cognitive tasks. Nature 497, 585–590 (2013)

15

Churchland, M. M. et al. Neural population dynamics during reaching. Nature 487, 51–56 (2012)

16

Luczak, A., Barthó, P. & Harris, K. D. Spontaneous events outline the realm of possible sensory responses in neocortical populations. Neuron 62, 413–425 (2009)

17

Shadmehr, R., Smith, M. & Krakauer, J. Error correction, sensory prediction, and adaptation in motor control. Annu. Rev. Neurosci. 33, 89–108 (2010)

18

Li, C. S., Padoa-Schioppa, C. & Bizzi, E. Neuronal correlates of motor performance and motor learning in the primary motor cortex of monkeys adapting to an external force field. Neuron 30, 593–607 (2001)

19

Salinas, E. Fast remapping of sensory stimuli onto motor actions on the basis of contextual modulation. J. Neurosci. 24, 1113–1118 (2004)

20

Picard, N., Matsuzaka, Y. & Strick, P. L. Extended practice of a motor skill is associated with reduced metabolic activity in M1. Nature Neurosci. 16, 1340–1347 (2013)

21

Rioult-Pedotti, M.-S., Friedman, D. & Donoghue, J. P. Learning-induced LTP in neocortex. Science 290, 533–536 (2000)

22

Peters, A. J., Chen, S. X. & Komiyama, T. Emergence of reproducible spatiotemporal activity during motor learning. Nature 510, 263–267 (2014)

23

Paz, R., Natan, C., Boraud, T., Bergman, H. & Vaadia, E. Emerging patterns of neuronal responses in supplementary and primary motor areas during sensorimotor adaptation. J. Neurosci. 25, 10941–10951 (2005)

24

Durstewitz, D., Vittoz, N. M., Floresco, S. B. & Seamans, J. K. Abrupt transitions between prefrontal neural ensemble states accompany behavioral transitions during rule learning. Neuron 66, 438–448 (2010)

25

Jeanne, J. M., Sharpee, T. O. & Gentner, T. Q. Associative learning enhances population coding by inverting interneuronal correlation patterns. Neuron 78, 352–363 (2013)

26

Gu, Y. et al. Perceptual learning reduces interneuronal correlations in macaque visual cortex. Neuron 71, 750–761 (2011)

27

Ingvalson, E. M., Holt, L. L. & McClelland, J. L. Can native Japanese listeners learn to differentiate /r–l/ on the basis of F3 onset frequency? Biling. Lang. Cogn. 15, 255–274 (2012)

28

Park, D. C. et al. The impact of sustained engagement on cognitive function in older adults: the Synapse Project. Psychol. Sci. 25, 103–112 (2014)

29

Boden, M. A. Creativity and artificial intelligence. Artif. Intell. 103, 347–356 (1998)

30

Ajemian, R., D'Ausilio, A., Moorman, H. & Bizzi, E. A theory for how sensorimotor skills are learned and retained in noisy and nonstationary neural circuits. Proc. Natl Acad. Sci. USA 110, E5078–E5087 (2013)

31

Tkach, D. C., Reimer, J. & Hatsopoulos, N. G. Observation-based learning for brain-machine Interfaces. Curr. Opin. Neurobiol. 18, 589–594 (2008)

32

Velliste, M., Perel, S., Spalding, M. C., Whitford, A. S. & Schwartz, A. B. Cortical control of a prosthetic arm for self-feeding. Nature 453, 1098–1101 (2008)

33

Santhanam, G. et al. Factor-analysis methods for higher-performance neural prostheses. J. Neurophysiol. 102, 1315–1330 (2009)

34

Yu, B. M. et al. Gaussian-process factor analysis for low-dimensional single-trial analysis of neural population activity. J. Neurophysiol. 102, 614–635 (2009)

35

Dempster, A. P., Laird, N. M. & Rubin, D. B. Maximum likelihood from incomplete data via the EM algorithm. J. R. Stat. Soc. [Ser A] 39, 1–38 (1977)

36

Wu, W., Gao, Y., Bienenstock, E., Donoghue, J. P. & Black, M. J. Bayesian population decoding of motor cortical activity using a Kalman filter. Neural Comput. 18, 80–118 (2006)

37

Gilja, V. et al. A high-performance neural prosthesis enabled by control algorithm design. Nature Neurosci. 15, 1752–1757 (2012)

38

Björck, Å. & Golub, G. H. Numerical methods for computing angles between linear subspaces. Math. Comput. 27, 579–594 (1973)

39

Fitts, P. M. The information capacity of the human motor system in controlling the amplitude of movement. J. Exp. Psychol. Gen. 47, 381–391 (1954)
Acknowledgements
We thank A. Barth, C. Olson, D. Sussillo, R. J. Tibshirani and N. Urban for discussions; S. Flesher for help with data collection and R. Dum for advice on array placement. This work was funded by NIH NICHD CRCNS R01-HD071686 (A.P.B. and B.M.Y.), NIH NINDS R01-NS065065 (A.P.B.), Burroughs Wellcome Fund (A.P.B.), NSF DGE-0549352 (P.T.S.) and NIH P30-NS076405 (Systems Neuroscience Institute).
Ethics declarations
Competing interests
The authors declare no competing financial interests.
Extended data figures and tables
About this article
Cite this article
Sadtler, P., Quick, K., Golub, M. et al. Neural constraints on learning. Nature 512, 423–426 (2014). https://doi.org/10.1038/nature13665
Received:

Accepted:

Published:

Issue Date:
Comments
By submitting a comment you agree to abide by our Terms and Community Guidelines. If you find something abusive or that does not comply with our terms or guidelines please flag it as inappropriate.