Abstract
Notch signalling plays a key role in the generation of haematopoietic stem cells (HSCs) during vertebrate development1,2,3 and requires intimate contact between signal-emitting and signal-receiving cells, although little is known regarding when, where and how these intercellular events occur. We previously reported that the somitic Notch ligands, Dlc and Dld, are essential for HSC specification4. It has remained unclear, however, how these somitic requirements are connected to the later emergence of HSCs from the dorsal aorta. Here we show in zebrafish that Notch signalling establishes HSC fate as their shared vascular precursors migrate across the ventral face of the somite and that junctional adhesion molecules (JAMs) mediate this required Notch signal transduction. HSC precursors express jam1a (also known as f11r) and migrate axially across the ventral somite, where Jam2a and the Notch ligands Dlc and Dld are expressed. Despite no alteration in the expression of Notch ligand or receptor genes, loss of function of jam1a led to loss of Notch signalling and loss of HSCs. Enforced activation of Notch in shared vascular precursors rescued HSCs in jam1a or jam2a deficient embryos. Together, these results indicate that Jam1a–Jam2a interactions facilitate the transduction of requisite Notch signals from the somite to the precursors of HSCs, and that these events occur well before formation of the dorsal aorta.
Access options
Subscribe to Journal
Get full journal access for 1 year
$199.00
only $3.90 per issue
All prices are NET prices.
VAT will be added later in the checkout.
Rent or Buy article
Get time limited or full article access on ReadCube.
from$8.99
All prices are NET prices.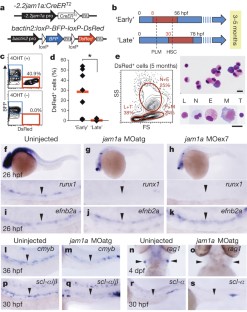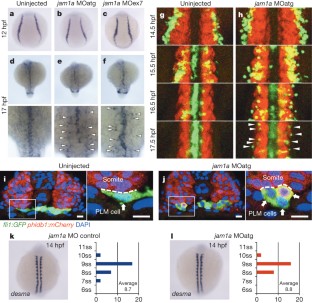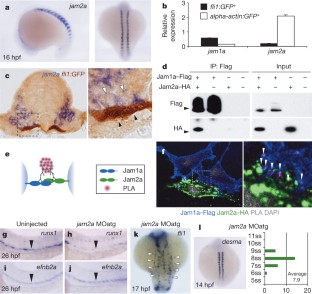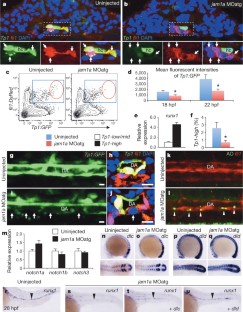 References
1

Hadland, B. K. et al. A requirement for Notch1 distinguishes 2 phases of definitive hematopoiesis during development. Blood 104, 3097–3105 (2004)

2

Yoon, M. J. et al. Mind bomb-1 is essential for intraembryonic hematopoiesis in the aortic endothelium and the subaortic patches. Mol. Cell. Biol. 28, 4794–4804 (2008)

3

Burns, C. E., Traver, D., Mayhall, E., Shepard, J. L. & Zon, L. I. Hematopoietic stem cell fate is established by the Notch-Runx pathway. Genes Dev. 19, 2331–2342 (2005)

4

Clements, W. K. et al. A somitic Wnt16/Notch pathway specifies haematopoietic stem cells. Nature 474, 220–224 (2011)

5

Weber, C., Fraemohs, L. & Dejana, E. The role of junctional adhesion molecules in vascular inflammation. Nature Rev. Immunol. 7, 467–477 (2007)

6

Sugano, Y. et al. Junctional adhesion molecule-A, JAM-A, is a novel cell-surface marker for long-term repopulating hematopoietic stem cells. Blood 111, 1167–1172 (2008)

7

Kobayashi, I. et al. Comparative gene expression analysis of zebrafish and mammals identifies common regulators in hematopoietic stem cells. Blood 115, e1–e9 (2010)

8

Thompson, M. A. et al. The cloche and spadetail genes differentially affect hematopoiesis and vasculogenesis. Dev. Biol. 197, 248–269 (1998)

9

Jin, S. W., Beis, D., Mitchell, T., Chen, J. N. & Stainier, D. Y. Cellular and molecular analyses of vascular tube and lumen formation in zebrafish. Development 132, 5199–5209 (2005)

10

Bertrand, J. Y. et al. Haematopoietic stem cells derive directly from aortic endothelium during development. Nature 464, 108–111 (2010)

11

Kissa, K. & Herbomel, P. Blood stem cells emerge from aortic endothelium by a novel type of cell transition. Nature 464, 112–115 (2010)

12

Qian, F. et al. Distinct functions for different scl isoforms in zebrafish primitive and definitive hematopoiesis. PLoS Biol. 5, e132 (2007)

13

Gering, M. & Patient, R. Hedgehog signaling is required for adult blood stem cell formation in zebrafish embryos. Dev. Cell 8, 389–400 (2005)

14

Wilkinson, R. N. et al. Hedgehog signaling via a calcitonin receptor-like receptor can induce arterial differentiation independently of VEGF signaling in zebrafish. Blood 120, 477–488 (2012)

15

Powell, G. T. & Wright, G. J. Jamb and Jamc are essential for vertebrate myocyte fusion. PLoS Biol. 9, e1001216 (2011)

16

Powell, G. T. & Wright, G. J. Genomic organisation, embryonic expression and biochemical interactions of the zebrafish junctional adhesion molecule family of receptors. PLoS ONE 7, e40810 (2012)

17

Sakaguchi, T. et al. Putative "stemness" gene jam-B is not required for maintenance of stem cell state in embryonic, neural, or hematopoietic stem cells. Mol. Cell. Biol. 26, 6557–6570 (2006)

18

Arcangeli, M. L. et al. JAM-B regulates maintenance of hematopoietic stem cells in the bone marrow. Blood 118, 4609–4619 (2011)

19

Parsons, M. J. et al. Notch-responsive cells initiate the secondary transition in larval zebrafish pancreas. Mech. Dev. 126, 898–912 (2009)

20

Ahimou, F., Mok, L. P., Bardot, B. & Wesley, C. The adhesion force of Notch with Delta and the rate of Notch signaling. J. Cell Biol. 167, 1217–1229 (2004)

21

Westerfield, M. The Zebrafish Book: a Guide for the Laboratory Use of Zebrafish (Danio rerio) (Univ. Oregon Press, 2000)

22

North, T. E. et al. Prostaglandin E2 regulates vertebrate haematopoietic stem cell homeostasis. Nature 447, 1007–1011 (2007)

23

Chi, N. C. et al. Foxn4 directly regulates tbx2b expression and atrioventricular canal formation. Genes Dev. 22, 734–739 (2008)

24

Lawson, N. D. & Weinstein, B. M. In vivo imaging of embryonic vascular development using transgenic zebrafish. Dev. Biol. 248, 307–318 (2002)

25

Villefranc, J. A., Amigo, J. & Lawson, N. D. Gateway compatible vectors for analysis of gene function in the zebrafish. Dev. Dyn. 236, 3077–3087 (2007)

26

Distel, M., Wullimann, M. F. & Koster, R. W. Optimized Gal4 genetics for permanent gene expression mapping in zebrafish. Proc. Natl Acad. Sci. USA 106, 13365–13370 (2009)

27

Higashijima, S., Okamoto, H., Ueno, N., Hotta, Y. & Eguchi, G. High-frequency generation of transgenic zebrafish which reliably express GFP in whole muscles or the whole body by using promoters of zebrafish origin. Dev. Biol. 192, 289–299 (1997)

28

Zygmunt, T. et al. Semaphorin-PlexinD1 signaling limits angiogenic potential via the VEGF decoy receptor sFlt1. Dev. Cell 21, 301–314 (2011)

29

Kobayashi, I. et al. Characterization and localization of side population (SP) cells in zebrafish kidney hematopoietic tissue. Blood 111, 1131–1137 (2008)

30

Thisse, C., Thisse, B., Schilling, T. F. & Postlethwait, J. H. Structure of the zebrafish snail1 gene and its expression in wild-type, spadetail and no tail mutant embryos. Development 119, 1203–1215 (1993)

31

Fujita, N. et al. The Atg16L complex specifies the site of LC3 lipidation for membrane biogenesis in autophagy. Mol. Biol. Cell 19, 2092–2100 (2008)

32

Furutani-Seiki, M. et al. Neural degeneration mutants in the zebrafish, Danio rerio. Development 123, 229–239 (1996)
Acknowledgements
The authors thank G. Wright for providing the jam2ahu3319 line, A. Shimizu for help in generating transgenic lines, M. Osato for providing the I-SceI-pBSII SK+ vector, M. Distel for providing phldb1:Gal4-mCherry animals, and W. Clements, Y. Lee and E. Butko provided critical evaluation of the manuscript. This work was supported in part by a JSPS Research fellowship for Young Scientists and a JSPS Postdoctoral fellowship for Research Abroad (I.K.), by a New Investigator Award from the California Institute of Regenerative Medicine, R01-DK074482 from the National Institutes of Health, and an Innovative Science Award from the American Heart Association (D.T.).
Ethics declarations
Competing interests
The authors declare no competing financial interests.
Extended data figures and tables
Supplementary information
About this article
Cite this article
Kobayashi, I., Kobayashi-Sun, J., Kim, A. et al. Jam1a–Jam2a interactions regulate haematopoietic stem cell fate through Notch signalling. Nature 512, 319–323 (2014) doi:10.1038/nature13623
Received

Accepted

Published

Issue Date
Comments
By submitting a comment you agree to abide by our Terms and Community Guidelines. If you find something abusive or that does not comply with our terms or guidelines please flag it as inappropriate.