Abstract
The vast majority of the mammalian genome has the potential to express noncoding RNA (ncRNA). The 11-subunit RNA exosome complex is the main source of cellular 3′–5′ exoribonucleolytic activity and potentially regulates the mammalian noncoding transcriptome1. Here we generated a mouse model in which the essential subunit Exosc3 of the RNA exosome complex can be conditionally deleted. Exosc3-deficient B cells lack the ability to undergo normal levels of class switch recombination and somatic hypermutation, two mutagenic DNA processes used to generate antibody diversity via the B-cell mutator protein activation-induced cytidine deaminase (AID)2,3. The transcriptome of Exosc3-deficient B cells has revealed the presence of many novel RNA exosome substrate ncRNAs. RNA exosome substrate RNAs include xTSS-RNAs, transcription start site (TSS)-associated antisense transcripts that can exceed 500 base pairs in length and are transcribed divergently from cognate coding gene transcripts. xTSS-RNAs are most strongly expressed at genes that accumulate AID-mediated somatic mutations and/or are frequent translocation partners of DNA double-strand breaks generated at Igh in B cells4,5. Strikingly, translocations near TSSs or within gene bodies occur over regions of RNA exosome substrate ncRNA expression. These RNA exosome-regulated, antisense-transcribed regions of the B-cell genome recruit AID and accumulate single-strand DNA structures containing RNA–DNA hybrids. We propose that RNA exosome regulation of ncRNA recruits AID to single-strand DNA-forming sites of antisense and divergent transcription in the B-cell genome, thereby creating a link between ncRNA transcription and overall maintenance of B-cell genomic integrity.
Relevant articles
Open Access articles citing this article.
Yiyun Chen

,

Wing Yin Cheng

…

Jiguang Wang

Oncogene Open Access 19 March 2021

Stephen P. Methot

,

Ludivine C. Litzler

…

Javier M. Di Noia

Nature Communications Open Access 28 March 2018
Access options
Subscribe to Journal
Get full journal access for 1 year
$199.00
only $3.90 per issue
All prices are NET prices.
VAT will be added later in the checkout.
Tax calculation will be finalised during checkout.
Buy article
Get time limited or full article access on ReadCube.
$32.00
All prices are NET prices.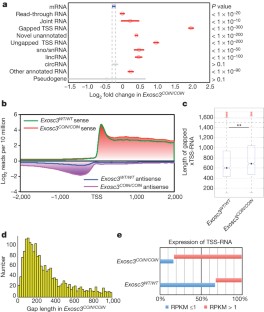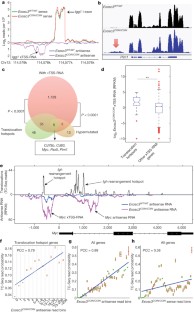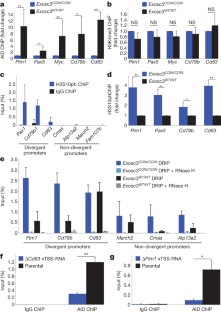 Accession codes
Primary accessions
BioProject
Sequence Read Archive
Data deposits
All the RNA-seq data sets have been deposited in the Sequence Read Archive under accession number SRP042355 and in the BioProject database under accession number PRJNA248775.
References
Schneider, C. & Tollervey, D. Threading the barrel of the RNA exosome. Trends Biochem. Sci. 38, 485–493 (2013)

Alt, F. W., Zhang, Y., Meng, F. L., Guo, C. & Schwer, B. Mechanisms of programmed DNA lesions and genomic instability in the immune system. Cell 152, 417–429 (2013)

Keim, C., Kazadi, D., Rothschild, G. & Basu, U. Regulation of AID, the B-cell genome mutator. Genes Dev. 27, 1–17 (2013)

Klein, I. A. et al. Translocation-capture sequencing reveals the extent and nature of chromosomal rearrangements in B lymphocytes. Cell 147, 95–106 (2011)

Chiarle, R. et al. Genome-wide translocation sequencing reveals mechanisms of chromosome breaks and rearrangements in B cells. Cell 147, 107–119 (2011)

Storb, U. Why does somatic hypermutation by AID require transcription of its target genes? Adv. Immunol. 122, 253–277 (2014)

Pavri, R. et al. Activation-induced cytidine deaminase targets DNA at sites of RNA polymerase II stalling by interaction with Spt5. Cell 143, 122–133 (2010)

Basu, U. et al. The RNA exosome targets the AID cytidine deaminase to both strands of transcribed duplex DNA substrates. Cell 144, 353–363 (2011)

Sun, J. et al. E3-ubiquitin ligase Nedd4 determines the fate of AID-associated RNA polymerase II in B cells. Genes Dev. 27, 1821–1833 (2013)

Andrulis, E. D. et al. The RNA processing exosome is linked to elongating RNA polymerase II in Drosophila. Nature 420, 837–841 (2002)

Richard, P. & Manley, J. L. Transcription termination by nuclear RNA polymerases. Genes Dev. 23, 1247–1269 (2009)

Economides, A. N. et al. Conditionals by inversion provide a universal method for the generation of conditional alleles. Proc. Natl Acad. Sci. USA 110, E3179–E3188 (2013)

Flynn, R. A., Almada, A. E., Zamudio, J. R. & Sharp, P. A. Antisense RNA polymerase II divergent transcripts are P-TEFb dependent and substrates for the RNA exosome. Proc. Natl Acad. Sci. USA 108, 10460–10465 (2011)

Almada, A. E., Wu, X., Kriz, A. J., Burge, C. B. & Sharp, P. A. Promoter directionality is controlled by U1 snRNP and polyadenylation signals. Nature 499, 360–363 (2013)

Wu, X. & Sharp, P. A. Divergent transcription: a driving force for new gene origination? Cell 155, 990–996 (2013)

Preker, P. et al. RNA exosome depletion reveals transcription upstream of active human promoters. Science 322, 1851–1854 (2008)

Andersen, P. R. et al. The human cap-binding complex is functionally connected to the nuclear RNA exosome. Nature Struct. Mol. Biol. 20, 1367–1376 (2013)

Andersen, P. K., Jensen, T. H. & Lykke-Andersen, S. Making ends meet: coordination between RNA 3′-end processing and transcription initiation. Wiley Interdiscip. Rev. RNA 4, 233–246 (2013)

Flynn, R. A. & Chang, H. Y. Active chromatin and noncoding RNAs: an intimate relationship. Curr. Opin. Genet. Dev. 22, 172–178 (2012)

Seila, A. C. et al. Divergent transcription from active promoters. Science 322, 1849–1851 (2008)

Allmang, C. et al. Functions of the exosome in rRNA, snoRNA and snRNA synthesis. EMBO J. 18, 5399–5410 (1999)

Ntini, E. et al. Polyadenylation site-induced decay of upstream transcripts enforces promoter directionality. Nature Struct. Mol. Biol. 20, 923–928 (2013)

Liu, M. et al. Two levels of protection for the B cell genome during somatic hypermutation. Nature 451, 841–845 (2008)

Pasqualucci, L. et al. Analysis of the coding genome of diffuse large B-cell lymphoma. Nature Genet. 43, 830–837 (2011)

Lohr, J. G. et al. Discovery and prioritization of somatic mutations in diffuse large B-cell lymphoma (DLBCL) by whole-exome sequencing. Proc. Natl Acad. Sci. USA 109, 3879–3884 (2012)

Rhee, H. S. & Pugh, B. F. Genome-wide structure and organization of eukaryotic pre-initiation complexes. Nature 483, 295–301 (2012)

Schulz, D. et al. Transcriptome surveillance by selective termination of noncoding RNA synthesis. Cell 155, 1075–1087 (2013)

Hakim, O. et al. DNA damage defines sites of recurrent chromosomal translocations in B lymphocytes. Nature 484, 69–74 (2012)

Castellano-Pozo, M. et al. R-loops are linked to histone H3 S10 phosphorylation and chromatin condensation. Mol. Cell 52, 583–590 (2013)

Ginno, P. A., Lott, P. L., Christensen, H. C., Korf, I. & Chedin, F. R-loop formation is a distinctive characteristic of unmethylated human CpG island promoters. Mol. Cell 45, 814–825 (2012)

Zhang, Y., Buchholz, F., Muyrers, J. P. & Stewart, A. F. A new logic for DNA engineering using recombination in Escherichia coli. Nature Genet. 20, 123–128 (1998)

Frendewey, D. et al. The loss-of-allele assay for ES cell screening and mouse genotyping. Methods Enzymol. 476, 295–307 (2010)

Trapnell, C., Pachter, L. & Salzberg, S. L. TopHat: discovering splice junctions with RNA-Seq. Bioinformatics 25, 1105–1111 (2009)

Trapnell, C. et al. Transcript assembly and quantification by RNA-Seq reveals unannotated transcripts and isoform switching during cell differentiation. Nature Biotechnol. 28, 511–515 (2010)

Anders, S. & Huber, W. Differential expression analysis for sequence count data. Genome Biol. 11, R106 (2010)

Jolly, C. J., Klix, N. & Neuberger, M. S. Rapid methods for the analysis of immunoglobulin gene hypermutation: application to transgenic and gene targeted mice. Nucleic Acids Res. 25, 1913–1919 (1997)

Oliveira, T. Y. et al. Translocation capture sequencing: a method for high throughput mapping of chromosomal rearrangements. J. Immunol. Methods 375, 176–181 (2012)

Li, H. & Durbin, R. Fast and accurate short read alignment with Burrows–Wheeler transform. Bioinformatics 25, 1754–1760 (2009)

Quinlan, A. R. & Hall, I. M. BEDTools: a flexible suite of utilities for comparing genomic features. Bioinformatics 26, 841–842 (2010)

Ran, F. A. et al. Double nicking by RNA-guided CRISPR Cas9 for enhanced genome editing specificity. Cell 154, 1380–1389 (2013)
Acknowledgements
We thank L. Symington, S. Goff, S. Ghosh, S. Silverstein, C. Lima, F. Chédin, L. Macdonald, C.-S. Lin and O. Couronne for critical input and reagents. This work was supported by grants from the National Institutes of Health (NIH; 1DP2OD008651-01) and the National Institute of Allergy and Infectious Diseases (1R01AI099195-01A1) (to U.B.); NIH (1R01CA185486-01; 1R01CA179044-01A1; 1U54CA121852-05) (to R.R.).
Ethics declarations
Competing interests
The authors declare no competing financial interests.
Extended data figures and tables
Supplementary information
About this article
Cite this article
Pefanis, E., Wang, J., Rothschild, G. et al. Noncoding RNA transcription targets AID to divergently transcribed loci in B cells. Nature 514, 389–393 (2014). https://doi.org/10.1038/nature13580
Received:

Accepted:

Published:

Issue Date:

DOI: https://doi.org/10.1038/nature13580
Comments
By submitting a comment you agree to abide by our Terms and Community Guidelines. If you find something abusive or that does not comply with our terms or guidelines please flag it as inappropriate.