Abstract
Pluripotent stem cells provide a potential solution to current epidemic rates of heart failure1 by providing human cardiomyocytes to support heart regeneration2. Studies of human embryonic-stem-cell-derived cardiomyocytes (hESC-CMs) in small-animal models have shown favourable effects of this treatment3,4,5,6,7. However, it remains unknown whether clinical-scale hESC-CM transplantation is feasible, safe or can provide sufficient myocardial regeneration. Here we show that hESC-CMs can be produced at a clinical scale (more than one billion cells per batch) and cryopreserved with good viability. Using a non-human primate model of myocardial ischaemia followed by reperfusion, we show that cryopreservation and intra-myocardial delivery of one billion hESC-CMs generates extensive remuscularization of the infarcted heart. The hESC-CMs showed progressive but incomplete maturation over a 3-month period. Grafts were perfused by host vasculature, and electromechanical junctions between graft and host myocytes were present within 2 weeks of engraftment. Importantly, grafts showed regular calcium transients that were synchronized to the host electrocardiogram, indicating electromechanical coupling. In contrast to small-animal models7, non-fatal ventricular arrhythmias were observed in hESC-CM-engrafted primates. Thus, hESC-CMs can remuscularize substantial amounts of the infarcted monkey heart. Comparable remuscularization of a human heart should be possible, but potential arrhythmic complications need to be overcome.
Relevant articles
Open Access articles citing this article.
Duc M. Hoang

,

Phuong T. Pham

…

Liem Thanh Nguyen

Signal Transduction and Targeted Therapy Open Access 06 August 2022

Xin He

,

Tailai Du

…

Zhan-Peng Huang

Signal Transduction and Targeted Therapy Open Access 23 April 2022

Dinesh Selvakumar

,

Leila Reyes

&

James J. H. Chong

Current Cardiology Reports Open Access 11 March 2022
Access options
Subscribe to Journal
Get full journal access for 1 year
$199.00
only $3.90 per issue
All prices are NET prices.
VAT will be added later in the checkout.
Tax calculation will be finalised during checkout.
Buy article
Get time limited or full article access on ReadCube.
$32.00
All prices are NET prices.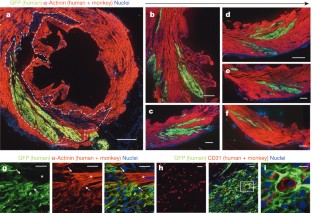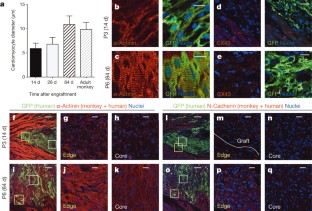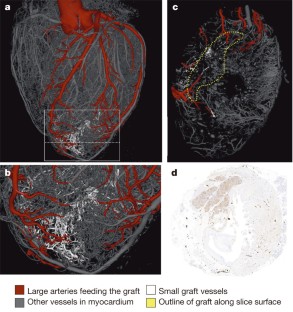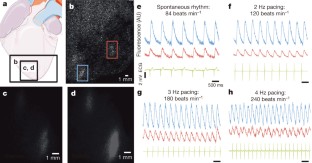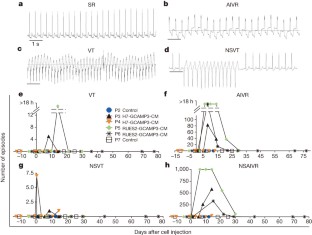 References
Lozano, R. et al. Global and regional mortality from 235 causes of death for 20 age groups in 1990 and 2010: a systematic analysis for the Global Burden of Disease Study 2010. Lancet 380, 2095–2128 (2012)

Laflamme, M. A. & Murry, C. E. Heart regeneration. Nature 473, 326–335 (2011)

Caspi, O. et al. Transplantation of human embryonic stem cell-derived cardiomyocytes improves myocardial performance in infarcted rat hearts. J. Am. Coll. Cardiol. 50, 1884–1893 (2007)

van Laake, L. W. et al. Human embryonic stem cell-derived cardiomyocytes survive and mature in the mouse heart and transiently improve function after myocardial infarction. Stem Cell Res. (Amst.) 1, 9–24 (2007)

Laflamme, M. A. et al. Formation of human myocardium in the rat heart from human embryonic stem cells. Am. J. Pathol. 167, 663–671 (2005)

Fernandes, S. et al. Human embryonic stem cell-derived cardiomyocytes engraft but do not alter cardiac remodeling after chronic infarction in rats. J. Mol. Cell. Cardiol. 49, 941–949 (2010)

Shiba, Y. et al. Human ES-cell-derived cardiomyocytes electrically couple and suppress arrhythmias in injured hearts. Nature 489, 322–325 (2012)

Laflamme, M. A. et al. Cardiomyocytes derived from human embryonic stem cells in pro-survival factors enhance function of infarcted rat hearts. Nature Biotechnol. 25, 1015–1024 (2007)

Blin, G. et al. A purified population of multipotent cardiovascular progenitors derived from primate pluripotent stem cells engrafts in postmyocardial infarcted nonhuman primates. J. Clin. Invest. 120, 1125–1139 (2010)

Bel, A. et al. Composite cell sheets: a further step toward safe and effective myocardial regeneration by cardiac progenitors derived from embryonic stem cells. Circulation 122, S118–S123 (2010)

Yang, X., Pabon, L. & Murry, C. E. Engineering adolescence: maturation of human pluripotent stem cell-derived cardiomyocytes. Circ. Res. 114, 511–523 (2014)

Mauritz, C. et al. Induced pluripotent stem cell (iPSC)-derived Flk-1 progenitor cells engraft, differentiate, and improve heart function in a mouse model of acute myocardial infarction. Eur. Heart J. 32, 2634–2641 (2011)

Schwartz, S. D. et al. Embryonic stem cell trials for macular degeneration: a preliminary report. Lancet 379, 713–720 (2012)

Bretzner, F., Gilbert, F., Baylis, F. & Brownstone, R. M. Target populations for first-in-human embryonic stem cell research in spinal cord injury. Cell Stem Cell 8, 468–475 (2011)

Robey, T. E., Saiget, M. K., Reinecke, H. & Murry, C. E. Systems approaches to preventing transplanted cell death in cardiac repair. J. Mol. Cell. Cardiol. 45, 567–581 (2008)

Xu, C. et al. Efficient generation and cryopreservation of cardiomyocytes derived from human embryonic stem cells. Regen. Med. 6, 53–66 (2011)

Hoshino, T., Fujiwara, H., Kawai, C. & Hamashima, Y. Myocardial fiber diameter and regional distribution in the ventricular wall of normal adult hearts, hypertensive hearts and hearts with hypertrophic cardiomyopathy. Circulation 67, 1109–1116 (1983)

Gandolfi, F. et al. Large animal models for cardiac stem cell therapies. Theriogenology 75, 1416–1425 (2011)

van der Spoel, T. I. et al. Human relevance of pre-clinical studies in stem cell therapy: systematic review and meta-analysis of large animal models of ischaemic heart disease. Cardiovasc. Res. 91, 649–658 (2011)

Kehat, I. et al. Electromechanical integration of cardiomyocytes derived from human embryonic stem cells. Nature Biotechnol. 22, 1282–1289 (2004)

Chen, H. S., Kim, C. & Mercola, M. Electrophysiological challenges of cell-based myocardial repair. Circulation 120, 2496–2508 (2009)

Dixon, J. A. & Spinale, F. G. Large animal models of heart failure: a critical link in the translation of basic science to clinical practice. Circ Heart Fail 2, 262–271 (2009)

Weyers, J. J. et al. Effects of cell grafting on coronary remodeling after myocardial infarction. J. Am. Heart Assoc. 2, e000202 (2013)

Gantz, J. A. et al. Targeted genomic integration of a selectable floxed dual fluorescence reporter in human embryonic stem cells. PLoS ONE 7, e46971 (2012)

Xu, C. et al. Feeder-free growth of undifferentiated human embryonic stem cells. Nature Biotechnol. 19, 971–974 (2001)

Zhu, W. Z., Van Biber, B. & Laflamme, M. A. Methods for the derivation and use of cardiomyocytes from human pluripotent stem cells. Methods Mol. Biol. 767, 419–431 (2011)

Hockemeyer, D. et al. Efficient targeting of expressed and silent genes in human ESCs and iPSCs using zinc-finger nucleases. Nature Biotechnol. 27, 851–857 (2009)

Biermann, M. et al. Differential effects of cytochalasin D and 2,3 butanedione monoxime on isometric twitch force and transmembrane action potential in isolated ventricular muscle: implications for optical measurements of cardiac repolarization. J. Cardiovasc. Electrophysiol. 9, 1348–1377 (1998)

Laurita, K. R. & Singal, A. Mapping action potentials and calcium transients simultaneously from the intact heart. Am. J. Physiol. Heart Circ. Physiol. 280, H2053–H2060 (2001)

Chong, J. J. H. et al. Progenitor cells identified by PDGFR-α expression in the developing and diseased human heart. Stem Cells Dev. 22, 1932–1943 (2013)
Acknowledgements
We thank S. Dupras, B. Brown, D. Rocha, E. Wilson, C. English, J. Randolph-Habecker and T. Goodpaster for assistance with these experiments. This work was supported by National Institutes of Health grants P01HL094374, R01HL084642, U01HL100405 and P01GM081619 and an Institute of Translational Health Sciences/Primate Center Ignition Award. J.J.H.C. was supported by National Health and Medical Research Council of Australia Overseas Training and Australian-American Fulbright Commission Fellowships. X.Y. is supported by an American Heart Association post-doctoral scholarship 12POST11940060. J.J.W. is supported by an American Heart Association post-doctoral scholarship 12POST9330030. H.-P.K. is a Markey Molecular Medicine investigator and the recipient of the Jose Carreras/E.D. Thomas Chair for Cancer Research.
Ethics declarations
Competing interests
C.E.M. and M.A.L. are equity holders in BEAT BioTherapeutics.
Extended data figures and tables
Supplementary information
About this article
Cite this article
Chong, J., Yang, X., Don, C. et al. Human embryonic-stem-cell-derived cardiomyocytes regenerate non-human primate hearts. Nature 510, 273–277 (2014). https://doi.org/10.1038/nature13233
Received:

Accepted:

Published:

Issue Date:

DOI: https://doi.org/10.1038/nature13233
Comments
By submitting a comment you agree to abide by our Terms and Community Guidelines. If you find something abusive or that does not comply with our terms or guidelines please flag it as inappropriate.