Abstract
We experience the visual world through a series of saccadic eye movements, each one shifting our gaze to bring objects of interest to the fovea for further processing. Although such movements lead to frequent and substantial displacements of the retinal image, these displacements go unnoticed. It is widely assumed that a primary mechanism underlying this apparent stability is an anticipatory shifting of visual receptive fields (RFs) from their presaccadic to their postsaccadic locations before movement onset1. Evidence of this predictive 'remapping' of RFs has been particularly apparent within brain structures involved in gaze control2,3,4. However, critically absent among that evidence are detailed measurements of visual RFs before movement onset. Here we show that during saccade preparation, rather than remap, RFs of neurons in a prefrontal gaze control area massively converge towards the saccadic target. We mapped the visual RFs of prefrontal neurons during stable fixation and immediately before the onset of eye movements, using multi-electrode recordings in monkeys. Following movements from an initial fixation point to a target, RFs remained stationary in retinocentric space. However, in the period immediately before movement onset, RFs shifted by as much as 18 degrees of visual angle, and converged towards the target location. This convergence resulted in a threefold increase in the proportion of RFs responding to stimuli near the target region. In addition, like in human observers5,6, the population of prefrontal neurons grossly mislocalized presaccadic stimuli as being closer to the target. Our results show that RF shifts do not predict the retinal displacements due to saccades, but instead reflect the overriding perception of target space during eye movements.
Relevant articles
Open Access articles citing this article.
Amir Akbarian

,

Kelsey Clark

…

Neda Nategh

Nature Communications Open Access 08 November 2021

Elizabeth S. Lorenc

,

Annelinde R. E. Vandenbroucke

…

Mark D'Esposito

Scientific Reports Open Access 08 July 2020

Hsin-Hung Li

,

Jasmine Pan

&

Marisa Carrasco

Scientific Reports Open Access 25 February 2019
Access options
Subscribe to Journal
Get full journal access for 1 year
$199.00
only $3.90 per issue
All prices are NET prices.
VAT will be added later in the checkout.
Tax calculation will be finalised during checkout.
Buy article
Get time limited or full article access on ReadCube.
$32.00
All prices are NET prices.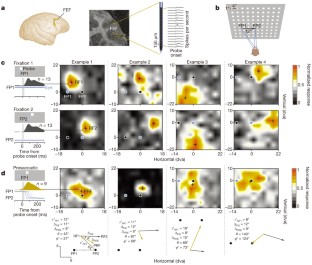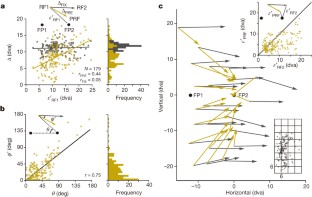 References
Sommer, M. A. & Wurtz, R. H. Brain circuits for the internal monitoring of movements. Annu. Rev. Neurosci. 31, 317–338 (2008)

Duhamel, J. R., Colby, C. L. & Goldberg, M. E. The updating of the representation of visual space in parietal cortex by intended eye movements. Science 255, 90–92 (1992)

Walker, M. F., Fitzgibbon, E. J. & Goldberg, M. E. Neurons in the monkey superior colliculus predict the visual result of impending saccadic eye movements. J. Neurophysiol. 73, 1988–2003 (1995)

Sommer, M. A. & Wurtz, R. H. Influence of the thalamus on spatial visual processing in frontal cortex. Nature 444, 374–377 (2006)

Ross, J., Morrone, M. C. & Burr, D. C. Compression of visual space before saccades. Nature 386, 598–601 (1997)

Kaiser, M. & Lappe, M. Perisaccadic mislocalization orthogonal to saccade direction. Neuron 41, 293–300 (2004)

Robinson, D. A. & Fuchs, A. F. Eye movements evoked by stimulation of frontal eye fields. J. Neurophysiol. 32, 637–648 (1969)

Moore, T. & Fallah, M. Control of eye movements and spatial attention. Proc. Natl Acad. Sci. USA 98, 1273–1276 (2001)

Buschman, T. J. & Miller, E. K. Serial, covert shifts of attention during visual search are reflected by the frontal eye fields and correlated with population oscillations. Neuron 63, 386–396 (2009)

Gregoriou, G. G., Gotts, S. J., Zhou, H. & Desimone, R. High-frequency, long-range coupling between prefrontal and visual cortex during attention. Science 324, 1207–1210 (2009)

Gregoriou, G. G., Gotts, S. J. & Desimone, R. Cell-type-specific synchronization of neural activity in FEF with V4 during attention. Neuron 73, 581–594 (2012)

Averbeck, B. B. & Lee, D. Coding and transmission of information by neural ensembles. Trends Neurosci. 27, 225–230 (2004)

Ecker, A. S. et al. Decorrelated neuronal firing in cortical microcircuits. Science 327, 584–587 (2010)

Dodge, R. The illusion of clear vision during eye movement. Psychol. Bull. 2, 193–199 (1905)

Currie, C. B., McConkie, G. W., Carlson-Radvansky, L. A. & Irwin, D. E. The role of the saccade target object in the perception of a visually stable world. Percept. Psychophys. 62, 673–683 (2000)

Deubel, H. & Schneider, W. X. Saccade target selection and object recognition: evidence for a common attentional mechanism. Vision Res. 36, 1827–1837 (1996)

Rolfs, M. & Carrasco, M. Rapid simultaneous enhancement of visual sensitivity and perceived contrast during saccade preparation. J. Neurosci. 32, 13744–13752a (2012)

Sheinberg, D. L. & Logothetis, N. K. Noticing familiar objects in real world scenes: the role of temporal cortical neurons in natural vision. J. Neurosci. 21, 1340–1350 (2001)

Khayat, P. S., Spekreijse, H. & Roelfsema, P. R. Correlates of transsaccadic integration in the primary visual cortex of the monkey. Proc. Natl Acad. Sci. USA 101, 12712–12717 (2004)

Khavat, P. S., Spekreijse, H. & Roelfsema, P. R. Visual information transfer across eye movements in the monkey. Vision Res. 44, 2901–2917 (2004)

Bichot, N. P., Rossi, A. F. & Desimone, R. Parallel and serial neural mechanisms for visual search in macaque area V4. Science 308, 529–534 (2005)

Moore, T. & Armstrong, K. M. Selective gating of visual signals by microstimulation of frontal cortex. Nature 421, 370–373 (2003)

Ekstrom, L. B., Roelfsema, P. R., Arsenault, J. T., Bonmassar, G. & Vanduffel, W. Bottom-up dependent gating of frontal signals in early visual cortex. Science 321, 414–417 (2008)

Noudoost, B. & Moore, T. Control of visual cortical signals by prefrontal dopamine. Nature 474, 372–375 (2011)

Thompson, K. G., Bichot, N. P. & Sato, T. R. Frontal eye field activity before visual search errors reveals the integration of bottom-up and top-down salience. J. Neurophysiol. 93, 337–351 (2005)

Connor, C. E., Preddie, D. C., Gallant, J. L. & Van Essen, D. C. Spatial attention effects in macaque area V4. J. Neurosci. 17, 3201–3214 (1997)

Womelsdorf, T., Anton-Erxleben, K., Pieper, F. & Treue, S. Dynamic shift of visual receptive fields in cortical area MT by spatial attention. Nature Neurosci. 9, 1156–1160 (2006)

Tolias, A. S. et al. Eye movements modulate visual receptive fields of V4 neurons. Neuron 29, 757–767 (2001)

Nakamura, K. & Colby, C. L. Updating of the visual representation in monkey striate and extrastriate cortex during saccades. Proc. Natl Acad. Sci. USA 99, 4026–4031 (2002)

Hamker, F. H., Zirnsak, M., Calow, D. & Lappe, M. The peri-saccadic perception of objects and space. PLOS Comput. Biol. 4, e31 (2008)

Bruce, C. J. & Goldberg, M. E. Primate frontal eye fields. I. Single neurons discharging before saccades. J. Neurophysiol. 53, 603–635 (1985)

Moore, T. & Fallah, M. Control of eye movements and spatial attention. Proc. Natl Acad. Sci. USA 98, 1273–1276 (2001)

Hill, D. N., Mehta, S. B. & Kleinfeld, D. Quality metrics to accompany spike sorting of extracellular signals. J. Neurosci. 31, 8699–8705 (2011)

Harris, K. D., Henze, D. A., Csicsvari, J., Hirase, H. & Buzsaki, G. Accuracy of tetrode spike separation as determined by simultaneous intracellular and extracellular measurements. J. Neurophysiol. 84, 401–414 (2000)

Zirnsak, M., Lappe, M. & Hamker, F. H. The spatial distribution of receptive field changes in a model of peri-saccadic perception: predictive remapping and shifts towards the saccade target. Vision Res. 50, 1328–1337 (2010)

Abbott, L. F. Decoding neuronal firing and modeling neural networks. Q. Rev. Biophys. 27, 291–331 (1994)

Rao, J. S. & SenGupta, S. Topics in Circular Statistics. Series on Multivariate Analysis Vol. 5, Ch. 8, 175–204 (World Scientific Publishing, 2001)
Acknowledgements
This work was supported by National Institutes of Health grant EY014924 and the Howard Hughes Medical Institute (T.M.). We thank D.S. Aldrich for technical assistance.
Ethics declarations
Competing interests
The authors declare no competing financial interests.
Extended data figures and tables
About this article
Cite this article
Zirnsak, M., Steinmetz, N., Noudoost, B. et al. Visual space is compressed in prefrontal cortex before eye movements. Nature 507, 504–507 (2014). https://doi.org/10.1038/nature13149
Received:

Accepted:

Published:

Issue Date:

DOI: https://doi.org/10.1038/nature13149
Comments
By submitting a comment you agree to abide by our Terms and Community Guidelines. If you find something abusive or that does not comply with our terms or guidelines please flag it as inappropriate.