Abstract
Tumour metastasis is the primary cause of mortality in cancer patients and remains the key challenge for cancer therapy1. New therapeutic approaches to block inhibitory pathways of the immune system have renewed hopes for the utility of such therapies2. Here we show that genetic deletion of the E3 ubiquitin ligase Cbl-b (casitas B-lineage lymphoma-b) or targeted inactivation of its E3 ligase activity licenses natural killer (NK) cells to spontaneously reject metastatic tumours. The TAM tyrosine kinase receptors Tyro3, Axl and Mer (also known as Mertk) were identified as ubiquitylation substrates for Cbl-b. Treatment of wild-type NK cells with a newly developed small molecule TAM kinase inhibitor conferred therapeutic potential, efficiently enhancing anti-metastatic NK cell activity in vivo. Oral or intraperitoneal administration using this TAM inhibitor markedly reduced murine mammary cancer and melanoma metastases dependent on NK cells. We further report that the anticoagulant warfarin exerts anti-metastatic activity in mice via Cbl-b/TAM receptors in NK cells, providing a molecular explanation for a 50-year-old puzzle in cancer biology3. This novel TAM/Cbl-b inhibitory pathway shows that it might be possible to develop a 'pill' that awakens the innate immune system to kill cancer metastases.
Relevant articles
Open Access articles citing this article.
Huakan Zhao

,

Lei Wu

…

Yongsheng Li

Signal Transduction and Targeted Therapy Open Access 12 July 2021

Yunxiang Zhou

,

Yali Wang

…

Anwen Shao

Cell Communication and Signaling Open Access 28 January 2021

Xiaofei Zhou

&

Shao-Cong Sun

Signal Transduction and Targeted Therapy Open Access 13 January 2021
Access options
Subscribe to this journal
Receive 51 print issues and online access
$199.00 per year
only $3.90 per issue
Rent or buy this article
Get just this article for as long as you need it
$39.95
Prices may be subject to local taxes which are calculated during checkout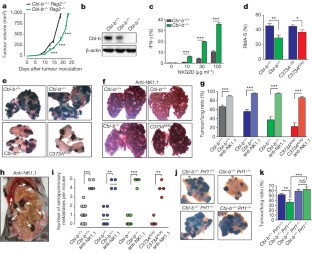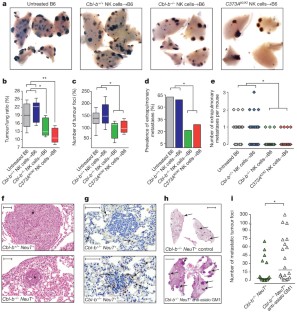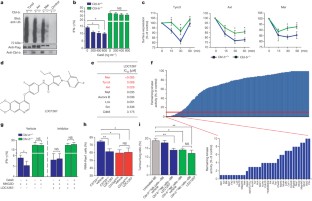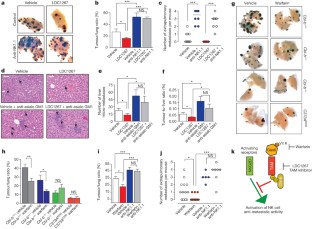 References
Brabletz, T., Lyden, D., Steeg, P. S. & Werb, Z. Roadblocks to translational advances on metastasis research. Nature Med. 19, 1104–1109 (2013)

Pardoll, D. M. The blockade of immune checkpoints in cancer immunotherapy. Nature Rev. Cancer 12, 252–264 (2012)

Lacour, F., Oberling, C. & Guerin, M. Effect of dicoumarol on the development of metastases of the T8 epithelioma in the rat; new research. Bull. Assoc. Fr. Etud. Cancer 44, 88–91 (1957)

Loeser, S. et al. Spontaneous tumor rejection by cbl-b-deficient CD8+ T cells. J. Exp. Med. 204, 879–891 (2007)

Chiang, J. Y., Jang, I. K., Hodes, R. & Gu, H. Ablation of Cbl-b provides protection against transplanted and spontaneous tumors. J. Clin. Invest. 117, 1029–1036 (2007)

Paolino, M. et al. Essential role of E3 ubiquitin ligase activity in Cbl-b-regulated T cell functions. J. Immunol. 186, 2138–2147 (2011)

Oksvold, M. P., Dagger, S. A., Thien, C. B. & Langdon, W. Y. The Cbl-b RING finger domain has a limited role in regulating inflammatory cytokine production by IgE-activated mast cells. Mol. Immunol. 45, 925–936 (2008)

Kojo, S. et al. Mechanisms of NKT cell anergy induction involve Cbl-b-promoted monoubiquitination of CARMA1. Proc. Natl Acad. Sci. USA 106, 17847–17851 (2009)

Makino, Y., Kanno, R., Ito, T., Higashino, K. & Taniguchi, M. Predominant expression of invariant Vα14+TCR α chain in NK1.1+ T cell populations. Int. Immunol. 7, 1157–1161 (1995)

Pannellini, T., Forni, G. & Musiani, P. Immunobiology of her-2/neu transgenic mice. Breast Dis. 20, 33–42 (2004)

Linger, R. M., Keating, A. K., Earp, H. S. & Graham, D. K. TAM receptor tyrosine kinases: biologic functions, signaling, and potential therapeutic targeting in human cancer. Adv. Cancer Res. 100, 35–83 (2008)

Nagata, K. et al. Identification of the product of growth arrest-specific gene 6 as a common ligand for Axl, Sky, and Mer receptor tyrosine kinases. J. Biol. Chem. 271, 30022–30027 (1996)

Caraux, A. et al. Natural killer cell differentiation driven by Tyro3 receptor tyrosine kinases. Nature Immunol. 7, 747–754 (2006)

Lemke, G. & Rothlin, C. V. Immunobiology of the TAM receptors. Nature Rev. Immunol. 8, 327–336 (2008)

Pulaski, B. A. & Ostrand-Rosenberg, S. Mouse 4T1 breast tumor model. Curr. Protoc. Immunol. 20, Unit–20 22 (2001)

Pirmohamed, M. Warfarin: almost 60 years old and still causing problems. Br. J. Clin. Pharmacol. 62, 509–511 (2006)

Ryan, J. J., Ketcham, A. S. & Wexler, H. Reduced incidence of spontaneous metastases with long-term Coumadin therapy. Ann. Surg. 168, 163–168 (1968)

McCulloch, P. & George, W. D. Warfarin inhibits metastasis of Mtln3 rat mammary carcinoma without affecting primary tumour growth. Br. J. Cancer 59, 179–183 (1989)

Brown, J. M. A study of the mechanism by which anticoagulation with warfarin inhibits blood-borne metastases. Cancer Res. 33, 1217–1224 (1973)

Hasanbasic, I., Rajotte, I. & Blostein, M. The role of γ-carboxylation in the anti-apoptotic function of gas6. J. Thromb. Haemost. 3, 2790–2797 (2005)

Yanagita, M. et al. Gas6 regulates mesangial cell proliferation through Axl in experimental glomerulonephritis. Am. J. Pathol. 158, 1423–1432 (2001)

Nagai, K. et al. Growth arrest-specific gene 6 is involved in glomerular hypertrophy in the early stage of diabetic nephropathy. J. Biol. Chem. 278, 18229–18234 (2003)

Lu, Q. & Lemke, G. Homeostatic regulation of the immune system by receptor tyrosine kinases of the Tyro 3 family. Science 293, 306–311 (2001)

Haglund, K. & Dikic, I. The role of ubiquitylation in receptor endocytosis and endosomal sorting. J. Cell Sci. 125, 265–275 (2012)

Valverde, P. Effects of Gas6 and hydrogen peroxide in Axl ubiquitination and downregulation. Biochem. Biophys. Res. Commun. 333, 180–185 (2005)

Caspi, R. R. Immunotherapy of autoimmunity and cancer: the penalty for success. Nature Rev. Immunol. 8, 970–976 (2008)

Bachmaier, K. et al. Negative regulation of lymphocyte activation and autoimmunity by the molecular adaptor Cbl-b. Nature 403, 211–216 (2000)

Lee-MacAry, A. E. et al. Development of a novel flow cytometric cell-mediated cytotoxicity assay using the fluorophores PKH-26 and TO-PRO-3 iodide. J. Immunol. Methods 252, 83–92 (2001)

Cerwenka, A., Baron, J. L. & Lanier, L. L. Ectopic expression of retinoic acid early inducible-1 gene (RAE-1) permits natural killer cell-mediated rejection of a MHC class I-bearing tumor in vivo. Proc. Natl Acad. Sci. USA 98, 11521–11526 (2001)

Harshan, K. V. & Gangadharam, P. R. In vivo depletion of natural killer cell activity leads to enhanced multiplication of Mycobacterium avium complex in mice. Infect. Immun. 59, 2818–2821 (1991)

Jamieson, A. M. et al. The role of the NKG2D immunoreceptor in immune cell activation and natural killing. Immunity 17, 19–29 (2002)

Carlyle, J. R. et al. Molecular and genetic basis for strain-dependent NK1.1 alloreactivity of mouse NK cells. J. Immunol. 176, 7511–7524 (2006)

Kasai, M. et al. In vivo effect of anti-asialo GM1 antibody on natural killer activity. Nature 291, 334–335 (1981)

Walzer, T. et al. Identification, activation, and selective in vivo ablation of mouse NK cells via NKp46. Proc. Natl Acad. Sci. USA 104, 3384–3389 (2007)

Roepstorff, K. et al. Differential effects of EGFR ligands on endocytic sorting of the receptor. Traffic 10, 1115–1127 (2009)

Schultz-Fademrecht a, C. Pharmaceutically active compounds as Axl inhibitors. European patent 2423208 A1. (2012)

Godl, K. et al. An efficient proteomics method to identify the cellular targets of protein kinase inhibitors. Proc. Natl Acad. Sci. USA 100, 15434–15439 (2003)

Brehmer, D., Godl, K., Zech, B., Wissing, J. & Daub, H. Proteome-wide identification of cellular targets affected by bisindolylmaleimide-type protein kinase C inhibitors. Mol. Cell Proteomics 3, 490–500 (2004)
Acknowledgements
We thank T. Hanada, R. Hanada, R. Karim and all other members of the Penninger laboratory for discussions and technical support. We thank all members of the IMP-IMBA BioOptics service facility for assistance in cell sorting and image quantification, and S. Soto and H. Popper for pathology analysis of tumour metastases. We thank A. L. Prieto, E. Vivier, D. Raulet and C. Melief for providing us with critical reagents and C. Martinez, A. Majoros and P. C. Esk for sharing reagents and for discussions. We also thank G. Kéri, L. Örfi and colleagues from Vichem Kft., Budapest, for their initial synthetic work on the quinoline-based Axl inhibitors, which served as the basis for the current rationale design of LDC1267. M.P. is supported by the European Research Council (ERC) and Era of Hope/DoD Innovator Award. J.M.P. is supported by grants from the Institute of Molecular Biotechnology (IMBA), the Austrian National Foundation, the Austrian Academy of Sciences, GEN-AU (AustroMouse), an Era of Hope/DoD Innovator Award and an EU ERC Advanced Grant.
Ethics declarations
Competing interests
All co-authors from the Lead Discovery Center GmbH (Dortmund) and Max Planck Institute for Biochemistry (Martinsried) have filed a patent application covering the compound (LDC1267) used in our study; J.M.P. holds shares in a company that attempts to develop Cbl-b modulators.
Extended data figures and tables
Supplementary information
This file contains Supplementary Table 1, LDC1267 kinase selectivity. This table shows remaining relative activity (compared to DMSO control) in a selectivity panel of 456 kinases treated with 1µM LDC1267 as determined by DiscoverX's KINOMEscan technology. The kinase identities and their corresponding gene symbols are shown. The red-green color gradient correlates with the degree of inhibition: from red (1% remaining activity) to green (100% remaining activity). (PDF 244 kb)
About this article
Cite this article
Paolino, M., Choidas, A., Wallner, S. et al. The E3 ligase Cbl-b and TAM receptors regulate cancer metastasis via natural killer cells. Nature 507, 508–512 (2014). https://doi.org/10.1038/nature12998
Received:

Accepted:

Published:

Issue Date:

DOI: https://doi.org/10.1038/nature12998
Comments
By submitting a comment you agree to abide by our Terms and Community Guidelines. If you find something abusive or that does not comply with our terms or guidelines please flag it as inappropriate.