Abstract
Extant vertebrates form two clades, the jawless Cyclostomata (lampreys and hagfishes) and the jawed Gnathostomata (all other vertebrates), with contrasting facial architectures1,2. These arise during development from just a few key differences in the growth patterns of the cranial primordia: notably, the nasal sacs and hypophysis originate from a single placode in cyclostomes but from separate placodes in gnathostomes, and infraoptic ectomesenchyme migrates forward either side of the single placode in cyclostomes but between the placodes in gnathostomes3,4,5,6,7,8. Fossil stem gnathostomes preserve cranial anatomies rich in landmarks that provide proxies for developmental processes and allow the transition from jawless to jawed vertebrates to be broken down into evolutionary steps7,9,10,11,12. Here we use propagation phase contrast synchrotron microtomography to image the cranial anatomy of the primitive placoderm (jawed stem gnathostome) Romundina13, and show that it combines jawed vertebrate architecture with cranial and cerebral proportions resembling those of cyclostomes and the galeaspid (jawless stem gnathostome) Shuyu11. This combination seems to be primitive for jawed vertebrates, and suggests a decoupling between ectomesenchymal growth trajectory, ectomesenchymal proliferation, and cerebral shape change during the origin of gnathostomes.
Relevant articles
Open Access articles citing this article.
Paul Lukas

&

Janine M. Ziermann

Frontiers in Zoology Open Access 03 May 2022
Access options
Subscribe to this journal
Receive 51 print issues and online access
$199.00 per year
only $3.90 per issue
Rent or buy this article
Get just this article for as long as you need it
$39.95
Prices may be subject to local taxes which are calculated during checkout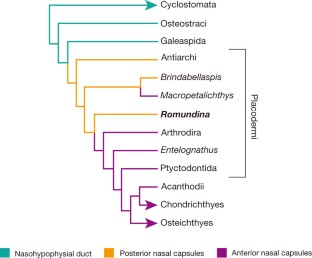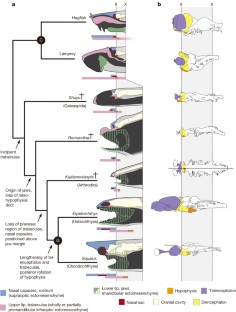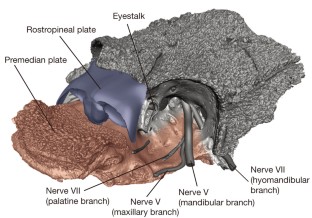 References
Kuratani, S. & Horigome, N. Development of peripheral nerves in a cat shark, Scyliorhinus torazame, with special reference to rombomeres, cephalic mesoderm, and distribution patterns of crest cells. Zoolog. Sci. 17, 893–909 (2000)

Kuratani, S., Horigome, N. & Hirano, S. Developmental morphology of the head mesoderm and re-evaluation of segmental theories of the vertebrate head: evidence from embryos of an agnathan vertebrate, Lampetra japonica. Dev. Biol. 210, 381–400 (1999)

Kuratani, S. Evolution of the vertebrate jaw: comparative embryology and molecular developmental biology reveal the factors behind evolutionary novelty. J. Anat. 205, 335–347 (2004)

Kuratani, S. Developmental studies of the lamprey and hierarchical evolutionary steps towards the acquisition of the jaw. J. Anat. 207, 489–499 (2005)

Kuratani, S. Evolution of the vertebrate jaw from developmental perspectives. Evol. Dev. 14, 76–92 (2012)

Kuratani, S., Nobusada, Y., Horigome, N. & Shigetani, Y. Embryology of the lamprey and evolution of the vertebrate jaw: insights from molecular and developmental perspectives. Phil. Trans. R. Soc. Lond. B 356, 1615–1632 (2001)

Oisi, Y., Ota, K. G., Kuraku, S., Fujimoto, S. & Kuratani, S. Craniofacial development of hagfishes and the evolution of vertebrates. Nature 493, 175–180 (2013)

Ota, K. G. & Kuratani, S. Cyclostome embryology and early evolutionary history of vertebrates. Integr. Comp. Biol. 47, 329–337 (2007)

Brazeau, M. D. The braincase and jaws of a Devonian 'acanthodian' and modern gnathostome origins. Nature 457, 305–308 (2009)

Davis, S. P., Finarelli, J. A. & Coates, M. I. Acanthodes and shark-like conditions in the last common ancestor of modern gnathostomes. Nature 486, 247–250 (2012)

Gai, Z., Donoghue, M. J., Zhu, M., Janvier, P. & Stampanoni, M. Fossil jawless fish from China foreshadows early jawed vertebrate anatomy. Nature 476, 324–327 (2011)

Zhu, M. et al. A Silurian placoderm with osteichthyan-like marginal jaw bones. Nature (2013)

Ørvig, T. in Problèmes Actuels de Paléontologie: Evolution des Vertébrés (ed. Lehman, J. P. ) 41–72 (Colloques Internationaux Centre National de la Recherche Scientifique, 1975)

Couly, G. F., Coltey, P. M. & Le Douarin, N. M. The triple origin of skull in higher vertebrates: a study in quail-chick chimeras. Development 117, 409–429 (1993)

Janvier, P. Early Vertebrates Vol. 1 (Clarendon, 1996)

Goujet, D. & Young, G. C. Interrelationships of placoderms revisited. Geobios. 28, 89–95 (1995)

Denison, R. H. Placodermi (Gustav Fischer, 1978)

Young, G. C. A new Early Devonian placoderm from New South Wales, Australia, with a discussion of placoderm phylogeny. Palaeontographica 167, 10–76 (1980)

Young, G. C. Reconstruction of the jaws and braincase in the Devonian placoderm fish Bothriolepis. Palaeontology 27, 635–661 (1984)

Goujet, D. & Young, G. C. in Recent Advances in the Origin and Early Radiation of Vertebrates (eds Arratia, G., Wilson, M. V. H. & Cloutier, R. ) 109–126 (Dr. Friedlich Pfeil, 2004)

Dupret, V. Revision of the genus Kujdanowiaspis Stensiö, 1942 (Placodermi, Arthrodira, "Actinolepida") from the Lower Devonian of Podolia (Ukraine). Geodiversitas 32, 5–63 (2010)

Goujet, D. Les Poissons Placodermes du Spitsberg: Arthrodires Dolichothoraci de la Formation de Wood Bay (Devonien Inferieur) (CNRS, 1984)

Stensiö, E. in Traité de Paléontologie Vol. 4 (ed. Piveteau, J. ) 71–693 (Masson, 1969)

Osumi-Yamashita, N. et al. Cranial anomaly of homozygous rSey rat is associated with a defect in the migration pathway of midbrain crest cells. Dev. Growth Differ. 39, 53–67 (1997)

Wada, N., Nohno, T. & Kuratani, S. Dual origin of the prechordal cranium in the chicken embryo. Dev. Biol. 356, 529–540 (2011)

Zhu, M. & Janvier, P. A small antiarch, Minicrania lirouyii gen. et sp. nov from the early Devonian of Qujing, Yunnan (China), with remarks on the antiarch phylogeny. J. Vertebr. Paleontol. 16, 1–15 (1996)

Lu, J. et al. The earliest known stem-tetrapod from the Lower Devonian of China. Nature Commun. 3, 1160 (2012)

Dupret, V., Sanchez, S., Goujet, D., Tafforeau, P. & Ahlberg, P. Bone vascularization and growth in placoderms (Vertebrata): the example of the premedian plate of Romundina stellina Ørvig, 1975. C. R. Palevol 9, 369–375 (2010)

Collin, S. P. in Fish Physiology (eds McKenzie, D. J., Farell, A. P. & Brauner, C. J. ) 121–179 (Elsevier, 2007)

De Iuliis, G. & Pulerà, D. The Dissection of Vertebrates—A Laboratory Manual (Academic, 2007)
Acknowledgements
We thank the European Synchrotron Radiation Facility for granting us beam time at ID19 (proposal EC-203). P.E.A., V.D. and S.S. acknowledge the support of European Research Council Advanced Investigator Grant 233111 and a Wallenberg Scholarship from the Knut and Alice Wallenberg Foundation, both awarded to P.E.A. We thank B. Ryll, M. Kundrat and H. Blom at Uppsala University for discussions. Specimen MNHN CPW 1 photographs were taken by P. Loubry (Centre National pour la Recherche Scientifique, Muséum national d'Histoire naturelle, Paris).
Ethics declarations
Competing interests
The authors declare no competing financial interests.
Extended data figures and tables
Supplementary information
About this article
Cite this article
Dupret, V., Sanchez, S., Goujet, D. et al. A primitive placoderm sheds light on the origin of the jawed vertebrate face. Nature 507, 500–503 (2014). https://doi.org/10.1038/nature12980
Received:

Accepted:

Published:

Issue Date:

DOI: https://doi.org/10.1038/nature12980
This article is cited by
Paul Lukas
Janine M. Ziermann

Frontiers in Zoology (2022)

You-an Zhu
Qiang Li
Min Zhu

Nature (2022)

Hugo Dutel
Manon Galland
Marc Herbin

Nature (2019)
Comments
By submitting a comment you agree to abide by our Terms and Community Guidelines. If you find something abusive or that does not comply with our terms or guidelines please flag it as inappropriate.