Abstract
The transcription factors c-Myc and N-Myc—encoded by Myc and Mycn, respectively—regulate cellular growth1 and are required for embryonic development2,3. A third paralogue, Mycl1, is dispensable for normal embryonic development but its biological function has remained unclear4. To examine the in vivo function of Mycl1 in mice, we generated an inactivating Mycl1gfp allele that also reports Mycl1 expression. We find that Mycl1 is selectively expressed in dendritic cells (DCs) of the immune system and controlled by IRF8, and that during DC development, Mycl1 expression is initiated in the common DC progenitor5 concurrent with reduction in c-Myc expression. Mature DCs lack expression of c-Myc and N-Myc but maintain L-Myc expression even in the presence of inflammatory signals such as granulocyte–macrophage colony-stimulating factor. All DC subsets develop in Mycl1-deficient mice, but some subsets such as migratory CD103+ conventional DCs in the lung and liver are greatly reduced at steady state. Importantly, loss of L-Myc by DCs causes a significant decrease in in vivo T-cell priming during infection by Listeria monocytogenes and vesicular stomatitis virus. The replacement of c-Myc by L-Myc in immature DCs may provide for Myc transcriptional activity in the setting of inflammation that is required for optimal T-cell priming6.
Relevant articles
Open Access articles citing this article.
Dan Xu

,

Rongli Xie

…

Jian Fei

Cell Death & Disease Open Access 02 June 2020

Simon J. Lawless

,

Nidhi Kedia-Mehta

…

David K. Finlay

Nature Communications Open Access 30 May 2017

Aikaterini Nasi

,

Vishnu Priya Bollampalli

…

Bence Réthi

Scientific Reports Open Access 09 March 2017
Access options
Subscribe to this journal
Receive 51 print issues and online access
$199.00 per year
only $3.90 per issue
Rent or buy this article
Get just this article for as long as you need it
$39.95
Prices may be subject to local taxes which are calculated during checkout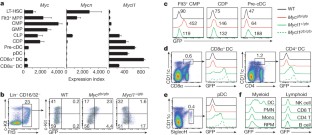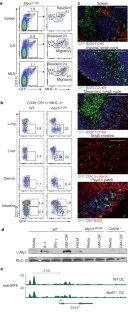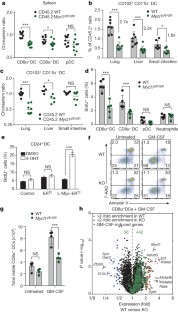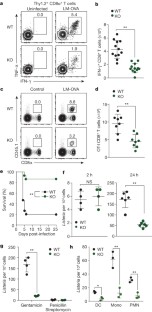 References
Dang, C. V. MYC on the path to cancer. Cell 149, 22–35 (2012)

Charron, J. et al. Embryonic lethality in mice homozygous for a targeted disruption of the N-myc gene. Genes Dev. 6, 2248–2257 (1992)

Davis, A. C., Wims, M., Spotts, G. D., Hann, S. R. & Bradley, A. A null c-myc mutation causes lethality before 10.5 days of gestation in homozygotes and reduced fertility in heterozygous female mice. Genes Dev. 7, 671–682 (1993)

Hatton, K. S. et al. Expression and activity of L-Myc in normal mouse development. Mol. Cell. Biol. 16, 1794–1804 (1996)

Liu, K. et al. In vivo analysis of dendritic cell development and homeostasis. Science 324, 392–397 (2009)

Lauvau, G. et al. Priming of memory but not effector CD8 T cells by a killed bacterial vaccine. Science 294, 1735–1739 (2001)

Wang, R. et al. The transcription factor Myc controls metabolic reprogramming upon T lymphocyte activation. Immunity 35, 871–882 (2011)

Laurenti, E. et al. Hematopoietic stem cell function and survival depend on c-Myc and N-Myc activity. Cell Stem Cell 3, 611–624 (2008)

Rahl, P. B. et al. c-Myc regulates transcriptional pause release. Cell 141, 432–445 (2010)

Lin, C. Y. et al. Transcriptional amplification in tumor cells with elevated c-Myc. Cell 151, 56–67 (2012)

Nie, Z. et al. c-Myc is a universal amplifier of expressed genes in lymphocytes and embryonic stem cells. Cell 151, 68–79 (2012)

Wasylishen, A. R. et al. New model systems provide insights into Myc-induced transformation. Oncogene 30, 3727–3734 (2011)

Nakagawa, M., Takizawa, N., Narita, M., Ichisaka, T. & Yamanaka, S. Promotion of direct reprogramming by transformation-deficient Myc. Proc. Natl Acad. Sci. USA 107, 14152–14157 (2010)

Kabashima, K. et al. Intrinsic lymphotoxin-β receptor requirement for homeostasis of lymphoid tissue dendritic cells. Immunity 22, 439–450 (2005)

Liu, K. et al. Origin of dendritic cells in peripheral lymphoid organs of mice. Nature Immunol. 8, 578–583 (2007)

Huang, C. Y., Bredemeyer, A. L., Walker, L. M., Bassing, C. H. & Sleckman, B. P. Dynamic regulation of c-Myc proto-oncogene expression during lymphocyte development revealed by a GFP-c-Myc knock-in mouse. Eur. J. Immunol. 38, 342–349 (2008)

Satpathy, A. T. et al. Zbtb46 expression distinguishes classical dendritic cells and their committed progenitors from other immune lineages. J. Exp. Med. 209, 1135–1152 (2012)

Becker, A. M. et al. IRF-8 extinguishes neutrophil production and promotes dendritic cell lineage commitment in both myeloid and lymphoid mouse progenitors. Blood 119, 2003–2012 (2012)

Tailor, P., Tamura, T., Morse, H. C. & Ozato, K. The BXH2 mutation in IRF8 differentially impairs dendritic cell subset development in the mouse. Blood 111, 1942–1945 (2008)

Inaba, K. et al. Generation of large numbers of dendritic cells from mouse bone marrow cultures supplemented with granulocyte/macrophage colony-stimulating factor. J. Exp. Med. 176, 1693–1702 (1992)

Tussiwand, R. et al. Compensatory dendritic cell development mediated by BATF–IRF interactions. Nature 490, 502–507 (2012)

Scott, C. L. et al. Functional analysis of mature hematopoietic cells from mice lacking the βc chain of the granulocyte-macrophage colony-stimulating factor receptor. Blood 92, 4119–4127 (1998)

Shortman, K. & Heath, W. R. The CD8+ dendritic cell subset. Immunol. Rev. 234, 18–31 (2010)

Hildner, K. et al. Batf3 deficiency reveals a critical role for CD8α+ dendritic cells in cytotoxic T cell immunity. Science 322, 1097–1100 (2008)

Swiecki, M., Gilfillan, S., Vermi, W., Wang, Y. & Colonna, M. Plasmacytoid dendritic cell ablation impacts early interferon responses and antiviral NK and CD8+ T cell accrual. Immunity 33, 955–966 (2010)

Satpathy, A. T. et al. Notch2-dependent classical dendritic cells orchestrate intestinal immunity to attaching-and-effacing bacterial pathogens. Nature Immunol. 14, 937–948 (2013)

Meredith, M. M. et al. Expression of the zinc finger transcription factor zDC (Zbtb46, Btbd4) defines the classical dendritic cell lineage. J. Exp. Med. 209, 1153–1165 (2012)

Edelson, B. T. et al. CD8α+ dendritic cells are an obligate cellular entry point for productive infection by Listeria monocytogenes. Immunity 35, 236–248 (2011)

Neuenhahn, M. et al. CD8α+ dendritic cells are required for efficient entry of Listeria monocytogenes into the spleen. Immunity 25, 619–630 (2006)

Resnitzky, D. & Kimchi, A. Deregulated c-myc expression abrogates the interferon- and interleukin 6-mediated G0/G1 cell cycle arrest but not other inhibitory responses in M1 myeloblastic cells. Cell Growth Differ. 2, 33–41 (1991)

Iiizumi, S. et al. Simple one-week method to construct gene-targeting vectors: application to production of human knockout cell lines. Biotechniques 41, 311–316 (2006)

Dignam, J. D., Lebovitz, R. M. & Roeder, R. G. Accurate transcription initiation by RNA polymerase II in a soluble extract from isolated mammalian nuclei. Nucleic Acids Res. 11, 1475–1489 (1983)

Ginhoux, F. et al. Fate mapping analysis reveals that adult microglia derive from primitive macrophages. Science 330, 841–845 (2010)

Pope, C. et al. Organ-specific regulation of the CD8 T cell response to Listeria monocytogenes infection. J. Immunol. 166, 3402–3409 (2001)

Kim, S. K. et al. Generation of mucosal cytotoxic T cells against soluble protein by tissue-specific environmental and costimulatory signals. Proc. Natl Acad. Sci. USA 95, 10814–10819 (1998)

Verschoor, A. et al. A platelet-mediated system for shuttling blood-borne bacteria to CD8α+ dendritic cells depends on glycoprotein GPIb and complement C3. Nature Immunol. 12, 1194–1201 (2011)

Belz, G. T. Direct ex vivo activation of T cells for analysis of dendritic cells antigen presentation. Methods Mol. Biol. 595, 351–369 (2010)

Lee, T. I., Johnstone, S. E. & Young, R. A. Chromatin immunoprecipitation and microarray-based analysis of protein location. Nature Protocols 1, 729–748 (2006)

Zhang, Y. et al. Model-based analysis of ChIP-Seq (MACS). Genome Biol. 9, R137 (2008)

Heinz, S. et al. Simple combinations of lineage-determining transcription factors prime cis-regulatory elements required for macrophage and B cell identities. Mol. Cell 38, 576–589 (2010)

Subramanian, A. et al. Gene set enrichment analysis: a knowledge-based approach for interpreting genome-wide expression profiles. Proc. Natl Acad. Sci. USA 102, 15545–15550 (2005)

Huang, W., Sherman, B. T. & Lempicki, R. A. Systematic and integrative analysis of large gene lists using DAVID bioinformatics resources. Nature Protocols 4, 44–57 (2008)

Edelson, B. T. et al. Peripheral CD103+ dendritic cells form a unified subset developmentally related to CD8α+ conventional dendritic cells. J. Exp. Med. 207, 823–836 (2010)

Ginhoux, F. et al. Blood-derived dermal langerin+ dendritic cells survey the skin in the steady state. J. Exp. Med. 204, 3133–3146 (2007)

Lefrancois, L. & Lycke, N. Isolation of mouse small intestinal intraepithelial lymphocytes, Peyer's patch, and lamina propria cells. Curr. Protoc. Immunol. 3, Unit–3.19 (2001)

Murphy, D. J. et al. Distinct thresholds govern Myc's biological output in vivo. Cancer Cell 14, 447–457 (2008)

Feil, R., Wagner, J., Metzger, D. & Chambon, P. Regulation of Cre recombinase activity by mutated estrogen receptor ligand-binding domains. Biochem. Biophys. Res. Commun. 237, 752–757 (1997)

Mahfoudi, A., Roulet, E., Dauvois, S., Parker, M. G. & Wahli, W. Specific mutations in the estrogen receptor change the properties of antiestrogens to full agonists. Proc. Natl Acad. Sci. USA 92, 4206–4210 (1995)

Sedy, J. R. et al. B and T lymphocyte attenuator regulates T cell activation through interaction with herpesvirus entry mediator. Nature Immunol. 6, 90–98 (2005)
Acknowledgements
This work was supported by the Howard Hughes Medical Institute and the Siteman Cancer Center (K.M.M.), American Heart Association (12PRE8610005 to A.T.S. and 12PRE12050419 to W.K.), German Research Foundation (AL 1038/1-1; J.C.A.), American Society of Hematology Scholar Award and Burroughs Wellcome Fund Career Award for Medical Scientists (B.T.E.). We thank J. M. White for blastocyst injections and generation of mouse chimaeras, the Alvin J. Siteman Cancer Center for use of the Center for Biomedical Informatics and the Multiplexed Gene Analysis Core Facility. The Siteman Cancer Center is supported in part by the NCI Cancer Center Support Grant P30 CA91842.
Ethics declarations
Competing interests
The authors declare no competing financial interests.
Extended data figures and tables
About this article
Cite this article
KC, W., Satpathy, A., Rapaport, A. et al. L-Myc expression by dendritic cells is required for optimal T-cell priming. Nature 507, 243–247 (2014). https://doi.org/10.1038/nature12967
Received:

Accepted:

Published:

Issue Date:

DOI: https://doi.org/10.1038/nature12967
Comments
By submitting a comment you agree to abide by our Terms and Community Guidelines. If you find something abusive or that does not comply with our terms or guidelines please flag it as inappropriate.