Abstract
CCAAT/enhancer binding protein-α (C/EBPα) induces transdifferentiation of B cells into macrophages at high efficiencies and enhances reprogramming into induced pluripotent stem (iPS) cells when co-expressed with the transcription factors Oct4 (Pou5f1), Sox2, Klf4 and Myc (hereafter called OSKM)1,2. However, how C/EBPα accomplishes these effects is unclear. Here we find that in mouse primary B cells transient C/EBPα expression followed by OSKM activation induces a 100-fold increase in iPS cell reprogramming efficiency, involving 95% of the population. During this conversion, pluripotency and epithelial–mesenchymal transition genes become markedly upregulated, and 60% of the cells express Oct4 within 2 days. C/EBPα acts as a 'path-breaker' as it transiently makes the chromatin of pluripotency genes more accessible to DNase I. C/EBPα also induces the expression of the dioxygenase Tet2 and promotes its translocation to the nucleus where it binds to regulatory regions of pluripotency genes that become demethylated after OSKM induction. In line with these findings, overexpression of Tet2 enhances OSKM-induced B-cell reprogramming. Because the enzyme is also required for efficient C/EBPα-induced immune cell conversion3, our data indicate that Tet2 provides a mechanistic link between iPS cell reprogramming and B-cell transdifferentiation. The rapid iPS reprogramming approach described here should help to fully elucidate the process and has potential clinical applications.
This is a preview of subscription content
Access options
Subscribe to Journal
Get full journal access for 1 year
$199.00
only $3.90 per issue
All prices are NET prices.
VAT will be added later in the checkout.
Tax calculation will be finalised during checkout.
Buy article
Get time limited or full article access on ReadCube.
$32.00
All prices are NET prices.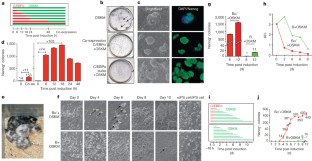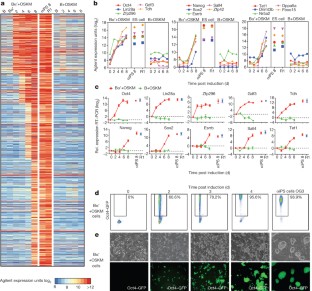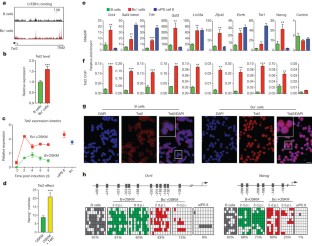 References
Hanna, J. et al. Direct reprogramming of terminally differentiated mature B lymphocytes to pluripotency. Cell 133, 250–264 (2008)

Xie, H., Ye, M., Feng, R. & Graf, T. Stepwise reprogramming of B cells into macrophages. Cell 117, 663–676 (2004)

Kallin, E. M. et al. Tet2 facilitates the derepression of myeloid target genes during CEBPα-induced transdifferentiation of pre-B cells. Mol. Cell 48, 266–276 (2012)

Buganim, Y. et al. Single-cell expression analyses during cellular reprogramming reveal an early stochastic and a late hierarchic phase. Cell 150, 1209–1222 (2012)

Hanna, J. et al. Direct cell reprogramming is a stochastic process amenable to acceleration. Nature 462, 595–601 (2009)

Orkin, S. H. & Hochedlinger, K. Chromatin connections to pluripotency and cellular reprogramming. Cell 145, 835–850 (2011)

Costa, Y. et al. NANOG-dependent function of TET1 and TET2 in establishment of pluripotency. Nature 495, 370–374 (2013)

Doege, C. A. et al. Early-stage epigenetic modification during somatic cell reprogramming by Parp1 and Tet2. Nature 488, 652–655 (2012)

Rais, Y. et al. Deterministic direct reprogramming of somatic cells to pluripotency. Nature 502, 65–70 (2013)

Di Tullio, A. et al. CCAAT/enhancer binding protein α (C/EBPα)-induced transdifferentiation of pre-B cells into macrophages involves no overt retrodifferentiation. Proc. Natl Acad. Sci. USA 108, 17016–17021 (2011)

Carey, B. W., Markoulaki, S., Beard, C., Hanna, J. & Jaenisch, R. Single-gene transgenic mouse strains for reprogramming adult somatic cells. Nature Methods 7, 56–59 (2010)

Eminli, S. et al. Differentiation stage determines potential of hematopoietic cells for reprogramming into induced pluripotent stem cells. Nature Genet. 41, 968–976 (2009)

Porse, B. T. et al. E2F repression by C/EBPα is required for adipogenesis and granulopoiesis in vivo . Cell 107, 247–258 (2001)

Golipour, A. et al. A late transition in somatic cell reprogramming requires regulators distinct from the pluripotency network. Cell Stem Cell 11, 769–782 (2012)

Li, R. et al. A mesenchymal-to-epithelial transition initiates and is required for the nuclear reprogramming of mouse fibroblasts. Cell Stem Cell 7, 51–63 (2010)

Samavarchi-Tehrani, P. et al. Functional genomics reveals a BMP-driven mesenchymal-to-epithelial transition in the initiation of somatic cell reprogramming. Cell Stem Cell 7, 64–77 (2010)

Liu, X. et al. Sequential introduction of reprogramming factors reveals a time-sensitive requirement for individual factors and a sequential EMT-MET mechanism for optimal reprogramming. Nature Cell Biol. 15, 829–838 (2013)

Gao, Y. et al. Replacement of Oct4 by Tet1 during iPSC induction reveals an important role of DNA methylation and hydroxymethylation in reprogramming. Cell Stem Cell 12, 453–469 (2013)

Ang, Y. S. et al. Wdr5 mediates self-renewal and reprogramming via the embryonic stem cell core transcriptional network. Cell 145, 183–197 (2011)

Kulessa, H., Frampton, J. & Graf, T. GATA-1 reprograms avian myelomonocytic cell lines into eosinophils, thromboblasts, and erythroblasts. Genes Dev. 9, 1250–1262 (1995)

Laiosa, C. V., Stadtfeld, M., Xie, H., de Andres-Aguayo, L. & Graf, T. Reprogramming of committed T cell progenitors to macrophages and dendritic cells by C/EBPα and PU.1 transcription factors. Immunity 25, 731–744 (2006)

Feng, R. et al. PU.1 and C/EBPα/β convert fibroblasts into macrophage-like cells. Proc. Natl Acad. Sci. USA 105, 6057–6062 (2008)

Zhang, D. E. et al. Absence of granulocyte colony-stimulating factor signaling and neutrophil development in CCAAT enhancer binding protein α-deficient mice. Proc. Natl Acad. Sci. USA 94, 569–574 (1997)

Begay, V., Smink, J. & Leutz, A. Essential requirement of CCAAT/enhancer binding proteins in embryogenesis. Mol. Cell. Biol. 24, 9744–9751 (2004)

Guilbert, L., Robertson, S. A. & Wegmann, T. G. The trophoblast as an integral component of a macrophage-cytokine network. Immunol. Cell Biol. 71, 49–57 (1993)

Cheng, J. et al. An extensive network of TET2-targeting microRNAs regulates malignant hematopoiesis. Cell Rep. 5, 471–481 (2013)

Di Stefano, B. et al. A microRNA-based system for selecting and maintaining the pluripotent state in human induced pluripotent stem cells. Stem Cells 29, 1684–1695 (2011)

Di Tullio, A. & Graf, T. C/EBPα bypasses cell cycle-dependency during immune cell transdifferentiation. Cell Cycle 11, 2739–2746 (2012)

van Oevelen, C. et al. A role for mammalian Sin3 in permanent gene silencing. Mol. Cell 32, 359–370 (2008)

Tilgner, H. et al. Deep sequencing of subcellular RNA fractions shows splicing to be predominantly co-transcriptional in the human genome but inefficient for lncRNAs. Genome Res. 22, 1616–1625 (2012)
Acknowledgements
We thank L. Batlle for generating the chimaeric mice, M. Stadtfeld, D. Egli, P. Cosma, G. Filion, B. Lehner and J. Valcarcel for critical reading of the manuscript, V. Broccoli, P. Muñoz and S. Aznar Benitah for constructs and antibodies and H. Schoeler for the Oct4 reporter mice. This work was supported by the Ministerio de Educacion y Ciencia, SAF.2007-63058 and AGAUR 2009 SGR768. B.D.S. holds a La Caixa International PhD Fellowship.
Ethics declarations
Competing interests
The authors declare no competing financial interests.
Extended data figures and tables
Supplementary information
About this article
Cite this article
Di Stefano, B., Sardina, J., van Oevelen, C. et al. C/EBPα poises B cells for rapid reprogramming into induced pluripotent stem cells. Nature 506, 235–239 (2014). https://doi.org/10.1038/nature12885
Received:

Accepted:

Published:

Issue Date:

DOI: https://doi.org/10.1038/nature12885
Comments
By submitting a comment you agree to abide by our Terms and Community Guidelines. If you find something abusive or that does not comply with our terms or guidelines please flag it as inappropriate.