Abstract
'Pre-leukaemic' mutations are thought to promote clonal expansion of haematopoietic stem cells (HSCs) by increasing self-renewal and competitiveness1; however, mutations that increase HSC proliferation tend to reduce competitiveness and self-renewal potential, raising the question of how a mutant HSC can sustainably outcompete wild-type HSCs. Activating mutations in NRAS are prevalent in human myeloproliferative neoplasms and leukaemia2. Here we show that a single allele of oncogenic NrasG12D increases HSC proliferation but also increases reconstituting and self-renewal potential upon serial transplantation in irradiated mice, all prior to leukaemia initiation. NrasG12D also confers long-term self-renewal potential to multipotent progenitors. To explore the mechanism by which NrasG12D promotes HSC proliferation and self-renewal, we assessed cell-cycle kinetics using H2B–GFP label retention and 5-bromodeoxyuridine (BrdU) incorporation. NrasG12D had a bimodal effect on HSCs, increasing the frequency with which some HSCs divide and reducing the frequency with which others divide. This mirrored bimodal effects on reconstituting potential, as rarely dividing NrasG12D HSCs outcompeted wild-type HSCs, whereas frequently dividing NrasG12D HSCs did not. NrasG12D caused these effects by promoting STAT5 signalling, inducing different transcriptional responses in different subsets of HSCs. One signal can therefore increase HSC proliferation, competitiveness and self-renewal through bimodal effects on HSC gene expression, cycling and reconstituting potential.
Access options
Subscribe to Journal
Get full journal access for 1 year
$199.00
only $3.90 per issue
All prices are NET prices.
VAT will be added later in the checkout.
Rent or Buy article
Get time limited or full article access on ReadCube.
from$8.99
All prices are NET prices.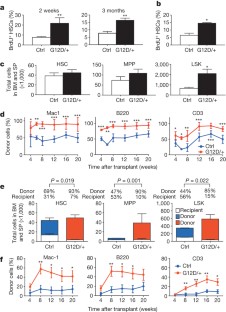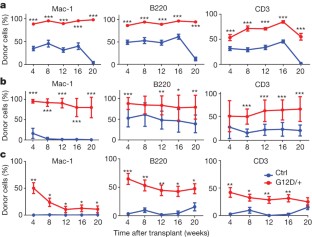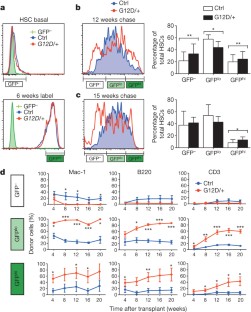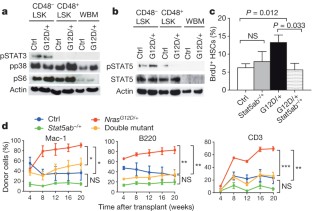 References
1

Rossi, D. J., Jamieson, C. H. & Weissman, I. L. Stems cells and the pathways to aging and cancer. Cell 132, 681–696 (2008)

2

Ward, A. F., Braun, B. S. & Shannon, K. M. Targeting oncogenic Ras signaling in hematologic malignancies. Blood 120, 3397–3406 (2012)

3

Essers, M. A. et al. IFNα activates dormant haematopoietic stem cells in vivo. Nature 458, 904–908 (2009)

4

Foudi, A. et al. Analysis of histone 2B–GFP retention reveals slowly cycling hematopoietic stem cells. Nature Biotechnol. 27, 84–90 (2009)

5

Wilson, A. et al. Hematopoietic stem cells reversibly switch from dormancy to self-renewal during homeostasis and repair. Cell 135, 1118–1129 (2008)

6

Rossi, L. et al. Less is more: unveiling the functional core of hematopoietic stem cells through knockout mice. Cell Stem Cell 11, 302–317 (2012)

7

Kamminga, L. M. et al. The Polycomb group gene Ezh2 prevents hematopoietic stem cell exhaustion. Blood 107, 2170–2179 (2006)

8

Liu, F. et al. Csf3r mutations in mice confer a strong clonal HSC advantage via activation of Stat5. J. Clin. Invest. 118, 946–955 (2008)

9

Yuan, Y., Shen, H., Franklin, D. S., Scadden, D. T. & Cheng, T. In vivo self-renewing divisions of haematopoietic stem cells are increased in the absence of the early G1-phase inhibitor, p18INK4C. Nature Cell Biol. 6, 436–442 (2004)

10

Moran-Crusio, K. et al. Tet2 loss leads to increased hematopoietic stem cell self-renewal and myeloid transformation. Cancer Cell 20, 11–24 (2011)

11

Challen, G. A. et al. Dnmt3a is essential for hematopoietic stem cell differentiation. Nature Genet. 44, 23–31 (2012)

12

Takizawa, H. et al. Enhanced engraftment of hematopoietic stem/progenitor cells by the transient inhibition of an adaptor protein, Lnk. Blood 107, 2968–2975 (2006)

13

Buza-Vidas, N. et al. Cytokines regulate postnatal hematopoietic stem cell expansion: opposing roles of thrombopoietin and LNK. Genes Dev. 20, 2018–2023 (2006)

14

Braun, B. S. et al. Somatic activation of oncogenic Kras in hematopoietic cells initiates a rapidly fatal myeloproliferative disorder. Proc. Natl Acad. Sci. USA 101, 597–602 (2004)

15

Sabnis, A. J. et al. Oncogenic Kras initiates leukemia in hematopoietic stem cells. PLoS Biol. 7, e59 (2009)

16

Li, Q. et al. Hematopoiesis and leukemogenesis in mice expressing oncogenic NrasG12D from the endogenous locus. Blood 117, 2022–2032 (2011)

17

Wang, J. et al. Endogenous oncogenic Nras mutation promotes aberrant GM-CSF signaling in granulocytic/monocytic precursors in a murine model of chronic myelomonocytic leukemia. Blood 116, 5991–6002 (2010)

18

Zhang, Y., Taylor, B. R., Shannon, K. & Clapp, D. W. Quantitative effects of Nf1 inactivation on in vivo hematopoiesis. J. Clin. Invest. 108, 709–715 (2001)

19

Wang, J. et al. NrasG12D/+ promotes leukemogenesis by aberrantly regulating hematopoietic stem cell functions. Blood 121, 5203–5207 (2013)

20

Haigis, K. M. et al. Differential effects of oncogenic K-Ras and N-Ras on proliferation, differentiation and tumor progression in the colon. Nature Genet. 40, 600–608 (2008)

21

Kiel, M. J., Yilmaz, O. H., Iwashita, T., Terhorst, C. & Morrison, S. J. SLAM family receptors distinguish hematopoietic stem and progenitor cells and reveal endothelial niches for stem cells. Cell 121, 1109–1121 (2005)

22

Oguro, H., Ding, L. & Morrison, S. J. SLAM family markers resolve functionally distinct subpopulations of hematopoietic stem cells and multipotent progenitors. Cell Stem Cell 13, 102–116 (2013)

23

Krebs, D. L. & Hilton, D. J. SOCS proteins: negative regulators of cytokine signaling. Stem Cells 19, 378–387 (2001)

24

Li, L. X., Goetz, C. A., Katerndahl, C. D., Sakaguchi, N. & Farrar, M. A. A. Flt3- and Ras-dependent pathway primes B cell development by inducing a state of IL-7 responsiveness. J. Immunol. 184, 1728–1736 (2010)

25

Cui, Y. et al. Inactivation of Stat5 in mouse mammary epithelium during pregnancy reveals distinct functions in cell proliferation, survival, and differentiation. Mol. Cell. Biol. 24, 8037–8047 (2004)

26

Itzykson, R. et al. Clonal architecture of chronic myelomonocytic leukemias. Blood 121, 2186–2198 (2013)

27

Kotecha, N. et al. Single-cell profiling identifies aberrant STAT5 activation in myeloid malignancies with specific clinical and biologic correlates. Cancer Cell 14, 335–343 (2008)

28

Matsuda, K. et al. Spontaneous improvement of hematologic abnormalities in patients having juvenile myelomonocytic leukemia with specific RAS mutations. Blood 109, 5477–5480 (2007)

29

De Filippi, P. et al. Germ-line mutation of the NRAS gene may be responsible for the development of juvenile myelomonocytic leukaemia. Br. J. Haematol. 147, 706–709 (2009)

30

Kraoua, L. et al. Constitutional NRAS mutations are rare among patients with Noonan syndrome or juvenile myelomonocytic leukemia. Am. J. Med. Genet. A. 158A, 2407–2411 (2012)

31

R Development Core Team. R: A language and environment for statistical computing. R Foundation for Statistical Computing, Vienna, Austria. http://www.R-project.org (2009)

32

Gentleman, R. C. et al. Bioconductor: open software development for computational biology and bioinformatics. Genome Biol. 5, R80 (2004)

33

Smyth, G. K. Linear models and empirical bayes methods for assessing differential expression in microarray experiments. Stat. Appl. Genet. Mol. Biol. 3, Article3 (2004)

34

Subramanian, A. et al. Gene set enrichment analysis: a knowledge-based approach for interpreting genome-wide expression profiles. Proc. Natl Acad. Sci. USA 102, 15545–15550 (2005)
Acknowledgements
S.J.M. is a Howard Hughes Medical Institute Investigator and the Mary McDermott Cook Chair in Pediatric Genetics. This work was supported by the Cancer Prevention and Research Institute of Texas. Q.L. was supported by NIH K08-CA-134649 and V Foundation V Scholar award. Thanks to L. Hennighausen, K. Haigis and H. Hock for generously providing Stat5abfl, NrasG12D and Col1A1-H2B-GFP; Rosa26-M2-rtTA mice. Thanks to M. Heeren and K. Rajan for help with genotyping and to R. Coolon and N. Vanderveen for mouse colony management.
Ethics declarations
Competing interests
The authors declare no competing financial interests.
Extended data figures and tables
About this article
Cite this article
Li, Q., Bohin, N., Wen, T. et al. Oncogenic Nras has bimodal effects on stem cells that sustainably increase competitiveness. Nature 504, 143–147 (2013). https://doi.org/10.1038/nature12830
Received:

Accepted:

Published:

Issue Date:
Comments
By submitting a comment you agree to abide by our Terms and Community Guidelines. If you find something abusive or that does not comply with our terms or guidelines please flag it as inappropriate.