Abstract
Traumatic brain injury (TBI) is increasingly appreciated to be highly prevalent and deleterious to neurological function1,2. At present, no effective treatment options are available, and little is known about the complex cellular response to TBI during its acute phase. To gain insights into TBI pathogenesis, we developed a novel murine closed-skull brain injury model that mirrors some pathological features associated with mild TBI in humans and used long-term intravital microscopy to study the dynamics of the injury response from its inception. Here we demonstrate that acute brain injury induces vascular damage, meningeal cell death, and the generation of reactive oxygen species (ROS) that ultimately breach the glial limitans and promote spread of the injury into the parenchyma. In response, the brain elicits a neuroprotective, purinergic-receptor-dependent inflammatory response characterized by meningeal neutrophil swarming and microglial reconstitution of the damaged glial limitans. We also show that the skull bone is permeable to small-molecular-weight compounds, and use this delivery route to modulate inflammation and therapeutically ameliorate brain injury through transcranial administration of the ROS scavenger, glutathione. Our results shed light on the acute cellular response to TBI and provide a means to locally deliver therapeutic compounds to the site of injury.
Access options
Subscribe to Journal
Get full journal access for 1 year
$199.00
only $3.90 per issue
All prices are NET prices.
VAT will be added later in the checkout.
Rent or Buy article
Get time limited or full article access on ReadCube.
from$8.99
All prices are NET prices.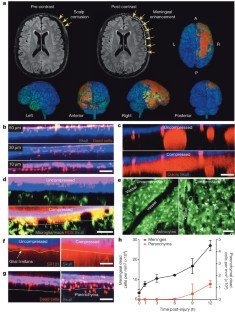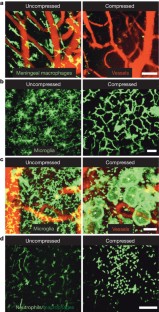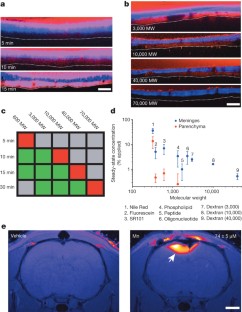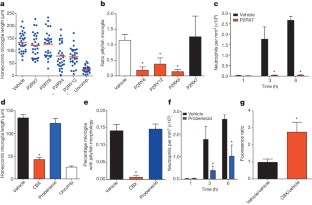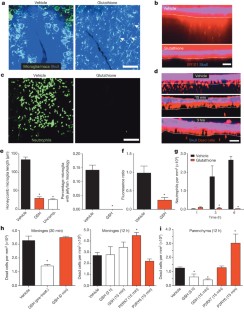 References
1

DeKosky, S. T., Blennow, K., Ikonomovic, M. D. & Gandy, S. Acute and chronic traumatic encephalopathies: pathogenesis and biomarkers. Nature Rev. Neurol. 9, 192–200 (2013)

2

Roozenbeek, B., Maas, A. I. & Menon, D. K. Changing patterns in the epidemiology of traumatic brain injury. Nature Rev. Neurol. 9, 231–236 (2013)

3

Zetterberg, H., Smith, D. H. & Blennow, K. Biomarkers of mild traumatic brain injury in cerebrospinal fluid and blood. Nature Rev. Neurol. 9, 201–210 (2013)

4

McConeghy, K. W., Hatton, J., Hughes, L. & Cook, A. M. A review of neuroprotection pharmacology and therapies in patients with acute traumatic brain injury. CNS Drugs 26, 613–636 (2012)

5

Xiong, Y., Mahmood, A. & Chopp, M. Animal models of traumatic brain injury. Nature Rev. Neurosci. 14, 128–142 (2013)

6

Finnie, J. W. Neuroinflammation: beneficial and detrimental effects after traumatic brain injury. Inflammopharmacology 21, 309–320 (2013)

7

Hall, E. D., Andrus, P. K. & Yonkers, P. A. Brain hydroxyl radical generation in acute experimental head injury. J. Neurochem. 60, 588–594 (1993)

8

Lewén, A., Matz, P. & Chan, P. H. Free radical pathways in CNS injury. J. Neurotrauma 17, 871–890 (2000)

9

Young, W. Role of calcium in central nervous system injuries. J. Neurotrauma 9 (suppl. 1). S9–S25 (1992)

10

Bullock, R. et al. Evidence for prolonged release of excitatory amino acids in severe human head trauma. Relationship to clinical events. Ann. NY Acad. Sci. 765, 290–297 (1995)

11

Bullock, R. et al. Factors affecting excitatory amino acid release following severe human head injury. J. Neurosurg. 89, 507–518 (1998)

12

Mazzeo, A. T., Beat, A., Singh, A. & Bullock, M. R. The role of mitochondrial transition pore, and its modulation, in traumatic brain injury and delayed neurodegeneration after TBI. Exp. Neurol. 218, 363–370 (2009)

13

Janowitz, T. & Menon, D. K. Exploring new routes for neuroprotective drug development in traumatic brain injury. Sci. Transl. Med. 2, 27rv1 (2010)

14

Mamourian, A. C., Hoopes, P. J. & Lewis, L. D. Visualization of intravenously administered contrast material in the CSF on fluid-attenuated inversion-recovery MR images: an in vitro and animal-model investigation. AJNR Am. J. Neuroradiol. 21, 105–111 (2000)

15

Xu, H. T., Pan, F., Yang, G. & Gan, W. B. Choice of cranial window type for in vivo imaging affects dendritic spine turnover in the cortex. Nature Neurosci. 10, 549–551 (2007)

16

Eltzschig, H. K., Sitkovsky, M. V. & Robson, S. C. Purinergic signaling during inflammation. N. Engl. J. Med. 367, 2322–2333 (2012)

17

Davalos, D. et al. ATP mediates rapid microglial response to local brain injury in vivo. Nature Neurosci. 8, 752–758 (2005)

18

Chen, G. Y. & Nunez, G. Sterile inflammation: sensing and reacting to damage. Nature Rev. Immunol. 10, 826–837 (2010)

19

Nimmerjahn, A., Kirchhoff, F. & Helmchen, F. Resting microglial cells are highly dynamic surveillants of brain parenchyma in vivo. Science 308, 1314–1318 (2005)

20

Haynes, S. E. et al. The P2Y12 receptor regulates microglial activation by extracellular nucleotides. Nature Neurosci. 9, 1512–1519 (2006)

21

McDonald, B. et al. Intravascular danger signals guide neutrophils to sites of sterile inflammation. Science 330, 362–366 (2010)

22

Jung, S. et al. Analysis of fractalkine receptor CX3CR1 function by targeted deletion and green fluorescent protein reporter gene insertion. Mol. Cell. Biol. 20, 4106–4114 (2000)

23

Zhuo, L. et al. Live astrocytes visualized by green fluorescent protein in transgenic mice. Dev. Biol. 187, 36–42 (1997)

24

Faust, N., Varas, F., Kelly, L. M., Heck, S. & Graf, T. Insertion of enhanced green fluorescent protein into the lysozyme gene creates mice with green fluorescent granulocytes and macrophages. Blood 96, 719–726 (2000)

25

Yang, G., Pan, F., Parkhurst, C. N., Grutzendler, J. & Gan, W. B. Thinned-skull cranial window technique for long-term imaging of the cortex in live mice. Nature Protocols 5, 201–208 (2010)

26

Chuang, K. H., Koretsky, A. P. & Sotak, C. H. Temporal changes in the T1 and T2 relaxation rates (ΔR1 and ΔR2) in the rat brain are consistent with the tissue-clearance rates of elemental manganese. Magn. Reson. Med. 61, 1528–1532 (2009)
Acknowledgements
The study was supported by the National Institutes of Health (NIH), the National Institute of Neurological Disorders and Stroke (NINDS), and the Center for Neuroscience and Regenerative Medicine (CNRM) at the Uniformed Services University of the Health Sciences—a collaborative effort between the NIH, the Department of Defense and the Walter Reed National Military Medical Center to develop innovative approaches for brain injury diagnosis and recovery.
Ethics declarations
Competing interests
The authors declare no competing financial interests.
Extended data figures and tables
Supplementary information
About this article
Cite this article
Roth, T., Nayak, D., Atanasijevic, T. et al. Transcranial amelioration of inflammation and cell death after brain injury. Nature 505, 223–228 (2014). https://doi.org/10.1038/nature12808
Received:

Accepted:

Published:

Issue Date:
Comments
By submitting a comment you agree to abide by our Terms and Community Guidelines. If you find something abusive or that does not comply with our terms or guidelines please flag it as inappropriate.