Abstract
Mouse embryonic stem (ES) cells are isolated from the inner cell mass of blastocysts, and can be preserved in vitro in a naive inner-cell-mass-like configuration by providing exogenous stimulation with leukaemia inhibitory factor (LIF) and small molecule inhibition of ERK1/ERK2 and GSK3β signalling (termed 2i/LIF conditions)1,2. Hallmarks of naive pluripotency include driving Oct4 (also known as Pou5f1) transcription by its distal enhancer, retaining a pre-inactivation X chromosome state, and global reduction in DNA methylation and in H3K27me3 repressive chromatin mark deposition on developmental regulatory gene promoters3. Upon withdrawal of 2i/LIF, naive mouse ES cells can drift towards a primed pluripotent state resembling that of the post-implantation epiblast4. Although human ES cells share several molecular features with naive mouse ES cells5, they also share a variety of epigenetic properties with primed murine epiblast stem cells (EpiSCs)6,7. These include predominant use of the proximal enhancer element to maintain OCT4 expression, pronounced tendency for X chromosome inactivation in most female human ES cells, increase in DNA methylation and prominent deposition of H3K27me3 and bivalent domain acquisition on lineage regulatory genes7. The feasibility of establishing human ground state naive pluripotency in vitro with equivalent molecular and functional features to those characterized in mouse ES cells remains to be defined1. Here we establish defined conditions that facilitate the derivation of genetically unmodified human naive pluripotent stem cells from already established primed human ES cells, from somatic cells through induced pluripotent stem (iPS) cell reprogramming or directly from blastocysts. The novel naive pluripotent cells validated herein retain molecular characteristics and functional properties that are highly similar to mouse naive ES cells, and distinct from conventional primed human pluripotent cells. This includes competence in the generation of cross-species chimaeric mouse embryos that underwent organogenesis following microinjection of human naive iPS cells into mouse morulas. Collectively, our findings establish new avenues for regenerative medicine, patient-specific iPS cell disease modelling and the study of early human development in vitro and in vivo.
Relevant articles
Open Access articles citing this article.
Young Hyun Che

,

Hojae Lee

&

Yong Jun Kim

Experimental & Molecular Medicine Open Access 21 October 2022

Woranop Sukparangsi

,

Elena Morganti

…

Joshua M. Brickman

Nature Communications Open Access 21 September 2022

Yan Bi

,

Zhifen Tu

…

Yixuan Wang

Nature Communications Open Access 07 June 2022
Access options
Subscribe to Journal
Get full journal access for 1 year
$199.00
only $3.90 per issue
All prices are NET prices.
VAT will be added later in the checkout.
Tax calculation will be finalised during checkout.
Buy article
Get time limited or full article access on ReadCube.
$32.00
All prices are NET prices.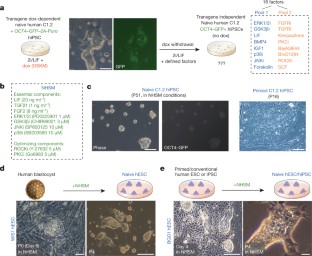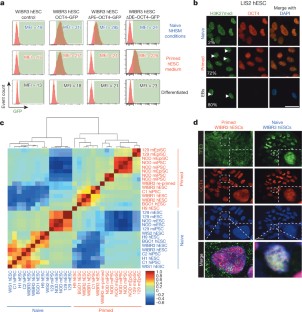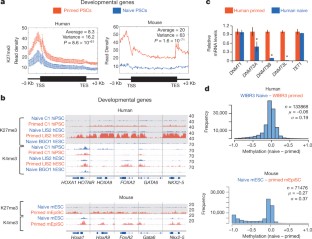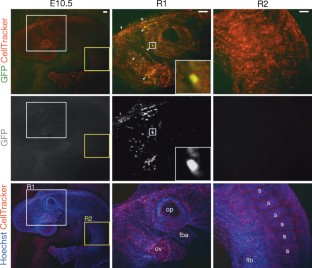 References
Hanna, J. H., Saha, K. & Jaenisch, R. Pluripotency and cellular reprogramming: facts, hypotheses, unresolved issues. Cell 143, 508–525 (2010)

Ying, Q.-L. et al. The ground state of embryonic stem cell self-renewal. Nature 453, 519–523 (2008)

Marks, H. et al. The transcriptional and epigenomic foundations of ground state pluripotency. Cell 149, 590–604 (2012)

Brons, I. G. M. et al. Derivation of pluripotent epiblast stem cells from mammalian embryos. Nature 448, 191–195 (2007)

Thomson, J. A. et al. Embryonic stem cell lines derived from human blastocysts. Science 282, 1145–1147 (1998)

Chia, N.-Y. et al. A genome-wide RNAi screen reveals determinants of human embryonic stem cell identity. Nature 468, 316–320 (2010)

Hanna, J. et al. Human embryonic stem cells with biological and epigenetic characteristics similar to those of mouse ESCs. Proc. Natl Acad. Sci. USA 107, 9222–9227 (2010)

Hanna, J. et al. Metastable pluripotent states in NOD-mouse-derived ESCs. Cell Stem Cell 4, 513–524 (2009)

Greber, B. et al. Conserved and divergent roles of FGF signaling in mouse epiblast stem cells and human embryonic stem cells. Cell Stem Cell 6, 215–226 (2010)

Watanabe, K. et al. A ROCK inhibitor permits survival of dissociated human embryonic stem cells. Nature Biotechnol. 25, 681–686 (2007)

Rajendran, G. et al. Inhibition of protein kinase C signaling maintains rat embryonic stem cell pluripotency. J. Biol. Chem. 288, 24351–24362 (2013)

Okamoto, I. et al. Eutherian mammals use diverse strategies to initiate X-chromosome inactivation during development. Nature 472, 370–374 (2011)

Mekhoubad, S. et al. Erosion of dosage compensation impacts human iPSC disease modeling. Cell Stem Cell 10, 595–609 (2012)

Chappell, J., Sun, Y., Singh, A. & Dalton, S. MYC/MAX control ERK signaling and pluripotency by regulation of dual-specificity phosphatases 2 and 7. Genes Dev. 27, 725–733 (2013)

Betschinger, J. et al. Exit from pluripotency is gated by intracellular redistribution of the bHLH transcription factor Tfe3. Cell 153, 335–347 (2013)

Rada-Iglesias, A. et al. A unique chromatin signature uncovers early developmental enhancers in humans. Nature 470, 279–283 (2011)

Ficz, G. et al. Fgf signaling inhibition in ESCs drives rapid genome-wide demethylation to the epigenetic ground state of pluripotency. Cell Stem Cell 13, 351–359 (2013)

Rais, Y. et al. Deterministic direct reprogramming of somatic cells to pluripotency. Nature 502, 65–70 (2013)

Urbach, A., Bar-Nur, O., Daley, G. Q. & Benvenisty, N. Differential modeling of fragile X syndrome by human embryonic stem cells and induced pluripotent stem cells. Cell Stem Cell 6, 407–411 (2010)

James, D., Noggle, S. A., Swigut, T. & Brivanlou, A. H. Contribution of human embryonic stem cells to mouse blastocysts. Dev. Biol. 295, 90–102 (2006)

Tachibana, M., Sparman, M., Ramsey, C., Ma, H. & Lee, H. S. Generation of chimeric rhesus monkeys. Cell 148, 285–295 (2012)

Ben-Yosef, D. et al. Female sex bias in human embryonic stem cell lines. Stem Cells Dev. 21, 363–372 (2012)

Lengner, C. J. et al. Derivation of pre-X inactivation human embryonic stem cells under physiological oxygen concentrations. Cell 141, 872–883 (2010)

Takahashi, K., Mitsui, K. & Yamanaka, S. Role of ERas in promoting tumour-like properties in mouse embryonic stem cells. Nature 423, 541–545 (2003)

Mansour, A. A. et al. The H3K27 demethylase Utx regulates somatic and germ cell epigenetic reprogramming. Nature 488, 409–413 (2012)

Massarwa, R. & Niswander, L. In toto live imaging of mouse morphogenesis and new insights into neural tube closure. Development 140, 226–236 (2013)

Yeom, Y. I. et al. Germline regulatory element of Oct-4 specific for the totipotent cycle of embryonal cells. Development 122, 881–894 (1996)

Pietrobono, R. et al. Quantitative analysis of DNA demethylation and transcriptional reactivation of the FMR1 gene in fragile X cells treated with 5-azadeoxycytidine. Nucleic Acids Res. 30, 3278–3285 (2002)

Vassena, R. et al. Waves of early transcriptional activation and pluripotency program initiation during human preimplantation development. Development 138, 3699–3709 (2011)
Acknowledgements
J.H.H. is supported by a gift from Ilana and Pascal Mantoux, and research grants from the European Research Council starting investigator grant (StG-2011-281906, for funding iPS cell experiments only), the Leona M. and Harry B. Helmsley Charitable Trust, the BIRAX (Britain Israel Research and Academic Exchange Partnership), The Sir Charles Clore Research Prize, the Israel Science Foundation (Bikura, ICORE (Israeli Centre of Research Excellence) and Regular research program), the Israel Cancer Research Foundation, the ERANET E-Rare disease program, the Benoziyo Endowment fund, Fritz Thyssen Stiftung (used for human iPS cell experiments only), EMBO young investigator program, the Alon Foundation scholar award, a grant from E. A. and R. Drake, postdoctoral fellowships from ICRF and the Weizmann Dean fellowship award for A.A.M. We thank the embryologists of the Racine In Vitro Fertilization Laboratory at the Lis Maternity Hospital (A. Carmon, T. Cohen and N. M. Raz) for their skilful assistance. We thank the Weizmann Institute management for providing financial and infrastructural support.
Ethics declarations
Competing interests
The authors declare no competing financial interests.
Extended data figures and tables
Supplementary information
This file contains Supplementary Discussions and additional references. (PDF 191 kb)
C1 human naïve iPSCs were targeted with constitutively CAGGS promoter driven EGFP into the human AAVS1 locus via ZFN utilization. Subsequently cells were microinjected into E2.5 mouse morulas, and micro-manipulated embryos were allowed to recover and develop into blastocysts in vitro. Subsequently the blastocysts were implanted in mouse uteri in vivo and allowed to develop for 7 additional days. Embryos were dissected, stained with CellTracker and subjected to confocal imaging analysis. Video presentation of the in toto embryo imaging confocal z-sections, showing the merge of the green (GFP) and red (CellTracker) channels of R1 inset shown in Fig. 4. (MOV 500 kb)
As, in Supplementary Video 1, but video presentation of the in toto embryo imaging confocal z-sections, showing only the green (GFP) of R1 inset shown in Fig. 4. (MOV 113 kb)
About this article
Cite this article
Gafni, O., Weinberger, L., Mansour, A. et al. Derivation of novel human ground state naive pluripotent stem cells. Nature 504, 282–286 (2013). https://doi.org/10.1038/nature12745
Received:

Accepted:

Published:

Issue Date:

DOI: https://doi.org/10.1038/nature12745
Comments
By submitting a comment you agree to abide by our Terms and Community Guidelines. If you find something abusive or that does not comply with our terms or guidelines please flag it as inappropriate.