Abstract
Human body-surface epithelia coexist in close association with complex bacterial communities and are protected by a variety of antibacterial proteins. C-type lectins of the RegIII family are bactericidal proteins that limit direct contact between bacteria and the intestinal epithelium and thus promote tolerance to the intestinal microbiota1,2. RegIII lectins recognize their bacterial targets by binding peptidoglycan carbohydrate1,3, but the mechanism by which they kill bacteria is unknown. Here we elucidate the mechanistic basis for RegIII bactericidal activity. We show that human RegIIIα (also known as HIP/PAP) binds membrane phospholipids and kills bacteria by forming a hexameric membrane-permeabilizing oligomeric pore. We derive a three-dimensional model of the RegIIIα pore by docking the RegIIIα crystal structure into a cryo-electron microscopic map of the pore complex, and show that the model accords with experimentally determined properties of the pore. Lipopolysaccharide inhibits RegIIIα pore-forming activity, explaining why RegIIIα is bactericidal for Gram-positive but not Gram-negative bacteria. Our findings identify C-type lectins as mediators of membrane attack in the mucosal immune system, and provide detailed insight into an antibacterial mechanism that promotes mutualism with the resident microbiota.
Relevant articles
Open Access articles citing this article.
Yong-sheng Teng

,

Yu-gang Liu

…

Yuan Zhuang

Cell Death & Disease Open Access 28 January 2019
Access options
Subscribe to Journal
Get full journal access for 1 year
$199.00
only $3.90 per issue
All prices are NET prices.
VAT will be added later in the checkout.
Tax calculation will be finalised during checkout.
Buy article
Get time limited or full article access on ReadCube.
$32.00
All prices are NET prices.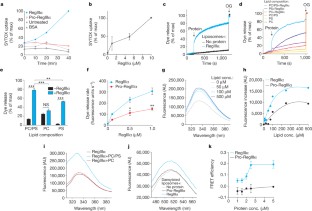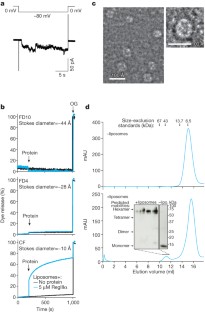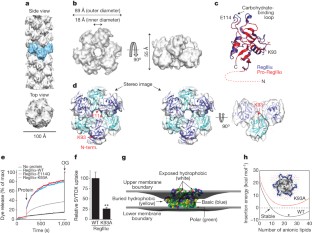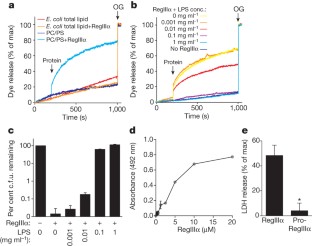 Accession codes
Primary accessions
Electron Microscopy Data Bank
Referenced accessions
Protein Data Bank
Data deposits
Coordinates of the crystallographic structure of active human RegIIIα have been deposited in the Protein Data Bank with accession code 4MTH. The cryoEM map has also been deposited in the 3D EM database under accession code EMD–5795.
References
Cash, H. L., Whitham, C. V., Behrendt, C. L. & Hooper, L. V. Symbiotic bacteria direct expression of an intestinal bactericidal lectin. Science 313, 1126–1130 (2006)

Vaishnava, S. et al. The antibacterial lectin RegIIIγ promotes the spatial segregation of microbiota and host in the intestine. Science 334, 255–258 (2011)

Lehotzky, R. E. et al. Molecular basis for peptidoglycan recognition by a bactericidal lectin. Proc. Natl Acad. Sci. USA 107, 7722–7727 (2010)

Mukherjee, S. et al. Regulation of C-type lectin antimicrobial activity by a flexible N-terminal prosegment. J. Biol. Chem. 284, 4881–4888 (2009)

Zasloff, M. Antimicrobial peptides of multicellular organisms. Nature 415, 389–395 (2002)

Kraft, C. A., Garrido, J. L., Leiva-Vega, L. & Romero, G. Quantitative analysis of protein-lipid interactions using tryptophan fluorescence. Sci. Signal. 2, l4 (2009)

Fernandez, I. et al. Three-dimensional structure of the synaptotagmin 1 C2B-domain: synaptotagmin 1 as a phospholipid binding machine. Neuron 32, 1057–1069 (2001)

Brogden, K. A. Antimicrobial peptides: pore formers or metabolic inhibitors in bacteria? Nature Rev. Microbiol. 3, 238–250 (2005)

Mueller, P., Rudin, D. O., Tien, H. T. & Wescott, W. C. Reconstitution of cell membrane structure in vitro and its transformation into an excitable system. Nature 194, 979–980 (1962)

Cash, H. L., Whitham, C. V. & Hooper, L. V. Refolding, purification, and characterization of human and murine RegIII proteins expressed in Escherichia coli . Protein Expr. Purif. 48, 151–159 (2006)

Ho, M.-R. et al. Human pancreatitis-associated protein forms fibrillar aggregates with a native-like conformation. J. Biol. Chem. 281, 33566–33576 (2006)

Kagan, B. L. et al. Antimicrobial properties of amyloid peptides. Mol. Pharm. 9, 708–717 (2012)

Jiang, Q.-X., Wang, D.-N. & MacKinnon, R. Electron microscopic analysis of KvAP voltage-dependent K+ channels in an open conformation. Nature 430, 806–810 (2004)

Lodish, H. et al. in Molecular Cell Biology (W.H. Freeman, 2000)

Kagan, B. L., Selsted, M. E., Ganz, T. & Lehrer, R. I. Antimicrobial defensin peptides form voltage-dependent ion-permeable channels in planar lipid bilayer membranes. Proc. Natl Acad. Sci. USA 87, 210–214 (1990)

Zhang, Y., Lu, W. & Hong, M. The membrane-bound structure and topology of a human α-defensin indicate a dimer pore mechanism for membrane disruption. Biochemistry 49, 9770–9782 (2010)

Callenberg, K. M., Latorraca, N. R. & Grabe, M. Membrane bending is critical for the stability of voltage sensor segments in the membrane. J. Gen. Physiol. 140, 55–68 (2012)

Vidal, K., Grosjean, I., Revillard, J.-P., Gespach, C. & Kaiserlian, D. Immortalization of mouse intestinal epithelial cells by the SV40-large T gene. Phenotypic and immune characterization of the MODE-K cell line. J. Immunol. Methods 166, 63–73 (1993)

Ip, W. K. E., Takahashi, K., Ezekowitz, R. A. & Stuart, L. M. Mannose-binding lectin and innate immunity. Immunol. Rev. 230, 9–21 (2009)

Chu, H. et al. Human α-defensin 6 promotes mucosal innate immunity through self-assembled peptide nanonets. Science 337, 477–481 (2012)

Shrake, A. & Rupley, J. A. Environment and exposure to solvent of protein atoms. Lysozyme and insulin. J. Mol. Biol. 79, 351–371 (1973)

Henriksen, J. et al. Universal behavior of membranes with sterols. Biophys. J. 90, 1639–1649 (2006)

Kučerka, N., Tristram-Nagle, S. & Nagle, J. F. Closer look at structure of fully hydrated fluid phase DPPC bilayers. Biophys. J. 90, L83–L85 (2006)

Petrache, H. I. et al. Structure and fluctuations of charged phosphatidylserine bilayers in the absence of salt. Biophys. J. 86, 1574–1586 (2004)

Fuller, N., Benatti, C. R. & Rand, R. P. Curvature and bending constants for phosphatidylserine-containing membranes. Biophys. J. 85, 1667–1674 (2003)

Nielsen, C., Goulian, M. & Andersen, O. S. Energetics of inclusion-induced bilayer deformations. Biophys. J. 74, 1966–1983 (1998)

White, S. H. Formation of 'solvent-free' black lipid bilayer membranes from glyceryl monooleate dispersed in squalene. Biophys. J. 23, 337–347 (1978)
Acknowledgements
We thank T. Craig for assistance with the liposome disruption assays. The MODE-K cell line was provided by D. Kaiserlian, INSERM U851, Lyon, France. We thank E. Egelman for sharing his programs and for offering advice on cryoEM data analysis. This work was supported by NIH R01 DK070855 (L.V.H.), NIH R01 GM088745 and GM093271 (Q.-X.J.), NIH R01 NS40944 (J.R.), Welch Foundation (I-1684 to Q.-X.J.), NSF CAREER MCB0845286 (M.G.), a Helen Hay Whitney Fellowship (S.M.), a Burroughs Wellcome Foundation New Investigators in the Pathogenesis of Infectious Diseases Award (L.V.H.), and the Howard Hughes Medical Institute (L.V.H.). Part of this work was performed in laboratories constructed with support from NIH grant C06 RR30414.
Ethics declarations
Competing interests
The authors declare no competing financial interests.
Extended data figures and tables
Supplementary information
This file contains Supplementary Methods and Supplementary References. (PDF 695 kb)
About this article
Cite this article
Mukherjee, S., Zheng, H., Derebe, M. et al. Antibacterial membrane attack by a pore-forming intestinal C-type lectin. Nature 505, 103–107 (2014). https://doi.org/10.1038/nature12729
Received:

Accepted:

Published:

Issue Date:

DOI: https://doi.org/10.1038/nature12729
Comments
By submitting a comment you agree to abide by our Terms and Community Guidelines. If you find something abusive or that does not comply with our terms or guidelines please flag it as inappropriate.