Abstract
Influenza A virus-specific B lymphocytes and the antibodies they produce protect against infection1. However, the outcome of interactions between an influenza haemagglutinin-specific B cell via its receptor (BCR) and virus is unclear. Through somatic cell nuclear transfer we generated mice that harbour B cells with a BCR specific for the haemagglutinin of influenza A/WSN/33 virus (FluBI mice). Their B cells secrete an immunoglobulin gamma 2b that neutralizes infectious virus. Whereas B cells from FluBI and control mice bind equivalent amounts of virus through interaction of haemagglutinin with surface-disposed sialic acids, the A/WSN/33 virus infects only the haemagglutinin-specific B cells. Mere binding of virus is not sufficient for infection of B cells: this requires interactions of the BCR with haemagglutinin, causing both disruption of antibody secretion and FluBI B-cell death within 18 h. In mice infected with A/WSN/33, lung-resident FluBI B cells are infected by the virus, thus delaying the onset of protective antibody release into the lungs, whereas FluBI cells in the draining lymph node are not infected and proliferate. We propose that influenza targets and kills influenza-specific B cells in the lung, thus allowing the virus to gain purchase before the initiation of an effective adaptive response.
Relevant articles
Open Access articles citing this article.
Hajin Nam

,

Boyoung Kim

…

Jun Gyo Suh

Laboratory Animal Research Open Access 08 September 2022

Jiali Cao

,

Nicole Zhong

…

Ningshao Xia

Scientific Reports Open Access 04 November 2019
Access options
Subscribe to Journal
Get full journal access for 1 year
$199.00
only $3.90 per issue
All prices are NET prices.
VAT will be added later in the checkout.
Tax calculation will be finalised during checkout.
Buy article
Get time limited or full article access on ReadCube.
$32.00
All prices are NET prices.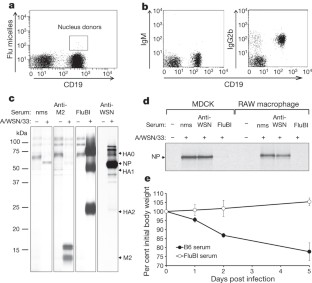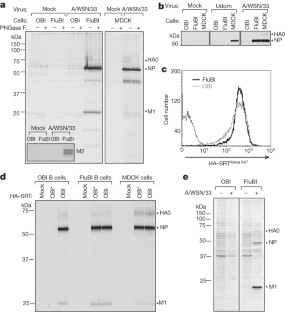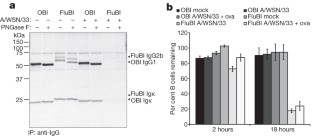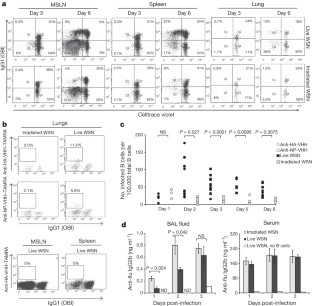 References
Valkenburg, S. A. et al. Immunity to seasonal and pandemic influenza A viruses. Microbes Infect. 13, 489–501 (2011)

Onodera, T. et al. Memory B cells in the lung participate in protective humoral immune responses to pulmonary influenza virus reinfection. Proc. Natl Acad. Sci. USA 109, 2485–2490 (2012)

Manicassamy, B. et al. Analysis of in vivo dynamics of influenza virus infection in mice using a GFP reporter virus. Proc. Natl Acad. Sci. USA 107, 11531–11536 (2010)

Popp, M. W., Karssemeijer, R. A. & Ploegh, H. L. Chemoenzymatic site-specific labeling of influenza glycoproteins as a tool to observe virus budding in real time. PLoS Pathog. 8, e1002604 (2012)

Popp, M. W. & Ploegh, H. L. Making and breaking peptide bonds: protein engineering using sortase. Angew. Chem. Int. Edn Engl. 50, 5024–5032 (2011)

Antos, J. M., Miller, G. M., Grotenbreg, G. M. & Ploegh, H. L. Lipid modification of proteins through sortase-catalyzed transpeptidation. J. Am. Chem. Soc. 130, 16338–16343 (2008)

Dougan, S. K. et al. IgG1+ ovalbumin-specific B-cell transnuclear mice show class switch recombination in rare allelically included B cells. Proc. Natl Acad. Sci. USA 109, 13739–13744 (2012)

Kirak, O. et al. Transnuclear mice with predefined T cell receptor specificities against Toxoplasma gondii obtained via SCNT. Science 328, 243–248 (2010)

Dougan, S. K. et al. Transnuclear TRP1-specific CD8 T cells with high or low affinity TCRs show equivalent anti-tumor activity. Cancer Immunol. Res. 1, 99–111 (2013)

Wiley, D. C. & Skehel, J. J. The structure and function of the hemagglutinin membrane glycoprotein of influenza virus. Annu. Rev. Biochem. 56, 365–394 (1987)

Stray, S. J., Cummings, R. D. & Air, G. M. Influenza virus infection of desialylated cells. Glycobiology 10, 649–658 (2000)

Thompson, C. I., Barclay, W. S., Zambon, M. C. & Pickles, R. J. Infection of human airway epithelium by human and avian strains of influenza a virus. J. Virol. 80, 8060–8068 (2006)

Pedroso de Lima, M. C. et al. Target cell membrane sialic acid modulates both binding and fusion activity of influenza virus. Biochim. Biophys. Acta 1236, 323–330 (1995)

Huang, R. T., Lichtenberg, B. & Rick, O. Involvement of annexin V in the entry of influenza viruses and role of phospholipids in infection. FEBS Lett. 392, 59–62 (1996)

Chu, V. C. & Whittaker, G. R. Influenza virus entry and infection require host cell N-linked glycoprotein. Proc. Natl Acad. Sci. USA 101, 18153–18158 (2004)

Londrigan, S. L. et al. N-linked glycosylation facilitates sialic acid-independent attachment and entry of influenza A viruses into cells expressing DC-SIGN or L-SIGN. J. Virol. 85, 2990–3000 (2011)

Eierhoff, T., Hrincius, E. R., Rescher, U., Ludwig, S. & Ehrhardt, C. The epidermal growth factor receptor (EGFR) promotes uptake of influenza A viruses (IAV) into host cells. PLoS Pathog. 6, e1001099 (2010)

Harwood, N. E. & Batista, F. D. Early events in B cell activation. Annu. Rev. Immunol. 28, 185–210 (2010)

Witte, M. D. et al. Preparation of unnatural N-to-N and C-to-C protein fusions. Proc. Natl Acad. Sci. USA 109, 11993–11998 (2012)

Moltedo, B. et al. Cutting edge: stealth influenza virus replication precedes the initiation of adaptive immunity. J. Immunol. 183, 3569–3573 (2009)

Moltedo, B., Li, W., Yount, J. S. & Moran, T. M. Unique type I interferon responses determine the functional fate of migratory lung dendritic cells during influenza virus infection. PLoS Pathog. 7, e1002345 (2011)

Joo, H. M., He, Y. & Sangster, M. Y. Broad dispersion and lung localization of virus-specific memory B cells induced by influenza pneumonia. Proc. Natl Acad. Sci. USA 105, 3485–3490 (2008)

Jones, P. D. & Ada, G. L. Influenza-specific antibody-secreting cells and B cell memory in the murine lung after immunization with wild-type, cold-adapted variant and inactivated influenza viruses. Vaccine 5, 244–248 (1987)

Popp, M. W., Antos, J. M. & Ploegh, H. L. Site-specific protein labeling via sortase-mediated transpeptidation. Curr. Protoc. Protein Sci. 15, Unit 15.13. (2009)

Boes, M. et al. T-cell engagement of dendritic cells rapidly rearranges MHC class II transport. Nature 418, 983–988 (2002)

Morgan, D. J., McLain, L. & Dimmock, N. J. Protection of three strains of mice against lethal influenza in vivo by defective interfering virus. Virus Res. 29, 179–193 (1993)

Kirak, O. et al. Transnuclear mice with pre-defined T cell receptor specificities against Toxoplasma gondii obtained via SCNT. J. Vis. Exp. 43, e2168 (2010)

Sehrawat, S. et al. CD8+ T cells from mice transnuclear for a TCR that recognizes a single H-2Kb-restricted MHV68 epitope derived from gB-ORF8 help control infection. Cell Rep. 1, 461–471 (2012)

Kishigami, S. et al. Production of cloned mice by somatic cell nuclear transfer. Nature Protocols 1, 125–138 (2006)

Simons, K., Helenius, A., Leonard, K., Sarvas, M. & Gething, M. J. Formation of protein micelles from amphiphilic membrane proteins. Proc. Natl Acad. Sci. USA 75, 5306–5310 (1978)
Acknowledgements
S.K.D. and C.G. were funded by the Cancer Research Institute. J.J.C. was funded by the Human Frontiers Science Program. F.W.A., R.J. and H.L.P. are funded by grants from the National Institutes of Health. F.W.A. is a Howard Hughes Medical Institute investigator. S.K.D. and H.L.P. are funded by the American Association for Cancer Research-Pancreatic Cancer Action Network. We are grateful to P. Wisniewski for cell sorting, to J. Jackson for mouse husbandry, to G. Bell for statistical analysis, to N. Watson for electron microscopy and to M. Witte for sortase nucleophiles.
Ethics declarations
Competing interests
The authors declare no competing financial interests.
Extended data figures and tables
About this article
Cite this article
Dougan, S., Ashour, J., Karssemeijer, R. et al. Antigen-specific B-cell receptor sensitizes B cells to infection by influenza virus. Nature 503, 406–409 (2013). https://doi.org/10.1038/nature12637
Received:

Accepted:

Published:

Issue Date:

DOI: https://doi.org/10.1038/nature12637
Comments
By submitting a comment you agree to abide by our Terms and Community Guidelines. If you find something abusive or that does not comply with our terms or guidelines please flag it as inappropriate.