Abstract
The dispersal of early humans from Africa by 1.75 Myr ago led to a marked expansion of their range, from the island of Flores in the east to the Iberian peninsula in the west1,2,3,4,5. This range encompassed tropical forest, savannah and Mediterranean habitats, but has hitherto not been demonstrated beyond 45° N. Until recently, early colonization in Europe was thought to be confined to the area south of the Pyrenees and Alps. However, evidence from Pakefield (Suffolk, UK) at ∼0.7 Myr indicated that humans occupied northern European latitudes when a Mediterranean-type climate prevailed6. This provided the basis for an 'ebb and flow' model, where human populations were thought to survive in southern refugia during cold stages, only expanding northwards during fully temperate climates5. Here we present new evidence from Happisburgh (Norfolk, UK) demonstrating that Early Pleistocene hominins were present in northern Europe >0.78 Myr ago when they were able to survive at the southern edge of the boreal zone. This has significant implications for our understanding of early human behaviour, adaptation and survival, as well as the tempo and mode of colonization after their first dispersal out of Africa.
Relevant articles
Open Access articles citing this article.
Diego Lombao

,

José Ramón Rabuñal

…

Marina Mosquera

Journal of Archaeological Method and Theory Open Access 22 September 2022
Access options
Subscribe to Journal
Get full journal access for 1 year
$199.00
only $3.90 per issue
All prices are NET prices.
VAT will be added later in the checkout.
Tax calculation will be finalised during checkout.
Buy article
Get time limited or full article access on ReadCube.
$32.00
All prices are NET prices.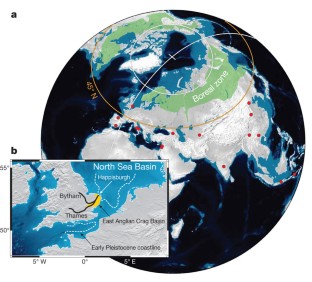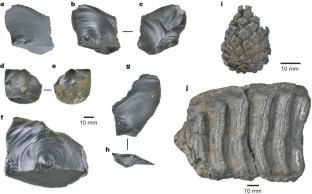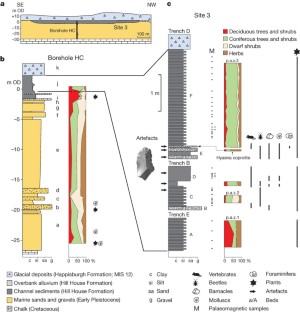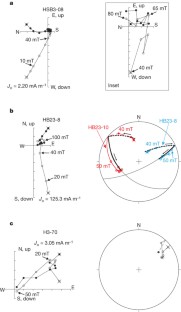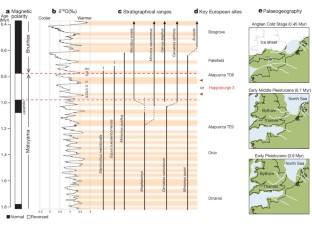 References
Carbonell, E. et al. Eurasian gates: the earliest human dispersals. J. Anthropol. Res. 64, 195–228 (2008)

Brumm, A. et al. Hominins on Flores, Indonesia, by one million years ago. Nature 464, 748–752 (2010)

Carbonell, E. et al. The first hominin of Europe. Nature 452, 465–469 (2008)

Dennell, R. & Roebroeks, W. An Asian perspective on early human dispersal from Africa. Nature 438, 1099–1104 (2005)

Roebroeks, W. The human colonisation of Europe: where are we? J. Quaternary Sci. 21, 425–435 (2006)

Parfitt, S. A. et al. The earliest record of human activity in northern Europe. Nature 438, 1008–1012 (2005)

Rose, J., Moorlock, B. S. P. & Hamblin, R. J. O. Pre-Anglian fluvial and coastal deposits in Eastern England: lithostratigraphy and palaeoenvironments. Quaternary Int. 79, 5–22 (2001)

Reid, C. The Geology of the Country around Cromer (HMSO, London, 1882)

Preece, R. C. et al. Biostratigraphic and aminostratigraphic constraints on the age of the Middle Pleistocene glacial succession in north Norfolk, UK. J. Quaternary Sci. 24, 557–580 (2009)

Hey, R. W. & Brenchley, P. J. Volcanic pebbles from Pleistocene gravels in Norfolk and Essex. Geol. Mag. 114, 219–225 (1977)

Maher, B. A. & Hallam, D. F. Magnetic carriers and remanence mechanisms in magnetite-poor sediments of Pleistocene age, southern North Sea margin. J. Quaternary Sci. 20, 79–94 (2005)

Maher, B. A. & Hallam, D. F. Palaeomagnetic correlation and dating of Plio/Pleistocene sediments at the southern margins of the North Sea Basin. J. Quaternary Sci. 20, 67–77 (2005)

Giddings, J. W., Klootwijk, C., Rees, J. & Groenewoud, A. Automated AF-demagnetization on the 2G-Enterprises through-bore cryogenic magnetometer. Geol. Mijnb. 76, 35–44 (1997)

Sagnotti, L. & Winkler, A. Rock magnetism and palaeomagnetism of greigite-bearing mudstones in the Italian peninsula. Earth Planet. Sci. Lett. 165, 67–80 (1999)

Roberts, A. P. & Weaver, R. Multiple mechanisms of remagnetization involving sedimentary greigite (Fe3S4). Earth Planet. Sci. Lett. 231, 263–277 (2005)

Roberts, A. P. Geomagnetic excursions: knowns and unknowns. Geophys. Res. Lett. 35, L17307 (2008)

Magri, D., Di Rita, F. & Palombo, M. R. An Early Pleistocene interglacial record from an intermontane basin of central Italy (Scoppito, L'Aquila). Quaternary Int. (2009)

Azzaroli, A. in The early Middle Pleistocene in Europe (ed. Turner, C.), 45–51 (Taylor & Francis, 1996)

Lister, A. M. in The early Middle Pleistocene in Europe (ed. Turner, C.), 25–44 (Taylor & Francis, 1996)

Maul, L. C. & Markova, A. K. Similarity and regional differences in Quaternary arvicolid evolution in Central and Eastern Europe. Quaternary Int. 160, 81–99 (2007)

Atkinson, T. C., Briffa, K. R. & Coope, G. R. Seasonal temperatures in Britain during the past 22,000 years, reconstructed using beetle remains. Nature 325, 587–592 (1987)

West, R. G. The Pre-glacial Pleistocene of the Norfolk and Suffolk Coasts (Cambridge Univ. Press, 1980)

Zhu, R. X. et al. New evidence on the earliest human presence at high northern latitudes in northeast Asia. Nature 431, 559–562 (2004)

Dennell, R. The Palaeolithic Settlement of Asia (Cambridge Univ. Press, 2009)

Ranov, V. A., Carbonell, E. & Rodríguez, X. P. Kuldara: earliest human occupation in central Asia in its Afro-Asian context. Curr. Anthropol. 36, 337–346 (1995)

Gamble, C. S. The Palaeolithic Settlement of Europe (Cambridge Univ. Press, 1986)

Roebroeks, W. Hominid behaviour and the earliest occupation of Europe: an exploration. J. Hum. Evol. 41, 437–461 (2001)

Dennell, R. Dispersal and colonisation, long and short chronologies: how continuous is the Early Pleistocene record for hominids outside East Africa? J. Hum. Evol. 45, 421–440 (2003)

Bintanja, R., van de Waal, R. S. W. & Oerlemans, J. Modelling atmospheric temperatures and global sea levels over the past million years. Nature 437, 125–128 (2005)

Lisiecki, L. E. & Raymo, M. E. A. Pliocene–Pleistocene stack of 57 globally distributed benthic δ18O records. Paleoceanography 20, PA1003 (2005)
Acknowledgements
We thank the British Museum for funding the excavations; C. and S. Stockton for practical support; B. Farrow and P. Frew (North Norfolk District Council), E. Couzens, the Lomax family (local landowners) and M. Kerby (North Norfolk Coastal Concern Group) for permission and facilitating excavation; and J. Roylance and M. Appleford for plant hire and machining. We also thank A. Ball, S. Bello, P. Crabb and K. Johnson, C. Williams, A. Brumm, M. Pitts and M. Page for the figures and photographs; R. Herrington, C. Halls and T. Wighton for thin sections and mineral identification; M. Barclay, M. Breda, S. Feist-Burkhardt, J. Chitolie, P. Gibbard, M. Hounslow, A. Lister, T. Meijer, S. Moore-Fay, J. Rose, M. Spencer, H. van Essen and R. West for discussion about the project. We are also grateful to A. Roberts for his comments on the manuscript. Finally, we thank all who participated in the site excavation. This work is part of the Leverhulme-funded Ancient Human Occupation of Britain (AHOB) Project.
Ethics declarations
Competing interests
The authors declare no competing financial interests.
Supplementary information
About this article
Cite this article
Parfitt, S., Ashton, N., Lewis, S. et al. Early Pleistocene human occupation at the edge of the boreal zone in northwest Europe. Nature 466, 229–233 (2010). https://doi.org/10.1038/nature09117
Received:

Accepted:

Issue Date:

DOI: https://doi.org/10.1038/nature09117
Comments
By submitting a comment you agree to abide by our Terms and Community Guidelines. If you find something abusive or that does not comply with our terms or guidelines please flag it as inappropriate.