Abstract
Replying to: T. Barkman & J. Zhang Nature 462, 10.1038/nature08663 (2009)
Barkman and Zhang1 level two criticisms at our report of escape from adaptive conflict (EAC)2. The first criticism is that our evidence of repeated adaptive substitution in the DFR-A/C lineage is consistent with either EAC or neofunctionalization in that lineage. As indicated in our original report2, we do not disagree with this claim, but believe it misses the point that the hallmark of EAC is the adaptive improvement of function in both duplicate lineages. The repeated positive selection in the DFR-A/C lineage simply demonstrates improvement of some as yet unspecified function in that lineage.
Access options
Subscribe to Journal
Get full journal access for 1 year
$199.00
only $3.90 per issue
All prices are NET prices.
VAT will be added later in the checkout.
Rent or Buy article
Get time limited or full article access on ReadCube.
from$8.99
All prices are NET prices.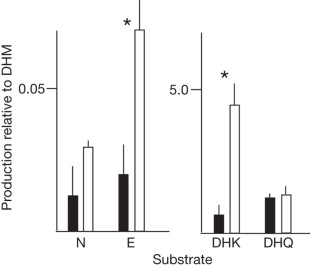 References
1

Barkman, T. & Zhang, J. Evidence for escape from adaptive conflict? Nature 462 10.1038/nature08663 (2009)

2

Des Marais, D. L. & Rausher, M. D. Escape from adaptive conflict after duplication in an anthocyanin pathway gene. Nature 454, 762–765 (2008)

3

Eich, E. Solanaceae and Convolvulaceae: Secondary Metabolites Ch. 6 (Springer, 2008)

4

Shimada, N. et al. A comprehensive analysis of six dihydroflavonol 4-reductases encoded by a gene cluster of the Lotus japonicus genome. J. Exp. Bot. 56, 2573–2585 (2005)
About this article
Cite this article
Des Marais, D., Rausher, M. Des Marais & Rausher reply . Nature 462, E2–E3 (2009). https://doi.org/10.1038/nature08664
Further reading
C. Deng

,

C.- H. C. Cheng

,

H. Ye

,

X. He

&

L. Chen

Proceedings of the National Academy of Sciences (2010)
Comments
By submitting a comment you agree to abide by our Terms and Community Guidelines. If you find something abusive or that does not comply with our terms or guidelines please flag it as inappropriate.