Abstract
Mechanical pain contributes to the morbidity associated with inflammation and trauma, but primary sensory neurons that convey the sensation of acute and persistent mechanical pain have not been identified. Dorsal root ganglion (DRG) neurons transmit sensory information to the spinal cord using the excitatory transmitter glutamate1, a process that depends on glutamate transport into synaptic vesicles for regulated exocytotic release. Here we report that a small subset of cells in the DRG expresses the low abundance vesicular glutamate transporter VGLUT3 (also known as SLC17A8). In the dorsal horn of the spinal cord, these afferents project to lamina I and the innermost layer of lamina II, which has previously been implicated in persistent pain caused by injury2. Because the different VGLUT isoforms generally have a non-redundant pattern of expression3, we used Vglut3 knockout mice to assess the role of VGLUT3+ primary afferents in the behavioural response to somatosensory input. The loss of VGLUT3 specifically impairs mechanical pain sensation, and in particular the mechanical hypersensitivity to normally innocuous stimuli that accompanies inflammation, nerve injury and trauma. Direct recording from VGLUT3+ neurons in the DRG further identifies them as a poorly understood population of unmyelinated, low threshold mechanoreceptors (C-LTMRs)4,5. The analysis of Vglut3-/- mice now indicates a critical role for C-LTMRs in the mechanical hypersensitivity caused by injury.
Relevant articles
Open Access articles citing this article.
Changrok So

,

Jong Uk Kim

…

Sang Min Won

npj Flexible Electronics Open Access 05 August 2022

Vijayan Gangadharan

,

Hongwei Zheng

…

Rohini Kuner

Nature Open Access 25 May 2022

Fang Guo

,

Yu Du

…

Shi-Hong Zhang

Neuroscience Bulletin Open Access 05 March 2022
Access options
Subscribe to Journal
Get full journal access for 1 year
$199.00
only $3.90 per issue
All prices are NET prices.
VAT will be added later in the checkout.
Tax calculation will be finalised during checkout.
Buy article
Get time limited or full article access on ReadCube.
$32.00
All prices are NET prices.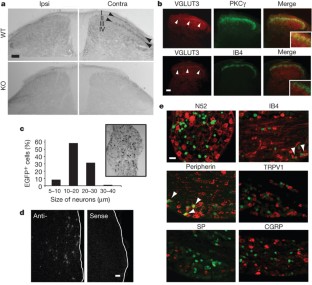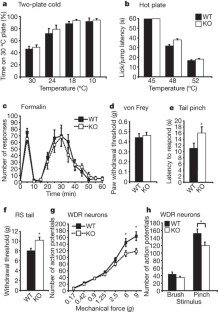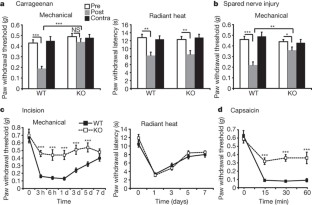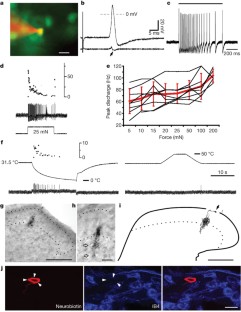 References
Yoshimura, M. & Jessell, T. Amino acid-mediated EPSPs at primary afferent synapses with substantia gelatinosa neurones in the rat spinal cord. J. Physiol. (Lond.) 430, 315–335 (1990)

Malmberg, A. B., Chen, C., Tonegawa, S. & Basbaum, A. I. Preserved acute pain and reduced neuropathic pain in mice lacking PKCγ. Science 278, 279–283 (1997)

Fremeau, R. T., Voglmaier, S., Seal, R. P. & Edwards, R. H. VGLUTs define subsets of excitatory neurons and suggest novel roles for glutamate. Trends Neurosci. 27, 98–103 (2004)

Bessou, P. & Perl, E. R. Response of cutaneous sensory units with unmyelinated fibers to noxious stimuli. J. Neurophysiol. 32, 1025–1043 (1969)

Iggo, A. & Kornhuber, H. H. A quantitative analysis of non-myelinated cutaneous mechano-receptors. J. Physiol. 198, 113passim (1968)

Gras, C. et al. A third vesicular glutamate transporter expressed by cholinergic and serotoninergic neurons. J. Neurosci. 22, 5442–5451 (2002)

Todd, A. J. et al. The expression of vesicular glutamate transporters VGLUT1 and VGLUT2 in neurochemically defined axonal populations in the rat spinal cord with emphasis on the dorsal horn. Eur. J. Neurosci. 17, 13–27 (2003)

Li, J. L., Fujiyama, F., Kaneko, T. & Mizuno, N. Expression of vesicular glutamate transporters, VGluT1 and VGluT2, in axon terminals of nociceptive primary afferent fibers in the superficial layers of the medullary and spinal dorsal horns of the rat. J. Comp. Neurol. 457, 236–249 (2003)

Snider, W. D. & McMahon, S. B. Tackling pain at the source: new ideas about nociceptors. Neuron 20, 629–632 (1998)

Seal, R. P. et al. Sensorineural deafness and seizures in mice lacking vesicular glutamate transporter 3. Neuron 57, 263–275 (2008)

Gras, C. et al. The vesicular glutamate transporter VGLUT3 synergizes striatal acetylcholine tone. Nature Neurosci. 11, 292–300 (2008)

McNamara, C. R. et al. TRPA1 mediates formalin-induced pain. Proc. Natl Acad. Sci. USA 104, 13525–13530 (2007)

Chung, J. M., Kenshalo, D. R., Gerhart, K. D. & Willis, W. D. Excitation of primate spinothalamic neurons by cutaneous C-fiber volleys. J. Neurophysiol. 42, 1354–1369 (1979)

Kayser, V. & Guilbaud, G. Local and remote modifications of nociceptive sensitivity during carrageenin-induced inflammation in the rat. Pain 28, 99–107 (1987)

Shields, S. D., Eckert, W. A. & Basbaum, A. I. Spared nerve injury model of neuropathic pain in the mouse: a behavioral and anatomic analysis. J. Pain 4, 465–470 (2003)

Brennan, T. J., Vandermeulen, E. P. & Gebhart, G. F. Characterization of a rat model of incisional pain. Pain 64, 493–502 (1996)

Caterina, M. J. et al. Impaired nociception and pain sensation in mice lacking the capsaicin receptor. Science 288, 306–313 (2000)

Treede, R. D., Meyer, R. A., Raja, S. N. & Campbell, J. N. Peripheral and central mechanisms of cutaneous hyperalgesia. Prog. Neurobiol. 38, 397–421 (1992)

Albers, K. M., Woodbury, C. J., Ritter, A. M., Davis, B. M. & Koerber, H. R. Glial cell-line-derived neurotrophic factor expression in skin alters the mechanical sensitivity of cutaneous nociceptors. J. Neurosci. 26, 2981–2990 (2006)

Liu, Q. et al. Molecular genetic visualization of a rare subset of unmyelinated sensory neurons that may detect gentle touch. Nature Neurosci. 10, 946–948 (2007)

Christensen, B. N. & Perl, E. R. Spinal neurons specifically excited by noxious or thermal stimuli: marginal zone of the dorsal horn. J. Neurophysiol. 33, 293–307 (1970)

Schaible, H. G., Ebersberger, A. & Von Banchet, G. S. Mechanisms of pain in arthritis. Ann. NY Acad. Sci. 966, 343–354 (2002)

Woolf, C. J. & Doubell, T. P. The pathophysiology of chronic pain–increased sensitivity to low threshold A beta-fibre inputs. Curr. Opin. Neurobiol. 4, 525–534 (1994)

Neumann, S., Doubell, T. P., Leslie, T. & Woolf, C. J. Inflammatory pain hypersensitivity mediated by phenotypic switch in myelinated primary sensory neurons. Nature 384, 360–364 (1996)

Light, A. R., Trevino, D. L. & Perl, E. R. Morphological features of functionally defined neurons in the marginal zone and substantia gelatinosa of the spinal dorsal horn. J. Comp. Neurol. 186, 151–171 (1979)

Boada, M. D. & Woodbury, C. J. Myelinated skin sensory neurons project extensively throughout adult mouse substantia gelatinosa. J. Neurosci. 28, 2006–2014 (2008)

Neumann, S., Braz, J. M., Skinner, K., Llewellyn-Smith, I. J. & Basbaum, A. I. Innocuous, not noxious, input activates PKCγ interneurons of the spinal dorsal horn via myelinated afferent fibers. J. Neurosci. 28, 7936–7944 (2008)

Abrahamsen, B. et al. The cell and molecular basis of mechanical, cold, and inflammatory pain. Science 321, 702–705 (2008)

Löken, L. S., Wessberg, J., Morrison, I., McGlone, F. & Olausson, H. Coding of pleasant touch by unmyelinated afferents in humans. Nature Neurosci. 12, 547–548 (2009)

Yang, X. W., Model, P. & Heintz, N. Homologous recombination based modification in Escherichia coli and germline transmission in transgenic mice of a bacterial artificial chromosome. Nature Biotechnol. 15, 859–865 (1997)
Acknowledgements
We thank D. Bautista, D. Julius and members of the Basbaum and Edwards laboratories for advice, and D. Woodbury and C. Cassidy from the Woodbury laboratory for help with experiments. The work was supported by the Johns Hopkins Blaustein Pain Research Fund (Y.G.) and by grants from NARSAD (R.P.S., R.H.E.) and NIH (R.P.S., Y.G., S.N.R., C.J.W., A.I.B. and R.H.E.).
Author Contributions R.P.S. created the Vglut3-/- and VGLUT3 EGFP BAC transgenic mice; X.W. and R.P.S. performed behaviour and histology experiments; Y.G. performed in vivo spinal cord recordings; and C.J.W. and R.P.S. performed ex vivo recordings. R.H.E., R.P.S. and A.I.B. wrote the manuscript with contributions from C.J.W., Y.G., S.N.R. and X.W.
Supplementary information
This file contains Supplementary Methods, Supplementary Figures 1-8 with Legends and Supplementary References. (PDF 1782 kb)
About this article
Cite this article
Seal, R., Wang, X., Guan, Y. et al. Injury-induced mechanical hypersensitivity requires C-low threshold mechanoreceptors. Nature 462, 651–655 (2009). https://doi.org/10.1038/nature08505
Received:

Accepted:

Published:

Issue Date:

DOI: https://doi.org/10.1038/nature08505
Comments
By submitting a comment you agree to abide by our Terms and Community Guidelines. If you find something abusive or that does not comply with our terms or guidelines please flag it as inappropriate.