Abstract
The photoluminescence from a variety of individual molecules1 and nanometre-sized crystallites2 is defined by large intensity fluctuations, known as 'blinking', whereby their photoluminescence turns 'on' and 'off' intermittently, even under continuous photoexcitation2. For semiconductor nanocrystals, it was originally proposed3 that these 'off' periods corresponded to a nanocrystal with an extra charge. A charged nanocrystal could have its photoluminescence temporarily quenched owing to the high efficiency of non-radiative (for example, Auger) recombination processes between the extra charge and a subsequently excited electron–hole pair; photoluminescence would resume only after the nanocrystal becomes neutralized again. Despite over a decade of research, completely non-blinking nanocrystals4,5 have not been synthesized and an understanding of the blinking phenomenon6 remains elusive. Here we report ternary core/shell CdZnSe/ZnSe semiconductor nanocrystals that individually exhibit continuous, non-blinking photoluminescence. Unexpectedly, these nanocrystals strongly photoluminesce despite being charged, as indicated by a multi-peaked photoluminescence spectral shape and short lifetime. To model the unusual photoluminescence properties of the CdZnSe/ZnSe nanocrystals, we softened the abrupt confinement potential of a typical core/shell nanocrystal, suggesting that the structure is a radially graded alloy of CdZnSe into ZnSe. As photoluminescence blinking severely limits the usefulness of nanocrystals in applications requiring a continuous output of single photons, these non-blinking nanocrystals may enable substantial advances in fields ranging from single-molecule biological labelling7 to low-threshold lasers8.
Relevant articles
Open Access articles citing this article.
Cong Tai Trinh

,

Jiwon Lee

&

Kwang-Geol Lee

Scientific Reports Open Access 29 May 2018

Bin Li

,

Guofeng Zhang

…

Suotang Jia

Scientific Reports Open Access 08 September 2016

Oluwasesan Adegoke

&

Enoch Y. Park

Scientific Reports Open Access 02 June 2016
Access options
Subscribe to this journal
Receive 51 print issues and online access
$199.00 per year
only $3.90 per issue
Rent or buy this article
Prices vary by article type
from$1.95
to$39.95
Prices may be subject to local taxes which are calculated during checkout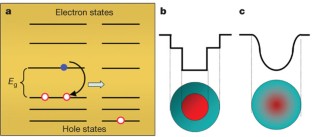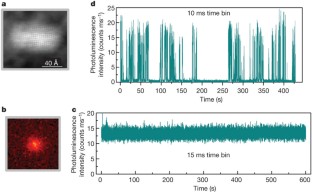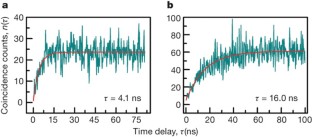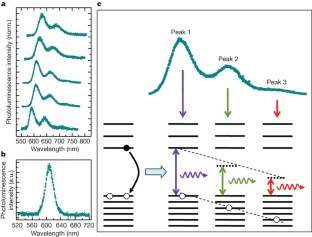 References
Moerner, W. E. & Orrit, M. Illuminating single molecules in condensed matter. Science 283, 1670–1676 (1999)

Nirmal, M. et al. Fluorescence intermittency in single cadmium selenide nanocrystals. Nature 383, 802–804 (1996)

Efros, Al. L. & Rosen, M. Random telegraph signal in the photoluminescence intensity of a single quantum dot. Phys. Rev. Lett. 78, 1110–1113 (1997)

Chen, Y. F. et al. "Giant" multishell CdSe nanocrystal quantum dots with suppressed blinking. J. Am. Chem. Soc. 130, 5026–5027 (2008)

Mahler, B. et al. Towards non-blinking colloidal quantum dots. Nature Mater. 7, 659–664 (2008)

Frantsuzov, P., Kuno, M., Jankó, B. & Marcus, R. A. Universal emission intermittency in quantum dots, nanorods and nanowires. Nature Phys. 4, 519–522 (2008)

Dahan, M. et al. Diffusion dynamics of glycine receptors revealed by single-quantum dot tracking. Science 302, 442–445 (2003)

Klimov, V. I. et al. Optical gain and stimulated emission in nanocrystal quantum dots. Science 290, 314–317 (2000)

Colvin, V. L., Schlamp, M. C. & Alivisatos, A. P. Light-emitting-diodes made from cadmium selenide nanocrystals and a semiconductor polymer. Nature 370, 354–357 (1994)

Nozik, A. J. Spectroscopy and hot electron relaxation dynamics in semiconductor quantum wells and quantum dots. Annu. Rev. Phys. Chem. 52, 193–231 (2001)

Bruchez, M., Moronne, M., Gin, P., Weiss, S. & Alivisatos, A. P. Semiconductor nanocrystals as fluorescent biological labels. Science 281, 2013–2016 (1998)

Chan, W. C. W. & Nie, S. Quantum dot bioconjugates for ultrasensitive nonisotopic detection. Science 281, 2016–2018 (1998)

Michalet, X. et al. Quantum dots for live cells, in vivo imaging, and diagnostics. Science 307, 538–544 (2005)

Hartschuh, A., Pedrosa, H. N., Novotny, L. & Krauss, T. D. Simultaneous fluorescence and Raman scattering from single carbon nanotubes. Science 301, 1354–1356 (2003)

Michler, P. et al. Quantum correlation among photons from a single quantum dot at room temperature. Nature 406, 968–970 (2000)

Kuno, M., Fromm, D. P., Hamann, H. F., Gallagher, A. & Nesbitt, D. J. "On"/"off" fluorescence intermittency of single semiconductor quantum dots. J. Chem. Phys. 115, 1028–1040 (2001)

Shimizu, K. T. et al. Blinking statistics in single semiconductor nanocrystal quantum dots. Phys. Rev. B 63, 205316 (2001)

Hohng, S. & Ha, T. Near-complete suppression of quantum dot blinking in ambient conditions. J. Am. Chem. Soc. 126, 1324–1325 (2004)

Fomenko, V. & Nesbitt, D. J. Solution control of radiative and nonradiative lifetimes: a novel contribution to quantum dot blinking suppression. Nano Lett. 8, 287–293 (2008)

Talapin, D. V. et al. CdSe/CdS/ZnS and CdSe/ZnSe/ZnS core-shell-shell nanocrystals. J. Phys. Chem. B 108, 18826–18831 (2004)

Zhong, X., Han, M., Dong, Z., White, T. J. & Knoll, W. Composition-tunable ZnxCd1-xSe nanocrystals with high luminescence and stability. J. Am. Chem. Soc. 125, 8589–8594 (2003)

Crooker, S. A., Hollingsworth, J. A., Tretiak, S. & Klimov, V. I. Spectrally resolved dynamics of energy transfer in quantum-dot assemblies: towards engineered energy flows in artificial materials. Phys. Rev. Lett. 89, 186802 (2002)

Krauss, T. D. & Brus, L. E. Charge, polarizability, and photoionization of single semiconductor nanocrystals. Phys. Rev. Lett. 83, 4840–4843 (1999)

Paskov, P. P. et al. Auger processes in InAs self-assembled quantum dots. Physica E 6, 440–443 (2000)

Hellwege, K. H. Semiconductors. Physics of II–VI and I–VII Compounds, Semimagnetic Semiconductors, Landolt-Börnstein, New Series, Group III, Vol. 17, Pt b (Springer, 1983)

Empedocles, S. A., Norris, D. J. & Bawendi, M. G. Photoluminescence spectroscopy of single CdSe nanocrystallite quantum dots. Phys. Rev. Lett. 77, 3873–3876 (1996)

Yu, Z., Guo, L., Du, H., Krauss, T. D. & Silcox, J. Shell distribution on colloidal CdSe/ZnS quantum dots. Nano Lett. 5, 565–570 (2005)

Landsberg, P. T. Recombination in Semiconductors (Cambridge Univ. Press, 1991)

Efros, Al. L. et al. Band-edge exciton in quantum dots of semiconductors with a degenerate valence band: dark and bright exciton states. Phys. Rev. B 54, 4843–4856 (1996)

Dekel, E. et al. Multiexciton spectroscopy of a single self-assembled quantum dot. Phys. Rev. Lett. 80, 4991–4994 (1998)
Acknowledgements
We acknowledge financial support by the DOE (DE-FC26-06NT42864), NSF (CHE 0616378, CHE 0619418, EEC-0117770, DMR-9632275), NYSTAR, University of Rochester Center for Electronic Imaging Systems, the Cornell Center for Nanoscale Systems, the Office of Naval Research and the Alexander von Humboldt Foundation (A.L.E.).
Supplementary information
This file contains Supplementary Methods, Supplementary Data, Supplementary Figures S-1 - S-4 with Legends, Supplementary Table S-I-S-II and Supplementary References. (PDF 1179 kb)
About this article
Cite this article
Wang, X., Ren, X., Kahen, K. et al. Non-blinking semiconductor nanocrystals. Nature 459, 686–689 (2009). https://doi.org/10.1038/nature08072
Received:

Accepted:

Published:

Issue Date:

DOI: https://doi.org/10.1038/nature08072
Comments
By submitting a comment you agree to abide by our Terms and Community Guidelines. If you find something abusive or that does not comply with our terms or guidelines please flag it as inappropriate.