Abstract
The massive visual input from the eye to the brain requires selective processing of some visual information at the expense of other information, a process referred to as visual attention. Increases in the responses of visual neurons with attention have been extensively studied along the visual processing streams in monkey cerebral cortex, from primary visual areas to parietal and frontal cortex1,2,3,4. Here we show, by recording neurons in attending macaque monkeys (Macaca mulatta), that attention modulates visual signals before they even reach cortex by increasing responses of both magnocellular and parvocellular neurons in the first relay between retina and cortex, the lateral geniculate nucleus (LGN). At the same time, attention decreases neuronal responses in the adjacent thalamic reticular nucleus (TRN). Crick5 argued for such modulation of the LGN by observing that it is inhibited by the TRN, and suggested that "if the thalamus is the gateway to the cortex, the reticular complex might be described as the guardian of the gateway", a reciprocal relationship we now show to be more than just hypothesis. The reciprocal modulation in LGN and TRN appears only during the initial visual response, but the modulation of LGN reappears later in the response, suggesting separate early and late sources of attentional modulation in LGN.
Access options
Subscribe to Journal
Get full journal access for 1 year
$199.00
only $3.90 per issue
All prices are NET prices.
VAT will be added later in the checkout.
Tax calculation will be finalised during checkout.
Rent or Buy article
Get time limited or full article access on ReadCube.
from$8.99
All prices are NET prices.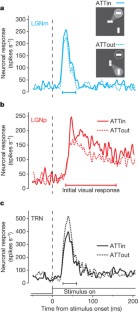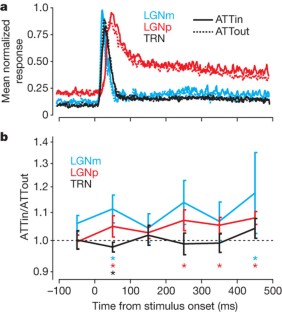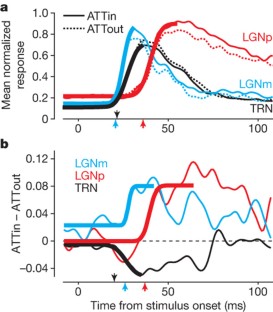 References
1

Desimone, R. & Duncan, J. Neural mechanisms of selective visual attention. Annu. Rev. Neurosci. 18, 193–222 (1995)

2

Maunsell, J. H. & Cook, E. P. The role of attention in visual processing. Phil. Trans. R. Soc. Lond. B 357, 1063–1072 (2002)

3

McAdams, C. J. & Maunsell, J. H. Effects of attention on the reliability of individual neurons in monkey visual cortex. Neuron 23, 765–773 (1999)

4

Reynolds, J. H. & Chelazzi, L. Attentional modulation of visual processing. Annu. Rev. Neurosci. 27, 611–647 (2004)

5

Crick, F. Function of the thalamic reticular complex: The searchlight hypothesis. Proc. Natl Acad. Sci. USA 81, 4586–4590 (1984)

6

Conley, M. & Diamond, I. T. Organization of the visual sector of the thalamic reticular nucleus in Galago . Eur. J. Neurosci. 2, 211–226 (1990)

7

Crabtree, J. W. & Killackey, H. P. The topographic organization and axis of projection within the visual sector of the rabbit's thalamic reticular nucleus. Eur. J. Neurosci. 1, 94–109 (1989)

8

Fitzgibbon, T., Szmajda, B. A. & Martin, P. R. First order connections of the visual sector of the thalamic reticular nucleus in marmoset monkeys (Callithrix jacchus). Vis. Neurosci. 24, 857–874 (2007)

9

Harting, J. K., Van Lieshout, D. P. & Feig, S. Connectional studies of the primate lateral geniculate nucleus: Distribution of axons arising from the thalamic reticular nucleus of Galago crassicaudatus . J. Comp. Neurol. 310, 411–427 (1991)

10

Jones, E. G. Some aspects of the organization of the thalamic reticular complex. J. Comp. Neurol. 162, 285–308 (1975)

11

Kim, U., Sanchez-Vives, M. V. & McCormick, D. A. Functional dynamics of GABAergic inhibition in the thalamus. Science 278, 130–134 (1997)

12

Montero, V. M., Guillery, R. W. & Woolsey, C. N. Retinotopic organization within the thalamic reticular nucleus demonstrated by a double label autoradiographic technique. Brain Res. 138, 407–421 (1977)

13

Uhlrich, D. J., Manning, K. A. & Feig, S. L. Laminar and cellular targets of individual thalamic reticular nucleus axons in the lateral geniculate nucleus in the prosimian primate Galago . J. Comp. Neurol. 458, 128–143 (2003)

14

Casagrande, V. A., Sary, G., Royal, D. & Ruiz, O. On the impact of attention and motor planning on the lateral geniculate nucleus. Prog. Brain Res. 149, 11–29 (2005)

15

O'Connor, D. H., Fukui, M. M., Pinsk, M. A. & Kastner, S. Attention modulates responses in the human lateral geniculate nucleus. Nature Neurosci. 5, 1203–1209 (2002)

16

McAlonan, K., Cavanaugh, J. & Wurtz, R. H. Attentional modulation of thalamic reticular neurons. J. Neurosci. 26, 4444–4450 (2006)

17

McAdams, C. J. & Maunsell, J. H. Effects of attention on orientation-tuning functions of single neurons in macaque cortical area V4. J. Neurosci. 19, 431–441 (1999)

18

McAdams, C. J. & Reid, R. C. Attention modulates the responses of simple cells in monkey primary visual cortex. J. Neurosci. 25, 11023–11033 (2005)

19

Motter, B. C. Focal attention produces spatially selective processing in visual cortical areas V1, V2, and V4 in the presence of competing stimuli. J. Neurophysiol. 70, 909–919 (1993)

20

Roelfsema, P. R., Lamme, V. A. & Spekreijse, H. Object-based attention in the primary visual cortex of the macaque monkey. Nature 395, 376–381 (1998)

21

Ito, M. & Gilbert, C. D. Attention modulates contextual influences in the primary visual cortex of alert monkeys. Neuron 22, 593–604 (1999)

22

Posner, M. I. & Gilbert, C. D. Attention and primary visual cortex. Proc. Natl Acad. Sci. USA 96, 2585–2587 (1999)

23

Roberts, M., Delicato, L. S., Herrero, J., Gieselmann, M. A. & Thiele, A. Attention alters spatial integration in macaque V1 in an eccentricity-dependent manner. Nature Neurosci. 10, 1483–1491 (2007)

24

Treue, S. Neural correlates of attention in primate visual cortex. Trends Neurosci. 24, 295–300 (2001)

25

Briggs, F. & Usrey, W. M. A fast, reciprocal pathway between the lateral geniculate nucleus and visual cortex in the macaque monkey. J. Neurosci. 27, 5431–5436 (2007)

26

Sillito, A. M., Cudeiro, J. & Jones, H. E. Always returning: feedback and sensory processing in visual cortex and thalamus. Trends Neurosci. 29, 307–316 (2006)

27

Lund, J. S., Lund, R. D., Hendrickson, A. E., Bunt, A. H. & Fuchs, A. F. The origin of efferent pathways from the primary visual cortex, area 17, of the macaque monkey as shown by retrograde transport of horseradish peroxidase. J. Comp. Neurol. 164, 287–303 (1975)

28

Jones, E. G. in The Thalamus 1270–1271 (Cambridge Univ. Press, 2007)

29

Kolmac, C. I. & Mitrofanis, J. Patterns of brainstem projection to the thalamic reticular nucleus. J. Comp. Neurol. 396, 531–543 (1998)

30

Wilson, J. R., Hendrickson, A. E., Sherk, H. & Tigges, J. Sources of subcortical afferents to the macaque's dorsal lateral geniculate nucleus. Anat. Rec. 242, 566–574 (1995)
Acknowledgements
This work was supported by the intramural research program of the National Eye Institute. We are grateful for the assistance of J. McClurkin, A. Nichols, M. Smith, T. Ruffner and G. Tansey.
Supplementary information
This file contains a Supplementary Discussion, Supplementary Notes and References and Supplementary Figures 1-4 with Legends. (PDF 1427 kb)
About this article
Cite this article
McAlonan, K., Cavanaugh, J. & Wurtz, R. Guarding the gateway to cortex with attention in visual thalamus. Nature 456, 391–394 (2008). https://doi.org/10.1038/nature07382
Received:

Accepted:

Published:

Issue Date:
Comments
By submitting a comment you agree to abide by our Terms and Community Guidelines. If you find something abusive or that does not comply with our terms or guidelines please flag it as inappropriate.