Abstract
RNA localization is important for the establishment and maintenance of polarity in multiple cell types. Localized RNAs are usually transported along microtubules or actin filaments1 and become anchored at their destination to some underlying subcellular structure. Retention commonly involves actin or actin-associated proteins2,3,4,5,6,7, although cytokeratin filaments and dynein anchor certain RNAs8,9. RNA localization is important for diverse processes ranging from cell fate determination to synaptic plasticity; however, so far there have been few comprehensive studies of localized RNAs in mammalian cells. Here we have addressed this issue, focusing on migrating fibroblasts that polarize to form a leading edge and a tail in a process that involves asymmetric distribution of RNAs10,11,12. We used a fractionation scheme13 combined with microarrays to identify, on a genome-wide scale, RNAs that localize in protruding pseudopodia of mouse fibroblasts in response to migratory stimuli. We find that a diverse group of RNAs accumulates in such pseudopodial protrusions. Through their 3′ untranslated regions these transcripts are anchored in granules concentrated at the plus ends of detyrosinated microtubules. RNAs in the granules associate with the adenomatous polyposis coli (APC) tumour suppressor and the fragile X mental retardation protein (FMRP). APC is required for the accumulation of transcripts in protrusions. Our results suggest a new type of RNA anchoring mechanism as well as a new, unanticipated function for APC in localizing RNAs.
Access options
Subscribe to Journal
Get full journal access for 1 year
$199.00
only $3.90 per issue
All prices are NET prices.
VAT will be added later in the checkout.
Tax calculation will be finalised during checkout.
Rent or Buy article
Get time limited or full article access on ReadCube.
from$8.99
All prices are NET prices.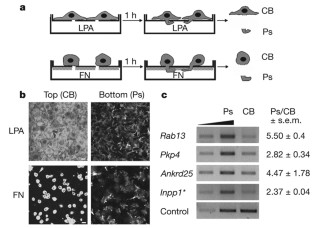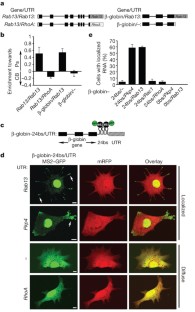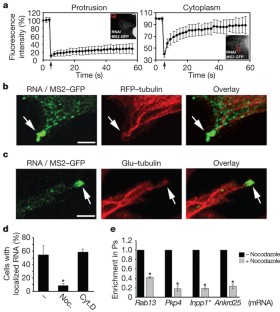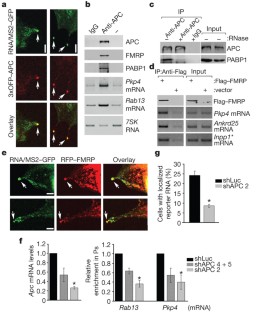 Accession codes
Primary accessions
Gene Expression Omnibus
Data deposits
The microarray data have been deposited in NCBI's Gene Expression Omnibus (GEO, http://www.ncbi.nlm.nih.gov/geo/) and are accessible through GEO Series accession number GSE10230.
References
1

St Johnston, D. Moving messages: the intracellular localization of mRNAs. Nature Rev. Mol. Cell Biol. 6, 363–375 (2005)

2

Forrest, K. M. & Gavis, E. R. Live imaging of endogenous RNA reveals a diffusion and entrapment mechanism for nanos mRNA localization in Drosophila . Curr. Biol. 13, 1159–1168 (2003)

3

Babu, K., Cai, Y., Bahri, S., Yang, X. & Chia, W. Roles of Bifocal, Homer, and F-actin in anchoring Oskar to the posterior cortex of Drosophila oocytes. Genes Dev. 18, 138–143 (2004)

4

Erdelyi, M., Michon, A. M., Guichet, A., Glotzer, J. B. & Ephrussi, A. Requirement for Drosophila cytoplasmic tropomyosin in oskar mRNA localization. Nature 377, 524–527 (1995)

5

Jankovics, F., Sinka, R., Lukacsovich, T. & Erdelyi, M. MOESIN crosslinks actin and cell membrane in Drosophila oocytes and is required for OSKAR anchoring. Curr. Biol. 12, 2060–2065 (2002)

6

Beach, D. L., Salmon, E. D. & Bloom, K. Localization and anchoring of mRNA in budding yeast. Curr. Biol. 9, 569–578 (1999)

7

Liu, G. et al. Interactions of elongation factor 1α with F-actin and β-actin mRNA: implications for anchoring mRNA in cell protrusions. Mol. Biol. Cell 13, 579–592 (2002)

8

Alarcon, V. B. & Elinson, R. P. RNA anchoring in the vegetal cortex of the Xenopus oocyte. J. Cell Sci. 114, 1731–1741 (2001)

9

Delanoue, R. & Davis, I. Dynein anchors its mRNA cargo after apical transport in the Drosophila blastoderm embryo. Cell 122, 97–106 (2005)

10

Condeelis, J. & Singer, R. H. How and why does β-actin mRNA target? Biol. Cell 97, 97–110 (2005)

11

Leung, K. M. et al. Asymmetrical β-actin mRNA translation in growth cones mediates attractive turning to netrin-1. Nature Neurosci. 9, 1247–1256 (2006)

12

Mingle, L. A. et al. Localization of all seven messenger RNAs for the actin-polymerization nucleator Arp2/3 complex in the protrusions of fibroblasts. J. Cell Sci. 118, 2425–2433 (2005)

13

Cho, S. Y. & Klemke, R. L. Purification of pseudopodia from polarized cells reveals redistribution and activation of Rac through assembly of a CAS/Crk scaffold. J. Cell Biol. 156, 725–736 (2002)

14

Moissoglu, K. & Schwartz, M. A. Integrin signalling in directed cell migration. Biol. Cell 98, 547–555 (2006)

15

Vikesaa, J. et al. RNA-binding IMPs promote cell adhesion and invadopodia formation. EMBO J. 25, 1456–1468 (2006)

16

Jambhekar, A. & Derisi, J. L. Cis-acting determinants of asymmetric, cytoplasmic RNA transport. RNA 13, 625–642 (2007)

17

Bertrand, E. et al. Localization of ASH1 mRNA particles in living yeast. Mol. Cell 2, 437–445 (1998)

18

Galjart, N. CLIPs and CLASPs and cellular dynamics. Nature Rev. Mol. Cell Biol. 6, 487–498 (2005)

19

Akhmanova, A. & Hoogenraad, C. C. Microtubule plus-end-tracking proteins: mechanisms and functions. Curr. Opin. Cell Biol. 17, 47–54 (2005)

20

Infante, A. S., Stein, M. S., Zhai, Y., Borisy, G. G. & Gundersen, G. G. Detyrosinated (Glu) microtubules are stabilized by an ATP-sensitive plus-end cap. J. Cell Sci. 113, 3907–3919 (2000)

21

Wen, Y. et al. EB1 and APC bind to mDia to stabilize microtubules downstream of Rho and promote cell migration. Nature Cell Biol. 6, 820–830 (2004)

22

Mimori-Kiyosue, Y., Shiina, N. & Tsukita, S. Adenomatous polyposis coli (APC) protein moves along microtubules and concentrates at their growing ends in epithelial cells. J. Cell Biol. 148, 505–518 (2000)

23

Nathke, I. S., Adams, C. L., Polakis, P., Sellin, J. H. & Nelson, W. J. The adenomatous polyposis coli tumor suppressor protein localizes to plasma membrane sites involved in active cell migration. J. Cell Biol. 134, 165–179 (1996)

24

Bagni, C. & Greenough, W. T. From mRNP trafficking to spine dysmorphogenesis: the roots of fragile X syndrome. Nature Rev. Neurosci. 6, 376–387 (2005)

25

Jin, P., Alisch, R. S. & Warren, S. T. RNA and microRNAs in fragile X mental retardation. Nature Cell Biol. 6, 1048–1053 (2004)

26

Kroboth, K. et al. Lack of adenomatous polyposis coli protein correlates with a decrease in cell migration and overall changes in microtubule stability. Mol. Biol. Cell 18, 910–918 (2007)

27

Kita, K., Wittmann, T., Nathke, I. S. & Waterman-Storer, C. M. Adenomatous polyposis coli on microtubule plus ends in cell extensions can promote microtubule net growth with or without EB1. Mol. Biol. Cell 17, 2331–2345 (2006)

28

Blower, M. D., Feric, E., Weis, K. & Heald, R. Genome-wide analysis demonstrates conserved localization of messenger RNAs to mitotic microtubules. J. Cell Biol. 179, 1365–1373 (2007)

29

Watanabe, T. et al. Interaction with IQGAP1 links APC to Rac1, Cdc42, and actin filaments during cell polarization and migration. Dev. Cell 7, 871–883 (2004)

30

Etienne-Manneville, S. & Hall, A. Cdc42 regulates GSK-3β and adenomatous polyposis coli to control cell polarity. Nature 421, 753–756 (2003)
Acknowledgements
We thank Y. Bao for the microarray and real-time PCR analysis, and J. Lykke-Andersen, I. Nathke, J. T. Parsons, R. Darnell and G. Gundersen for plasmids and antibodies. S.M. is a fellow of the Leukemia and Lymphoma Society. This work was supported by a grant from the NIH to I.G.M., and by the James and Rebecca Craig Foundation.
Author Contributions S.M. performed the experiments. S.M., K.M. and I.G.M. designed the experiments and analysed the data. K.M. provided reagents. S.M. and I.G.M. wrote the manuscript.
Supplementary information
About this article
Cite this article
Mili, S., Moissoglu, K. & Macara, I. Genome-wide screen reveals APC-associated RNAs enriched in cell protrusions. Nature 453, 115–119 (2008). https://doi.org/10.1038/nature06888
Received:

Accepted:

Issue Date:
Comments
By submitting a comment you agree to abide by our Terms and Community Guidelines. If you find something abusive or that does not comply with our terms or guidelines please flag it as inappropriate.