Abstract
Maintaining cell shape and tone is crucial for the function and survival of cells and tissues. Mechanotransduction relies on the transformation of minuscule mechanical forces into high-fidelity electrical responses1,2,3. When mechanoreceptors are stimulated, mechanically sensitive cation channels open and produce an inward transduction current that depolarizes the cell. For this process to operate effectively, the transduction machinery has to retain integrity and remain unfailingly independent of environmental changes. This is particularly challenging for poikilothermic organisms, where changes in temperature in the environment may impact the function of mechanoreceptor neurons. Thus, we wondered how insects whose habitat might quickly vary over several tens of degrees of temperature manage to maintain highly effective mechanical senses. We screened for Drosophila mutants with defective mechanical responses at elevated ambient temperatures, and identified a gene, spam, whose role is to protect the mechanosensory organ from massive cellular deformation caused by heat-induced osmotic imbalance. Here we show that Spam protein forms an extracellular shield that guards mechanosensory neurons from environmental insult. Remarkably, heterologously expressed Spam protein also endowed other cells with superb defence against physically and chemically induced deformation. We studied the mechanical impact of Spam coating and show that spam-coated cells are up to ten times stiffer than uncoated controls. Together, these results help explain how poikilothermic organisms preserve the architecture of critical cells during environmental stress, and illustrate an elegant and simple solution to such challenge.
Relevant articles
Open Access articles citing this article.
Aliaksei S. Vasilevich

,

Steven Vermeulen

…

Jan de Boer

Scientific Reports Open Access 04 November 2020

Jing Nie

,

Simpla Mahato

&

Andrew C Zelhof

BMC Developmental Biology Open Access 03 February 2015
Access options
Subscribe to this journal
Receive 51 print issues and online access
$199.00 per year
only $3.90 per issue
Rent or buy this article
Get just this article for as long as you need it
$39.95
Prices may be subject to local taxes which are calculated during checkout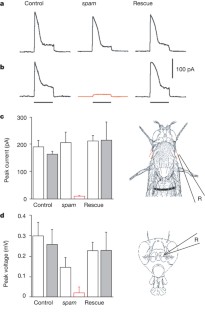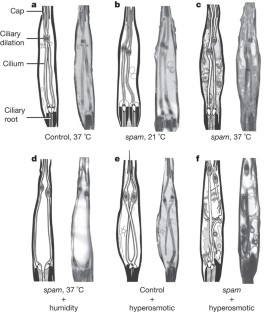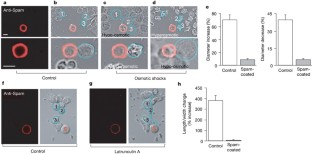 References
Colclasure, J. C. & Holt, J. R. Transduction and adaptation in sensory hair cells of the mammalian vestibular system. Gravit. Space Biol. Bull. 16, 61–70 (2003)

Hudspeth, A. J. How the ear's works work. Nature 341, 397–404 (1989)

Barth, F. G. Spider mechanoreceptors. Curr. Opin. Neurobiol. 14, 415–422 (2004)

Kernan, M., Cowan, D. & Zuker, C. Genetic dissection of mechanosensory transduction: mechanoreception-defective mutations of Drosophila. Neuron 12, 1195–1206 (1994)

Kernan, M. & Zuker, C. Genetic approaches to mechanosensory transduction. Curr. Opin. Neurobiol. 5, 443–448 (1995)

Koundakjian, E. J., Cowan, D. M., Hardy, R. W. & Becker, A. H. The Zuker collection: a resource for the analysis of autosomal gene function in Drosophila melanogaster. Genetics 167, 203–206 (2004)

Zelhof, A. C., Hardy, R. W., Becker, A. & Zuker, C. S. Transforming the architecture of compound eyes. Nature 443, 696–699 (2006)

Husain, N. et al. The agrin/perlecan-related protein eyes shut is essential for epithelial lumen formation in the Drosophila retina. Dev. Cell 11, 483–493 (2006)

Walker, R. G., Willingham, A. T. & Zuker, C. S. A Drosophila mechanosensory transduction channel. Science 287, 2229–2234 (2000)

Gopfert, M. C. & Robert, D. Biomechanics. Turning the key on Drosophila audition. Nature 411, 908 (2001)

Keil, T. A. Functional morphology of insect mechanoreceptors. Microsc. Res. Tech. 39, 506–531 (1997)

Gibbs, A. G., Louie, A. K. & Ayala, J. A. Effects of temperature on cuticular lipids and water balance in a desert Drosophila: is thermal acclimation beneficial? J. Exp. Biol. 201, 71–80 (1998)

Kiger, A. A. et al. A functional genomic analysis of cell morphology using RNA interference. J. Biol. 2 〈http://jbiol.com/content/pdf/1475-4924-2-27.pdf〉 (2003)

Zahalak, G. I., McConnaughey, W. B. & Elson, E. L. Determination of cellular mechanical properties by cell poking, with an application to leukocytes. J. Biomech. Eng. 112, 283–294 (1990)

Wakatsuki, T., Schwab, B., Thompson, N. C. & Elson, E. L. Effects of cytochalasin D and latrunculin B on mechanical properties of cells. J. Cell Sci. 114, 1025–1036 (2001)

Osorio, D. Spam and the evolution of the fly's eye. Bioessays 29, 111–115 (2007)

Zipursky, S. L., Venkatesh, T. R., Teplow, D. B. & Benzer, S. Neuronal development in the Drosophila retina: monoclonal antibodies as molecular probes. Cell 36, 15–26 (1984)

Spector, I., Shochet, N. R., Blasberger, D. & Kashman, Y. Latrunculins – novel marine macrolides that disrupt microfilament organization and affect cell growth. I. Comparison with cytochalasin D. Cell Motil Cytoskeleton 13, 127–144 (1989)
Acknowledgements
We particularly thank E. L. Elson for his help and hospitality in the cell poking studies. We are also indebted to A. Zelhof for advice, materials and reagents, and T. Avidor-Reiss for his help with the immunolocalization of Spam. We thank T. Meerloo for help with immunogold labelling, and A. Becker for help with tissue culture and transfections. We thank N. Ryba, A. Kiger and members of the Zuker laboratory for comments. C.S.Z. is an investigator of the Howard Hughes Medical Institute.
Supplementary information
About this article
Cite this article
Cook, B., Hardy, R., McConnaughey, W. et al. Preserving cell shape under environmental stress. Nature 452, 361–364 (2008). https://doi.org/10.1038/nature06603
Received:

Accepted:

Published:

Issue Date:

DOI: https://doi.org/10.1038/nature06603
Comments
By submitting a comment you agree to abide by our Terms and Community Guidelines. If you find something abusive or that does not comply with our terms or guidelines please flag it as inappropriate.