Abstract
Sex determination in fungi is controlled by a small, specialized region of the genome in contrast to the large sex-specific chromosomes of animals and some plants. Different gene combinations reside at these mating-type (MAT) loci and confer sexual identity; invariably they encode homeodomain, α-box, or high mobility group (HMG)-domain transcription factors1. So far, MAT loci have been characterized from a single monophyletic clade of fungi, the Dikarya (the ascomycetes and basidiomycetes)2, and the ancestral state and evolutionary history of these loci have remained a mystery. Mating in the basal members of the kingdom has been less well studied, and even their precise taxonomic inter-relationships are still obscure3,4. Here we apply bioinformatic and genetic mapping to identify the sex-determining (sex) region in Phycomyces blakesleeanus (Zygomycota), which represents an early branch within the fungi. Each sex allele contains a single gene that encodes an HMG-domain protein, implicating the HMG-domain proteins as an earlier form of fungal MAT loci. Additionally, one allele also contains a copy of a unique, chromosome-specific repetitive element, suggesting a generalized mechanism for the earliest steps in the evolution of sex determination and sex chromosome structure in eukaryotes.
Relevant articles
Open Access articles citing this article.
Qiang Wang

,

Yulong Chen

…

Min Wang

Microbial Cell Factories Open Access 25 June 2022

Ivan D. Mateus

,

Edward C. Rojas

…

Ian R. Sanders

The ISME Journal Open Access 08 June 2020

Monia T. Russo

,

Laura Vitale

…

Maria I. Ferrante

Nature Communications Open Access 28 November 2018
Access options
Subscribe to this journal
Receive 51 print issues and online access
$199.00 per year
only $3.90 per issue
Rent or buy this article
Get just this article for as long as you need it
$39.95
Prices may be subject to local taxes which are calculated during checkout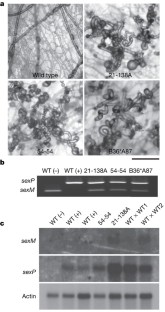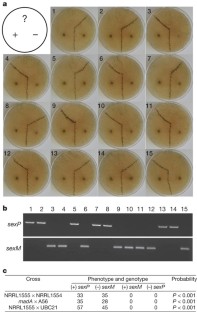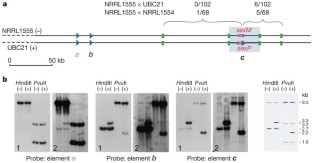 References
Fraser, J. A. & Heitman, J. Evolution of fungal sex chromosomes. Mol. Microbiol. 51, 299–306 (2004)

Heitman, J., Kronstad, J. W., Taylor, J. W. & Casselton, L. A. Sex in Fungi: Molecular Determination and Evolutionary Implications (ASM Press, Washington, DC, 2007)

James, T. Y. et al. Reconstructing the early evolution of fungi using a six-gene phylogeny. Nature 443, 818–822 (2006)

White, M. M. et al. Phylogeny of the Zygomycota based on nuclear ribosomal sequence data. Mycologia 98, 872–884 (2006)

Bakkeren, G. et al. Mating factor linkage and genome evolution in basidiomycetous pathogens of cereals. Fungal Genet. Biol. 43, 655–666 (2006)

Lee, N., Bakkeren, G., Wong, K., Sherwood, J. E. & Kronstad, J. W. The mating-type and pathogenicity locus of the fungus Ustilago hordei spans a 500-kb region. Proc. Natl Acad. Sci. USA 96, 15026–15031 (1999)

Fraser, J. A. et al. Convergent evolution of chromosomal sex-determining regions in the animal and fungal kingdoms. PLoS Biol. 2, e384 (2004)

Butler, G. et al. Evolution of the MAT locus and its Ho endonuclease in yeast species. Proc. Natl Acad. Sci. USA 101, 1632–1637 (2004)

Staben, C. & Yanofsky, C. Neurospora crassa a mating-type region. Proc. Natl Acad. Sci. USA 87, 4917–4921 (1990)

Glass, N. L., Grotelueschen, J. & Metzenberg, R. L. Neurospora crassa A mating-type region. Proc. Natl Acad. Sci. USA 87, 4912–4916 (1990)

Ferreira, A. V.-B., An, Z., Metzenberg, R. L. & Glass, N. L. Characterization of mat A-2, mat A-3 and ΔmatA mating-type mutants of Neurospora crassa . Genetics 148, 1069–1079 (1998)

Arnaise, S., Zickler, D., Le Bilcot, S., Poisier, C. & Debuchy, R. Mutations in mating-type genes of the heterothallic fungus Podospora anserina lead to self-fertility. Genetics 159, 545–556 (2001)

Bürglin, T. R. The homeobox genes of Encephalitozoon cuniculi (Microsporidia) reveal a putative mating-type locus. Dev. Genes Evol. 213, 50–52 (2003)

Blakeslee, A. F. Zygospore formation is a sexual process. Science 19, 864–866 (1904)

Blakeslee, A. F. Sexual reproduction in the Mucorineae. Proc. Am. Acad. Arts Sci. 40, 205–319 (1904)

Cerdá-Olmedo, E. The genetics of Phycomyces blakesleeanus . Genet. Res. 25, 285–296 (1975)

Alvarez, M. I., Peláez, M. I. & Eslava, A. P. Recombination between ten markers in Phycomyces . Mol. Gen. Genet. 179, 447–452 (1980)

Eslava, A. P., Alvarez, M. I., Burke, P. V. & Delbrück, M. Genetic recombination in sexual crosses of Phycomyces . Genetics 80, 445–462 (1975)

Eslava, A. P., Alvarez, M. I. & Delbrück, M. Meiosis in Phycomyces . Proc. Natl Acad. Sci. USA 72, 4076–4080 (1975)

Gauger, W. L. Meiotic gene segregation in Rhizopus stolonifer . J. Gen. Microbiol. 101, 211–217 (1977)

Alvarez, M. I. & Eslava, A. P. Isogenic strains of Phycomyces blakesleeanus suitable for genetic analysis. Genetics 105, 873–879 (1983)

Obraztsova, I. N., Prados, N., Holzmann, K., Avalos, J. & Cerdá-Olmedo, E. Genetic damage following introduction of DNA in Phycomyces . Fungal Genet. Biol. 41, 168–180 (2004)

Govind, N. S. & Cerdá-Olmedo, E. Sexual activation of carotenogenesis in Phycomyces blakesleeanus . J. Gen. Microbiol. 132, 2775–2780 (1986)

Mehta, B. J. & Cerdá-Olmedo, E. Intersexual partial diploids of Phycomyces . Genetics 158, 635–641 (2001)

Burgeff, H. Untersuchungen über Variabilität, Sexualität und Erblichkeit bei Phycomyces nitens Kuntze. Flora 107, 259–316 (1914)

Idnurm, A. et al. The Phycomyces madA gene encodes a blue-light photoreceptor for phototropism and other light responses. Proc. Natl Acad. Sci. USA 103, 4546–4551 (2006)

Lahn, B. T. & Page, D. C. Four evolutionary strata on the human X chromosome. Science 286, 964–967 (1999)

Skaletsky, H. et al. The male-specific region of the human Y chromosome is a mosaic of discrete sequence classes. Nature 423, 825–837 (2003)

Charlesworth, D., Charlesworth, B. & Marais, G. Steps in the evolution of heteromorphic sex chromosomes. Heredity 95, 118–128 (2005)
Acknowledgements
We acknowledge access to the Phycomyces genome project: these sequence data were produced by the US Department of Energy Joint Genome Institute. We thank L. Corrochano and A. Eslava for encouragement and providing Phycomyces strains, and L. Corrochano and X. Lin for comments on the manuscript. This research was supported by National Institutes of Health grants to J.H.
Supplementary information
This file contains Supplementary Discussion; Supplementary Figures S1-S5 with Legends; Supplementary Tables S1-S2; Supplementary Methods and additional references. This file includes additional discussion on the identification of sex in a zygomycete fungus and its implications to the evolution of mating type in other fungi, five figures expanding on data mentioned in the main text and a model, two tables describing strains and oligonucleotide primers used, and the Methods section. (PDF 4106 kb)
This file contains Supplementary Data including allele designations of molecular markers scored from progeny of three genetic crosses of Phycomyces. (PDF 79 kb)
About this article
Cite this article
Idnurm, A., Walton, F., Floyd, A. et al. Identification of the sex genes in an early diverged fungus. Nature 451, 193–196 (2008). https://doi.org/10.1038/nature06453
Received:

Accepted:

Issue Date:

DOI: https://doi.org/10.1038/nature06453
Comments
By submitting a comment you agree to abide by our Terms and Community Guidelines. If you find something abusive or that does not comply with our terms or guidelines please flag it as inappropriate.