Abstract
Vibrio cholerae, the causative agent of the human disease cholera, uses cell-to-cell communication to control pathogenicity and biofilm formation1,2. This process, known as quorum sensing, relies on the secretion and detection of signalling molecules called autoinducers. At low cell density V. cholerae activates the expression of virulence factors and forms biofilms. At high cell density the accumulation of two quorum-sensing autoinducers represses these traits. These two autoinducers, cholerae autoinducer-1 (CAI-1) and autoinducer-2 (AI-2), function synergistically to control gene regulation, although CAI-1 is the stronger of the two signals. V. cholerae AI-2 is the furanosyl borate diester (2S,4S)-2-methyl-2,3,3,4-tetrahydroxytetrahydrofuran borate3. Here we describe the purification of CAI-1 and identify the molecule as (S)-3-hydroxytridecan-4-one, a new type of bacterial autoinducer. We provide a synthetic route to both the R and S isomers of CAI-1 as well as simple homologues, and we evaluate their relative activities. Synthetic (S)-3-hydroxytridecan-4-one functions as effectively as natural CAI-1 in repressing production of the canonical virulence factor TCP (toxin co-regulated pilus). These findings suggest that CAI-1 could be used as a therapy to prevent cholera infection and, furthermore, that strategies to manipulate bacterial quorum sensing hold promise in the clinical arena.
Relevant articles
Open Access articles citing this article.
Huong Thanh Hoang

,

Thuy Thu Thi Nguyen

…

Hai The Pham

Scientific Reports Open Access 08 September 2022

Orit Malka

,

Dorin Kalson

…

Raz Jelinek

Microbiome Open Access 24 March 2021

Zhao Zhou

,

Xin Chen

…

Qipeng Yuan

Microbial Cell Factories Open Access 04 March 2020
Access options
Subscribe to this journal
Receive 51 print issues and online access
$199.00 per year
only $3.90 per issue
Rent or buy this article
Get just this article for as long as you need it
$39.95
Prices may be subject to local taxes which are calculated during checkout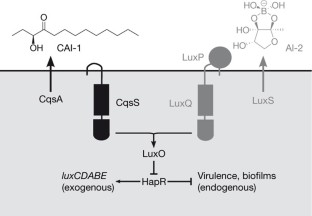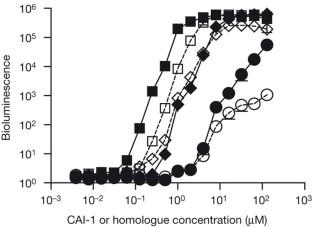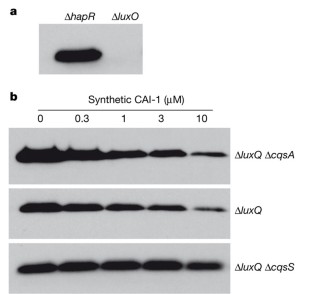 References
Miller, M. B., Skorupski, K., Lenz, D. H., Taylor, R. K. & Bassler, B. L. Parallel quorum sensing systems converge to regulate virulence in Vibrio cholerae . Cell 110, 303–314 (2002)

Zhu, J. et al. Quorum-sensing regulators control virulence gene expression in Vibrio cholerae . Proc. Natl Acad. Sci. USA 99, 3129–3134 (2002)

Chen, X. et al. Structural identification of a bacterial quorum-sensing signal containing boron. Nature 415, 545–549 (2002)

Miller, M. B. & Bassler, B. L. Quorum sensing in bacteria. Annu. Rev. Microbiol. 55, 165–199 (2001)

Waters, C. M. & Bassler, B. L. Quorum sensing: cell-to-cell communication in bacteria. Annu. Rev. Cell Dev. Biol. 21, 319–346 (2005)

Davies, D. G. et al. The involvement of cell-to-cell signals in the development of a bacterial biofilm. Science 280, 295–298 (1998)

Passador, L., Cook, J. M., Gambello, M. J., Rust, L. & Iglewski, B. H. Expression of Pseudomonas aeruginosa virulence genes requires cell-to-cell communication. Science 260, 1127–1130 (1993)

Eberhard, A. et al. Structural identification of autoinducer of Photobacterium fischeri luciferase. Biochemistry 20, 2444–2449 (1981)

Solomon, J. M., Lazazzera, B. A. & Grossman, A. D. Purification and characterization of an extracellular peptide factor that affects two different developmental pathways in Bacillus subtilis . Genes Dev. 10, 2014–2024 (1996)

Henke, J. M. & Bassler, B. L. Three parallel quorum-sensing systems regulate gene expression in Vibrio harveyi . J. Bacteriol. 186, 6902–6914 (2004)

Xavier, K. B. & Bassler, B. L. LuxS quorum sensing: more than just a numbers game. Curr. Opin. Microbiol. 6, 191–197 (2003)

Schauder, S., Shokat, K., Surette, M. G. & Bassler, B. L. The LuxS family of bacterial autoinducers: biosynthesis of a novel quorum-sensing signal molecule. Mol. Microbiol. 41, 463–476 (2001)

Miller, S. T. et al. Salmonella typhimurium recognizes a chemically distinct form of the bacterial quorum-sensing signal AI-2. Mol. Cell 15, 677–687 (2004)

Hammer, B. K. & Bassler, B. L. Quorum sensing controls biofilm formation in Vibrio cholerae . Mol. Microbiol. 50, 101–104 (2003)

Zhu, J. & Mekalanos, J. J. Quorum sensing-dependent biofilms enhance colonization in Vibrio cholerae . Dev. Cell 5, 647–656 (2003)

Taylor, R. K., Miller, V. L., Furlong, D. B. & Mekalanos, J. J. Use of phoA gene fusions to identify a pilus colonization factor coordinately regulated with cholera toxin. Proc. Natl Acad. Sci. USA 84, 2833–2837 (1987)

Neiditch, M. B. et al. Ligand-induced asymmetry in histidine sensor kinase complex regulates quorum sensing. Cell 126, 1095–1108 (2006)

Eliot, A. C. & Kirsch, J. F. Pyridoxal phosphate enzymes: mechanistic, structural, and evolutionary considerations. Annu. Rev. Biochem. 73, 383–415 (2004)

Taga, M. E. & Bassler, B. L. Chemical communication among bacteria. Proc. Natl Acad. Sci. USA 100, 14549–14554 (2003)

Pesci, E. C. et al. Quinolone signaling in the cell-to-cell communication system of Pseudomonas aeruginosa . Proc. Natl Acad. Sci. USA 96, 11229–11234 (1999)

Horinouchi, S. & Beppu, T. A-factor as a microbial hormone that controls cellular differentiation and secondary metabolism in Streptomyces griseus . Mol. Microbiol. 12, 859–864 (1994)

Flavier, A. B., Clough, S. J., Schell, M. A. & Denny, T. P. Identification of 3-hydroxypalmitic acid methyl ester as a novel autoregulator controlling virulence in Ralstonia solanacearum . Mol. Microbiol. 26, 251–259 (1997)

Wang, L. H. et al. A bacterial cell-cell communication signal with cross-kingdom structural analogues. Mol. Microbiol. 51, 903–912 (2004)

Colnaghi Simionato, A. V., da Silva, D. S., Lambais, M. R. & Carrilho, E. Characterization of a putative Xylella fastidiosa diffusible signal factor by HRGC-EI-MS. J. Mass Spectrom. 42, 490–496 (2007)

Hall, D. R. et al. Identification of components of male-produced pheromone of coffee white stemborer, Xylotrechus quadripes . J. Chem. Ecol. 32, 195–219 (2006)

Sakai, T., Nakagawa, Y., Takahashi, J., Iwabuchi, K. & Ishii, K. Isolation and identification of the male sex pheromone of the grape borer Xylotrechus pyrrhoderus Bates (Coleoptera: Cerambycidae). Chem. Lett. (Jpn) 13, 263–264 (1984)

Leal, W. S., Shi, X., Nakamuta, K., Ono, M. & Meinwald, J. Structure, stereochemistry, and thermal isomerization of the male sex pheromone of the longhorn beetle Anaglyptus subfasciatus . Proc. Natl Acad. Sci. USA 92, 1038–1042 (1995)

Sack, D. A., Sack, R. B., Nair, G. B. & Siddique, A. K. Cholera. Lancet 363, 223–233 (2004)

Hammer, B. K. & Bassler, B. L. Inaugural article: Regulatory small RNAs circumvent the conventional quorum sensing pathway in pandemic Vibrio cholerae . Proc. Natl Acad. Sci. USA 104, 11145–11149 (2007)
Acknowledgements
We thank members of the Bassler, Semmelhack and Hughson groups for discussions. We thank I. Pelczer for the double-quantum filtered correlation spectroscopy experiment and initial 13C-NMR studies. This work was supported by the Howard Hughes Medical Institute (B.L.B.) and grants from the National Science Foundation (B.L.B.) and the National Institutes of Health (B.L.B. and M.F.S.). M.E.P. was supported by a graduate fellowship from Amgen through the Medicinal Chemistry Division of the American Chemical Society and by the Horst Witzel Prize from the Cephalon Corporation.
Author Contributions D.A.H. purified CAI-1 and performed biological activity and virulence assays. M.E.P. performed chemical analyses and prepared synthetic CAI-1. C.M.K. aided in CAI-1 purification and conducted chiral chromatographic analyses.
Ethics declarations
Competing interests
The authors declare no competing financial interests.
Supplementary information
This file contains the scheme for synthesis of CAI-1 and homologues (Supplementary Scheme 1), GC/MS data for extracts and synthetic materials (Supplementary Figs. 1-3), chiral SFC traces (Supplementary Figure 4), representative signalling molecules (Supplementary Figure 5), analysis of CAI-1 stability (Supplementary Figure 6), Supplementary Methods, Supplementary Notes containing references used in synthesis, and Supplementary NMR spectra of extracted autoinducer, synthetic autoinducer, and homologues. (PDF 8603 kb)
About this article
Cite this article
Higgins, D., Pomianek, M., Kraml, C. et al. The major Vibrio cholerae autoinducer and its role in virulence factor production. Nature 450, 883–886 (2007). https://doi.org/10.1038/nature06284
Received:

Accepted:

Published:

Issue Date:

DOI: https://doi.org/10.1038/nature06284
Comments
By submitting a comment you agree to abide by our Terms and Community Guidelines. If you find something abusive or that does not comply with our terms or guidelines please flag it as inappropriate.