Abstract
Although directed migration is a feature of both individual cells and cell groups, guided migration has been studied most extensively for single cells in simple environments1,2. Collective guidance of cell groups remains poorly understood, despite its relevance for development and metastasis3. Neural crest cells and neuronal precursors migrate as loosely organized streams of individual cells4,5, whereas cells of the fish lateral line6,7, Drosophila tracheal tubes and border-cell clusters8 migrate as more coherent groups. Here we use Drosophila border cells to examine how collective guidance is performed. We report that border cells migrate in two phases using distinct mechanisms. Genetic analysis combined with live imaging shows that polarized cell behaviour is critical for the initial phase of migration, whereas dynamic collective behaviour dominates later. PDGF- and VEGF-related receptor and epidermal growth factor receptor act in both phases, but use different effector pathways in each. The myoblast city (Mbc, also known as DOCK180) and engulfment and cell motility (ELMO, also known as Ced-12) pathway is required for the early phase, in which guidance depends on subcellular localization of signalling within a leading cell. During the later phase, mitogen-activated protein kinase and phospholipase Cγ are used redundantly, and we find that the cluster makes use of the difference in signal levels between cells to guide migration. Thus, information processing at the multicellular level is used to guide collective behaviour of a cell group.
Relevant articles
Open Access articles citing this article.
Kelly Vazquez

,

Aashrith Saraswathibhatla

&

Jacob Notbohm

Scientific Reports Open Access 15 February 2022

Naoko Takubo

,

Fumitaka Yura

…

Hiroki Kurihara

Scientific Reports Open Access 26 June 2019

Medhavi Vishwakarma

,

Jacopo Di Russo

…

Joachim P. Spatz

Nature Communications Open Access 27 August 2018
Access options
Subscribe to Journal
Get full journal access for 1 year
$199.00
only $3.90 per issue
All prices are NET prices.
VAT will be added later in the checkout.
Tax calculation will be finalised during checkout.
Buy article
Get time limited or full article access on ReadCube.
$32.00
All prices are NET prices.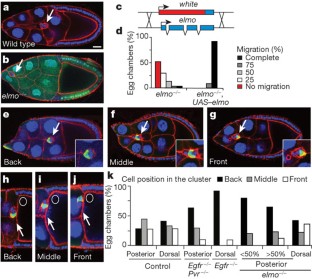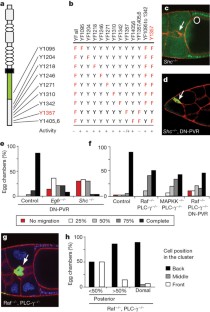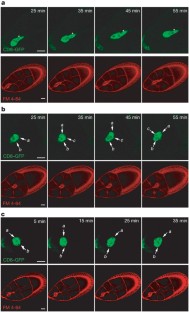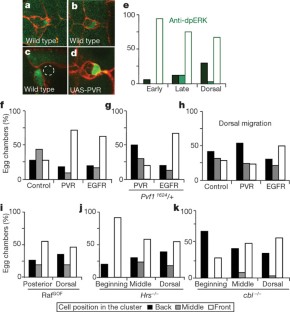 References
Parent, C. A. & Devreotes, P. N. A cell's sense of direction. Science 284, 765–770 (1999)

Servant, G. et al. Polarization of chemoattractant receptor signaling during neutrophil chemotaxis. Science 287, 1037–1040 (2000)

Friedl, P., Hegerfeldt, Y. & Tusch, M. Collective cell migration in morphogenesis and cancer. Int. J. Dev. Biol. 48, 441–449 (2004)

Kulesa, P. M. & Fraser, S. E. Neural crest cell dynamics revealed by time-lapse video microscopy of whole embryo chick explant cultures. Dev. Biol. 204, 327–344 (1998)

Lois, C., Garcia-Verdugo, J. M. & Alvarez-Buylla, A. Chain migration of neuronal precursors. Science 271, 978–981 (1996)

Ghysen, A. & Dambly-Chaudiere, C. Development of the zebrafish lateral line. Curr. Opin. Neurobiol. 14, 67–73 (2004)

Haas, P. & Gilmour, D. Chemokine signaling mediates self-organizing tissue migration in the zebrafish lateral line. Dev. Cell 10, 673–680 (2006)

Starz-Gaiano, M. & Montell, D. J. Genes that drive invasion and migration in Drosophila. Curr. Opin. Genet. Dev. 14, 86–91 (2004)

Rørth, P. Initiating and guiding migration: lessons from border cells. Trends Cell Biol. 12, 325–331 (2002)

Duchek, P., Somogyi, K., Jékely, G., Beccari, S. & Rørth, P. Guidance of cell migration by the Drosophila PDGF/VEGF receptor. Cell 107, 17–26 (2001)

Duchek, P. & Rørth, P. Guidance of cell migration by EGF receptor signaling during Drosophila oogenesis. Science 291, 131–133 (2001)

Jekely, G., Sung, H. H., Luque, C. M. & Rorth, P. Regulators of endocytosis maintain localized receptor tyrosine kinase signaling in guided migration. Dev. Cell 9, 197–207 (2005)

Brugnera, E. et al. Unconventional Rac-GEF activity is mediated through the Dock180–ELMO complex. Nature Cell Biol. 4, 574–582 (2002)

Rørth, P., Szabo, K. & Texido, G. The level of C/EBP protein is critical for cell migration during Drosophila oogenesis and is tightly controlled by regulated degradation. Mol. Cell 6, 23–30 (2000)

Bose, R. et al. Phosphoproteomic analysis of Her2/neu signaling and inhibition. Proc. Natl Acad. Sci. USA 103, 9773–9778 (2006)

Luschnig, S., Krauss, J., Bohmann, K., Desjeux, I. & Nüsslein-Volhard, C. The Drosophila SHC adaptor protein is required for signaling by a subset or receptor tyrosine kinases. Mol. Cell 5, 231–241 (2000)

Fulga, T. A. & Rørth, P. Invasive cell migration is initiated by guided growth of long cellular extensions. Nature Cell Biol. 4, 715–719 (2002)

Reichman-Fried, M., Minina, S. & Raz, E. Autonomous modes of behavior in primordial germ cell migration. Dev. Cell 6, 589–596 (2004)

Lloyd, T. E. et al. Hrs regulates endosome membrane invagination and tyrosine kinase receptor signaling in Drosophila. Cell 108, 261–269 (2002)

Pai, L. M., Barcelo, G. & Schupbach, T. D-cbl, a negative regulator of the Egfr pathway, is required for dorsoventral patterning in Drosophila oogenesis. Cell 103, 51–61 (2000)

Yoo, A. S., Bais, C. & Greenwald, I. Crosstalk between the EGFR and LIN-12/Notch pathways in C. elegans vulval development. Science 303, 663–666 (2004)

Ghabrial, A. S. & Krasnow, M. A. Social interactions among epithelial cells during tracheal branching morphogenesis. Nature 441, 746–749 (2006)

Gong, W. J. & Golic, K. G. Ends-out, or replacement, gene targeting in Drosophila. Proc. Natl Acad. Sci. USA 100, 2556–2561 (2003)

Ghiglione, C. et al. The transmembrane molecule Kekkon 1 acts in a feedback loop to negatively regulate the activity of the Drosophila EGF receptor during oogenesis. Cell 96, 847–856 (1999)

Borghese, L. et al. Systematic analysis of the transcriptional switch inducing migration of border cells. Dev. Cell 10, 497–508 (2006)

Zhou, Z., Caron, E., Hartwieg, E., Hall, A. & Horvitz, H. R. The C. elegans PH domain protein CED-12 regulates cytoskeletal reorganization via a Rho/Rac GTPase signaling pathway. Dev. Cell 1, 477–489 (2001)

Rabut, G. & Ellenberg, J. Automatic real-time three-dimensional cell tracking by fluorescence microscopy. J. Microsc. 216, 131–137 (2004)
Acknowledgements
We thank EMBL-ALMF, K. Somogyi and A. M. Voie for help, Y. Cohen and E. Schejter for sharing, and K. Brown, V. Hietakangas, D. Gilmour and S. Cohen for comments. This work was supported by Marie Curie FP6 Intra-European fellowships (A.C. and M.P.), the Academy of Finland and the Helsingin Sanomat Centennial Foundation (M.P.), HFSP (J.M.), EMBO (C.M.L.) and EMBL.
Author Contributions M.P. and A.C. contributed equally to this work and performed all culturing and live imaging experiments. J.M. contributed to the elmo knockout. C.M.L. and T.A.F. performed the protein interaction and genetic analysis of EGFR, respectively. A.B. performed all remaining analyses. P.R. wrote the manuscript.
Ethics declarations
Competing interests
Reprints and permissions information is available at www.nature.com/reprints. The authors declare no competing financial interests.
Supplementary information
About this article
Cite this article
Bianco, A., Poukkula, M., Cliffe, A. et al. Two distinct modes of guidance signalling during collective migration of border cells. Nature 448, 362–365 (2007). https://doi.org/10.1038/nature05965
Received:

Accepted:

Issue Date:

DOI: https://doi.org/10.1038/nature05965
Comments
By submitting a comment you agree to abide by our Terms and Community Guidelines. If you find something abusive or that does not comply with our terms or guidelines please flag it as inappropriate.