Abstract
For hundreds of years, scientists have tracked the changing appearance of Mars, first by hand drawings and later by photographs1,2. Because of this historical record, many classical albedo patterns have long been known to shift in appearance over time. Decadal variations of the martian surface albedo are generally attributed to removal and deposition of small amounts of relatively bright dust on the surface. Large swaths of the surface (up to 56 million km2) have been observed to darken or brighten by 10 per cent or more3,4,5. It is unknown, however, how these albedo changes affect wind circulation, dust transport and the feedback between these processes and the martian climate. Here we present predictions from a Mars general circulation model, indicating that the observed interannual albedo alterations strongly influence the martian environment. Results indicate enhanced wind stress in recently darkened areas and decreased wind stress in brightened areas, producing a positive feedback system in which the albedo changes strengthen the winds that generate the changes. The simulations also predict a net annual global warming of surface air temperatures by ∼0.65 K, enhancing dust lifting by increasing the likelihood of dust devil generation. The increase in global dust lifting by both wind stress and dust devils may affect the mechanisms that trigger large dust storm initiation, a poorly understood phenomenon, unique to Mars. In addition, predicted increases in summertime air temperatures at high southern latitudes would contribute to the rapid and steady scarp retreat that has been observed in the south polar residual ice for the past four Mars years6,7,8. Our results suggest that documented albedo changes affect recent climate change and large-scale weather patterns on Mars, and thus albedo variations are a necessary component of future atmospheric and climate studies.
Relevant articles
Open Access articles citing this article.
Kazunori Ogohara

,

Hiromu Nakagawa

…

Shingo Kameda

Earth, Planets and Space Open Access 03 January 2022

J. A. Rodriguez-Manfredi

,

M. de la Torre Juárez

…

S. Zurita

Space Science Reviews Open Access 13 April 2021

J. F. Bell

,

J. N. Maki

…

M. J. Wolff

Space Science Reviews Open Access 15 February 2021
Access options
Subscribe to Journal
Get full journal access for 1 year
$199.00
only $3.90 per issue
All prices are NET prices.
VAT will be added later in the checkout.
Tax calculation will be finalised during checkout.
Buy article
Get time limited or full article access on ReadCube.
$32.00
All prices are NET prices.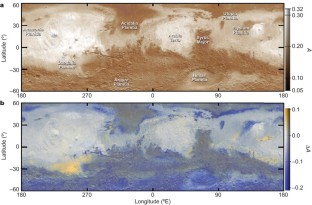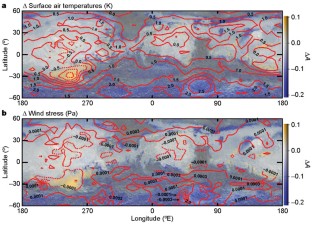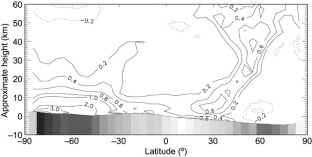 References
Flammarion, C. La Planète Mars et ses Conditions d'Habitabilité Vols 1 and 2 (Gauthier Villars et Fils, Paris, 1892)

de Vaucouleurs, G. Physics of the Planet Mars (Faber and Faber, London, 1954)

Christensen, P. R. Global albedo variations on Mars: Implications for active aeolian transport, deposition, and erosion. J. Geophys. Res. 93, (B7)7611–7624 (1988)

Geissler, P. E. Three decades of Martian surface changes. J. Geophys. Res. 110 E02001 doi: 10.1029/2004JE002345 (2005)

Szwast, M. A., Richardson, M. I. & Vasavada, A. R. Surface dust redistribution on Mars as observed by the Mars Global Surveyor and Viking Orbiters. J. Geophys. Res. 111 E11008 doi: 10.1029/2005JE002485 (2006)

Malin, M. C., Caplinger, M. A. & Davis, S. D. Observational evidence for an active surface reservoir of solid carbon dioxide on Mars. Science 294, 2146–2148 (2001)

Byrne, S. & Ingersoll, A. P. A sublimation model for Martian south polar ice features. Science 299, 1051–1053 (2003)

Thomas, P. C. et al. South polar residual cap of Mars: Features, stratigraphy, and changes. Icarus 174, 535–559 (2005)

Clancy, R. T. et al. An intercomparison of ground-based millimetre, MGS TES, and Viking atmospheric temperature measurements: Seasonal and interannual variability of temperatures and dust loading in the global Mars atmosphere. J. Geophys. Res. 105, (E4)9553–9571 (2000)

Liu, J., Richardson, M. I. & Wilson, R. J. An assessment of the global, seasonal, and interannual spacecraft record of Martian climate in the thermal infrared. J. Geophys. Res. 108 (E8)5089 doi: 10.1029/2002JE001921 (2003)

Smith, M. D. Interannual variability in TES atmospheric observations of Mars during 1999–2003. Icarus 167, 148–165 (2004)

Haberle, R. M. et al. General circulation model simulations of the Mars Pathfinder atmospheric structure investigation/meteorology data. J. Geophys. Res. 104, (E4)8957–8974 (1999)

Kieffer, H. H. et al. Thermal and albedo mapping of Mars during the Viking primary mission. J. Geophys. Res. 82, 4249–4292 (1977)

Pleskot, L. K. & Miner, E. D. Time variability of martian bolometric albedo. Icarus 45, 179–201 (1981)

Christensen, P. R. et al. Mars Global Surveyor Thermal Emission Spectrometer experiment: Investigation description and surface science results. J. Geophys. Res. 106, (E10)23823–23872 (2001)

Kieffer, H. H., Davis, P. A. & Soderblom, L. A. Mars' global properties — Maps and applications. Proc. Lunar Planet. Sci. Conf. XII, 1395–1417 (1982)

Houghton, J. T. et al. Climate Change: The Scientific Basis 105–107 (Cambridge Univ. Press, New York, 2001)

Kahre, M. A. et al. Observing the martian surface albedo pattern: Comparing the AEOS and TES data sets. Icarus 179, 55–62 (2005)

Rennó, N. O., Burkett, M. L. & Larkin, M. P. A simple thermodynamical theory for dust devils. J. Atmos. Sci. 55, 3244–3252 (1998)

Zurek, R. W. & Martin, L. J. Interannual variability of planet-encircling dust storms on Mars. J. Geophys. Res. 98, (E2)3247–3259 (1993)

McKim, R. Telescopic Martian dust storms: A narrative and catalogue. Mem. Br. Astron. Assoc. 44, 1–168 (1999)

Vasavada, A. R. et al. Surface properties of Mars' polar layered deposits and polar landing sites. J. Geophys. Res. 105, (E3)6961–6970 (1999)

Paige, D. A., Bachman, J. E. & Keegan, K. D. Thermal and albedo mapping of the polar regions of Mars using Viking thermal mapper observations, 1, North polar region. J. Geophys. Res. 99, (E12)25959–25992 (1994)

Paige, D. A. & Keegan, K. D. Thermal and albedo mapping of the polar regions of Mars using Viking thermal mapper observations, 2, South polar region. J. Geophys. Res. 99, (E12)25993–26014 (1994)
Acknowledgements
We thank J. Schaeffer for help with the MGCM, and T. Michaels and R. Zurek for comments and suggestions. This work was supported by the NASA Mars Data Analysis Program.
Ethics declarations
Competing interests
Reprints and permissions information is available at www.nature.com/reprints. The authors declare no competing financial interests.
About this article
Cite this article
Fenton, L., Geissler, P. & Haberle, R. Global warming and climate forcing by recent albedo changes on Mars. Nature 446, 646–649 (2007). https://doi.org/10.1038/nature05718
Received:

Accepted:

Issue Date:

DOI: https://doi.org/10.1038/nature05718
Comments
By submitting a comment you agree to abide by our Terms and Community Guidelines. If you find something abusive or that does not comply with our terms or guidelines please flag it as inappropriate.