Abstract
Touch and mechanical pain are first detected at our largest sensory surface, the skin. The cell bodies of sensory neurons that detect such stimuli are located in the dorsal root ganglia, and subtypes of these neurons are specialized to detect specific modalities of mechanical stimuli. Molecules have been identified that are necessary for mechanosensation in invertebrates but so far not in mammals. In Caenorhabditis elegans, mec-2 is one of several genes identified in a screen for touch insensitivity and encodes an integral membrane protein with a stomatin homology domain1. Here we show that about 35% of skin mechanoreceptors do not respond to mechanical stimuli in mice with a mutation in stomatin-like protein 3 (SLP3, also called Stoml3), a mammalian mec-2 homologue that is expressed in sensory neurons. In addition, mechanosensitive ion channels found in many sensory neurons do not function without SLP3. Tactile-driven behaviours are also impaired in SLP3 mutant mice, including touch-evoked pain caused by neuropathic injury. SLP3 is therefore indispensable for the function of a subset of cutaneous mechanoreceptors, and our data support the idea that this protein is an essential subunit of a mammalian mechanotransducer.
Relevant articles
Open Access articles citing this article.
Kevin Y. Gonzalez-Velandia

,

Andres Hernandez-Clavijo

…

Simone Pifferi

Scientific Reports Open Access 06 July 2022

Tomoya Tanaka

,

Ryoko Takao-Kawabata

…

Tadahiro Iimura

Scientific Reports Open Access 24 March 2020

Ewan St. John Smith

,

Thomas J. Park

&

Gary R. Lewin

Journal of Comparative Physiology A Open Access 23 March 2020
Access options
Subscribe to this journal
Receive 51 print issues and online access
$199.00 per year
only $3.90 per issue
Rent or buy this article
Get just this article for as long as you need it
$39.95
Prices may be subject to local taxes which are calculated during checkout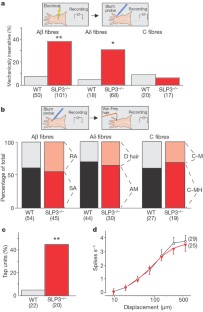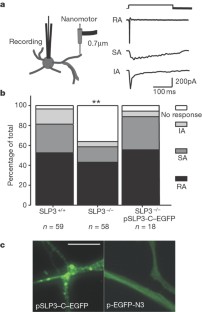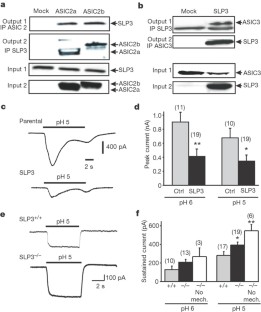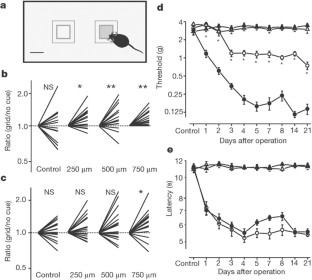 References
Huang, M., Gu, G., Ferguson, E. L. & Chalfie, M. A stomatin-like protein necessary for mechanosensation in C. elegans. Nature 378, 292–295 (1995)

Ernstrom, G. G. & Chalfie, M. Genetics of sensory mechanotransduction. Annu. Rev. Genet. 36, 411–453 (2002)

Gillespie, P. G. & Walker, R. G. Molecular basis of mechanosensory transduction. Nature 413, 194–202 (2001)

O'Hagan, R., Chalfie, M. & Goodman, M. B. The MEC-4 DEG/ENaC channel of Caenorhabditis elegans touch receptor neurons transduces mechanical signals. Nature Neurosci. 8, 43–50 (2005)

Goodman, M. B. et al. MEC-2 regulates C. elegans DEG/ENaC channels needed for mechanosensation. Nature 415, 1039–1042 (2002)

Chelur, D. S. et al. The mechanosensory protein MEC-6 is a subunit of the C. elegans touch-cell degenerin channel. Nature 420, 669–673 (2002)

Stewart, G. W. et al. Isolation of cDNA coding for an ubiquitous membrane protein deficient in high Na+, low K+ stomatocytic erythrocytes. Blood 79, 1593–1601 (1992)

Hiebl-Dirschmied, C. M. et al. Cloning and nucleotide sequence of cDNA encoding human erythrocyte band 7 integral membrane protein. Biochim. Biophys. Acta 1090, 123–124 (1991)

Mannsfeldt, A. G., Carroll, P., Stucky, C. L. & Lewin, G. R. Stomatin, a MEC-2 like protein, is expressed by mammalian sensory neurons. Mol. Cell. Neurosci. 13, 391–404 (1999)

Fricke, B. et al. Stomatin immunoreactivity in ciliated cells of the human airway epithelium. Anat. Embryol. (Berl.) 207, 1–7 (2003)

Goldstein, B. J., Kulaga, H. M. & Reed, R. R. Cloning and characterization of SLP3: a novel member of the stomatin family expressed by olfactory receptor neurons. J. Assoc. Res. Otolaryngol. 4, 74–82 (2003)

Koltzenburg, M., Stucky, C. L. & Lewin, G. R. Receptive properties of mouse sensory neurons innervating hairy skin. J. Neurophysiol. 78, 1841–1850 (1997)

Kress, M., Koltzenburg, M., Reeh, P. W. & Handwerker, H. O. Responsiveness and functional attributes of electrically localized terminals of cutaneous C-fibers in vivo and in vitro. J. Neurophysiol. 68, 581–595 (1992)

Lewin, G. R. & Moshourab, R. Mechanosensation and pain. J. Neurobiol. 61, 30–44 (2004)

Lewin, G. R. & McMahon, S. B. Physiological properties of primary sensory neurons appropriately and inappropriately innervating skin in the adult rat. J. Neurophysiol. 66, 1205–1217 (1991)

Hu, J. & Lewin, G. R. Mechanosensitive currents in the neurites of cultured mouse sensory neurones. J. Physiol. (Lond.) advance online publication, 12 October 2006 (doi:10.1113/jphysiol.2006.117648).

McCarter, G. C., Reichling, D. B. & Levine, J. D. Mechanical transduction by rat dorsal root ganglion neurons in vitro. Neurosci. Lett. 273, 179–182 (1999)

Drew, L. J. et al. Acid-sensing ion channels ASIC2 and ASIC3 do not contribute to mechanically activated currents in mammalian sensory neurones. J. Physiol. (Lond.) 556, 691–710 (2004)

Price, M. P. et al. The mammalian sodium channel BNC1 is required for normal touch sensation. Nature 407, 1007–1011 (2000)

Alvarez de la Rosa, D., Zhang, P., Shao, D., White, F. & Canessa, C. M. Functional implications of the localization and activity of acid-sensitive channels in rat peripheral nervous system. Proc. Natl Acad. Sci. USA 99, 2326–2331 (2002)

Garcia-Anoveros, J., Samad, T. A., Zuvela-Jelaska, L., Woolf, C. J. & Corey, D. P. Transport and localization of the DEG/ENaC ion channel BNaC1alpha to peripheral mechanosensory terminals of dorsal root ganglia neurons. J. Neurosci. 21, 2678–2686 (2001)

Price, M. P. et al. The DRASIC cation channel contributes to the detection of cutaneous touch and acid stimuli in mice. Neuron 32, 1071–1083 (2001)

Caterina, M. J. & Julius, D. The vanilloid receptor: a molecular gateway to the pain pathway. Annu. Rev. Neurosci. 24, 487–517 (2001)

Gunthorpe, M. J., Smith, G. D., Davis, J. B. & Randall, A. D. Characterisation of a human acid-sensing ion channel (hASIC1a) endogenously expressed in HEK293 cells. Pflugers Arch. 442, 668–674 (2001)

Price, M. P., Thompson, R. J., Eshcol, J. O., Wemmie, J. A. & Benson, C. J. Stomatin modulates gating of acid-sensing ion channels. J. Biol. Chem. 279, 53886–53891 (2004)

Tal, M. & Bennett, G. J. Extra-territorial pain in rats with a peripheral mononeuropathy: mechano-hyperalgesia and mechano-allodynia in the territory of an uninjured nerve. Pain 57, 375–382 (1994)

Page, A. J. et al. The ion channel ASIC1 contributes to visceral but not cutaneous mechanoreceptor function. Gastroenterology 127, 1739–1747 (2004)

Brockschnieder, D. et al. Cell depletion due to diphtheria toxin fragment A after Cre-mediated recombination. Mol. Cell. Biol. 24, 7636–7642 (2004)

Shin, J. B., Martinez-Salgado, C., Heppenstall, P. A. & Lewin, G. R. A T-type calcium channel required for normal function of a mammalian mechanoreceptor. Nature Neurosci. 6, 724–730 (2003)
Acknowledgements
We thank A. Scheer, H. Thränhardt and K. Borgwald for technical support; G. Kempermann for advice on confocal microscopy and the rotorod test; and C. Birchmeier, A. Hammes, I. Ibanez-Tallon and T. Willnow for helpful comments on the manuscript. The Deutsche Forschungsgemeinschaft provided grant support. J.H. was supported by a von Humboldt fellowship.
Author Contributions C.W., J.H. and G.R.L. performed electrophysiological experiments on SLP3 mutants. D.R. and A.B. generated the SLP3 mutant. C.W. characterized the SLP3 mouse. L.H. and C.W. performed the behavioural experiments. A.E. and R.M. performed biochemical interaction studies, and O.C. and P.H. characterized SLP3 effects in HEK-293 cells. A.B. cloned the rat SLP3 cDNA. J.H. and A.K. conducted rescue experiments. B.E. performed electron microscopy. H.M. and D.L. conducted neuropathic pain measurements in the SLP3 mutant mice. G.R.L. conceived and planned experimental studies with help from C.W. and P.A.H. G.R.L. wrote the paper.
Ethics declarations
Competing interests
Reprints and permissions information is available at www.nature.com/reprints. The authors declare no competing financial interests.
Supplementary information
The file contains Supplementary Results, Supplementary Material and Methods, Supplementary Tables 1 -2 and Supplementary Figures 1-8 (PDF 1370 kb)
About this article
Cite this article
Wetzel, C., Hu, J., Riethmacher, D. et al. A stomatin-domain protein essential for touch sensation in the mouse. Nature 445, 206–209 (2007). https://doi.org/10.1038/nature05394
Received:

Accepted:

Published:

Issue Date:

DOI: https://doi.org/10.1038/nature05394
Comments
By submitting a comment you agree to abide by our Terms and Community Guidelines. If you find something abusive or that does not comply with our terms or guidelines please flag it as inappropriate.