Abstract
Saturn's moon Titan shows landscapes with fluvial features1 suggestive of hydrology based on liquid methane. Recent efforts in understanding Titan's methane hydrological cycle have focused on occasional cloud outbursts near the south pole2,3,4 or cloud streaks at southern mid-latitudes5,6 and the mechanisms of their formation. It is not known, however, if the clouds produce rain or if there are also non-convective clouds, as predicted by several models7,8,9,10,11. Here we show that the in situ data on the methane concentration and temperature profile in Titan's troposphere point to the presence of layered optically thin stratiform clouds. The data indicate an upper methane ice cloud and a lower, barely visible, liquid methane-nitrogen cloud, with a gap in between. The lower, liquid, cloud produces drizzle that reaches the surface. These non-convective methane clouds are quasi-permanent features supported by the global atmospheric circulation, indicating that methane precipitation occurs wherever there is slow upward motion. This drizzle is a persistent component of Titan's methane hydrological cycle and, by wetting the surface on a global scale, plays an active role in the surface geology of Titan.
Relevant articles
Open Access articles citing this article.
Jason W. Barnes

,

Lawrence Lemke

…

Kim Reh

Experimental Astronomy Open Access 20 December 2011
Access options
Subscribe to this journal
Receive 51 print issues and online access
$199.00 per year
only $3.90 per issue
Rent or buy this article
Get just this article for as long as you need it
$39.95
Prices may be subject to local taxes which are calculated during checkout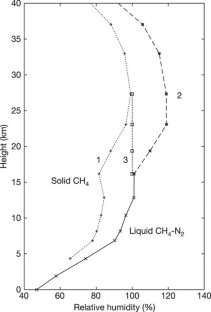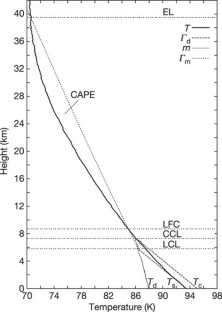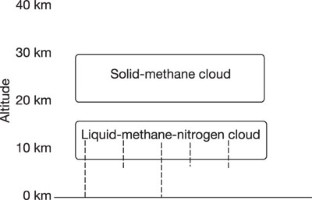 References
Tomasko, M. G. et al. Rain, winds and haze on Titan during the Huygens probe's descent to Titan's surface. Nature 438, 765–778 (2005)

Brown, M. E., Bouchez, A. H. & Griffith, C. A. Direct detection of variable tropospheric clouds near Titan's south pole. Nature 420, 795–797 (2002)

Porco, C. C. et al. Imaging of Titan from the Cassini spacecraft. Nature 434, 159–168 (2005)

Schaller, E. L., Brown, M. E., Roe, H. G. & Bouchez, A. H. A large cloud outburst at Titan's south pole. Icarus 182, 224–229 (2006)

Griffith, C. A. et al. The evolution of Titan's mid-latitude clouds. Science 310, 474–477 (2005)

Roe, H. G., Brown, M. E., Schaller, E. L., Bouchez, A. H. & Trujillo, C. A. Geographic control of Titan's mid-latitude clouds. Science 310, 477–479 (2005)

Toon, O. B., McKay, C. P., Courtin, R. & Ackerman, T. P. Methane rain on Titan. Icarus 75, 255–284 (1988)

Samuelson, R. E. & Mayo, L. A. Steady-state model for methane condensation in Titan's troposphere. Planet. Space Sci. 45, 949–958 (1997)

Tokano, T., Neubauer, F. M., Laube, M. & McKay, C. P. Three-dimensional modeling of the tropospheric methane cycle on Titan. Icarus 153, 130–147 (2001)

Rannou, P., Montmessin, F., Hourdin, F. & Lebonnois, S. The latitudinal distribution of clouds on Titan. Science 311, 201–205 (2006)

Barth, E. L. & Toon, O. B. Methane, ethane, and mixed clouds in Titan's atmosphere: properties derived from microphysical modeling. Icarus 182, 230–250 (2006)

Niemann, H. B. et al. The abundances of constituents of Titan's atmosphere from the GCMS instrument on the Huygens probe. Nature 438, 779–784 (2005)

Atreya, S. K. et al. Titan's methane cycle. Planet. Space Sci. (in the press)

Fulchignoni, M. et al. In situ measurements of the physical characteristics of Titan's environment. Nature 438, 785–791 (2005)

Lemmon, M. T., Smith, P. H. & Lorenz, R. D. Methane abundance on Titan, measured by the Space Telescope Imaging Spectrograph. Icarus 160, 375–385 (2002)

Penteado, P. F., Griffith, C. A., Greathouse, T. K. & de Bergh, C. Measurements of CH3D and CH4 in Titan from infrared spectroscopy. Astrophys. J. 629, L53–L56 (2005)

Lorenz, R. D. & Lunine, J. I. Titan's snowline. Icarus 158, 557–559 (2002)

Thompson, W. R., Zollweg, J. A. & Gabis, D. H. Vapor-liquid equilibrium thermodynamics of N2 + CH4: Model and Titan applications. Icarus 97, 187–199 (1992)

Courtin, R., Gautier, D. & McKay, C. P. Titan's thermal emission spectrum. Icarus 114, 144–162 (1995)

Samuelson, R. E., Nath, N. R. & Borysow, A. Gaseous abundances and methane supersaturation in Titan's troposphere. Planet. Space Sci. 45, 959–980 (1997)

Bird, M. K. et al. The vertical profile of winds on Titan. Nature 438, 800–802 (2005)

Sotin, C. et al. Release of volatiles from a possible cryovolcano from near-infrared imaging of Titan. Nature 435, 786–789 (2005)

Mäkinen, J. T. T. et al. Vertical atmospheric flow on Titan as measured by the HASI instrument. Geophys. Res. Lett. (submitted)

Lindal, G. F. et al. The atmosphere of Titan–an analysis of the Voyager 1 radio occultation measurements. Icarus 53, 348–363 (1983)

Lorenz, R. D. & Lunine, J. I. Erosion on Titan: past and present. Icarus 122, 79–91 (1996)

Zarnecki, J. C. et al. A soft solid surface on Titan as revealed by the Huygens Surface Science Package. Nature 438, 792–795 (2005)

Tobie, G., Lunine, J. I. & Sotin, C. Episodic outgassing as the origin of atmospheric methane on Titan. Nature 440, 61–64 (2006)

Pruppacher, H. R. & Klett, J. D. Microphysics of Clouds and Precipitation (Kluwer, Dordrecht, 1997)

Mäkinen, T. Processing the HASI measurements. Adv. Space Res. 17, 217–222 (1996)

McKay, C. P., Martin, S. C., Griffith, C. A. & Keller, R. M. Temperature lapse rate and methane in Titan's troposphere. Icarus 129, 498–505 (1997)
Acknowledgements
T.T. and F.M.N. were supported by the DLR in the HASI project. T.T. received a grant from the DFG. S.K.A. and C.P.M. acknowledge support from NASA's Planetary Atmospheres Program and the Cassini-Huygens Project. M.F. and F.F. acknowledge support from the Italian Space Agency (ASI) for the HASI experiment on board the ESA Huygens probe.
Supplementary information
In this file we discuss how the surface precipitation rate at the Huygens entry site is estimated based on previous model results and a comparison between the observed and modelled methane humidity profiles. (DOC 31 kb)
About this article
Cite this article
Tokano, T., McKay, C., Neubauer, F. et al. Methane drizzle on Titan. Nature 442, 432–435 (2006). https://doi.org/10.1038/nature04948
Received:

Accepted:

Issue Date:

DOI: https://doi.org/10.1038/nature04948
Comments
By submitting a comment you agree to abide by our Terms and Community Guidelines. If you find something abusive or that does not comply with our terms or guidelines please flag it as inappropriate.