Abstract
Arising from: O. Lyamin, J. Pryaslova, V. Lance & J. Siegel Nature 435, 1177 (2005); see also communication from Gnone et al.; Lyamin et al. reply.
Sleep has been assumed to be necessary for development and to be a vital function in mammals1,2 and other animals3,4. However, Lyamin et al.5 claim that in bottlenose dolphins (Tursiops truncatus) and killer whales (Orcinus orca), neonates and their mothers show almost no sleep behaviour for the first month after birth; this conclusion is based on their observation that the cetaceans keep swimming, avoid obstacles and rarely close their eyes for 24 hours a day throughout that period. Here we analyse the behaviour and eye closure of three neonate–mother pairs of bottlenose dolphins and find that, although the animals tend to open both eyes when surfacing to breathe, one or both eyes are closed during 'swim rest', an underwater sleeping behaviour that is associated with continuous activity. This observation calls into question the conclusions of Lyamin et al.5, who overlooked this type of sleep by analysing the animals' eye state only when they surfaced to breathe.
This is a preview of subscription content
Access options
Subscribe to Journal
Get full journal access for 1 year
$199.00
only $3.90 per issue
All prices are NET prices.
VAT will be added later in the checkout.
Tax calculation will be finalised during checkout.
Buy article
Get time limited or full article access on ReadCube.
$32.00
All prices are NET prices.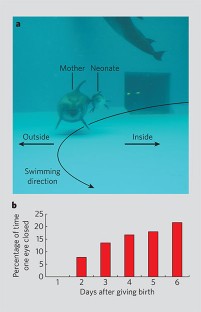 References
Hoppenbrouwers, T. & Sterman, M. B. Exp. Neurol. 49, 822–838 (1975).

Roffwarg, H. P., Muzio, J. N. & Dement, W. C. Science 152, 604–619 (1966).

Shaw, P. J., Tononi, G., Greenspan, R. J. & Robinson, D. F. Nature 417, 287–291 (2002).

Rechtschaffen, A., Gilliland, M. A., Bergmann, B. M. & Winter, J. B. Science 221, 182–184 (1983).

Lyamin, O., Pryaslova, J., Lance, V. & Siegel, J. Nature 435, 1177 (2005).

Mukhametov, L. M. Exp. Brain Res. 8, 227–238 (1984).

Lyamin, O. I., Mukhametov, L. M. & Siegel, J. M. Arch. Ital. Biol. 142, 557–568 (2004).

Lyamin, O. I. et al. Behav. Brain Res. 129, 125–129 (2002).

Sekiguchi, Y. & Kohshima, S. Physiol. Behav. 79, 643–653 (2003).

Goley, P. D. Mar. Mamm. Sci. 15, 1054–1064 (1999).
About this article
Cite this article
Sekiguchi, Y., Arai, K. & Kohshima, S. Sleep in continuously active dolphins. Nature 441, E9–E10 (2006). https://doi.org/10.1038/nature04898
Published:

Issue Date:

DOI: https://doi.org/10.1038/nature04898
Further reading
Lina Stålesen Ramfjord
Elisabeth Hertenstein
Jonathan Gabriel Maier

Somnologie (2020)

Sahar Izadi
Mark Johnson
Rochelle Constantine

Behavioral Ecology and Sociobiology (2018)

O. I. Lyamin
J. Pryaslova
J. M. Siegel

Nature (2006)
Comments
By submitting a comment you agree to abide by our Terms and Community Guidelines. If you find something abusive or that does not comply with our terms or guidelines please flag it as inappropriate.