Abstract
Gamma-ray bursts (GRBs) come in two classes1: long (> 2 s), soft-spectrum bursts and short, hard events. Most progress has been made on understanding the long GRBs, which are typically observed at high redshift (z ≈ 1) and found in subluminous star-forming host galaxies. They are likely to be produced in core-collapse explosions of massive stars2. In contrast, no short GRB had been accurately (< 10″) and rapidly (minutes) located. Here we report the detection of the X-ray afterglow from—and the localization of—the short burst GRB 050509B. Its position on the sky is near a luminous, non-star-forming elliptical galaxy at a redshift of 0.225, which is the location one would expect3,4 if the origin of this GRB is through the merger of neutron-star or black-hole binaries. The X-ray afterglow was weak and faded below the detection limit within a few hours; no optical afterglow was detected to stringent limits, explaining the past difficulty in localizing short GRBs.
Access options
Subscribe to Journal
Get full journal access for 1 year
$199.00
only $3.83 per issue
All prices are NET prices.
VAT will be added later in the checkout.
Rent or Buy article
Get time limited or full article access on ReadCube.
from$8.99
All prices are NET prices.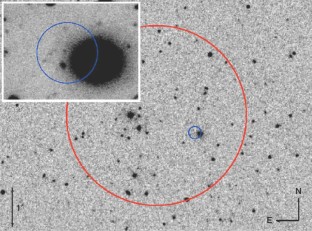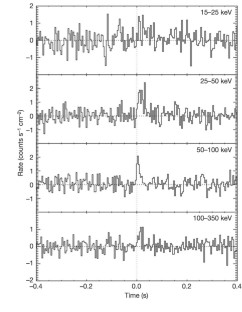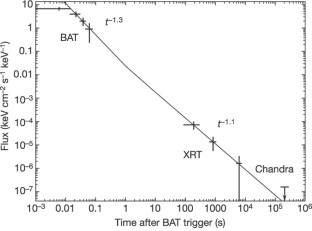 References
1

Kouveliotou, C. et al. Identification of two classes of gamma-ray bursts. Astrophys. J. 413, L101–L104 (1993)

2

van Paradijs, J., Kouveliotou, C. & Wijers, R. A. M. J. Gamma-ray burst afterglows. Annu. Rev. Astron. Astrophys. 38, 379–425 (2000)

3

Eichler, D., Livio, M., Piran, T. & Schramm, D. N. Nucleosynthesis, neutrino bursts and gamma-rays from coalescing neutron stars. Nature 340, 126–127 (1989)

4

Mochkovitch, R., Hernanz, M., Isern, J. & Martin, X. Gamma-ray bursts as collimated jets from neutron star/black hole mergers. Nature 361, 236–237 (1993)

5

Gehrels, N. et al. The Swift gamma ray burst mission. Astrophys. J. 611, 1005–1020 (2004)

6

Hurkett, C. et al. Swift detection of GRB050509B: A short duration burst. GCN Circ. 3381 (2005)

7

Cenko, S. B. et al. GRB050509B: No optical variability in XRT error circle. GCN Circ. 3409 (2005)

8

Hjorth, J. et al. GRB050509B: Optical observations with the VLT. GCN Circ. 3410 (2005)

9

Cenko, S. B. et al. GRB050509B: Further analysis of Keck LRIS images. GCN Circ. 3401 (2005)

10

Bloom, J. S. et al. Closing in on a short-hard burst progenitor: constraints from early-time optical imaging and spectroscopy of a possible host galaxy of GRB050509B. Astrophys. J. (submitted)

11

Prochaska, J. X. et al. Keck/DEIMOS spectrum of possible host galaxy for GRB050509B. GCN Circ. 3390 (2005)

12

Kennea, J. A. et al. GRB050509B: Swift XRT Position. GCN Circ. 3383 (2005)

13

Gal, R. R. et al. The Northern Sky Optical Cluster Survey. II. An objective cluster catalog for 5800 square degrees. Astron. J. 125, 2064–2084 (2003)

14

Kochanek, C. S. et al. The K-band galaxy luminosity function. Astrophys. J. 560, 566–579 (2001)

15

Le Floc'h, E. et al. Are the hosts of gamma-ray bursts sub-luminous and blue galaxies? Astron. Astrophys. 400, 499–510 (2003)

16

Vreeswijk, P. M. et al. VLT Spectroscopy of GRB 990510 and GRB 990712: Probing the faint and bright ends of the gamma-ray burst host galaxy population. Astrophys. J. 546, 672–680 (2001)

17

Madau, P., Pozzetti, L. & Dickinson, M. The star formation history of field galaxies. Astrophys. J. 498, 106–116 (1998)

18

Hurley, K. et al. An exceptionally bright flare from SGR 1806–20 and the origin of short duration gamma-ray bursts. Nature 434, 1098–1103 (2005)

19

Palmer, D. M. et al. A giant gamma-ray flare from the magnetar SGR 1806–20. Nature 434, 1107–1109 (2005)

20

Sarazin, C. L., Irwin, J. A. & Bregman, J. N. Resolving the mystery of X-ray-faint elliptical galaxies: Chandra X-ray observations of NGC 4697. Astrophys. J. 544, L101–L105 (2000)

21

Sarazin, C. L. et al. Low-mass X-ray binaries and globular clusters in early-type galaxies. Astrophys. J. 595, 743–759 (2003)

22

Anderson, S. B. et al. Discovery of two radio pulsars in the globular cluster M15. Nature 346, 42–44 (1990)

23

Bloom, J. S., Sigurdsson, S. & Pols, O. R. The spatial distribution of coalescing neutron star binaries; implications for gamma-ray bursts. Mon. Not. R. Astron. Soc. 305, 763–769 (1999)

24

Willems, B., Kalogera, V. & Henninger, M. Pulsar kicks and spin tilts in the close double neutron stars PSR J0737–3039, PSR B1534 + 12, and PSR B1913 + 16. Astrophys. J. 616, 414–438 (2004)

25

Lazatti, D., Ramirez-Ruiz, E. & Ghisellini, G. Possible detection of hard X-ray afterglows of short gamma-ray bursts. Astron. Astrophys. 379, L39–L43 (2001)

26

Connaughton, V. BATSE Observations of gamma-ray burst tails. Astrophys. J. 567, 1028–1036 (2002)

27

Panaitescu, A. & Kumar, P. Analytic light curves of gamma-ray burst afterglows: homogeneous versus wind external media. Astrophys. J. 543, 66–76 (2000)

28

Panaitescu, A., Kumar, P. & Narayan, R. Observational prospects for afterglows of short-duration gamma-ray bursts. Astrophys. J. 561, L171–L174 (2001)

29

Nakar, E. et al. The distance of short-hard GRBs and the SGR connection. Preprint at http://arXiv.org/astro-ph0502148 (2005).

30

Hurley, K. et al. Afterglow upper limits for four short-duration, hard spectrum gamma-ray bursts. Astrophys. J. 567, 447–453 (2002)
Acknowledgements
The authors acknowledge support from ASI, NASA and PPARC.
About this article
Cite this article
Gehrels, N., Sarazin, C., O'Brien, P. et al. A short γ-ray burst apparently associated with an elliptical galaxy at redshift z = 0.225. Nature 437, 851–854 (2005). https://doi.org/10.1038/nature04142
Received:

Accepted:

Issue Date:
Comments
By submitting a comment you agree to abide by our Terms and Community Guidelines. If you find something abusive or that does not comply with our terms or guidelines please flag it as inappropriate.