Abstract
Arising from: S. K. Solanki, I. G. Usoskin, B. Kromer, M. Schüssler & J. Beer Nature 431, 1084–1087 (2004); Solanki et al. reply.
To put global warming into context requires knowledge about past changes in solar activity and the role of the Sun in climate change. Solanki et al.1 propose that solar activity during recent decades was exceptionally high compared with that over the preceding 8,000 years. However, our extended analysis of the radiocarbon record reveals several periods during past centuries in which the strength of the magnetic field in the solar wind was similar to, or even higher than, that of today.
Access options
Subscribe to Journal
Get full journal access for 1 year
$199.00
only $3.90 per issue
All prices are NET prices.
VAT will be added later in the checkout.
Rent or Buy article
Get time limited or full article access on ReadCube.
from$8.99
All prices are NET prices.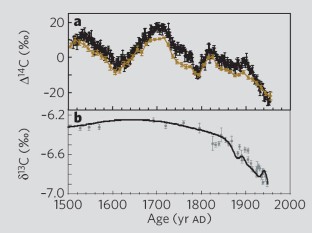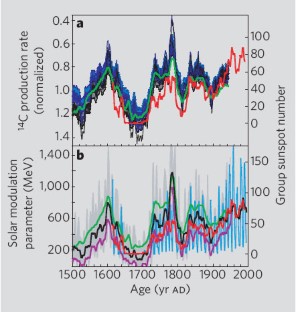 References
1

Solanki, S. K., Usoskin, I. G., Kromer, B., Schüssler, M. & Beer, J. Nature 431, 1084–1087 (2004).

2

Beer, J. Space Sci. Rev. 93, 107–119 (2000).

3

McCracken, K. G. & Heikkila, B. in Proc. 28th Int. Cosmic Ray Conf. 2003, Tsukuba, Japan 4117–4120 (Univ. Acad. Press, Tokyo, 2003).

4

Stuiver, M., Reimer, P. J. & Braziunas, T. F. Radiocarbon 40, 1127–1151 (1998).

5

McCormac, F. G. et al. Radiocarbon 44, 641–651 (2002).

6

Siegenthaler, U. J. Geophys. Res. 88, 3599–3608 (1983).

7

Joos, F. et al. Tellus B 48, 397–417 (1996).

8

Masarik, J. & Beer, J. J. Geophys. Res. 104, 12099–12111 (1999).

9

Yang, S., Odah, H. & Shaw, J. Geophys. J. Int. 140, 158–162 (2000).

10

Gerber, S. et al. Clim. Dynam. 20, 281–299 (2003).

11

Bard, E., Raisbeck, G. M., Yiou, F. & Jouzel, J. Tellus B 52, 985–992 (2000).

12

Muscheler, R., Beer, J., Kubik, P. W. & Synal, H. -A. Quat. Sci. Rev. 24, 1849–1860 (2005).

13

Snowball, I. & Sandgren, P. Earth Planet. Sci. Lett. 227, 361–376 (2004).

14

Francey, R. J. et al. Tellus B 51, 170–193 (1999).

15

Hoyt, D. V. & Schatten, K. H. Solar Phys. 179, 189–219 (1998).
About this article
Cite this article
Muscheler, R., Joos, F., Müller, S. et al. How unusual is today's solar activity?. Nature 436, E3–E4 (2005) doi:10.1038/nature04045
Comments
By submitting a comment you agree to abide by our Terms and Community Guidelines. If you find something abusive or that does not comply with our terms or guidelines please flag it as inappropriate.