Abstract
The recognition and elimination of tumours by T cells, a process termed cancer immunosurveillance1, is effective against certain virus-associated cancers2. Spontaneous tumours often induce a specific immune response and are therefore also immunogenic. However, it is not clear whether they can be controlled by T cells3,4,5,6,7,8,9,10. The immunosurveillance hypothesis postulates that tumours, if they eventually grow, escaped T-cell recognition by losing immunogenicity6,7,8. Here we show, by generating a mouse model of sporadic cancer based on rare spontaneous activation of a dormant oncogene, that immunogenic tumours do not escape their recognition but induce tolerance. In this model, tumours derive from single cells and express a tumour-specific transplantation rejection antigen. Whereas vaccinated mice remain tumour-free throughout their lifetime, naive mice always develop a progressively growing tumour. We also show that despite specific recognition by T cells, the tumours do not lose their intrinsic immunogenicity and are rejected after transplantation in T-cell-competent recipients. Furthermore, in the primary host tumour-induced tolerance is associated with the expansion of non-functional T cells. Together, our data argue against immunosurveillance of spontaneous cancer.
Access options
Access options
Subscribe to Journal
Get full journal access for 1 year
$199.00
only $3.90 per issue
All prices are NET prices.
VAT will be added later in the checkout.
Rent or Buy article
Get time limited or full article access on ReadCube.
from$8.99
All prices are NET prices.
References
1

Burnet, M. Immunological factors in the process of carcinogenesis. Br. Med. Bull. 20, 154–158 (1964)

2

Klein, G. & Klein, E. Immune surveillance against virus-induced tumors and nonrejectability of spontaneous tumors: contrasting consequences of host versus tumour evolution. Proc. Natl Acad. Sci. USA 74, 2121–2125 (1977)

3

Stutman, O. Tumor development after 3-methylcholanthrene in immunologically deficient athymic-nude mice. Science 183, 534–536 (1974)

4

Prehn, R. T. Stimulatory effects of immune reactions upon the growths of untransplanted tumors. Cancer Res. 54, 908–914 (1994)

5

Klein, G., Sjogren, H. O., Klein, E. & Hellstrom, K. E. Demonstration of resistance against methylcholanthrene-induced sarcomas in the primary autochthonous host. Cancer Res. 20, 1561–1572 (1960)

6

Shankaran, V. et al. IFNγ and lymphocytes prevent primary tumour development and shape tumour immunogenicity. Nature 410, 1107–1111 (2001)

7

Street, S. E., Trapani, J. A., MacGregor, D. & Smyth, M. J. Suppression of lymphoma and epithelial malignancies effected by interferon gamma. J. Exp. Med. 196, 129–134 (2002)

8

Dunn, G. P., Bruce, A. T., Ikeda, H., Old, L. J. & Schreiber, R. D. Cancer immunoediting: from immunosurveillance to tumour escape. Nature Immunol. 3, 991–998 (2002)

9

Blankenstein, T. & Qin, Z. Chemical carcinogens as foreign bodies and some pitfalls regarding cancer immune surveillance. Adv. Cancer Res. 90, 179–207 (2003)

10

Qin, Z. & Blankenstein, T. A cancer immunosurveillance controversy. Nature Immunol. 5, 3–4 (2004)

11

Johnson, L. et al. Somatic activation of the K-ras oncogene causes early onset lung cancer in mice. Nature 410, 1111–1116 (2001)

12

Meuwissen, R., Jonkers, J. & Berns, A. Mouse models for sporadic cancer. Exp. Cell Res. 264, 100–110 (2001)

13

Adams, T. E., Alpert, S. & Hanahan, D. Non-tolerance and autoantibodies to a transgenic self antigen expressed in pancreatic beta cells. Nature 325, 223–228 (1987)

14

Schell, T. D., Knowles, B. B. & Tevethia, S. S. Sequential loss of cytotoxic T lymphocyte responses to simian virus 40 large T antigen epitopes in T antigen transgenic mice developing osteosarcomas. Cancer Res. 60, 3002–3012 (2000)

15

Mullen, C. A., Urban, J. L., Van Waes, C., Rowley, D. A. & Schreiber, H. Multiple cancers. Tumor burden permits the outgrowth of other cancers. J. Exp. Med. 162, 1665–1682 (1985)

16

Beck, C., Schreiber, H. & Rowley, D. Role of TGF-beta in immune-evasion of cancer. Microsc. Res. Tech. 52, 387–395 (2001)

17

Gorelik, L. & Flavell, R. A. Transforming growth factor-beta in T-cell biology. Nature Rev. Immunol. 2, 46–53 (2002)

18

Enzler, T. et al. Deficiencies of GM-CSF and interferon gamma link inflammation and cancer. J. Exp. Med. 197, 1213–1219 (2003)

19

Khong, H. T. & Restifo, N. P. Natural selection of tumour variants in the generation of 'tumour escape' phenotypes. Nature Immunol. 3, 999–1005 (2002)

20

Schreiber, H. in Fundamental Immunology 5th edn (ed. Paul, W.) 1557–1592 (Raven, Philadelphia, 2003)

21

Staveley-O'Carroll, K. et al. Induction of antigen-specific T cell anergy: An early event in the course of tumour progression. Proc. Natl Acad. Sci. USA 95, 1178–1183 (1998)

22

Lee, P. P. et al. Characterization of circulating T cells specific for tumour-associated antigens in melanoma patients. Nature Med. 5, 677–685 (1999)

23

Blankenstein, T. The role of tumour stroma in the interaction between tumour and immune system. Curr. Opin. Immunol. 17, 180–186 (2005)

24

van Mierlo, G. J. et al. Activation of dendritic cells that cross-present tumour-derived antigen licenses CD8+ CTL to cause tumour eradication. J. Immunol. 173, 6753–6759 (2004)

25

Old, L. J., Boyse, E. A., Clarke, D. A. & Carswell, E. A. Antigenic properties of chemically-induced tumors. Ann. NY Acad. Sci. 101, 80–106 (1962)

26

Kripke, M. L. & Fisher, M. S. Immunologic parameters of ultraviolet carcinogenesis. J. Natl. Cancer Inst. 57, 211–215 (1976)

27

Sakai, K., Mitani, K. & Miyazaki, J. Efficient regulation of gene expression by adenovirus vector-mediated delivery of the CRE recombinase. Biochem. Biophys. Res. Commun. 217, 393–401 (1995)

28

Li, L. P., Schlag, P. M. & Blankenstein, T. Transient expression of SV 40 large T antigen by Cre/LoxP-mediated site- specific deletion in primary human tumour cells. Hum. Gene Ther. 8, 1695–1700 (1997)

29

Cayeux, S., Richter, G., Noffz, G., Dörken, B. & Blankenstein, T. Influence of gene-modified (IL-7, IL-4, and B7) tumour cell vaccines on tumour antigen presentation. J. Immunol. 158, 2834–2841 (1997)
Acknowledgements
We thank S. Horn, D. Barthel, C. Westen, A. Gaertner and M. Roesch for technical assistance; M. Czéh and T. Kammertoens for discussion; and N. Karamatskos for statistical analysis. This work was supported by grants from the Deutsche Forschungsgemeinschaft and the Deutsche Krebshilfe, Dr Mildred Scheel-Stiftung.
Supplementary information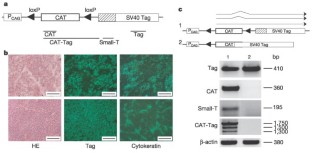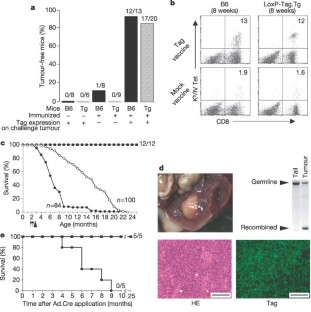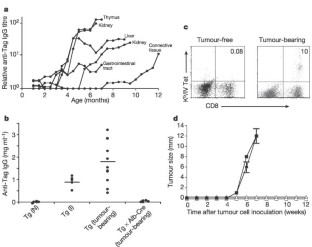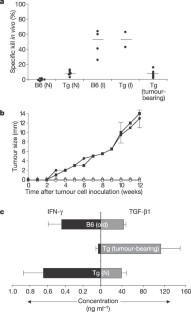 Comments
By submitting a comment you agree to abide by our Terms and Community Guidelines. If you find something abusive or that does not comply with our terms or guidelines please flag it as inappropriate.