Abstract
Complex traits such as human disease, growth rate, or crop yield are polygenic, or determined by the contributions from numerous genes in a quantitative manner. Although progress has been made in identifying major quantitative trait loci (QTL), experimental constraints have limited our knowledge of small-effect QTL, which may be responsible for a large proportion of trait variation1,2,3. Here, we identified and dissected a one-centimorgan chromosome interval in Arabidopsis thaliana without regard to its effect on growth rate, and examined the signature of historical sequence polymorphism among Arabidopsis accessions. We found that the interval contained two growth rate QTL within 210 kilobases. Both QTL showed epistasis; that is, their phenotypic effects depended on the genetic background. This amount of complexity in such a small area suggests a highly polygenic architecture of quantitative variation, much more than previously documented4. One QTL was limited to a single gene. The gene in question displayed a nucleotide signature indicative of balancing selection, and its phenotypic effects are reversed depending on genetic background. If this region typifies many complex trait loci, then non-neutral epistatic polymorphism may be an important contributor to genetic variation in complex traits.
Relevant articles
Open Access articles citing this article.
Rubén González

,

Anamarija Butković

…

Santiago F. Elena

Scientific Reports Open Access 19 October 2020

Yuzhe Wang

,

Xuemin Cao

…

Ning Li

Communications Biology Open Access 28 August 2020

Eleonore Durand

,

Maud I Tenaillon

…

Christine Dillmann

BMC Evolutionary Biology Open Access 07 June 2015
Access options
Subscribe to Journal
Get full journal access for 1 year
$199.00
only $3.90 per issue
All prices are NET prices.
VAT will be added later in the checkout.
Tax calculation will be finalised during checkout.
Buy article
Get time limited or full article access on ReadCube.
$32.00
All prices are NET prices.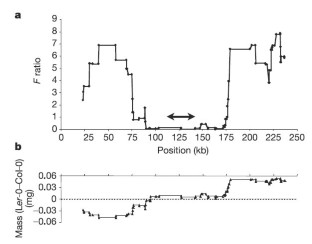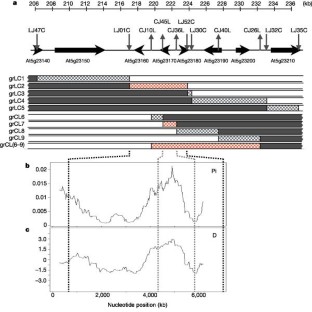 References
Lohmueller, K. E., Pearce, C. L., Pike, M., Lander, E. S. & Hirschhorn, J. N. Meta-analysis of genetic association studies supports a contribution of common variants to susceptibility to common disease. Nature Genet. 33, 177–182 (2003)

Mackay, T. F. C. The genetic architecture of quantitative traits: lessons from Drosophila. Curr. Opin. Genet. Dev. 14, 253–257 (2004)

Steinmetz, L. M. et al. Dissecting the architecture of a quantitative trait locus in yeast. Nature 416, 326–330 (2002)

Koornneef, M., Alonso-Blanco, C. & Vreugdenhill, D. Naturally occurring genetic variation in Arabidopsis thaliana. Annu. Rev. Plant Biol. 55, 141–172 (2004)

Dilda, C. L. & Mackay, T. F. C. The genetic architecture of Drosophila sensory bristle number. Genetics 162, 1655–1674 (2002)

Kroymann, J. et al. A gene controlling variation in Arabidopsis thaliana glucosinolate composition is part of the methionine chain elongation pathway. Plant Physiol. 127, 1077–1088 (2001)

Kroymann, J., Donnerhacke, S., Schnabelrauch, D. & Mitchell-Olds, T. Evolutionary dynamics of an Arabidopsis insect resistance QTL. Proc. Natl Acad. Sci. USA 100, 14587–14592 (2003)

Lister, C. & Dean, C. Recombinant inbred lines for mapping RFLP and phenotypic markers. Plant J. 4, 745–750 (1993)

Becraft, P. W., Stinard, P. S. & McCarty, D. R. CRINKLY4: a receptor kinase with TNFR similarity, involved in maize epidermal differentiation. Science 273, 1406–1409 (1996)

Shiu, S. H. & Bleecker, A. B. Receptor-like kinases from Arabidopsis form a monophyletic gene family related to animal receptor kinases. Proc. Natl Acad. Sci. USA 98, 10763–10768 (2001)

Becraft, P. W. Receptor kinase signaling in plant development. Annu. Rev. Cell Dev. Biol. 18, 163–192 (2002)

Zhou, J., Loh, Y. T., Bressan, R. A. & Martin, G. B. The tomato gene Pti1 encodes a serine/threonine kinase that is phosphorylated by Pto and is involved in the hypersensitive response. Cell 83, 925–935 (1995)

Wright, S. I., Lauga, B. & Charlesworth, D. Rates and patterns of molecular evolution in inbred and outbred Arabidopsis. Mol. Biol. Evol. 19, 1407–1420 (2002)

Tian, D., Araki, H., Stahl, E., Bergelson, J. & Kreitman, M. Signature of balancing selection in Arabidopsis. Proc. Natl Acad. Sci. USA 99, 11525–11530 (2002)

Tajima, F. Statistical method for testing the neutral mutation hypothesis by DNA polymorphism. Genetics 123, 585–595 (1989)

Schmid, K. J., Ramos-Onsins, S., Ringys-Beckstein, H., Weisshaar, B. & Mitchell-Olds, T. A multilocus sequence survey in Arabidopsis thaliana reveals a genome-wide departure from a neutral model of DNA sequence polymorphism. Genetics 169, 1601–1615 (2005)

Haubold, B., Kroymann, J., Ratzka, A., Mitchell-Olds, T. & Wiehe, T. Recombination and gene conversion in a 170-kb genomic region of Arabidopsis thaliana. Genetics 161, 1269–1278 (2002)

Nordborg, M. et al. The extent of linkage disequilibrium in Arabidopsis thaliana. Nature Genet. 30, 190–193 (2002)

Lauter, N. & Doebley, J. Genetic variation for phenotypically invariant traits detected in Teosinte: implications for the evolution of novel forms. Genetics 160, 333–342 (2002)

Gibson, G. & Dworkin, I. Uncovering cryptic genetic variation. Nature Rev. Genet. 5, 681–690 (2004)

Torii, K. U. et al. The Arabidopsis ERECTA gene encodes a putative receptor protein kinase with extracellular leucine-rich repeats. Plant Cell 8, 735–746 (1996)

Rozas, J., Sánchez-DelBarrio, J. C., Messeguer, X. & Rozas, R. DnaSP, DNA polymorphism analyses by the coalescent and other methods. Bioinformatics 19, 2496–2497 (2003)
Acknowledgements
We thank S. Donnerhacke, D. Schnabelrauch, K. Eberhardt, K. Jünemann and A. Hirsch for help with plant care and technical assistance. This work was supported by the Max Planck Society, the DFG and the European Union.
Ethics declarations
Competing interests
The authors declare that they have no competing financial interests.
Supplementary information
About this article
Cite this article
Kroymann, J., Mitchell-Olds, T. Epistasis and balanced polymorphism influencing complex trait variation. Nature 435, 95–98 (2005). https://doi.org/10.1038/nature03480
Received:

Accepted:

Issue Date:

DOI: https://doi.org/10.1038/nature03480
Comments
By submitting a comment you agree to abide by our Terms and Community Guidelines. If you find something abusive or that does not comply with our terms or guidelines please flag it as inappropriate.