Abstract
Ionotropic glutamate receptors mediate fast excitatory synaptic transmission in the central nervous system1,2. Their modulation is believed to affect learning and memory, and their dysfunction has been implicated in the pathogenesis of neurological and psychiatric diseases1,2. Despite a wealth of functional data, little is known about the intact, three-dimensional structure of these ligand-gated ion channels. Here, we present the structure of native AMPA receptors (α-amino-3-hydroxy-5-methyl-4-isoxazole propionic acid; AMPA-Rs) purified from rat brain, as determined by single-particle electron microscopy. Unlike the homotetrameric recombinant GluR2 (ref. 3), the native heterotetrameric AMPA-R adopted various conformations, which reflect primarily a variable separation of the two dimeric extracellular amino-terminal domains. Members of the stargazin/TARP family of transmembrane proteins co-purified with AMPA-Rs and contributed to the density representing the transmembrane region of the complex. Glutamate and cyclothiazide markedly altered the conformational equilibrium of the channel complex, suggesting that desensitization is related to separation of the N-terminal domains. These data provide a glimpse of the conformational changes of an important ligand-gated ion channel of the brain.
Relevant articles
Open Access articles citing this article.
Jyoji Morise

,

Kenichi G. N. Suzuki

…

Shogo Oka

Nature Communications Open Access 20 November 2019

Diane Bissen

,

Franziska Foss

&

Amparo Acker-Palmer

Cellular and Molecular Life Sciences Open Access 01 April 2019

Wei Wen

,

Chi-Yen Lin

&

Li Niu

Scientific Reports Open Access 20 October 2017
Access options
Subscribe to Journal
Get full journal access for 1 year
$199.00
only $3.90 per issue
All prices are NET prices.
VAT will be added later in the checkout.
Tax calculation will be finalised during checkout.
Buy article
Get time limited or full article access on ReadCube.
$32.00
All prices are NET prices.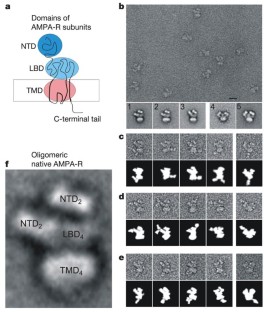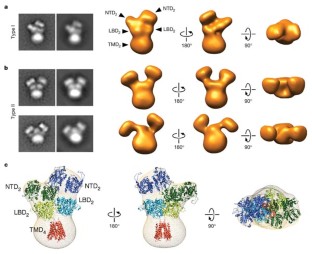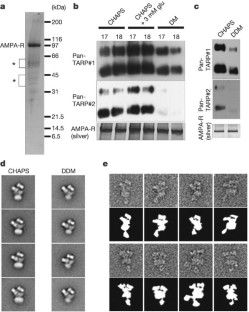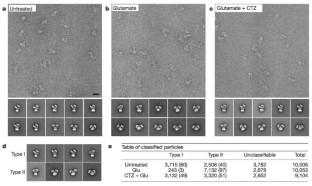 References
Malinow, R. & Malenka, R. C. AMPA receptor trafficking and synaptic plasticity. Annu. Rev. Neurosci. 25, 103–126 (2002)

Wollmuth, L. P. & Sobolevsky, A. I. Structure and gating of the glutamate receptor ion channel. Trends Neurosci. 27, 321–328 (2004)

Tichelaar, W., Safferling, M., Keinanen, K., Stark, H. & Madden, D. R. The Three-dimensional structure of an ionotropic glutamate receptor reveals a dimer-of-dimers assembly. J. Mol. Biol. 344, 435–442 (2004)

Keinanen, K. et al. A family of AMPA-selective glutamate receptors. Science 249, 556–560 (1990)

Hollmann, M., O'Shea-Greenfield, A., Rogers, S. W. & Heinemann, S. Cloning by functional expression of a member of the glutamate receptor family. Nature 342, 643–648 (1989)

Safferling, M. et al. First images of a glutamate receptor ion channel: oligomeric state and molecular dimensions of GluRB homomers. Biochemistry 40, 13948–13953 (2001)

Rosenmund, C., Stern-Bach, Y. & Stevens, C. F. The tetrameric structure of a glutamate receptor channel. Science 280, 1596–1599 (1998)

Chen, G. Q., Cui, C., Mayer, M. L. & Gouaux, E. Functional characterization of a potassium-selective prokaryotic glutamate receptor. Nature 402, 817–821 (1999)

Wenthold, R. J., Petralia, R. S., Blahos, J. II & Niedzielski, A. S. Evidence for multiple AMPA receptor complexes in hippocampal CA1/CA2 neurons. J. Neurosci. 16, 1982–1989 (1996)

Armstrong, N. & Gouaux, E. Mechanisms for activation and antagonism of an AMPA-sensitive glutamate receptor: crystal structures of the GluR2 ligand binding core. Neuron 28, 165–181 (2000)

Sobolevsky, A. I., Yelshansky, M. V. & Wollmuth, L. P. The outer pore of the glutamate receptor channel has 2-fold rotational symmetry. Neuron 41, 367–378 (2004)

Horning, M. S. & Mayer, M. L. Regulation of AMPA receptor gating by ligand binding core dimers. Neuron 41, 379–388 (2004)

Stern-Bach, Y. et al. Agonist selectivity of glutamate receptors is specified by two domains structurally related to bacterial amino acid-binding proteins. Neuron 13, 1345–1357 (1994)

Hollmann, M., Maron, C. & Heinemann, S. N-glycosylation site tagging suggests a three transmembrane domain topology for the glutamate receptor GluR1. Neuron 13, 1331–1343 (1994)

Bennett, J. A. & Dingledine, R. Topology profile for a glutamate receptor: three transmembrane domains and a channel-lining reentrant membrane loop. Neuron 14, 373–384 (1995)

Ohi, M., Li, Y., Cheng, Y. & Walz, T. Negative staining and image classification—powerful tools in modern electron microscopy. Biol. Proc. Online 6, 23–34 (2004)

Frank, J. Three-dimensional Electron Microscopy of Macromolecular Assemblies (Academic, San Diego, 1996)

Kunishima, N. et al. Structural basis of glutamate recognition by a dimeric metabotropic glutamate receptor. Nature 407, 971–977 (2000)

Armstrong, N., Sun, Y., Chen, G. Q. & Gouaux, E. Structure of a glutamate-receptor ligand-binding core in complex with kainate. Nature 395, 913–917 (1998)

Sun, Y. et al. Mechanism of glutamate receptor desensitization. Nature 417, 245–253 (2002)

Doyle, D. A. et al. The structure of the potassium channel: molecular basis of K+ conduction and selectivity. Science 280, 69–77 (1998)

Chen, L. et al. Stargazin regulates synaptic targeting of AMPA receptors by two distinct mechanisms. Nature 408, 936–943 (2000)

Tomita, S., Fukata, M., Nicoll, R. A. & Bredt, D. S. Dynamic interaction of stargazin-like TARPs with cycling AMPA receptors at synapses. Science 303, 1508–1511 (2004)

Patneau, D. K., Vyklicky, L. Jr & Mayer, M. L. Hippocampal neurons exhibit cyclothiazide-sensitive rapidly desensitizing responses to kainate. J. Neurosci. 13, 3496–3509 (1993)

Sommer, B. et al. Flip and flop: a cell-specific functional switch in glutamate-operated channels of the CNS. Science 249, 1580–1585 (1990)

Swanson, G. T., Kamboj, S. K. & Cull-Candy, S. G. Single-channel properties of recombinant AMPA receptors depend on RNA editing, splice variation, and subunit composition. J. Neurosci. 17, 58–69 (1997)

Goodsell, D. S. & Olson, A. J. Structural symmetry and protein function. Annu. Rev. Biophys. Biomol. Struct. 29, 105–153 (2000)

Pasternack, A. et al. Alpha-amino-3-hydroxy-5-methyl-4-isoxazolepropionic acid (AMPA) receptor channels lacking the N-terminal domain. J. Biol. Chem. 277, 49662–49667 (2002)

Ayalon, G. & Stern-Bach, Y. Functional assembly of AMPA and kainate receptors is mediated by several discrete protein-protein interactions. Neuron 31, 103–113 (2001)

Passafaro, M., Nakagawa, T., Sala, C. & Sheng, M. Induction of dendritic spines by an extracellular domain of AMPA receptor subunit GluR2. Nature 424, 677–681 (2003)
Acknowledgements
This work was supported by an NIH grant (to T.W.). M.S. is an investigator of the Howard Hughes Medical Institute.
Ethics declarations
Competing interests
The authors declare that they have no competing financial interests.
Supplementary information
About this article
Cite this article
Nakagawa, T., Cheng, Y., Ramm, E. et al. Structure and different conformational states of native AMPA receptor complexes. Nature 433, 545–549 (2005). https://doi.org/10.1038/nature03328
Received:

Accepted:

Issue Date:

DOI: https://doi.org/10.1038/nature03328
Comments
By submitting a comment you agree to abide by our Terms and Community Guidelines. If you find something abusive or that does not comply with our terms or guidelines please flag it as inappropriate.