Abstract
Regulation of ribosome biogenesis is central to the control of cell growth1. In rapidly growing yeast cells, ribosomal protein (RP) genes account for approximately one-half of all polymerase II transcription-initiation events1, yet these genes are markedly and coordinately downregulated in response to a number of environmental stress conditions2,3,4, or during the transition from fermentation to respiration5. Although several conserved signalling pathways (TOR, RAS/protein kinase A and protein kinase C) impinge upon RP gene transcription1, little is known about how initiation at these genes is controlled. Rap1 (refs 6, 7) and more recently Fhl1 (ref. 8) were shown to bind upstream of many RP genes. Here we show that the essential protein Ifh1 binds to and activates many RP gene promoters under optimal growth conditions in Saccharomyces cerevisiae. Ifh1 is recruited to RP gene promoters through the forkhead-associated domain of Fhl1. Ifh1 binding decreases when RP genes are downregulated either by TOR inhibition or nutrient depletion, and is restored after release from starvation or upon regulated induction of IFH1 expression. These findings indicate a central role for Ifh1 and Fhl1 in RP gene regulation.
Relevant articles
Open Access articles citing this article.
Joseph Kunkel

,

Xiangxia Luo

&

Andrew P. Capaldi

Nature Communications Open Access 08 August 2019

Ángel Vizoso-Vázquez

,

Mónica Lamas-Maceiras

…

M. Esperanza Cerdán

Scientific Reports Open Access 15 February 2018

Wei-Sheng Wu

&

Fu-Jou Lai

BMC Genomics Open Access 09 December 2015
Access options
Subscribe to this journal
Receive 51 print issues and online access
$199.00 per year
only $3.90 per issue
Rent or buy this article
Get just this article for as long as you need it
$39.95
Prices may be subject to local taxes which are calculated during checkout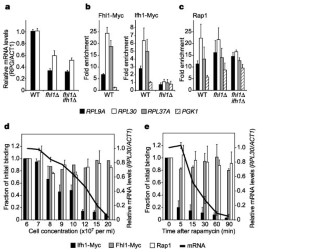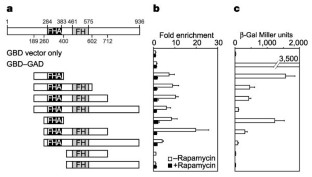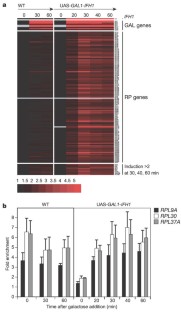 References
Warner, J. R. The economics of ribosome biosynthesis in yeast. Trends Biochem. Sci. 24, 437–440 (1999)

Gasch, A. P. et al. Genomic expression programs in the response of yeast cells to environmental changes. Mol. Biol. Cell 11, 4241–4257 (2000)

Causton, H. C. et al. Remodeling of yeast genome expression in response to environmental changes. Mol. Biol. Cell 12, 323–337 (2001)

Rep, M., Krantz, M., Thevelein, J. M. & Hohmann, S. The transcriptional response of Saccharomyces cerevisiae to osmotic shock. Hot1p and Msn2p/Msn4p are required for the induction of subsets of high osmolarity glycerol pathway-dependent genes. J. Biol. Chem. 275, 8290–8300 (2000)

Ju, Q. & Warner, J. R. Ribosome synthesis during the growth cycle of Saccharomyces cerevisiae. Yeast 10, 151–157 (1994)

Lieb, J. D., Liu, X., Botstein, D. & Brown, P. O. Promoter-specific binding of Rap1 revealed by genome-wide maps of protein-DNA association. Nature Genet. 28, 327–334 (2001)

Shore, D. RAP1: a protean regulator in yeast. Trends Genet. 10, 408–412 (1994)

Lee, T. I. et al. Transcriptional regulatory networks in Saccharomyces cerevisiae. Science 298, 799–804 (2002)

Hermann-Le Denmat, S., Werner, M., Sentenac, A. & Thuriaux, P. Suppression of yeast RNA polymerase III mutations by FHL1, a gene coding for a fork head protein involved in rRNA processing. Mol. Cell. Biol. 14, 2905–2913 (1994)

Cherel, I. & Thuriaux, P. The IFH1 gene product interacts with a fork head protein in Saccharomyces cerevisiae. Yeast 11, 261–270 (1995)

DeRisi, J. L., Iyer, V. R. & Brown, P. O. Exploring the metabolic and genetic control of gene expression on a genomic scale. Science 278, 680–686 (1997)

Jacinto, E. & Hall, M. N. Tor signalling in bugs, brain and brawn. Nature Rev. Mol. Cell Biol. 4, 117–126 (2003)

Cardenas, M. E., Cutler, N. S., Lorenz, M. C., Di Como, C. J. & Heitman, J. The TOR signaling cascade regulates gene expression in response to nutrients. Genes Dev. 13, 3271–3279 (1999)

Hardwick, J. S., Kuruvilla, F. G., Tong, J. K., Shamji, A. F. & Schreiber, S. L. Rapamycin-modulated transcription defines the subset of nutrient-sensitive signaling pathways directly controlled by the Tor proteins. Proc. Natl Acad. Sci. USA 96, 14866–14870 (1999)

Powers, T. & Walter, P. Regulation of ribosome biogenesis by the rapamycin-sensitive TOR-signaling pathway in Saccharomyces cerevisiae. Mol. Biol. Cell 10, 987–1000 (1999)

Ren, B. et al. Genome-wide location and function of DNA binding proteins. Science 290, 2306–2309 (2000)

Harismendy, O. et al. Genome-wide location of yeast RNA polymerase III transcription machinery. EMBO J. 22, 4738–4747 (2003)

Koranda, M., Schleiffer, A., Endler, L. & Ammerer, G. Forkhead-like transcription factors recruit Ndd1 to the chromatin of G2/M-specific promoters. Nature 406, 94–98 (2000)

Jorgensen, P. & Tyers, M. The fork'ed path to mitosis. Genome Biol. 1, R1022.1–1022.4 (2000)

Durocher, D. & Jackson, S. P. The FHA domain. FEBS Lett. 513, 58–66 (2002)

Klein, C. & Struhl, K. Protein kinase A mediates growth-regulated expression of yeast ribosomal protein genes by modulating RAP1 transcriptional activity. Mol. Cell. Biol. 14, 1920–1928 (1994)

Mencia, M., Moqtaderi, Z., Geisberg, J. V., Kuras, L. & Struhl, K. Activator-specific recruitment of TFIID and regulation of ribosomal protein genes in yeast. Mol. Cell 9, 823–833 (2002)

Reid, J. L., Iyer, V. R., Brown, P. O. & Struhl, K. Coordinate regulation of yeast ribosomal protein genes is associated with targeted recruitment of Esa1 histone acetylase. Mol. Cell 6, 1297–1307 (2000)

Rohde, J. R. & Cardenas, M. E. The tor pathway regulates gene expression by linking nutrient sensing to histone acetylation. Mol. Cell. Biol. 23, 629–635 (2003)

Jorgensen, P., Nishikawa, J. L., Breitkreutz, B. J. & Tyers, M. Systematic identification of pathways that couple cell growth and division in yeast. Science 297, 395–400 (2002)

Marion, R. M. et al. Sfp1 is a stress- and nutrient-sensitive regulator of ribosomal protein gene expression. Proc. Natl Acad. Sci. USA 101, 14315–14322 (2004)

Jorgensen, P. et al. A dynamic transcriptional network communicates growth potential to ribosome synthesis and critical cell size. Genes Dev. 18, 2491–2505 (2004)

Kim, M., Ahn, J. W., Song, K., Paek, K. H. & Pai, H. S. Forkhead-associated domains of the tobacco NtFHA1 transcription activator and the yeast Fhl1 forkhead transcription factor are functionally conserved. J. Biol. Chem. 277, 38781–38790 (2002)
Acknowledgements
We thank J. Warner, E. Di Mauro, K. Mizuta, G. Ammerer, P. Thuriaux and M. Tyers for discussions; J. Warner, K. Struhl and M. Tyers for communicating unpublished results; A. Bianchi for comments on the manuscript; members of the Shore laboratory for discussions; P. Descombes, C. Barraclough, C. Delucinge, O. Schaad, P. Soularue and X. Gidrol for help with microarray experiments and analysis; S. Gasser for providing antibodies; and N. Roggli for artwork. This work was supported by the Human Frontier Science Program, the Swiss National Science Foundation, the NCCR program 'Frontiers in Genetics' (Swiss National Science Foundation), and the Canton of Geneva.
Ethics declarations
Competing interests
The authors declare that they have no competing financial interests.
Supplementary information
About this article
Cite this article
Schawalder, S., Kabani, M., Howald, I. et al. Growth-regulated recruitment of the essential yeast ribosomal protein gene activator Ifh1. Nature 432, 1058–1061 (2004). https://doi.org/10.1038/nature03200
Received:

Accepted:

Issue Date:

DOI: https://doi.org/10.1038/nature03200
Comments
By submitting a comment you agree to abide by our Terms and Community Guidelines. If you find something abusive or that does not comply with our terms or guidelines please flag it as inappropriate.