Abstract
The rifting of continents and evolution of ocean basins is a fundamental component of plate tectonics, yet the process of continental break-up remains controversial. Plate driving forces have been estimated to be as much as an order of magnitude smaller than those required to rupture thick continental lithosphere1,2. However, Buck1 has proposed that lithospheric heating by mantle upwelling and related magma production could promote lithospheric rupture at much lower stresses. Such models of mechanical versus magma-assisted extension can be tested, because they predict different temporal and spatial patterns of crustal and upper-mantle structure. Changes in plate deformation produce strain-enhanced crystal alignment and increased melt production within the upper mantle, both of which can cause seismic anisotropy3. The Northern Ethiopian Rift is an ideal place to test break-up models because it formed in cratonic lithosphere with minor far-field plate stresses4,5. Here we present evidence of seismic anisotropy in the upper mantle of this rift zone using observations of shear-wave splitting. Our observations, together with recent geological data, indicate a strong component of melt-induced anisotropy with only minor crustal stretching, supporting the magma-assisted rifting model in this area of initially cold, thick continental lithosphere.
Relevant articles
Open Access articles citing this article.
Juliet Biggs

,

Atalay Ayele

…

Tim J. Wright

Nature Communications Open Access 25 November 2021

Eugenio Nicotra

,

Marco Viccaro

…

Rosanna De Rosa

Scientific Reports Open Access 08 November 2021

Scientific Reports Open Access 07 May 2020
Access options
Subscribe to this journal
Receive 51 print issues and online access
$199.00 per year
only $3.90 per issue
Rent or buy this article
Get just this article for as long as you need it
$39.95
Prices may be subject to local taxes which are calculated during checkout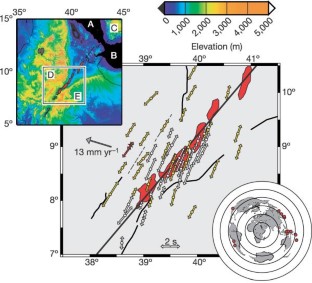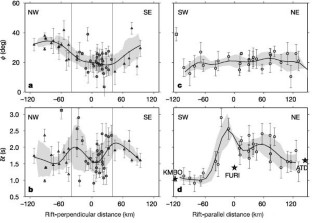 References
Buck, W. R. in Rheology and Deformation of the Lithosphere at Continental Margins (eds Karner, G. D., Taylor, B., Driscoll, N. W. & Kohlstedt, D. L.) 1–30 (Columbia Univ. Press, New York, 2004)

Bott, M. H. P. Sublithospheric loading and plate-boundary forces. Phil. Trans. R. Soc. Lond. 337, 83–93 (1991)

Kendall, J.-M. in Earth's Deep Interior: Mineral Physics and Tomography from the Atomic to the Global Scale (eds Karato, S., Stixrude, L., Liebermann, R. C., Masters, T. G. & Forte, A. M.) 149–175 (Geophys. Monogr. Ser. 117, American Geophysical Union, Washington DC, 2000)

McClusky, S., Reilinger, R., Mahmoud, S., Ben Sari, D. & Tealab, A. GPS constraints on Africa (Nubia) and Arabia plate motions. Geophys. J. Int. 155, 126–138 (2003)

Chu, D. & Gordon, R. Evidence for motion between Nubia and Somalia along the Southwest Indian Ridge. Nature 398, 64–67 (1998)

Maguire, P. et al. Geophysical project in Ethiopia studies continental breakup. Eos 84, 337–340 (2003)

Ebinger, C. J. & Casey, M. Continental breakup in magmatic provinces: An Ethiopian example. Geology 29, 527–530 (2001)

Mackenzie, G. D., Thybo, H. & Maguire, P. K. H. Crustal velocity structure across the Main Ethiopian Rift: results from 2-dimensional wide-angle seismic modelling. Geophys. J. Int. (in the press)

Bastow, I., Stuart, G. W., Kendall, J-M. & Ebinger, C. J. Upper-mantle seismic structure in a region of incipient continental breakup: Northern Ethiopian Rift. Geophys. J. Int. (submitted)

Silver, P. G. Seismic anisotropy beneath the continents. Annu. Rev. Earth Planet. Sci. 24, 385–432 (1996)

Savage, M. Seismic anisotropy and mantle deformation: What have we learned from shear wave splitting. Rev. Geophys. 37, 65–106 (1999)

Gao, S. et al. SKS splitting beneath continental rift zones. J. Geophys. Res. 102, 22781–22797 (1997)

Ayele, A., Stuart, G. W. & Kendall, J.-M. Insights into rifting from shear-wave splitting and receiver functions: an example from Ethiopia. Geophys. J. Int. 157, 354–362 (2004)

Walker, K., Nyblade, A. A., Klemperer, S. L., Bokelmann, G. H. R. & Owens, T. J. On the relationship between extension and anisotropy: Constraints from shear wave splitting across the East Africa Plateau. J. Geophys. Res. 109, doi:10.1029/2003JB002866 (2003)

Gashawbeza, E. M., Klemperer, S. L., Nyblade, A. A., Walker, K. T. & Keranen, K. M. Shear-wave splitting in Ethiopia: Percambrian mantle anisotropy locally modified by Neogene rifting. Geophys. Res. Lett. 31, doi:10.1029/2004GL020471 (2004)

Hadiouche, O., Jobert, N. & Montagner, J.-P. Anisotropy of the African Continent inferred from surface waves. Phys. Earth Planet. Inter. 58, 61–81 (1989)

Rumpker, G. & Ryberg, T. New 'Fresnel zone' estimates for shear-wave splitting observations from finite difference modelling. Geophys. Res. Lett. 27, 2005–2008 (2000)

Barruol, G. & Ben-Ismail, W. Upper mantle anisotropy beneath the African IRIS and GEOSCOPE stations. Geophys. J. Int. 146, 549–561 (2001)

Wolfenden, E., Ebinger, C., Yirgu, G., Deino, A. & Ayalew, D. Evolution of the northern Main Ethiopian rift: Birth of a triple junction. Earth Planet. Sci. Lett. 224, 213–228 (2004)

Abdelselam, M. & Stern, R. Sutures and shear zones in the Arabia-Nubian shield. J. Afr. Earth Sci. 23, 289–310 (1996)

Moore, H. & Davidson, A. Rift structure in southern Ethiopia. Tectonophysics 46, 159–173 (1978)

Blackman, D. K. et al. Teleseismic imaging of subaxial flow at mid-ocean ridges: travel-time effects of anisotropic mineral texture in the mantle. Geophys. J. Int. 127, 415–426 (1996)

Vauchez, A., Tommasi, A., Barruol, G. & Maumus, J. Upper mantle deformation and seismic anisotropy in continental rifts. Phys. Chem. Earth 25, 111–117 (2000)

Wolfe, C. J. & Solomon, S. C. Shear-wave splitting and implications for mantle flow beneath the MELT region of the East Pacific Rise. Science 280, 1230–1232 (1998)

Kendall, J.-M. Teleseismic arrivals at a mid-ocean ridge: effects of mantle melt and anisotropy. Geophys. Res. Lett. 21, 301–304 (1994)

Rooney, T. O., Furman, T., Yirgu, G. & Ayalew, D. Structure of the Ethiopian lithosphere: evidence from mantle xenoliths. Geochim. Cosmochim. Acta (submitted)

Holtzman, B. K. et al. Melt segregation and strain partitioning: Implications for seismic anisotropy and mantle flow. Science 301, 1227–1230 (2003)

Sleep, N. H. Lateral flow and ponding of starting plume material. J. Geophys. Res. 102, 10001–10012 (1997)

Wernicke, B. Low angle normal faults in Basin and Range province: Nappe tectonics in an extending orogen. Nature 291, 645–648 (1981)

Bilham, R. et al. Secular and tidal strain across the Ethiopian rift. Geophys. Res. Lett. 27, 2789–2984 (1999)
Acknowledgements
We thank the EAGLE working group6 and especially L. Asfaw and A. Ayele for help with the EAGLE experiment. We thank SEIS-UK for equipment and technical support. We also thank M. Savage, R. Huismans, T. Furman, R. Buck and E. Calais for comments on the manuscipt and A. Parr for help with the data processing. Funding was provided by NERC-UK grants.
Ethics declarations
Competing interests
The authors declare that they have no competing financial interests.
Supplementary information
About this article
Cite this article
Kendall, JM., Stuart, G., Ebinger, C. et al. Magma-assisted rifting in Ethiopia. Nature 433, 146–148 (2005). https://doi.org/10.1038/nature03161
Received:

Accepted:

Issue Date:

DOI: https://doi.org/10.1038/nature03161
Comments
By submitting a comment you agree to abide by our Terms and Community Guidelines. If you find something abusive or that does not comply with our terms or guidelines please flag it as inappropriate.