Abstract
Calorie restriction extends lifespan in organisms ranging from yeast to mammals1. In yeast, the SIR2 gene mediates the life-extending effects of calorie restriction2. Here we show that the mammalian SIR2 orthologue, Sirt1 (sirtuin 1), activates a critical component of calorie restriction in mammals; that is, fat mobilization in white adipocytes. Upon food withdrawal Sirt1 protein binds to and represses genes controlled by the fat regulator PPAR-γ (peroxisome proliferator-activated receptor-γ), including genes mediating fat storage. Sirt1 represses PPAR-γ by docking with its cofactors NCoR (nuclear receptor co-repressor) and SMRT (silencing mediator of retinoid and thyroid hormone receptors). Mobilization of fatty acids from white adipocytes upon fasting is compromised in Sirt1+/- mice. Repression of PPAR-γ by Sirt1 is also evident in 3T3-L1 adipocytes, where overexpression of Sirt1 attenuates adipogenesis, and RNA interference of Sirt1 enhances it. In differentiated fat cells, upregulation of Sirt1 triggers lipolysis and loss of fat. As a reduction in fat is sufficient to extend murine lifespan3, our results provide a possible molecular pathway connecting calorie restriction to life extension in mammals.
Relevant articles
Open Access articles citing this article.
Qi Wu

,

Zhi-Jie Gao

…

Ping Wang

Signal Transduction and Targeted Therapy Open Access 23 July 2022

Lukas S. Tombor

&

Stefanie Dimmeler

Basic Research in Cardiology Open Access 14 July 2022

Chang Geun Choi

,

Deok Jae Lee

…

Yong Hoon Joo

Applied Biological Chemistry Open Access 23 May 2022
Access options
Subscribe to Journal
Get full journal access for 1 year
$199.00
only $3.90 per issue
All prices are NET prices.
VAT will be added later in the checkout.
Tax calculation will be finalised during checkout.
Buy article
Get time limited or full article access on ReadCube.
$32.00
All prices are NET prices.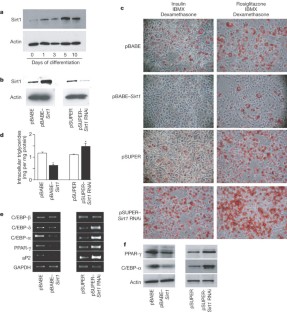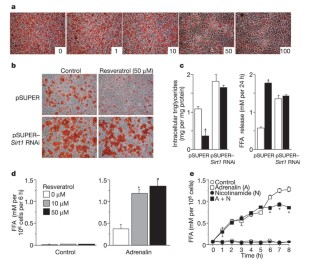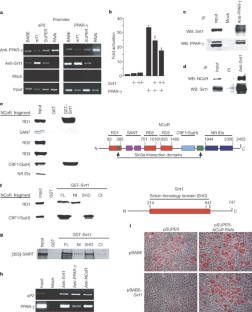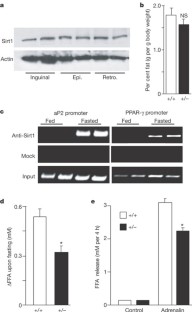 References
Koubova, J. & Guarente, L. How does calorie restriction work? Genes Dev. 17, 313–321 (2003)

Lin, S. J., Defossez, P. A. & Guarente, L. Requirement of NAD and SIR2 for life-span extension by calorie restriction in Saccharomyces cerevisiae. Science 289, 2126–2128 (2000)

Blüher, M., Kahn, B. B. & Kahn, C. R. Extended longevity in mice lacking the insulin receptor in adipose tissue. Science 299, 572–574 (2003)

Weindruch, R. & Walford, R. L. The Retardation of Aging and Disease by Dietary Restriction (C. C. Thomas, Springfield, Illinois, 1988)

Lin, S. J. et al. Calorie restriction extends Saccharomyces cerevisiae lifespan by increasing respiration. Nature 418, 344–348 (2002)

Kaeberlein, M., McVey, M. & Guarente, L. The SIR2/3/4 complex and SIR2 alone promote longevity in Saccharomyces cerevisiae by two different mechanisms. Genes Dev. 13, 2570–2580 (1999)

Tissenbaum, H. A. & Guarente, L. Increased dosage of a sir-2 gene extends lifespan in Caenorhabditis elegans. Nature 410, 227–230 (2001)

Green, H. & Kehinde, O. Sublines of mouse 3T3 cells that accumulate lipid. Cell 1, 113–116 (1974)

Tontonoz, P., Hu, E. & Spiegelman, B. M. Stimulation of adipogenesis in fibroblasts by PPARγ2, a lipid-activated transcription factor. Cell 79, 1147–1156 (1994)

Rosen, E. D. & Spiegelman, B. M. Molecular regulation of adipogenesis. Annu. Rev. Cell Dev. Biol. 16, 145–171 (2000)

Nakae, J. et al. The forkhead transcription factor Foxo1 regulates adipocyte differentiation. Dev. Cell 4, 119–129 (2003)

Kenyon, C. A conserved regulatory system for aging. Cell 105, 165–168 (2001)

Tontonoz, P., Hu, E., Graves, R. A., Budavari, A. I. & Spiegelman, B. M. mPPARγ2: tissue-specific regulator of an adipocyte enhancer. Genes Dev. 8, 1224–1234 (1994)

Ren, D., Collingwood, T. N., Rebar, E. J., Wolffe, A. P. & Camp, H. S. PPARγ knockdown by engineered transcription factors: exogenous PPARγ2 but not PPARγ1 reactivates adipogenesis. Genes Dev. 16, 27–32 (2002)

Howitz, K. T. et al. Small molecule activators of sirtuins extend Saccharomyces cerevisiae lifespan. Nature 425, 191–196 (2003)

Fulco, M. et al. Sir2 regulates skeletal muscle differentiation as a potential sensor of the redox state. Mol. Cell 12, 51–62 (2003)

Motta, M. C. et al. Mammalian SIRT1 represses forkhead transcription factors. Cell 116, 551–563 (2004)

Brunet, A. et al. Stress-dependent regulation of FOXO transcription factors by the SIRT1 deacetylase. Science 303, 2011–2015 (2004)

Tamori, Y., Masugi, J., Nishino, N. & Kasuga, M. Role of peroxysome proliferator-activated receptor-γ in maintenance of the characteristics of mature 3T3–L1 adipocytes. Diabetes 51, 2045–2055 (2002)

Dowell, P. et al. Identification of nuclear receptor corepressor as a peroxisome proliferator-activated receptor alpha interacting protein. J. Biol. Chem. 274, 15901–15907 (1999)

McBurney, M. W. et al. The mammalian SIR2α protein has a role in embryogenesis and gametogenesis. Mol. Cell. Biol. 23, 38–54 (2003)

Lin, S.-J., Ford, E., Haigis, M., Liszt, G. & Guarente, L. Calorie restriction extends yeast life span by lowering the level of NADH. Genes Dev. 18, 12–16 (2004)

Gabriely, I. & Barzilai, N. The role of fat cell derived peptides in age-related metabolic alterations. Mech. Ageing Dev. 122, 1565–1576 (2001)

Miles, P. D., Barak, Y., Evans, R. M. & Olefsky, J. M. Effect of heterozygous PPARγ deficiency and TZD treatment on insulin resistance associated with age and high-fat feeding. Am. J. Physiol. 284, E618–E626 (2003)

Marette, A., Deshaies, Y., Collet, A. J., Tulp, O. & Bukowiecki, L. J. Major thermogenic defect associated with insulin resistance in brown adipose tissue of obese diabetic SHR/N-cp rats. Am. J. Physiol. 261, E204–E213 (1991)

Forman, B. M. et al. 15-Deoxy-Δ12,14 prostaglandin J2 is a ligand for the adipocyte determination factor PPARγ. Cell 83, 803–812 (1995)

Le Lay, S., Lefrère, I., Trautwein, C., Dugail, I. & Krief, S. Insulin and sterol-regulatory element-binding protein-1c (SREBP-1c) regulation of gene expression in 3T3–L1 adipocytes. J. Biol. Chem. 277, 35625–35634 (2002)

Fajas, L. et al. E2Fs regulate adipocyte differentiation. Dev. Cell 3, 39–49 (2002)

Langley, E. et al. Human SIR2 deacetylates p53 and antagonizes PML/p53-induced cellular senescence. EMBO J. 21, 2383–2396 (2002)

Dowell, P., Peterson, V. J., Zabriskie, M. & Leid, M. Ligand-induced peroxisome proliferator-activated receptor alpha conformational change. J. Biol. Chem. 272, 2013–2020 (1997)
Acknowledgements
We thank B. Spiegelman for the gift of constructs and for discussion; T. Kouzarides and T. Heinzel for Sirt1 and NCoR constructs, respectively; and R. Frye for the anti-Sirt1 antiserum. The Guarente laboratory was supported by grants from the NIH, the Ellison Medical Foundation, and the Howard and Linda Stern Fund. Studies in the Leid laboratory were supported by grants from the National Institutes of Health and by a NIEHS Center grant to the Oregon State University Environmental Health Sciences Center. T.S. was supported by a graduate fellowship from the Royal Thai Government. R.M.O. is supported by the Portuguese Foundation for Science and Technology. M.K. is a Howard Hughes undergraduate research fellow. F.P. was supported in part by a postdoctoral fellowship from the Canadian Institutes of Health Research.
Ethics declarations
Competing interests
L. Guarente is a founder, consultant and stockholder of Elixir Pharmaceuticals.
About this article
Cite this article
Picard, F., Kurtev, M., Chung, N. et al. Sirt1 promotes fat mobilization in white adipocytes by repressing PPAR-γ. Nature 429, 771–776 (2004). https://doi.org/10.1038/nature02583
Received:

Accepted:

Published:

Issue Date:

DOI: https://doi.org/10.1038/nature02583
Comments
By submitting a comment you agree to abide by our Terms and Community Guidelines. If you find something abusive or that does not comply with our terms or guidelines please flag it as inappropriate.