Abstract
Organ-specific metastasis is governed, in part, by interactions between chemokine receptors on cancer cells and matching chemokines in target organs. For example, malignant breast cancer cells express the chemokine receptor CXCR4 and commonly metastasize to organs that are an abundant source of the CXCR4-specific ligand stromal cell-derived factor-1α (ref. 1). It is still uncertain how an evolving tumour cell is reprogrammed to express CXCR4, thus implementing the tendency to metastasize to specific organs. Here we show that the von Hippel–Lindau tumour suppressor protein pVHL negatively regulates CXCR4 expression owing to its capacity to target hypoxia-inducible factor (HIF) for degradation under normoxic conditions. This process is suppressed under hypoxic conditions, resulting in HIF-dependent CXCR4 activation. An analysis of clear cell renal carcinoma that manifests mutation of the VHL gene in most cases revealed an association of strong CXCR4 expression with poor tumour-specific survival. These results suggest a mechanism for CXCR4 activation during tumour cell evolution and imply that VHL inactivation acquired by incipient tumour cells early in tumorigenesis confers not only a selective survival advantage but also the tendency to home to selected organs.
Access options
Subscribe to Journal
Get full journal access for 1 year
$199.00
only $3.90 per issue
All prices are NET prices.
VAT will be added later in the checkout.
Tax calculation will be finalised during checkout.
Rent or Buy article
Get time limited or full article access on ReadCube.
from$8.99
All prices are NET prices.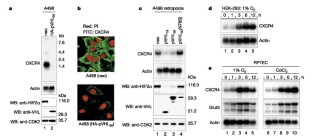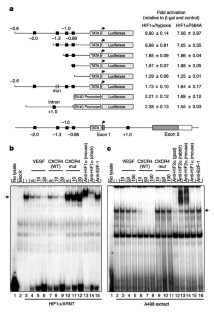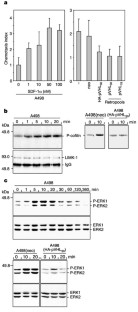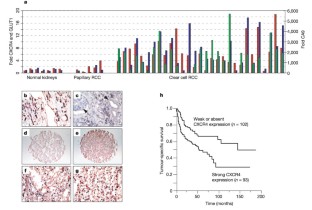 References
1

Müller, A. et al. Involvement of chemokine receptors in breast cancer metastasis. Nature 410, 50–56 (2001)

2

Kaelin, W. G. Jr Molecular basis of the VHL hereditary cancer syndrome. Nature Rev. Cancer 2, 673–682 (2002)

3

Semenza, G. L. HIF-1 and tumor progression: Pathophysiology and therapeutics. Trends Mol. Med. 8, S62–S67 (2002)

4

Pugh, C. W. & Ratcliffe, P. J. The von Hippel–Lindau tumor suppressor, hypoxia-inducible factor-1 (HIF-1) degradation, and cancer pathogenesis. Semin. Cancer Biol. 13, 83–89 (2003)

5

Iliopoulos, O., Levy, A. P., Jiang, C., Kaelin, W. G. Jr & Goldberg, M. A. Negative regulation of hypoxia-inducible genes by the von Hippel–Lindau protein. Proc. Natl Acad. Sci. USA 93, 10595–10599 (1996)

6

Wiesener, M. S. et al. Constitutive activation of hypoxia-inducible genes related to overexpression of hypoxia-inducible factor-1α in clear cell renal carcinomas. Cancer Res. 61, 5215–5222 (2001)

7

Mandriota, S. J. et al. HIF activation identifies early lesions in VHL kidneys: evidence for site-specific tumor suppressor function in the nephron. Cancer Cell 1, 459–468 (2002)

8

Bleul, C. C. et al. The lymphocyte chemoattractant SDF-1 is a ligand for LESTR/fusin and blocks HIV-1 entry. Nature 382, 829–833 (1996)

9

Oberlin, E. et al. The CXC chemokine SDF-1 is the ligand for LESTR/fusin and prevents infection by T-cell-line-adapted HIV-1. Nature 382, 833–835 (1996)

10

Forster, R. et al. CCR7 coordinates the primary immune response by establishing functional microenvironments in secondary lymphoid organs. Cell 99, 23–33 (1999)

11

Peled, A. et al. Dependence of human stem cell engraftment and repopulation of NOD/SCID mice on CXCR4. Science 283, 845–848 (1999)

12

Chambers, A. F., Groom, A. C. & MacDonald, I. C. Dissemination and growth of cancer cells in metastatic sites. Nature Rev. Cancer 2, 563–572 (2002)

13

Liotta, L. A. An attractive force in metastasis. Nature 410, 24–25 (2001)

14

Clifford, S. C. et al. Contrasting effects on HIF-1α regulation by disease-causing pVHL mutations correlate with patterns of tumorigenesis in von Hippel–Lindau disease. Hum. Mol. Genet. 10, 1029–1038 (2001)

15

Maxwell, P. H. et al. Hypoxia-inducible factor-1 modulates gene expression in solid tumors and influences both angiogenesis and tumor growth. Proc. Natl Acad. Sci. USA 94, 8104–8109 (1997)

16

Nishita, M., Aizawa, H. & Mizuno, K. Stromal cell-derived factor 1α activates LIM kinase 1 and induces cofilin phosphorylation for T-cell chemotaxis. Mol. Cell. Biol. 22, 774–783 (2002)

17

Arber, S. et al. Regulation of actin dynamics through phosphorylation of cofilin by LIM-kinase. Nature 393, 805–809 (1998)

18

Aebersold, D. M. et al. Expression of hypoxia-inducible factor-1α: A novel predictive and prognostic parameter in the radiotherapy of oropharyngeal cancer. Cancer Res. 61, 2911–2916 (2001)

19

Harris, A. L. Hypoxia—a key regulatory factor in tumour growth. Nature Rev. Cancer 2, 38–47 (2002)

20

Semenza, G. Signal transduction to hypoxia-inducible factor 1. Biochem. Pharmacol. 64, 993–998 (2002)

21

Rempel, S. A., Dudas, S., Ge, S. & Gutierrez, J. A. Identification and localization of the cytokine SDF1 and its receptor, CXC chemokine receptor 4, to regions of necrosis and angiogenesis in human glioblastoma. Clin. Cancer Res. 6, 102–111 (2000)

22

Bernards, R. & Weinberg, R. A. A progression puzzle. Nature 418, 823 (2002)

23

Hergovich, A., Lisztwan, J., Barry, R., Ballschmieter, P. & Krek, W. Regulation of microtubule stability by the von Hippel–Lindau tumour suppressor protein pVHL. Nature Cell Biol. 5, 64–70 (2003)

24

Takahashi, Y., Takahashi, S., Shiga, Y., Yoshimi, T. & Miura, T. Hypoxic induction of prolyl 4-hydroxylase α (I) in cultured cells. J. Biol. Chem. 275, 14139–14146 (2000)

25

Wang, G. L. & Semenza, G. L. Purification and characterization of hypoxia-inducible factor 1. J. Biol. Chem. 270, 1230–1237 (1995)

26

Lisztwan, J. et al. Association of human CUL-1 and ubiquitin-conjugating enzyme CDC34 with the F-box protein p45(SKP2): Evidence for evolutionary conservation in the subunit composition of the CDC34-SCF pathway. EMBO J. 17, 368–383 (1998)

27

Amara, A. et al. HIV coreceptor downregulation as antiviral principle: SDF-1α-dependent internalization of the chemokine receptor CXCR4 contributes to inhibition of HIV replication. J. Exp. Med. 186, 139–146 (1997)

28

Moch, H. et al. High-throughput tissue microarray analysis to evaluate genes uncovered by cDNA microarray screening in renal cell carcinoma. Am. J. Pathol. 154, 981–986 (1999)

29

Moch, H. et al. Prognostic utility of the recently recommended histologic classification and revised TNM staging system of renal cell carcinoma: A Swiss experience with 588 tumors. Cancer 89, 604–614 (2000)

30

Pastorekova, S., Zavadova, Z., Kostal, M., Babusikova, O. & Zavada, J. A novel quasi-viral agent, MaTu, is a two-component system. Virology 187, 620–626 (1992)
Acknowledgements
We thank all members of the laboratory for discussions; K. Struckmann for providing the tumour RNA samples; G. Keller and B. Mohr for human GLUT3 and CXCR4 cDNAs, respectively; and R. Bernards, U. Muller, N. Hynes, G. Thomas and members of our laboratory for critically reading the manuscript. This work was supported by the Robert Wenner Award, the Dr Josef Steiner Foundation and the Novartis Research Foundation. H.M. is supported by a grant from the Swiss National Science Foundation. P.S. is supported by an EMBO long–term fellowship.
Ethics declarations
Competing interests
The authors declare that they have no competing financial interests.
Supplementary information
About this article
Cite this article
Staller, P., Sulitkova, J., Lisztwan, J. et al. Chemokine receptor CXCR4 downregulated by von Hippel–Lindau tumour suppressor pVHL. Nature 425, 307–311 (2003). https://doi.org/10.1038/nature01874
Received:

Accepted:

Issue Date:
Comments
By submitting a comment you agree to abide by our Terms and Community Guidelines. If you find something abusive or that does not comply with our terms or guidelines please flag it as inappropriate.