Abstract
Modern pain-control theory1 predicts that a loss of inhibition (disinhibition) in the dorsal horn of the spinal cord is a crucial substrate for chronic pain syndromes2. However, the nature of the mechanisms that underlie such disinhibition has remained controversial3,4,5,6. Here we present evidence for a novel mechanism of disinhibition following peripheral nerve injury. It involves a trans-synaptic reduction in the expression of the potassium–chloride exporter KCC2, and the consequent disruption of anion homeostasis in neurons of lamina I of the superficial dorsal horn, one of the main spinal nociceptive output pathways7. In our experiments, the resulting shift in the transmembrane anion gradient caused normally inhibitory anionic synaptic currents to be excitatory, substantially driving up the net excitability of lamina I neurons. Local blockade or knock-down of the spinal KCC2 exporter in intact rats markedly reduced the nociceptive threshold, confirming that the reported disruption of anion homeostasis in lamina I neurons was sufficient to cause neuropathic pain.
This is a preview of subscription content
Access options
Subscribe to Journal
Get full journal access for 1 year
$199.00
only $3.90 per issue
All prices are NET prices.
VAT will be added later in the checkout.
Tax calculation will be finalised during checkout.
Buy article
Get time limited or full article access on ReadCube.
$32.00
All prices are NET prices.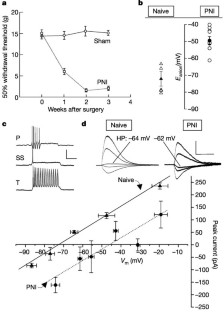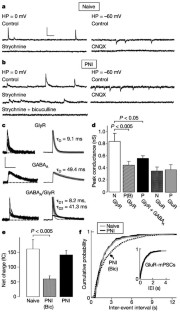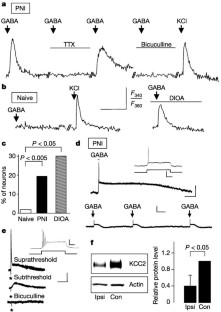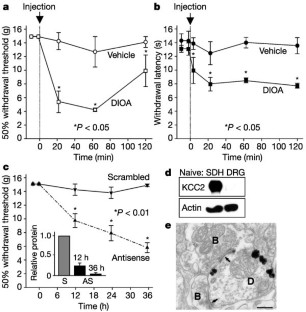 References
Melzack, R. & Wall, P. D. Pain mechanisms: a new theory. Science 150, 971–979 (1965)

Woolf, C. J. & Salter, M. W. Neuronal plasticity: increasing the gain in pain. Science 288, 1765–1769 (2000)

Kontinen, V. K., Stanfa, L. C., Basu, A. & Dickenson, A. H. Electrophysiologic evidence for increased endogenous GABAergic but not glycinergic inhibitory tone in the rat spinal nerve ligation model of neuropathy. Anesthesiology 94, 333–339 (2001)

Moore, K. A. et al. Partial peripheral nerve injury promotes a selective loss of GABAergic inhibition in the superficial dorsal horn of the spinal cord. J. Neurosci. 22, 6724–6731 (2002)

Somers, D. L. & Clemente, F. R. Dorsal horn synaptosomal content of aspartate, glutamate, glycine and GABA are differentially altered following chronic constriction injury to the rat sciatic nerve. Neurosci. Lett. 323, 171–174 (2002)

Polgar, E. et al. Selective loss of spinal GABAergic or glycinergic neurons is not necessary for development of thermal hyperalgesia in the chronic constriction injury model of neuropathic pain. Pain 104, 229–239 (2003)

Light, A. R. The Initial Processing of Pain (Karger, Basel, 1992)

van den Pol, A. N., Obrietan, K. & Chen, G. Excitatory actions of GABA after neuronal trauma. J. Neurosci. 16, 4283–4292 (1996)

Pitcher, G. M. & Henry, J. L. Cellular mechanisms of hyperalgesia and spontaneous pain in a spinalized rat model of peripheral neuropathy: changes in myelinated afferent inputs implicated. Eur. J. Neurosci. 12, 2006–2020 (2000)

Ebihara, S., Shirato, K., Harata, N. & Akaike, N. Gramicidin-perforated patch recording: GABA response in mammalian neurones with intact intracellular chloride. J. Physiol. (Lond.) 484, 77–86 (1995)

Keller, A. F., Coull, J. A., Chery, N., Poisbeau, P. & de Koninck, Y. Region-specific developmental specialization of GABA-glycine cosynapses in laminas I–II of the rat spinal dorsal horn. J. Neurosci. 21, 7871–7880 (2001)

Nabekura, J. et al. Reduction of KCC2 expression and GABAA receptor-mediated excitation after in vivo axonal injury. J. Neurosci. 22, 4412–4417 (2002)

Hubner, C. A. et al. Disruption of KCC2 reveals an essential role of K–Cl cotransport already in early synaptic inhibition. Neuron 30, 515–524 (2001)

Ganguly, K., Schinder, A. F., Wong, S. T. & Poo, M. GABA itself promotes the developmental switch of neuronal GABAergic responses from excitation to inhibition. Cell 105, 521–532 (2001)

Bernander, O., Douglas, R. J., Martin, K. A. & Koch, C. Synaptic background activity influences spatiotemporal integration in single pyramidal cells. Proc. Natl Acad. Sci. USA 88, 11569–11573 (1991)

Cook, A. J., Woolf, C. J., Wall, P. D. & McMahon, S. B. Dynamic receptive field plasticity in rat spinal cord dorsal horn following C-primary afferent input. Nature 325, 151–153 (1987)

Blomqvist, A. & Craig, A. D. Is neuropathic pain caused by the activation of nociceptive-specific neurons due to anatomic sprouting in the dorsal horn? J. Comp. Neurol. 428, 1–4 (2000)

Rudomin, P. & Schmidt, R. F. Presynaptic inhibition in the vertebrate spinal cord revisited. Exp. Brain Res. 129, 1–37 (1999)

Hwang, J. H. & Yaksh, T. L. The effect of spinal GABA receptor agonists on tactile allodynia in a surgically-induced neuropathic pain model in the rat. Pain 70, 15–22 (1997)

Malan, T. P., Mata, H. P. & Porreca, F. Spinal GABAA and GABAB receptor pharmacology in a rat model of neuropathic pain. Anesthesiology 96, 1161–1167 (2002)

Staley, K. J., Soldo, B. L. & Proctor, W. R. Ionic mechanisms of neuronal excitation by inhibitory GABAA receptors. Science 269, 977–981 (1995)

Coderre, T. J. & Melzack, R. The contribution of excitatory amino acids to central sensitization and persistent nociception after formalin-induced tissue injury. J. Neurosci. 12, 3665–3670 (1992)

Serpell, M. G. Gabapentin in neuropathic pain syndromes: a randomised, double-blind, placebo-controlled trial. Pain 99, 557–566 (2002)

Rabben, T., Skjelbred, P. & Oye, I. Prolonged analgesic effect of ketamine, an N-methyl-d-aspartate receptor inhibitor, in patients with chronic pain. J. Pharmacol. Exp. Ther. 289, 1060–1066 (1999)

Martin, T. J. & Eisenach, J. C. Pharmacology of opioid and nonopioid analgesics in chronic pain states. J. Pharmacol. Exp. Ther. 299, 811–817 (2001)

Farber, N. B., Jiang, X. P., Heinkel, C. & Nemmers, B. Antiepileptic drugs and agents that inhibit voltage-gated sodium channels prevent NMDA antagonist neurotoxicity. Mol. Psychiatry 7, 726–733 (2002)

Mosconi, T. & Kruger, L. Fixed-diameter polyethylene cuffs applied to the rat sciatic nerve induce a painful neuropathy: ultrastructural morphometric analysis of axonal alterations. Pain 64, 37–57 (1996)

Coderre, T. J. & Van, E. I. The utility of excitatory amino acid (EAA) antagonists as analgesic agents. I. Comparison of the antinociceptive activity of various classes of EAA antagonists in mechanical, thermal and chemical nociceptive tests. Pain 59, 345–352 (1994)

Rivera, C. et al. The K+/Cl- co-transporter KCC2 renders GABA hyperpolarizing during neuronal maturation. Nature 397, 251–255 (1999)

Prescott, S. A. & de Koninck, Y. Four cell types with distinctive membrane properties and morphologies in lamina I of the spinal dorsal horn of the adult rat. J. Physiol. (Lond.) 539, 817–836 (2002)
Acknowledgements
Supported by Canadian Institutes of Health Research (CIHR) grants to Y.D.K. and A.S., and a grant from the Burroughs Wellcome Fund (BWF) to P.D.K. J.A.M.C. is the recipient of a CIHR doctoral award. P.D.K. is the recipient of a career award from the BWF. Y.D.K. and A.S. are scholars of the Fonds de la recherche en santé du Québec (FRSQ). We thank C. M. Cahill for help with some of the Ca2+ measurements, L. Pellegrini for advice on the quantification of immunoblotting, and O. Szalay for technical assistance. We also thank F. J. Alvarez, M. Deschênes, P. Drapeau and M. W. Salter for critical comments on the manuscript.
Ethics declarations
Competing interests
The authors declare that they have no competing financial interests.
Supplementary information
About this article
Cite this article
Coull, J., Boudreau, D., Bachand, K. et al. Trans-synaptic shift in anion gradient in spinal lamina I neurons as a mechanism of neuropathic pain. Nature 424, 938–942 (2003). https://doi.org/10.1038/nature01868
Received:

Accepted:

Issue Date:

DOI: https://doi.org/10.1038/nature01868
Comments
By submitting a comment you agree to abide by our Terms and Community Guidelines. If you find something abusive or that does not comply with our terms or guidelines please flag it as inappropriate.