Abstract
p53 is activated in response to various genotoxic stresses resulting in cell cycle arrest or apoptosis1,2. It is well documented that DNA damage leads to phosphorylation and activation of p53 (refs 1–3), yet how p53 is activated is still not fully understood. Here we report that DNA damage specifically induces p53 phosphorylation on Ser/Thr-Pro motifs, which facilitates its interaction with Pin1, a member of peptidyl-prolyl isomerase4,5,6,7,8,9. Furthermore, the interaction of Pin1 with p53 is dependent on the phosphorylation that is induced by DNA damage. Consequently, Pin1 stimulates the DNA-binding activity and transactivation function of p53. The Pin1-mediated p53 activation requires the WW domain, a phosphorylated Ser/Thr-Pro motif interaction module, and the isomerase activity of Pin1. Moreover, Pin1-deficient cells are defective in p53 activation and timely accumulation of p53 protein, and exhibit an impaired checkpoint control in response to DNA damage. Together, these data suggest a mechanism for p53 regulation in cellular response to genotoxic stress.
Relevant articles
Open Access articles citing this article.
Alexandra Born

,

Janne Soetbeer

…

Beat Vögeli

Nature Communications Open Access 04 August 2022

Lei Sun

,

He Yang

…

Min Zhang

Cell Death & Disease Open Access 14 May 2022

Francesca Fagiani

,

Stefano Govoni

…

Cristina Lanni

Molecular Neurobiology Open Access 21 October 2020
Access options
Subscribe to Journal
Get full journal access for 1 year
$199.00
only $3.90 per issue
All prices are NET prices.
VAT will be added later in the checkout.
Tax calculation will be finalised during checkout.
Buy article
Get time limited or full article access on ReadCube.
$32.00
All prices are NET prices.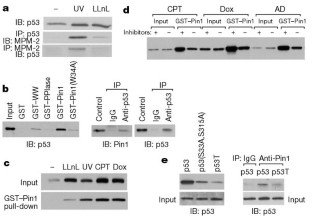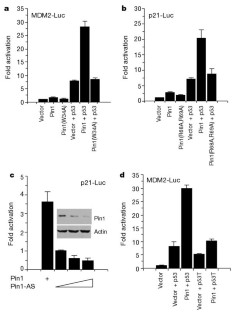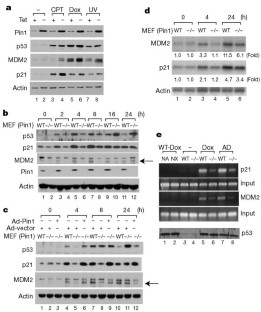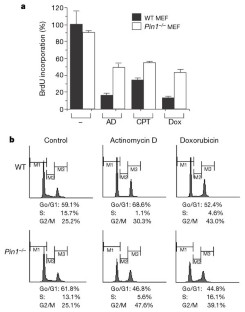 References
Lakin, N. D. & Jackson, S. P. Regulation of p53 in response to DNA damage. Oncogene 18, 7644–7655 (1999)

Woods, D. B. & Vousden, K. H. Regulation of p53 function. Exp. Cell Res. 264, 56–66 (2001)

Meek, D. W. Mechanisms of switching on p53: a role for covalent modification. Oncogene 18, 7666–7675 (1999)

Hunter, T. Prolyl isomerases and nuclear function. Cell 92, 141–143 (1998)

Lu, K. P. Phosphorylation-dependent prolyl isomerization: a novel cell cycle regulatory mechanism. Prog. Cell Cycle Res. 4, 83–96 (2000)

Lu, K. P., Hanes, S. D. & Hunter, T. A human peptidyl-prolyl isomerase essential for regulation of mitosis. Nature 380, 544–547 (1996)

Yaffe, M. B. et al. Sequence-specific and phosphorylation-dependent proline isomerization: a potential mitotic regulatory mechanism. Science 278, 1957–1960 (1997)

Ranganathan, R., Lu, K. P., Hunter, T. & Noel, J. P. Structural and functional analysis of the mitotic rotamase Pin1 suggests substrate recognition is phosphorylation dependent. Cell 89, 875–886 (1997)

Stukenberg, P. T. & Kirschner, M. W. Pin1 acts catalytically to promote a conformational change in cdc25. Mol. Cell 7, 1071–1083 (2001)

Nigg, E. A. Cyclin-dependent protein kinases: key regulators of the eukaryotic cell cycle. Bioessays 17, 471–480 (1995)

Sudol, M. & Hunter, T. New wrinkles for an old domain. Cell 103, 1001–1004 (2000)

Davis, F. M., Tsao, T. Y., Fowler, S. K. & Rao, P. N. Monoclonal antibodies to mitotic cells. Proc. Natl Acad. Sci. USA 80, 2926–2930 (1983)

Shen, M., Stukenberg, P. T., Kirschner, M. W. & Lu, K. P. The essential mitotic peptidyl-prolyl isomerase Pin1 binds to and regulates mitosis-specific phosphoproteins. Genes Dev. 12, 706–720 (1998)

Lu, P. J., Zhou, X. Z., Shen, M. & Lu, K. P. Function of WW domains as phosphoserine- or phosphothreonine-binding modules. Science 283, 1325–1328 (1999)

Bulavin, D. V. et al. Phosphorylation of human p53 by p38 kinase coordinates N-terminal phosphorylation and apoptosis in response to UV radiation. EMBO J. 18, 6845–6854 (1999)

Sanchez-Prieto, R., Rojas, J. M., Taya, Y. & Gutkind, J. S. A role for the p38 mitogen-acitvated protein kinase pathway in the transcriptional activation of p53 on genotoxic stress by chemotherapeutic agents. Cancer Res. 60, 2464–2472 (2000)

Buschmann, T. et al. Jun NH2-terminal kinase phosphorylation of p53 on Thr-81 is important for p53 stabilization and transcriptional activities in response to stress. Mol. Cell Biol. 21, 2743–2754 (2001)

Milner, J., Cook, A. & Mason, J. p53 is associated with p34 cdc2 in transformed cells. EMBO J. 9, 2885–2889 (1990)

Wang, Y. & Prives, C. Increased and altered DNA binding of human p53 by S and G2/M but not G1 cyclin-dependent kinases. Nature 376, 88–91 (1995)

Blaydes, J. P. et al. Stoichiometric phosphorylation of human p53 at Ser315 stimulates p53-dependent transcription. J. Biol. Chem. 276, 4699–4708 (2001)

Rippmann, J. F. et al. Phosphorylation-dependent proline isomerization catalyzed by Pin1 is essential for tumour cell survival and entry into mitosis. Cell Growth Differ. 11, 409–416 (2000)

Flores, E. R. et al. p63 and p73 are required for p53-dependent apoptosis in response to DNA damage. Nature 416, 560–564 (2002)

Hsu, T., McRackan, D., Vincent, T. S. & Gert De Couet, H. Drosophila Pin1 prolyl isomerase Dodo is a MAP kinase signal responder during oogenesis. Nature Cell Biol. 3, 538–543 (2001)

Winkler, K. E., Swenson, K. I., Kornbluth, S. & Means, A. R. Requirement of the prolyl isomerase Pin1 for the replication checkpoint. Science 287, 1644–1647 (2000)

You, H. et al. IGF-1 induces Pin1 expression in promoting cell cycle S-phase entry. J. Cell Biochem. 84, 211–216 (2002)

Ryo, A., Nakamura, M., Wulf, G. G., Liou, Y.-C. & Lu, K. L. Prolyl isomerase Pin1 regulates turnover and subcellular localization of b-catenin by inhibiting its interaction with APC. Nature Cell Biol. 3, 793–801 (2001)

Wulf, G. M. et al. Pin1 is overexpressed in breast cancer and cooperates with Ras signaling in increasing the transcriptional activity of c-Jun towards cyclin D1. EMBO J. 20, 3459–3472 (2001)

Liou, Y. C. et al. Loss of Pin1 function in the mouse causes phenotypes resembling cyclin D1-null phenotypes. Proc. Natl Acad. Sci. USA 22, 1335–1340 (2002)

Xiao, Z. X. et al. Interaction between the retinoblastoma protein and the oncoprotein MDM2. Nature 375, 694–698 (1995)

He, T. C. et al. A simplified system for generating recombinant adenoviruses. Proc. Natl Acad. Sci. USA 95, 2509–2514 (1998)
Acknowledgements
We thank B. Vogelstein, K. Vousden and T. Jacks for plasmids; J. Chen for 2A-10 antibody; and G. Del Sal for discussion and sharing unpublished data. We also thank E. R. Flores for E1A-retrovirus and advice on ChIP analysis, and Y. Zhang for technical assistance on cell cycle analysis. This work was supported by the NIH (Z.-X.X) and Department of Defense (Z.-X.X).
Ethics declarations
Competing interests
The authors declare that they have no competing financial interests.
Supplementary information
About this article
Cite this article
Zheng, H., You, H., Zhou, X. et al. The prolyl isomerase Pin1 is a regulator of p53 in genotoxic response. Nature 419, 849–853 (2002). https://doi.org/10.1038/nature01116
Received:

Accepted:

Published:

Issue Date:

DOI: https://doi.org/10.1038/nature01116
Comments
By submitting a comment you agree to abide by our Terms and Community Guidelines. If you find something abusive or that does not comply with our terms or guidelines please flag it as inappropriate.