Abstract
The early division cycles of an embryo rely on the oocyte's ability to replicate DNA. During meiosis, oocytes temporarily lose this ability. After a single round of pre-meiotic S-phase, oocytes enter meiosis and rapidly arrest at prophase of meiosis I (G2)1. Upon hormonal stimulation, arrested oocytes resume meiosis, re-establish DNA replication competence in meiosis I shortly after germinal vesicle breakdown (GVBD), but repress replication until fertilization2,3. How oocytes lose and regain replication competence during meiosis are important questions underlying the production of functional gametes. Here we show that the inability of immature Xenopus oocytes to replicate is linked to the absence of the Cdc6 protein and the cytoplasmic localization of other initiation proteins. Injection of Cdc6 protein into immature oocytes does not induce DNA replication. However, injection of Cdc6 into oocytes undergoing GVBD is sufficient to induce DNA replication in the absence of protein synthesis. Our results show that GVBD and Cdc6 synthesis are the only events that limit the establishment of the oocyte's replication competence during meiosis.
Relevant articles
Open Access articles citing this article.
Elizabeth H. Peuchen

,

Olivia F. Cox

…

Paul W. Huber

Scientific Reports Open Access 15 November 2017
Access options
Subscribe to Journal
Get full journal access for 1 year
$199.00
only $3.90 per issue
All prices are NET prices.
VAT will be added later in the checkout.
Tax calculation will be finalised during checkout.
Buy article
Get time limited or full article access on ReadCube.
$32.00
All prices are NET prices.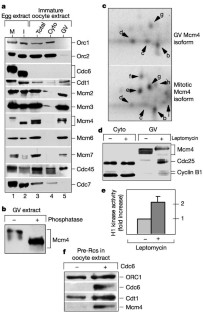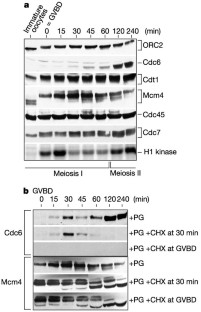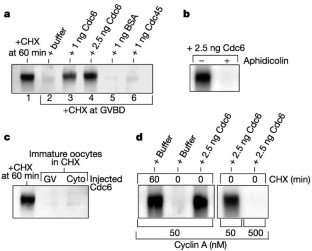 References
Gurdon, J. B. On the origin and persistence of a cytoplasmic state inducing nuclear DNA synthesis in frogs' eggs. Proc. Natl Acad. Sci. USA 58, 545–552 (1967)

Sagata, N. What does Mos do in oocytes and somatic cells? Bioessays 19, 13–21 (1997)

Furuno, N. et al. Suppression of DNA replication via Mos function during meiotic divisions in Xenopus oocytes. EMBO J. 13, 2399–2410 (1994)

Laskey, R. A., Harland, R. M. & Mechali, M. Induction of chromosome replication during maturation of amphibian oocytes. Ciba Found. Symp. 98, 25–43 (1983)

Cox, L. S. & Leno, G. H. Extracts from eggs and oocytes of Xenopus laevis differ in their capacities for nuclear assembly and DNA replication. J. Cell Sci. 97 Pt 1, 177–184 (1990)

Kelly, T. J. & Brown, G. W. Regulation of chromosome replication. Annu. Rev. Biochem. 69, 829–880 (2000)

Diffley, J. F. DNA replication: building the perfect switch. Curr. Biol. 11, R367–R370 (2001)

Takisawa, H., Mimura, S. & Kubota, Y. Eukaryotic DNA replication: from pre-replication complex to initiation complex. Curr. Opin. Cell Biol. 12, 690–696 (2000)

Blow, J. J. Control of chromosomal DNA replication in the early Xenopus embryo. EMBO J. 20, 3293–3297 (2001)

Pereverzeva, I., Whitmire, E., Khan, B. & Coue, M. Distinct phosphoisoforms of the Xenopus Mcm4 protein regulate the function of the Mcm complex. Mol. Cell Biol. 20, 3667–3676 (2000)

Yang, J. et al. Control of cyclin B1 localization through regulated binding of the nuclear export factor CRM1. Genes Dev. 12, 2131–2143 (1998)

Yang, J., Winkler, K., Yoshida, M. & Kornbluth, S. Maintenance of G2 arrest in the Xenopus oocyte: a role for 14-3-3-mediated inhibition of Cdc25 nuclear import. EMBO J. 18, 2174–2183 (1999)

Li, J., Meyer, A. N. & Donoghue, D. J. Nuclear localization of cyclin B1 mediates its biological activity and is regulated by phosphorylation. Proc. Natl Acad. Sci. USA 94, 502–507 (1997)

Labib, K., Diffley, J. F. & Kearsey, S. E. G1-phase and B-type cyclins exclude the DNA-replication factor Mcm4 from the nucleus. Nature Cell Biol. 1, 415–422 (1999)

Nguyen, V. Q., Co, C., Irie, K. & Li, J. J. Clb/Cdc28 kinases promote nuclear export of the replication initiator proteins Mcm2-7. Curr. Biol. 10, 195–205 (2000)

Swenson, K. I., Farrell, K. M. & Ruderman, J. V. The clam embryo protein cyclin A induces entry into M phase and the resumption of meiosis in Xenopus oocytes. Cell 47, 861–870 (1986)

Roy, L. M. et al. Activation of p34cdc2 kinase by cyclin A. J. Cell Biol. 113, 507–514 (1991)

Sato, N., Arai, K. & Masai, H. Human and Xenopus cDNAs encoding budding yeast Cdc7-related kinases: in vitro phosphorylation of MCM subunits by a putative human homologue of Cdc7. EMBO J. 16, 4340–4351 (1997)

Jiang, W. & Hunter, T. Identification and characterization of a human protein kinase related to budding yeast Cdc7p. Proc. Natl Acad. Sci. USA 94, 14320–14325 (1997)

Leno, G. H. & Laskey, R. A. DNA replication in cell-free extracts from Xenopus laevis. Methods Cell Biol. 36, 561–579 (1991)

Coleman, T. R., Carpenter, P. B. & Dunphy, W. G. The Xenopus Cdc6 protein is essential for the initiation of a single round of DNA replication in cell-free extracts. Cell 87, 53–63 (1996)

Mimura, S. & Takisawa, H. Xenopus Cdc45-dependent loading of DNA polymerase alpha onto chromatin under the control of S-phase Cdk. EMBO J. 17, 5699–5707 (1998)

Findeisen, M., El-Denary, M., Kapitza, T., Graf, R. & Strausfeld, U. Cyclin A-dependent kinase activity affects chromatin binding of ORC, Cdc6, and MCM in egg extracts of Xenopus laevis. Eur. J. Biochem. 264, 415–426 (1999)

Natale, D. A., Li, C. J., Sun, W. H. & DePamphilis, M. L. Selective instability of ORC1 protein accounts for the absence of functional origin recognition complexes during the M-G(1) transition in mammals. EMBO J. 19, 2728–2738 (2000)

Todorov, I. T., Attaran, A. & Kearsey, S. E. BM28, a human member of the MCM2-3-5 family, is displaced from chromatin during DNA replication. J. Cell Biol. 129, 1433–1445 (1995)

Madine, M. A., Khoo, C. Y., Mills, A. D. & Laskey, R. A. MCM3 complex required for cell cycle regulation of DNA replication in vertebrate cells. Nature 375, 421–424 (1995)

Kubota, Y. et al. Licensing of DNA replication by a multi-protein complex of MCM/P1 proteins in Xenopus eggs. EMBO J. 16, 3320–3331 (1997)

Lemaître, J. M., Bocquet, S. & Méchali, M. Competence to replicate in the unfertilized egg is conferred by Cdc6 during meiotic maturation. Nature 419, 718–722 (2002)

Fisher, D., Coux, O., Bompard-Marechal, G. & Doree, M. Germinal vesicle material is dispensable for oscillations in cdc2 and MAP kinase activities, cyclin B degradation and synthesis during meiosis in Xenopus oocytes. Biol. Cell 90, 497–508 (1998)
Acknowledgements
We thank M. DePamphilis, M. Doree, W. Dunphy, T. Hunt, U. Strausfeld, H. Takisawa, I. Todorov and M. Yoshida for providing reagents and C. MacDonald, C. Pfarr, B. Schneider and S. Ravnik for critical reading of the manuscript. This work was supported by grants from the American Heart Association, South Plains Foundation and the NIH (to M.C.). E.W. was supported by a NIH training grant.
Ethics declarations
Competing interests
The authors declare that they have no competing financial interests.
Supplementary information
About this article
Cite this article
Whitmire, E., Khan, B. & Coué, M. Cdc6 synthesis regulates replication competence in Xenopus oocytes. Nature 419, 722–725 (2002). https://doi.org/10.1038/nature01032
Received:

Accepted:

Issue Date:

DOI: https://doi.org/10.1038/nature01032
This article is cited by
Elizabeth H. Peuchen
Olivia F. Cox
Paul W. Huber

Scientific Reports (2017)

Jean-Marc Lemaître
Stéphane Bocquet
Marcel Méchali

Nature (2002)
Comments
By submitting a comment you agree to abide by our Terms and Community Guidelines. If you find something abusive or that does not comply with our terms or guidelines please flag it as inappropriate.