Controversy over vessel's name may impede oceanographic collaboration.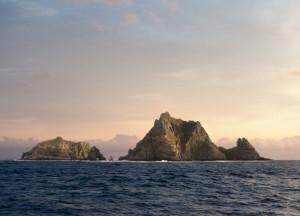 South Korea's flagship research ship Isabu seems to have sailed into a controversy with the Japanese government over its name. The incident has hindered some oceanographic research collaborations between the two countries.
The ship's name refers to a sixth-century Korean general, Kim Isabu. In South Korea, he is known for his maritime conquests, which in some historical accounts included two islets that are the subject of a decades-long territorial dispute between South Korea and Japan. Known as Dokdo in South Korea and Takeshima in Japan, the small islets are located roughly midway between the two countries, more than 200 kilometres from each mainland. The 5,900-tonne ship launched late last year and is currently cruising the Philippine Sea. Its name was an option in a public poll held by the ship's operator, the Korea Institute of Ocean Science and Technology in Ansan.
The Japanese government has issued no formal protest over the ship's name, but four scientists in South Korea and Japan have told Nature that researchers at Japan's national marine-research agency have been instructed not to participate in any collaborations or cruises involving Isabu. An e-mail sent in January by an official at the Japan Agency for Marine-Earth Science and Technology (JAMSTEC) in Yokusuka, and seen by Nature, suggests that the order came from Japan's science ministry. The e-mail states that the ministry cancelled a proposed agreement to allow JAMSTEC researchers to collaborate on the ship.
A senior researcher at JAMSTEC, who asked to remain anonymous, says that he and other JAMSTEC researchers have been told not to use the ship or any data it obtains.
JAMSTEC's actions regarding Isabu seem to be directed from more-senior officials. An e-mail sent earlier this year from a JAMSTEC staff member to an employee of a government-supported research institute in South Korea that is involved with Isabu suggests that JAMSTEC is acting on the wishes of its supervising authority, the Japanese Ministry of Education, Culture, Sports, Science and Technology (MEXT). The e-mail said: "We have consulted MEXT on your request to add the collaboration on the research activities using your new research vessel 'ISABU', and got a negative answer from MEXT due to a non-scientific reason." The e-mail goes on to state that JAMSTEC cannot "carry out the collaboration using your new research vessel".
When contacted by Nature, the JAMSTEC staff member who sent the e-mail declined to answer questions. JAMSTEC president Asahiko Tairatold Nature that he had no knowledge of that specific e-mail, and he had not issued an order, or personally received one from the government, prohibiting the organization's involvement with Isabu. But he says cooperation with South Korea using the ship "could be very difficult" and would require permission from MEXT. "The name of Isabu is a little bit unfortunate," he says, but he adds that JAMSTEC will remain involved with an ongoing 16-nation collaboration to survey the region between the Indian and Pacific oceans, to which South Korea has committed Isabu. Pulling out of the collaboration over South Korea's use of the ship would "be a pretty stupid thing to do", he says.
MEXT's director of deep-sea research, Tatsuya Watanabe, says that the ministry had discussed the South Korean ship with JAMSTEC, but would not comment on whether the ministry had instructed JAMSTEC to avoid collaborations on the ship, or whether the ministry had an issue with the ship's name.
So far, the controversy has disrupted at least one planned research project between researchers from both countries. A university-based Japanese marine scientist, who also asked for anonymity, says that he had planned a cruise on Isabu in collaboration with JAMSTEC before the tensions arose. But the agency's researchers have since told him that JAMSTEC instruments cannot be used on Isabu. His project will go ahead without the equipment, reducing the data resolution.
Sang-Mook Lee, a marine geophysicist at Seoul National University, says that disruptions to the two countries' research collaborations will restrict the ship's scientific capability. "Had we known that the Japanese would react in such a way, I don't think Koreans would have chosen the name," he says.
But the senior JAMSTEC researcher says that the dispute is unlikely to have a major impact on Japan's marine research because the country has its own research ships and marine projects. Even so, he is upset that the ship was given such a politically-charged name: "Scientists should be politically neutral."
Additional information
Additional reporting by Ichiko Fuyuno.
Related links
Related links
Related links in Nature Research
Related external links
About this article
Cite this article
Zastrow, M. Marine scientists allege Japan has blocked researchers from joining South Korean ship. Nature 549, 318–319 (2017). https://doi.org/10.1038/nature.2017.22621
Published:

Issue Date:

DOI: https://doi.org/10.1038/nature.2017.22621