Centre evaluates how public-health spending can improve mortality rates and disease burden, but many countries still do not record how people die.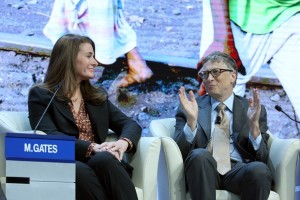 The world's premier centre for health metrics — the science of measuring and analysing global health problems, and how they relate to healthcare and biomedical research funding — will receive a US$279-million cash injection from the Bill & Melinda Gates Foundation.
The University of Washington's Institute for Health Metrics and Evaluation (IHME) in Seattle, also home town to the Gates Foundation, announced the funding boost on 25 January.
The cash will go towards expanding the institute's work over the next decade and consolidating its primacy in the field. It is considered by far the biggest and most influential research centre for health metrics, and its work informs the funding and policy decisions of many national governments and local, regional and global organizations, including the World Bank and the US National Institutes of Health.
Global Burden of Disease study
Health economist Christopher Murray, who has headed the IHME from the outset, helped to pioneer the field of health metrics in the 1990s when he was struck by the utter lack of data on who was dying or falling ill, of what and where in the world.
"If you are not measuring health well, then you don't know if the extraordinary $6–7 trillion spent annually on health care, is working, or if we are spending it in the right ways," says Murray.
The IHME coordinates in particular the Global Burden of Disease (GBD) study, a massive undertaking to estimate the causes of death and illness worldwide, and which many countries have used to inform funding and policy priorities. The first edition of the IHME's GBD, published as a series of papers in 2012, involved 488 researchers in 50 countries, who collaborated to present data from 1990–2010 analysing 291 diseases and injuries and 67 risk factors. The data covered 20 age groups in 187 countries, and took up a complete special triple issue of The Lancet. The latest edition, published in The Lancet last October, involved 1,870 specialists in 127 countries, and expands and updates the data to 2015.
Alan Lopez, who helped to launch the health metrics field with Murray in the 1990s and is an epidemiologist now at the University of Melbourne in Australia, is thrilled by the funding boost. "We were just two young guys believing in what we were doing," he says. "To see now the fact that someone as powerful and as influential as Bill Gates and the Gates Foundation believing in this enough to invest such a large amount of money for decades makes me delighted, and delighted for Chris, and for global-health epidemiology," he says.
"IHME is doing clever stuff — I admire their science," says Peter Byass, a global-health scientist at Umeå University in Sweden. But he cautions that the IHME is focused on intensive analysis and modelling of existing data, whereas many of the available data are poor. "There's a dearth of data in poorer countries — Africa is a huge hole, and so is quite a bit of Asia," he says.
Of the roughly 60 million estimated deaths worldwide each year, around two-thirds go unrecorded. And for those that are documented, around two-thirds of death certificates fail to state the cause of death, or get it wrong. There has been longstanding tension between researchers, who, although in agreement that sophisticated and refined estimates are valuable and badly needed, also feel that funders need to put more money into collecting better data in the first place.
Lopez is heading up part of a $100-million 'Data for Health' initiative funded by Bloomberg Philanthropies, headquartered in New York City, to do just that. "It a fair comment," he says.
Murray says that it is a false dichotomy: "It's not an 'either, or' — we need both." Investments in strengthening country health information are hugely expensive, and they take 10–20 years before they result in major improvements in coverage and quality, he adds: "The world needs to make local, national, regional and global decisions before this happens."
Lopez agrees, noting that IHME draws on research and survey data to fill in data gaps. "Without IHME, we would be in complete ignorance about disease burden or causes of death, say, in Mali. IHME are saying, 'Well all right, given everything we know about Mali, every scrap of crappy data about Mali, how can we piece together something that is plausible?'"
"It can't — won't — be right, because there is very little data, but it [a picture of the burden of disease] is not implausible. And not implausible is of great value to public health in countries compared to complete ignorance."
For the IHME, the Gates' cash will sustain the institute's core infrastructure, including costly computing facilities and salaries, says Murray.
It will also launch an area of research focused on trying to forecast the trajectory of future health patterns, down to the local level, under various scenarios. In addition, the institute intends to expand its tracking of how much is spent on what, and where, on health. Despite the trillions poured into health care, he says, "there's remarkably poor information on where the money goes".
"But ultimately, what we are we are trying to do is to build up a multidisciplinary field — a science of health metrics," says Murray.
Related links
Related links
Related links in Nature Research
Related external links
About this article
Cite this article
Butler, D. World's foremost institute on death and disease metrics gets massive cash boost. Nature 542, 19 (2017). https://doi.org/10.1038/nature.2017.21373
Published:

Issue Date:

DOI: https://doi.org/10.1038/nature.2017.21373