Science budget will rise with inflation amid cuts elsewhere, following government spending review.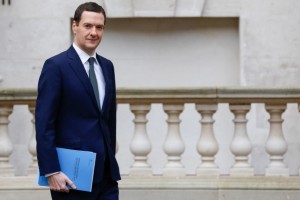 UK scientists' worst funding fears have not come to pass. The country's science budget will increase slightly in the coming years, Chancellor of the Exchequer George Osborne announced today as part of a much-anticipated government spending review.
Ahead of the review, scientists had braced for the possibility that spending would remain flat — as it has for the past five years — and continue to be whittled away by inflation, or even that the science budget would be cut. But speaking at the House of Commons today, Osborne announced that the £4.7-billion (US$7.1-billion) science budget will now rise with inflation. This would amount to an extra £500 million for science annually by the end of the decade, according to the Treasury. The slight boost came alongside a commitment to increase the £1.1-billion annual budget for science infrastructure to £1.2 billion a year by 2020–21.
Scientists' initial reaction was relief. "If the science budget is really protected in real terms, then that is good news," says Lee Cronin, a chemist at the University of Glasgow.
Naomi Weir, acting director of the Campaign for Science and Engineering in London, said in a statement: "I'm delighted to hear the Chancellor backing science with real investment for the next five years. This announcement is great news for the UK and provides a platform to build on for future success."
However, Cronin and others noted that there is work to be done to reverse the damage caused by the past five years under a flat budget. Although the increase in infrastructure spending will be helpful, he adds that this needs to be "used to help replace essential equipment and provide the upgrades needed urgently, rather than just fund shiny new projects".
While acknowledging that the outcome could have "been much worse", Jenny Rohn, who chairs the UK lobby group Science is Vital, highlighted that the science budget is smaller in 2015 than it was in 2010. This is because inflation is currently very low, but higher inflation levels in previous years have eroded the value of the budget in real terms.
The science budget will also have to cover a new Global Challenges research fund, aimed at addressing the problems faced by developing countries. This will be worth £1.5 billion over the next five years, but it is not yet clear whether existing research streams will be rebranded as Global Challenges, or whether these will be cut to support the new fund.
The slight increase to the science budget came amid large cuts in other areas of government spending, including an overall cut of 17% for the Department for Business, Innovation and Skills, which is in charge of the majority of government science spending.
According to documents that accompanied the chancellor's statement, this body will "take the lead in shaping and driving a strategic approach to science funding". And Innovate UK, which funds research and development primarily through businesses, will become part of Research UK — with some of its budget turning from grants to loans.
The documents also confirmed plans to review the Research Excellence Framework — a periodic audit of UK research that decides the allocation of £1.6 billion of annual funding — in order to simplify it and "strengthen funding on the basis of excellence".
Writing on Twitter, science minister Jo Johnson tried to address criticism of the government's previous approach to infrastructure spending, which favoured new facilities over funding for upkeep, saying that from now on "batteries will be included".
Related links
Related links
Related links in Nature Research
Related external links
About this article
Cite this article
Gibney, E. UK scientists celebrate slight rise in research budget. Nature 528, 20 (2015). https://doi.org/10.1038/nature.2015.18878
Published:

Issue Date:

DOI: https://doi.org/10.1038/nature.2015.18878