Nature Video's guide to the highlights as the New Horizons spacecraft speeds past the icy dwarf planet.
The New Horizons space probe will pass Pluto on 14 July, a brief encounter that will be over in a matter of hours. Nature Video explains what will happen during the fly-by. See Nature's graphical guide and special issue for more coverage of the mission.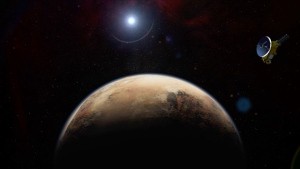 Electronic supplementary material
Prepare for Pluto: the New Horizons fly-by
About this article
Cite this article
Levy, A. What to expect from the Pluto fly-by. Nature (2015). https://doi.org/10.1038/nature.2015.17948
Comments
By submitting a comment you agree to abide by our Terms and Community Guidelines. If you find something abusive or that does not comply with our terms or guidelines please flag it as inappropriate.