Plan seeks to increase government partnerships with industry but downplays basic science.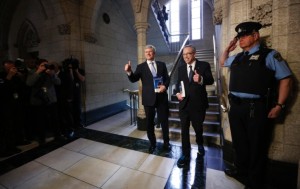 With six months to go before the next Canadian election, the reigning Conservative party has introduced a budget that emphasizes applied research and scientific collaboration with industry.
The 518-page proposal, released on 21 April, will take effect in coming weeks. It spells out how Prime Minister Stephen Harper's government plans to balance its budget this year — at the same time pledging plenty of new spending in years ahead.
The Canada Foundation for Innovation would receive Can$1.33 billion (US$1.09 billion) in new money for university and hospital research facilities, to be doled out over six years beginning in 2017. The budget also includes a modest 2% hike for the country's research funding councils, much of it targeted for areas "that will fuel economic growth".
David Robinson, executive director of the Canadian Association of University Teachers in Ottawa, calls the plan a missed opportunity. "The government continues to miss the fact that real innovation and scientific advancements are driven by long-term basic research, not short-term market demands," he says.
Much of the promised funding for research is destined for industrial partnerships in keeping with other Conservative policies, some of which have strained relationships between the government and scientists. 
The Harper government has been criticized for micromanaging how research dollars are spent and the way in which science is communicated. "Muzzled" federal scientists are no longer free to discuss their research findings with the media without clearance from the government. And funding for basic research and federal science programmes, such as the Experimental Lakes Area, an acclaimed freshwater research centre in northwestern Ontario, has been cut as the Conservatives have boosted spending on applied research.
"There's a trend to use universities as surrogates for industrial research," says Paul Dufour, a fellow at the Institute for Science, Society and Policy at the University of Ottawa and a science-policy consultant.
The trend continues in the latest budget. It includes Can$119 million over the next two years for the National Research Council's "industry-partnered research and development activities"; a proposed Can$46 million per year, starting in 2016, to the research-granting councils in part to "support their growing interactions with the private sector"; and Can$56.4 million over four years, starting in 2016, for graduate student internships "focused on business-related challenges."
While the budget allocates just Can$10 million in new money for the government's "world-class advanced research" initiatives this year — which include projects in physics, space technology and astronomy — it pledges to invest more than $200 million per year in new and expanded programmes starting in 2016.
Dufour says that Canada's research landscape has grown so complicated with the Conservatives' targeted research initiatives that it has become "a bit of a dog's breakfast". And he notes the preoccupation with industrial research has not improved Canada's overall research and development performance.
The Organisation for Economic Co-operation and Development (OECD) reported in November that Canada has dropped out of the top ten research and development performers, ceding ground to more aggressive countries such as Taiwan. The OECD also reports that Canada has seen one of the sharpest declines in research and development intensity — the percentage of gross domestic product spent on research.
Opposition parties hope to make science an issue in the October election, but their criticism might be blunted by initiatives such as Harper's Can$243-million, ten-year commitment to the Thirty Meter Telescope (TMT), announced earlier this month and highlighted in the budget. The international observatory is to be constructed on the summit of Mauna Kea in Hawaii.
"You can rest assured the TMT will be trotted out during the campaign as evidence that they are investing in research that is probing the origins of the Universe," says Scott Findlay, a biologist at the University of Ottawa and founding member of Evidence for Democracy, a group that pushes for more science-based decision-making in government. 

The budget also commits Canada to support the International Space Station to 2024. The United States and Russia have already committed to the station for the same period.
As the election nears, the government is also expected to start announcing projects financed by its Canada First Research Excellence Fund, a Can$1.5-billion programme that aims to position Canadian universities "among the best in the world for talent and breakthrough discoveries". Applicants are required to spell out the strategic relevance of proposed projects and their potential to "create long-term economic advantages for Canada".
Many of Canada's university presidents enthusiastically endorsed the fund when Harper announced details in December. And some were quick to applaud the new budget's provisions. "They will benefit Canada and Canadians now and for years to come," says David Barnard, president of the University of Manitoba and chair of the Association of Universities and Colleges of Canada.
Related links
Related links
Related links in Nature Research
Related external links
About this article
Cite this article
Munro, M. Canadian budget pushes applied research. Nature 520, 595–596 (2015). https://doi.org/10.1038/nature.2015.17305
Published:

Issue Date:

DOI: https://doi.org/10.1038/nature.2015.17305