Abstract
Paternal environmental perturbations including exposure to drugs of abuse can produce profound effects on the physiology and behavior of offspring via epigenetic modifications. Here we show that adult drug-naive male offspring of cocaine-exposed sires have memory formation deficits and associated reductions in NMDA receptor-mediated hippocampal synaptic plasticity. Reduced levels of the endogenous NMDA receptor co-agonist d-serine were accompanied by increased expression of the d-serine degrading enzyme d-amino acid oxidase (Dao1) in the hippocampus of cocaine-sired male progeny. Increased Dao1 transcription was associated with enrichment of permissive epigenetic marks on histone proteins in the hippocampus of male cocaine-sired progeny, some of which were enhanced near the Dao1 locus. Finally, hippocampal administration of d-serine reversed both the memory formation and synaptic plasticity deficits. Collectively, these results demonstrate that paternal cocaine exposure produces epigenetic remodeling in the hippocampus leading to NMDA receptor-dependent memory formation and synaptic plasticity impairments only in male progeny, which has significant implications for the male descendants of chronic cocaine users.
Access options
Subscribe to Journal
Get full journal access for 1 year
$499.00
only $41.58 per issue
All prices are NET prices.
VAT will be added later in the checkout.
Rent or Buy article
Get time limited or full article access on ReadCube.
from$8.99
All prices are NET prices.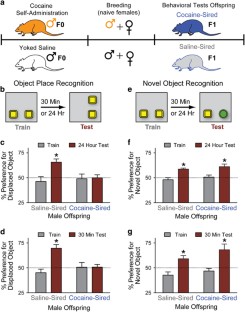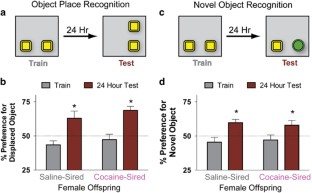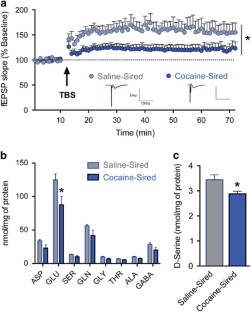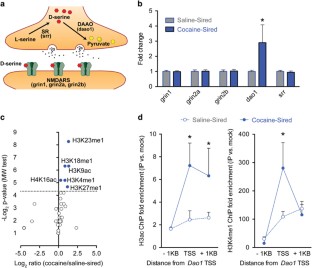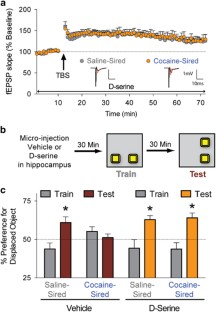 References
1

Degenhardt L, Whiteford H, Hall WD . The Global Burden of Disease projects: what have we learned about illicit drug use and dependence and their contribution to the global burden of disease? Drug Alcohol Rev 2014; 33: 4–12.

2

Calhoun S, Conner E, Miller M, Messina N . Improving the outcomes of children affected by parental substance abuse: a review of randomized controlled trials. Subst Abuse Rehabil 2015; 6: 15–24.

3

Narkowicz S, Płotka J, Polkowska Ż, Biziuk M, Namieśnik J . Prenatal exposure to substance of abuse: a worldwide problem. Environ Int 2013; 54: 141–163.

4

Vassoler FM, White SL, Schmidt HD, Sadri-Vakili G, Pierce RC . Epigenetic inheritance of a cocaine-resistance phenotype. Nat Neurosci 2013; 16: 42–47.

5

White SL, Vassoler FM, Schmidt HD, Pierce RC, Wimmer ME . Enhanced anxiety in the male offspring of sires that self-administered cocaine. Addict Biol 2015; 21: 802–810.

6

Killinger CE, Robinson S, Stanwood GD . Subtle biobehavioral effects produced by paternal cocaine exposure. Synapse 2012; 66: 902–908.

7

He F, Lidow IA, Lidow MS . Consequences of paternal cocaine exposure in mice. Neurotoxicol Teratol 2006; 28: 198–209.

8

Wood S, Sage JR, Shuman T, Anagnostaras SG . Psychostimulants and cognition: a continuum of behavioral and cognitive activation. Pharmacol Rev 2014; 66: 193–221.

9

Jovanovski D, Erb S, Zakzanis KK . Neurocognitive deficits in cocaine users: a quantitative review of the evidence. J Clin Exp Neuropsychol 2005; 27: 189–204.

10

Ennaceur A, Neave N, Aggleton JP . Spontaneous object recognition and object location memory in rats: the effects of lesions in the cingulate cortices, the medial prefrontal cortex, the cingulum bundle and the fornix. Exp Brain Res 1997; 113: 509–519.

11

Forwood SE, Winters BD, Bussey TJ . Hippocampal lesions that abolish spatial maze performance spare object recognition memory at delays of up to 48 hours. Hippocampus 2005; 15: 347–355.

12

Ortinski PI, Briand LA, Pierce RC, Schmidt HD . Cocaine-seeking is associated with PKC-dependent reduction of excitatory signaling in accumbens shell D2 dopamine receptor-expressing neurons. Neuropharmacology 2015; 92: 80–89.

13

Briand LA, Kimmey BA, Ortinski PI, Huganir RL, Pierce RC . Disruption of glutamate receptor-interacting protein in nucleus accumbens enhances vulnerability to cocaine relapse. Neuropsychopharmacology 2014; 39: 759–769.

14

Haxaire C, Turpin FR, Potier B, Kervern M, Sinet P-M, Barbanel G et al. Reversal of age-related oxidative stress prevents hippocampal synaptic plasticity deficits by protecting D-serine-dependent NMDA receptor activation. Aging Cell 2012; 11: 336–344.

15

Junjaud G, Rouaud E, Turpin F, Mothet J-P, Billard J-M . Age-related effects of the neuromodulator d-serine on neurotransmission and synaptic potentiation in the CA1 hippocampal area of the rat. J Neurochem 2006; 98: 1159–1166.

16

Nissim I, Horyn O, Daikhin Y, Chen P, Li C, Wehrli SL et al. The molecular and metabolic influence of long term agmatine consumption. J Biol Chem 2014; 289: 9710–9729.

17

Fuchs SA, de Sain-van der Velden MGM, de Barse MMJ, Roeleveld MW, Hendriks M, Dorland L et al. Two mass-spectrometric techniques for quantifying serine enantiomers and glycine in cerebrospinal fluid: potential confounders and age-dependent ranges. Clin Chem 2008; 54: 1443–1450.

18

Livak KJ, Schmittgen TD . Analysis of relative gene expression data using real-time quantitative PCR and the 2(-Delta Delta C(T)) Method. Methods 2001; 25: 402–408.

19

Anderson SM, Famous KR, Sadri-Vakili G, Kumaresan V, Schmidt HD, Bass CE et al. CaMKII: a biochemical bridge linking accumbens dopamine and glutamate systems in cocaine seeking. Nat Neurosci 2008; 11: 344–353.

20

Shechter D, Dormann HL, Allis CD, Hake SB . Extraction, purification and analysis of histones. Nat Protoc 2007; 2: 1445–1457.

21

Lin S, Garcia BA . Examining histone posttranslational modification patterns by high-resolution mass spectrometry. Meth Enzymol 2012; 512: 3–28.

22

Yuan Z-F, Lin S, Molden RC, Cao X-J, Bhanu NV, Wang X et al. EpiProfile quantifies histone peptides with modifications by extracting retention time and intensity in high-resolution mass spectra. Mol Cell Proteomics 2015; 14: 1696–1707.

23

Fiorenza NG, Rosa J, Izquierdo I, Myskiw JC . Modulation of the extinction of two different fear-motivated tasks in three distinct brain areas. Behav Brain Res 2012; 232: 210–216.

24

Abel T, Lattal KM . Molecular mechanisms of memory acquisition, consolidation and retrieval. Curr Opin Neurobiol 2001; 11: 180–187.

25

Mumby DG . Perspectives on object-recognition memory following hippocampal damage: lessons from studies in rats. Behav Brain Res 2001; 127: 159–181.

26

Oliveira AMM, Hawk JD, Abel T . Post-training reversible inactivation of the hippocampus enhances novel object recognition memory. Learn Mem 2010; 17: 155–160.

27

Nabavi S, Fox R, Proulx CD, Lin JY, Tsien RY, Malinow R . Engineering a memory with LTD and LTP. Nature 2014; 511: 348–352.

28

Morris RGM . NMDA receptors and memory encoding. Neuropharmacology 2013; 74: 32–40.

29

Billard J-M . d-Serine in the aging hippocampus. J Pharm Biomed Anal 2015; 116: 18–24.

30

Fuchs SA, Berger R, de Koning TJ . D-serine: the right or wrong isoform? Brain Res 2011; 1401: 104–117.

31

Pierce RC, Wolf ME . Psychostimulant-induced neuroadaptations in nucleus accumbens AMPA receptor transmission. Cold Spring Harb Perspect Med 2013; 3: a012021–a012021.

32

Curcio L, Podda MV, Leone L, Piacentini R, Mastrodonato A, Cappelletti P et al. Reduced D-serine levels in the nucleus accumbens of cocaine-treated rats hinder the induction of NMDA receptor-dependent synaptic plasticity. Brain 2013; 136: 1216–1230.

33

Albrecht J, Sidoryk-Węgrzynowicz M, Zielińska M, Aschner M . Roles of glutamine in neurotransmission. Neuron Glia Biol 2010; 6: 263–276.

34

Peixoto L, Abel T . The role of histone acetylation in memory formation and cognitive impairments. Neuropsychopharmacology 2013; 38: 62–76.

35

Maze I, Nestler EJ . The epigenetic landscape of addiction. Ann N Y Acad Sci 2011; 1216: 99–113.

36

Dietz DM, Laplant Q, Watts EL, Hodes GE, Russo SJ, Feng J et al. Paternal transmission of stress-induced pathologies. Biol Psychiatry 2011; 70: 408–414.

37

Dias BG, Ressler KJ . Parental olfactory experience influences behavior and neural structure in subsequent generations. Nat Neurosci 2014; 17: 89–96.

38

Rodgers AB, Morgan CP, Leu NA, Bale TL . Transgenerational epigenetic programming via sperm microRNA recapitulates effects of paternal stress. Proc Natl Acad Sci USA 2015; 112: 13699–13704.

39

Ng S-F, Lin RCY, Maloney CA, Youngson NA, Owens JA, Morris MJ . Paternal high-fat diet consumption induces common changes in the transcriptomes of retroperitoneal adipose and pancreatic islet tissues in female rat offspring. FASEB J 2014; 28: 1830–1841.

40

Carone BR, Fauquier L, Habib N, Shea JM, Hart CE, Li R et al. Paternally induced transgenerational environmental reprogramming of metabolic gene expression in mammals. Cell 2010; 143: 1084–1096.

41

Anway MD, Rekow SS, Skinner MK . Comparative anti-androgenic actions of vinclozolin and flutamide on transgenerational adult onset disease and spermatogenesis. Reprod Toxicol 2008; 26: 100–106.

42

Anderson LM, Riffle L, Wilson R, Travlos GS, Lubomirski MS, Alvord WG . Preconceptional fasting of fathers alters serum glucose in offspring of mice. Nutrition 2006; 22: 327–331.

43

Sharma S, Rakoczy S, Brown-Borg H . Assessment of spatial memory in mice. Life Sci 2010; 87: 521–536.

44

White SL, Vassoler FM, Schmidt HD, Pierce RC, Wimmer ME . Enhanced anxiety in the male offspring of sires that self-administered cocaine. Addict Biol 2015; 21: 802–810.

45

Sakuma Y . Gonadal steroid action and brain sex differentiation in the rat. J Neuroendocrinol 2009; 21: 410–414.

46

McHenry J, Carrier N, Hull E, Kabbaj M . Sex differences in anxiety and depression: role of testosterone. Front Neuroendocrinol 2014; 35: 42–57.

47

Blokland A, Rutten K, Prickaerts J . Analysis of spatial orientation strategies of male and female Wistar rats in a Morris water escape task. Behav Brain Res 2006; 171: 216–224.

48

Yohn NL, Bartolomei MS, Blendy JA . Multigenerational and transgenerational inheritance of drug exposure: The effects of alcohol, opiates, cocaine, marijuana, and nicotine. Prog Biophys Mol Biol 2015; 118: 21–33.

49

Bale TL . Epigenetic and transgenerational reprogramming of brain development. Nat Rev Neurosci 2015; 16: 332–344.

50

Daxinger L, Whitelaw E . Understanding transgenerational epigenetic inheritance via the gametes in mammals. Nat Rev Genet 2012; 13: 153–162.

51

Bartolomei MS . Genomic imprinting: employing and avoiding epigenetic processes. Genes Dev 2009; 23: 2124–2133.

52

Gatewood JM, Cook GR, Balhorn R, Bradbury EM, Schmid CW . Sequence-specific packaging of DNA in human sperm chromatin. Science 1987; 236: 962–964.

53

Wykes SM, Krawetz SA . The structural organization of sperm chromatin. J Biol Chem 2003; 278: 29471–29477.

54

Griffin AL . Role of the thalamic nucleus reuniens in mediating interactions between the hippocampus and medial prefrontal cortex during spatial working memory. Front Syst Neurosci 2015; 9: 29.

55

Carroll KM, Kiluk BD, Nich C, Babuscio TA, Brewer JA, Potenza MN et al. Cognitive function and treatment response in a randomized clinical trial of computer-based training in cognitive-behavioral therapy. Subst Use Misuse 2011; 46: 23–34.

56

Aharonovich E, Hasin DS, Brooks AC, Liu X, Bisaga A, Nunes EV . Cognitive deficits predict low treatment retention in cocaine dependent patients. Drug Alcohol Depend 2006; 81: 313–322.

57

Aharonovich E, Nunes E, Hasin D . Cognitive impairment, retention and abstinence among cocaine abusers in cognitive-behavioral treatment. Drug Alcohol Depend 2003; 71: 207–211.

58

Sofuoglu M, DeVito EE, Waters AJ, Carroll KM . Cognitive enhancement as a treatment for drug addictions. Neuropharmacology 2013; 64: 452–463.

59

Ashare RL, Schmidt HD . Optimizing treatments for nicotine dependence by increasing cognitive performance during withdrawal. Expert Opin Drug Discov 2014; 9: 579–594.

60

Hashimoto K, Malchow B, Falkai P, Schmitt A . Glutamate modulators as potential therapeutic drugs in schizophrenia and affective disorders. Eur Arch Psychiatry Clin Neurosci 2013; 263: 367–377.
Acknowledgements
We thank D Van Nest, J Maurer, K Ige, J Karsch, Z Cross and D Lukasz for their help with the experiments, T Abel for comments and extensive discussions on the manuscript and all members of the Pierce lab for their support. We thank the CHOP Metabolomics Core directed by Dr Itzhak Nissim (http://www.research.chop.edu/cores/metabolomic/). This work was supported by NIDA (T32 DA28874, R01 DA33641, K02 DA18678, K01 DA30445, K01 DA039308, R00 DA033372, R21 MH102679, R21 GM110174, DOD W81XWH-13-1-0426).
Author contributions
MEW, LAB, BAG and RCP designed the experiments. MEW, LAB, LAG, ACA, BF, HS, SHD and YH performed experiments. BF, MEW, LAB, SHD and RCP analyzed the data and prepared the figures. MEW and RCP wrote the paper with edits from all authors.
Ethics declarations
Competing interests
The authors declare no conflict of interest.
Supplementary information
About this article
Cite this article
Wimmer, M., Briand, L., Fant, B. et al. Paternal cocaine taking elicits epigenetic remodeling and memory deficits in male progeny. Mol Psychiatry 22, 1641–1650 (2017). https://doi.org/10.1038/mp.2017.8
Received:

Revised:

Accepted:

Published:

Issue Date: